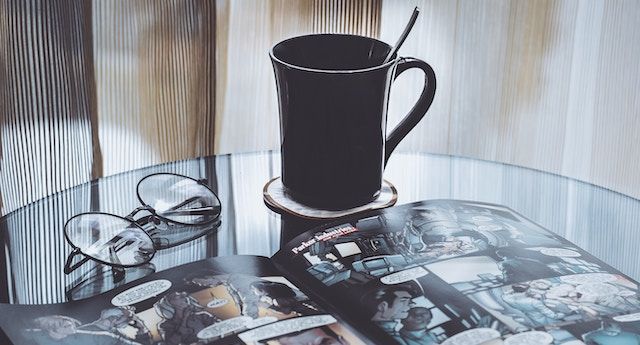 This content contains affiliate links. When you buy through these links, we may earn an affiliate commission.
Last fall, I went to my first Comic Con, New York Comic Con, and needless to say, it did not disappoint. I cosplayed as Jessica Jones (also my first time cosplaying) and loved it. It's hard to describe, but the minute I set foot in the con, the atmosphere was like none other I'd ever been part of before. I met a ton of great people, struck up dozens of fun conversations, and had a hell of a good time. I felt completely at ease there, wanted to see everything I possibly could, and my passion for comics was fueled a million times over. I've been planning this year's cosplay and looking forward to this year's Con ever since. I've even been planning my son's cosplay for this year, since I've decided to bring him on Family Day.
I'd love to do Comic Cons more often, but being a single parent to a toddler does not exactly lend itself to travel around the country to various cons (nor does my wallet). So in the meantime, I have to content myself with reading comics and books that remind me of cons/the spirit of cons. Here are my favorites.
Dark Horse Anthologies

Dark Horse has put out several anthologies that I really love about geekdom and cons: The Secret Loves of Geek Girls, The Secret Loves of Geeks, and the newest one, Pros and (Comic) Cons. What I love about these is the mix of short essays and stories, along with comics and illustrated stories, and the variety of voices and experiences. These collections exemplify the different ways we come to fandoms and comics, and the wide range of interests that are across the fandoms.
The two Secret Loves books focus on stories about love, sex, and dating (from a variety of religious and cultural backgrounds, as well as sexualities) with a distinctly nerdy flair, whereas the Comic Con one, which was recently published, is all about the world of comic cons. Contributors to these books include Marguerite Bennett, Noelle Stevenson, Marjorie Liu, Gabby Rivera, Valentine DeLandro, Sina Grace, Brian Bendis, Margaret Atwood, and more. I often reread these anytime I need a shot of geekiness, and I'd say these are easily some of my favorite books.
Blackbird, Volume 1 by Sam Humphries, Jen Bartel, Paul Reinwand, Triona Farrell, Jodi Wynne, Dylan Todd, and Jim Gibbons
I cannot say enough about this comic. I read most of the individual issues online (which I never do, but Bartel's art was too beautiful to miss), and I knew I had to get a hard copy when the trade came out. I love the storyline of this comic and the relationships between the characters as well as the magical element of it (something different for me, since I usually go for superheroes), but for me, it's the art that really shines. Bartel is one of my favorite illustrators and I could stare at this all day. Sometimes I flounder with comics, and this was just what I needed to get back into them after some time away.
First, I love this book's cover. But if you're going to judge the book by its cover, it definitely lives up to it. This YA novel is a fun story about friends and two different love stories, all set with a backdrop of a convention. Charlie, Taylor, and Jamie are at SupaCon: Charlie is a vlogger/actress promoting her movie who also has a crush on Alyssa, a fellow actress; and Taylor, who is neurodivergent, has a crush on her friend Jamie, who may or may not be aware of it. I love this book because it doesn't resort to teen romance stereotypes and the geeky pop culture references are stellar. Romance books aren't generally my thing, but at its heart, this book is about the relationships that come out of fandoms—including our own self-discovery.
Poston also wrote the novel Geekerella, but you don't have to read that to enjoy this one. Imogen is a die-hard fan of Starfield and wants her favorite character, Amara, not to be killed off. Jessica, who plays Amara, hates the show and the fandom, and doesn't care if she's killed off. When Imogen is mistaken for Jessica at ExcelsiCon, a whole slew of events is set into place—which is further complicated when the script for the next Starfield movie is leaked. This is another fun story complete with geeky fandom details and well-developed characters.
---
While these aren't a substitute for cons, they do give me that shot of geekiness and fandom I look forward to.