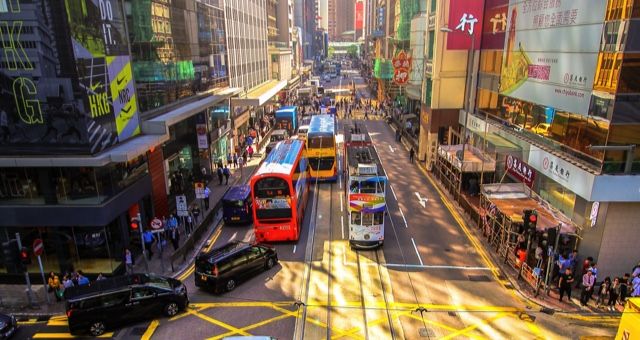 Lists
10 Of The Best Nonfiction Books About China
This content contains affiliate links. When you buy through these links, we may earn an affiliate commission.
Modern China may seem enigmatic, but as the nation's power and presence in global affairs expand, it becomes more critical for us to understand its place in the world. Here, we have compiled the ten best nonfiction books about China so you may further your comprehension of the country that plays such a significant role in our lives. The list includes books about China's politics, society, culture, and history, all of which will offer a holistic perspective of the economic powerhouse. Find even more recommendations in our list of books about China's Cultural Revolution.
In this historical narrative, journalist Stella Dong weaves the sordid tale of Shanghai between 1842 and 1949, when crime and illicit sex were rampant and spies and warlords swarmed the city streets. The story of Shanghai's transformation from swampland to a thriving, modern-day Babylon will be sure to both enthrall you and offer you a new perspective of a city that plays such a critical role in China today.
China's massive population of migrant workers, which represents more than 114 million people, is the driving force behind its booming economy. Despite this, little is known about the movement or its importance. Leslie Chang portrays the unknown story of these workers by documenting the lives of two women over a span of three years. She incorporates her own experiences to create a poignant portrait of the migrant worker and explore how the movement is transforming the lives of families across the nation.
This brief, FAQ-style book analyzes some of the most compelling questions of China's history, and in the process offers an in-depth look at how it achieved its current position as a global superpower.
This book offers a broad overview of China's rich history; from the rise of Buddhism and Confucianism to the development of the Mongol and Manchu dynasties to the modern communist state, Ebrey integrates Chinese literature, arts, culture, economics, politics, and gender studies as she analyzes the key events that have shaped China's past.
Foot binding is a facet of China's past that is often obscured by misconceptions. Although it conjures images of an oppressive and patriarchal society, the practice was in fact initially used to enhance the grace and sensuality of palace dancers; indeed, in a way, it enabled women to feel empowered. In this book, Ko examines the contentious practice by analyzing Confucian values and traditions and presenting a new, feminist perspective of foot binding.
"There was China before there was an America, and it is because of China that America came to be": with this acute statement, Chang begins his discussion of China's prevalent and persisting role in defining America's place in the world. Drawing on politics, biography, literature, and popular culture, he analyzes America's relationship with China, from colonial times to World War II and the post-Mao era.
In recent years, China has been swiftly closing the technological gap between itself and the United States—a reality emphasized by the ongoing tech cold war between the two countries. Dr. Kai-Fu Lee examines China's rapid growth in one of the best books about China, where he argues that Chinese and American AI will greatly impact global jobs and effect a drastic change in human history in years to come.
Prominent novelist Yu Hua captures ten key themes of Chinese culture within this remarkable book, framing his discussion of each with a personal essay that both engages and educates readers. As he explores China's politics, culture, society, and history through his own deeply insightful experiences, he enables readers to understand the extent to which China has changed in the past few decades.
A painful but essential illustration of the Rape of Nanking that unfolds from three perspectives—of the Japanese soldiers who performed it, of the Chinese civilians who underwent it, and of a group of Europeans and Americans who, instead of abandoning the city, chose to save many lives by creating a safe zone. This book tells the story of the tragedy itself but also explains why the Japanese soldiers committed the atrocities, why the victims were shamed in the aftermath, and why the world ignored such abominations.
This personal narrative allows readers to glean fascinating insight into life in China during the 20th century. It recounts the tumultuous lives of the author, her mother, and her grandmother, and offers an incredible glimpse into how events such as the Cultural Evolution affected the lives of Chinese women.
We hope you enjoy these ten great nonfiction books about China! Which ones have we missed? Feel free to let us know in the comments!