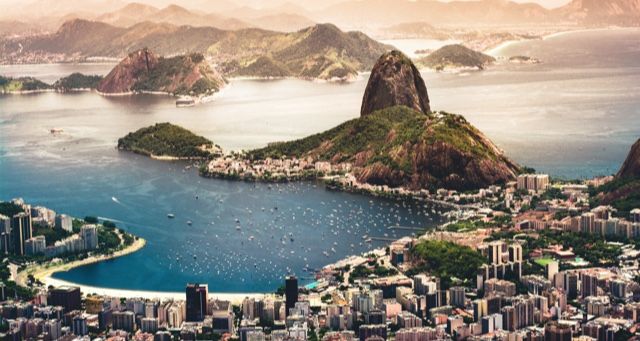 Lists
20 Must-Read Books About Brazil
This content contains affiliate links. When you buy through these links, we may earn an affiliate commission.
Brazil: the biggest country in South America and one of the most diverse in the world. With a sophisticated and continuously contradictory history, Brazil has always had a rich literary tradition full of magical realism, family drama, poetry, music, and beautiful works of nonfiction. I hope this list can spark your curiosity for this wonderful country that I call home.
I decided to compile this list with both local and foreign voices on the country, be it in nonfiction or fiction. Because to me, simply having Brazil as your background in a novel already demands that you make the country a full character. There are many great titles of Brazilian literature not in translation, which is a shame, but fortunately, most of the classics that have defined the Brazilian literary canon have been translated. Most importantly, titles that exemplify the diversity of the canon have been widely translated and now are available in many different translations.
With historical satires, ultra-realism classics, tropical horror stories, and nonfiction that could rival any soap opera, Brazil has something for everyone. So, I hope you enjoy this list and that these books help you understand and explore Brazil through books!
Bento Santiago, the wildly unreliable narrator of Dom Casmurro, believes that he has been cuckolded – he suspects that his wife has cheated on him with his best friend and that her child is not his. Has Capitú, his love since childhood, really been unfaithful to him? Or is the evidence of her betrayal merely the product of a paranoid mind? First published in 1900, Dom Casmurro, widely considered Machado de Assis's greatest novel and a classic of Brazilian literature, is a brilliant retelling of the classic adultery tale – a sad and darkly comic novel about love and the corrosive power of jealousy.
The recent publication by New Directions of five Lispector novels revealed to legions of new readers her darkness and dazzle. Now available for the first time in English are all the stories that made her a Brazilian legend: from teenagers coming into awareness of their sexual and artistic powers to humdrum housewives whose lives are shattered by unexpected epiphanies to old people who don't know what to do with themselves. Lispector's stories take us through their lives – and ours. From one of the greatest modern writers, these stories, gathered from the nine collections published during her lifetime, follow an unbroken timeline of success as a writer, from her adolescence to her death bed.
Brazil: A Biography by Lilian Schwarcz and Heloisa Starling
This book offers a rich, dramatic history of this complex country. The authors not only reconstruct the epic story of the nation but follow the shifting byways of food, art, and popular culture; the plights of minorities; and the ups and downs of economic cycles. Drawing on a range of original scholarship in history, anthropology, political science, and economics, Schwarcz and Starling reveal a long process of unfinished social, political, and economic progress and struggle, a story in which the troubled legacy of the mixing of races and postcolonial political dysfunction persist to this day.
From prize-winning journalist and Brazilian native Juliana Barbassa comes a deeply reported and beautifully written account of the seductive and chaotic city of Rio de Janeiro as it struggles with poverty and corruption on the brink of the 2016 Olympic Games. Rio has always aspired to the pantheon of global capitals, and under the spotlight of the 2014 World Cup and the 2016 Olympic Games it seems that its moment has come. But in order to prepare itself for the world stage, Rio must vanquish the entrenched problems that Barbassa recalls from her childhood. Turning this beautiful but deeply flawed place into a pristine showcase of the best that Brazil has to offer in just a few years is a tall order – and with the whole world watching, the stakes couldn't be higher.
Delving into Brazil's baroque past, Peter Robb writes about its history of slavery and the richly multicultural but disturbed society that was left in its wake when the practice was abolished in the late 19th century.
Even today, Brazil is a nation of almost unimaginable distance between its wealthy and its poor, a place of extraordinary levels of crime and violence. It is also one of the most beautiful and seductive places on earth. Using the art, food, and the books of its great 19th century writer, Machado de Assis, Robb takes us on a journey into a world like Conrad's Nostromo. A world so absurdly dramatic, like the current president Lula's fight for power, that it could have come from one of the country's immensely popular TV soap operas, a world where resolution is often only provided by death.
In Rio de Janeiro, a woman suffering from a mysterious illness which is eroding her body and mind, decides to accept a challenge from her grandfather: to take the key to the house where he grew up – in the Turkish city of Smyrna – and open the door. As she embarks on this pilgrimage, she begins to write of her progress. The writing soon becomes an exploration of her family's legacy of displacement in Europe, told in several narrative strands. Sifting through family stories – her grandfather's migration from Turkey to Brazil, her parents' exile in Portugal under the Brazilian military dictatorship, her mother's death, and her own love affair with a violent man – she traces her family's history in a journey to make sense of the past and to understand her place in it. With an epic sweep of time and place – traversing Brazil, Turkey, and Portugal – this is a profoundly moving portrait of a young woman finding her way back into life. Spare, heartfelt, and evocative, The House in Smyrna is an unforgettable story from one of the most accomplished and original new voices in Brazil.
Ciccio already has many problems: romantic failure, an older brother who seems intent on breaking the heart of every beautiful woman in São Paulo, a distant and larger-than-life father. When Ciccio finds, among the many of his father's books that line the walls of their house, a troubling letter dated 'December 21, 1931. Berlin', his existential crisis only intensifies. It seems that his father once had a child with another woman – a German son whose fate remains unclear. Ciccio sets out on a mission to locate his lost half-brother, and to win the respect of his father. But as Brazil's military government cracks down on dissent, and rumors of arrests and disappearances spread, while Ciccio has been out looking for his German brother, he finds that he has taken his eye off his immediate family.
In writing My German Brother, acclaimed Brazilian novelist and musician Chico Buarque was driven by the desire to find out what happened to his own German half-brother – whether he survived the war in a bomb-ravaged Berlin, whether he had joined the ranks of the Hitler Youth. His novel has been a project of a lifetime, one that makes use of what happened, what might have happened, and pure imagination, in order to weave together the threads of narrative and arrive at a truth.
This is the definitive centenary edition of the work of one of America's greatest poets, recognized today as a master of her art and acclaimed by poets and readers alike. Her poems display honesty and humor, grief and acceptance, observing nature and human nature with painstaking accuracy. They often start outwardly, with geography and landscape – from New England and Nova Scotia, where Bishop grew up, to Florida and Brazil, where she later lived – and move inexorably toward the interior, exploring questions of knowledge and perception, love and solitude, and the ability or inability of form to control chaos.
Deep within the remote backlands of 19th century Brazil lies Canudos, home to all the damned of the earth: prostitutes, bandits, beggars, and every kind of outcast. It is a place where history and civilization have been wiped away. There is no money, no taxation, no marriage, no census. Canudos is a cauldron for the revolutionary spirit in its purest form, a state with all the potential for a true, libertarian paradise – and one the Brazilian government is determined to crush at any cost.
In perhaps his most ambitious and tragic novel, Mario Vargas Llosa tells his own version of the real story of Canudos, inhabiting characters on both sides of the massive, cataclysmic battle between the society and government troops. The resulting novel is a fable of Latin American revolutionary history, an unforgettable story of passion, violence, and the devastation that follows from fanaticism.
They call themselves "Captains of the Sands," a gang of orphans and runaways who live by their wits and daring in the torrid slums and sleazy back alleys of Bahia. Led by 15-year-old "Bullet," the band – including a crafty liar named "Legless," the intellectual "Professor," and the sexually precocious "Cat" – pulls off heists and escapades against the right and privileged of Brazil. But when a public outcry demands the capture of the "little criminals," the fate of these children becomes a poignant, intensely moving drama of love and freedom in a shackled land.
Captains of the Sands captures the rich culture, vivid emotions, and wild landscape of Bahia with penetrating authenticity and brilliantly displays the genius of Brazil's most acclaimed author.
In a time of terror for Europe's monarchs ― imprisoned, exiled, executed – Napoleon's army marched toward Lisbon. Cornered, Prince Regent João had to make the most fraught decision of his life. Protected by the British Navy, he fled to Brazil with his entire family, including his deranged mother, most of the nobility, and the entire state apparatus. Until then, no European monarch had ever set foot in the Americas. Thousands made the voyage, but it was no luxury cruise. It took two months in cramped, decrepit ships. Lice infested some of the vessels, and noblewomen had to shave their hair and grease their bald heads with antiseptic sulfur. Vermin infested the food and bacteria contaminated the drinking water. Sickness ran rampant. After landing in Brazil, Prince João liberated the colony from a trade monopoly with Portugal. As explorers mapped the burgeoning nation's distant regions, the prince authorized the construction of roads, the founding of schools, and the creation of factories, raising Brazil to kingdom status in 1815. Meanwhile, Portugal was suffering the effects of abandonment, war, and famine. Never had the country lost so many people in so little time. Finally, after Napoleon's fall and over a decade of misery, the Portuguese demanded the return of their king. João sailed back in tears in 1821, and the last chapter of colonial Brazil drew to a close, setting the stage for the strong, independent nation that we know today, changing the New World forever.
The Slum by Aluísio Azevedo
First published in 1890, and undoubtedly Azevedo's masterpiece, The Slum is one of the most widely read and critically acclaimed novels ever written about Brazil. Indeed, its great popularity, realistic descriptions, archetypal situations, detailed local coloring, and overall race-consciousness may well evoke Huckleberry Finn as the novel's North American equivalent. Yet Azevedo also exhibits the naturalism of Zola and the ironic distance of Balzac; while tragic, beautiful, and imaginative as a work of fiction, The Slum is universally regarded as one of the best, or truest, portraits of Brazilian society ever rendered. This is a vivid and complex tale of passion and greed, a story with many different strands touching on the different economic tiers of society. Mainly, however, The Slum thrives on two intersecting story lines. In one narrative, a penny-pinching immigrant landlord strives to become a rich investor and then discards his black lover for a wealthy white woman. In the other, we witness the innocent yet dangerous love affair between a strong, pragmatic, "gentle giant" sort of immigrant and a vivacious mulatto woman who both live in a tenement owned by said landlord. The two immigrant heroes are originally Portuguese, and thus personify two alternate outsider responses to Brazil.
Something has changed in Amos Keres, a university mathematics professor – his sentences trail off in class, he is disgusted by the sight of his wife and son, and he longs to flee the comfortable bourgeois life he finds himself a part of. Most difficult of all are his struggles to express what has happened to him, for a man more accustomed to numbers than words. He calls it "the clearcut unhoped-for," and it's a vision that will drive him to madness and, eventually, death. Written in a fragmented style that echoes the character's increasingly fragile hold on reality, With My Dog-Eyes is intensely vivid, summoning up Amos's childhood and young adulthood – when, like Richard Feynman, he used to bring his math books to brothels to study – and his life at the university, with its "meetings, asskissers, pointless rivalries, gratuitous resentments, jealous talk, meglomanias." Hilst, whose father was diagnosed with paranoid schizophrenia, has created a lacerating, and yet oddly hopeful, portrayal of a descent into hell – Amos never makes sense of the new way he sees things, but he does find an avenue of escape, retreating to his mother's house and, farther, towards the animal world. A deeply metaphysical, formally radical one-of-a-kind book from a great Brazilian writer.
Macunaíma by Mario de Andrade
"Inventive, blessedly unsentimental," as Kirkus Reviews has it, and incorporating and interpreting the rich exotic myths and legends of Brazil, Macunaíma traces the hero's quest for a magic charm, a gift from the gods, that he lost by transgressing the mores of his culture. Born in the heart of the darkness of the jungle, Macunaíma is a complex of contradictory traits (he is, of course, "a hero without a character"), and can at will magically change his age, his race, his geographic location, to suit his purposes and overcome obstacles. Dramatizing aspects of Brazil in transition (multiracial, Indian versus European, rural versus urban life), Macunaima undergoes sometimes hilarious, sometimes grotesque transformations until his final annihilation and apotheosis as the Great Bear constellation in the heavens.
The two daughters of Afonso Olímpio and Otacília raised in rural Brazil in the 1960s and educated in teeming Rio de Janeiro in the 1970s form the counterpoint and central theme linking four generations: the pliant, troubled Clarice and the lovely, strong-willed Maria Inês. As other voices join in – those of the men they have married and the ones they have loved; the artist manqué Tomás; villagers and childhood friends; Great-Aunt Berenice in Rio; Eduarda, Maria Inês's 18-year-old daughter – the cool, white calm of the sisters' universe dissolves in a swirl of dark secrets. The family's silences echo the unspoken atrocities of the military dictatorship holding sway in their country. But after the death of their mother forces Clarice and Maria Inês to face their shared past, an old score is settled. In a dramatic and powerful work of great beauty and harmony, Lisboa reveals the abysses of the human soul within a framework as delicate as a butterfly's flight.
Deep in gambling debt, the celebrated Brazilian writer Beatriz Yagoda is last seen holding a suitcase and a cigar and climbing into an almond tree. She abruptly vanishes. In snowy Pittsburgh, her American translator Emma hears the news and, against the wishes of her boyfriend and Beatriz's two grown children, flies immediately to Brazil. There, in the sticky, sugary heat of Rio, Emma and her author's children conspire to solve the mystery of Yagoda's curious disappearance and staunch the colorful demands of her various outstanding affairs: the rapacious loan shark with a zeal for severing body parts, and the washed-up and disillusioned editor who launched Yagoda's career years earlier.
The End By Fernanda Torres
With uncanny insight into the less virtuous corners of the male psyche, Fernanda Torres brings us five friends who once milked the high life of Rio's Bossa Nova age and are now left with memories – parties, marriages, divorces, fixations, inhibitions, bad decisions – and the grim realities of getting old. Álvaro lives alone and bemoans the evils of his ex-wife. Sílvio can't give up the excesses of sex and drugs. Ribeiro is a vain, Viagra-abusing beach bum. Neto is the square, a faithful husband until the end. Ciro is the Don Juan envied by all – but the first to die. Cutting in on these swan songs are the testimonies of those the men seduced, cheated, loved, and abandoned: their wives and children. Edgy, funny, and wise, The End is a candid tropical tragicomedy and an epitaph for a lost generation of machos.
Two Brothers by Fábio Moon and Gabriel Bá
Twin brothers Omar and Yaqub may share the same features, but they could not be more different from one another. And the possessive love of their mother, Zana, stirs the troubled waters between them even more. After a brutally violent exchange between the young boys, Yaqub, "the good son," is sent from his home in Brazil to live with relatives in Lebanon, only to return five years later as a virtual stranger to the parents who bore him, his tensions with Omar unchanged. Family secrets engage the reader in this profoundly resonant story about identity, love, loss, deception, and the dissolution of blood ties. Set in the port city of Manaus on the riverbanks of the Amazon, Two Brothers celebrates the vibrant life and diversity of Brazil. Based on a work by acclaimed novelist Milton Hatoum, Two Brothers is stunningly reimagined by the award-winning graphic novelists Fábio Moon and Gabriel Bá.
Through this translation of As Tres Marias the literary achievements of Rachel de Queiroz may at last be judged and appreciated by the English-reading public. Since none of her four novels has previously been translated into English, The Three Marias will be, for many non-Brazilians, an introduction to this nationally known South American author whose books have been widely praised for their artistic merits. Her literary works are colored by her projected personality, by an intense feeling for her own people, by an omnipresent social consciousness, and by personal experiences in the arid backlands of her native state of Ceara. Basing this story on certain of her own recollections from the 1920s, Rachel de Queiroz tells of a girl growing up in the seaport town of Fortaleza, in northeastern Brazil. Professor Ellison, whose special field is Brazilian and Spanish-American literature, has captured in his translation the author's graceful style and simplicity of language, and has successfully retained the perspective of an idealistic and gradually maturing girl.
A professor prepares to retire – Gustavo is set to move from Sao Paulo to the countryside, but it isn't the urban violence he's fleeing: what he fears most is the violence of his memory. But as he sorts out his papers, the ghosts arrive in full force. He was arrested in 1970 with his brother-in-law Armando: both were vicariously tortured. He was eventually released; Armando was killed. No one is certain that he didn't turn traitor: I didn't talk, he tells himself, yet guilt is his lifelong harvest. I Didn't Talk pits everyone against the protagonist – especially his own brother. The torture never ends, despite his bones having healed and his teeth having been replaced. And to make matters worse, certain details from his shattered memory don't quite add up…Beatriz Bracher depicts a life where the temperature is lower, there is no music, and much is out of view. I Didn't Talk's pariah's-eye-view of the forgotten "small" victims powerfully bears witness to their "internal exile." I didn't talk, Gustavo tells himself; and as Bracher honors his endless pain, what burns this tour de force so indelibly in the reader's mind is her intensely controlled voice.