News
A Legacy in Literacy: Books About the Life of Barbara Bush
This content contains affiliate links. When you buy through these links, we may earn an affiliate commission.
"If more people could read, write, and comprehend, we could be much closer to solving so many of the other problems our country faces today."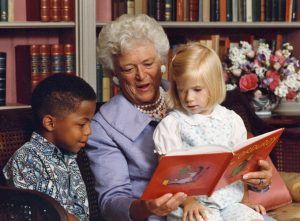 On Tuesday, April 17, 2018, a nation said goodbye to former First Lady Barbara Pierce Bush. As wife to the 41st President of the United States of America and mother of the 43rd, Barbara Bush spent much of her life directly adjacent to incredible seats of power. However, it's become apparent that Mrs. Bush was the true seat of power for the Bush dynasty. A devoted matriarch, she was fondly known as a fierce and loyal protector of her family.
Regardless of how you feel about the Bush family and their politics, it's undeniable that Barbara Bush did not let go to waste her position in our nation. And most of the bookish world will always have a soft spot in their hearts for her steadfast and dedicated work in the promotion of literacy. Her creation of The Barbara Bush Foundation for Family Literacy in 1989 saw the start of this legacy. In its nearly 3 decades, the foundation has given more than $110 million to create or enrich literacy programs all across the United States. She then passed this passion for promoting literacy on to her daughter-in-law, former First Lady Laura Bush, who would also go on to spend her own time in the White House with a focus on literacy.
"Libraries have always seemed like the richest places in the world to me, and I've done some of my best learning and thinking thanks to them. Libraries and librarians have definitely changed my life and the lives of countless other Americans."
To learn more about the well-spent life of Barbara Bush, here is a round up of books written both by the former First Lady and about her undeniable contribution to our country. There are also a few books written by her beloved pooches, either translated by or just slightly edited by Mrs. Bush herself. Because after all, her sense of humor is another legacy she leaves us.
"You know, sit with your arm around a little kid and read. It not only teaches them to read but keeps the family strong."
The former First Lady recounts the exciting and often poignant events in her life, from her secret engagement to George Bush, to the loss of her three-year-old daughter to leukemia, to daily life at 1600 Pennsylvania Avenue.
The author traces the eight years between the presidencies of her husband and son, discussing her charity work, relationships with her children and grandchildren, and her family's reactions to September 11 and its aftermath.
Millie's book by Millie Bush and Barbara Bush
White House dog Millie Bush recounts her adventures as First Canine in a tour of her famous residence alongside her equally famous owners.
C. Fred's Story by C. Fred Bush and Barbara Bush
C. Fred Bush offers a humorous anecdotal account of life as the pampered pet of Vice President George Bush and his family, his travels, and his encounters with celebrities, royalty, and heads of state.
This new look at Barbara Bush draws on recently opened records at the Bush library, the first lady's many speeches, interviews with the first lady's staff, and an exclusive interview with Mrs. Bush to impart a new appreciation for this beloved former first lady. And while other biographies—and her own memoir—have hinted at seeming contradictions in the Barbara Bush persona, Myra Gutin looks squarely at her White House years to set the record straight and show that she was more than "America's Grandmother" in faux pearls.
The first complete biography of Barbara Bush celebrates her upbringing and devotion to family values, her work on behalf of literacy, education, and cancer research, and the emergence of her popular cloth-coat style.
Former First Lady, mother of a president, champion of literacy, and matriarch of a powerful family, Barbara Bush fascinates all Americans.
In her memory, the Bush family has asked that any donations be made to the Barbara Bush Foundation for Family Literacy. If you feel called to do so, click here to make a donation in her honor.
"Believe in something larger than yourself…get involved in the big ideas of your time."