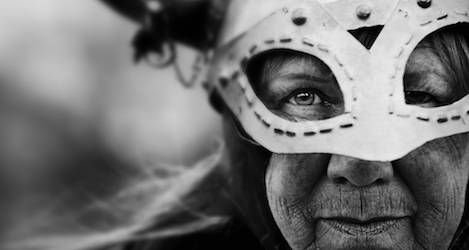 Featured
15 Books About Badass Women From History
This content contains affiliate links. When you buy through these links, we may earn an affiliate commission.
You may have stumbled upon an impromptu women's history lesson on Twitter lately. In response to a tweet about Taylor Swift, users have been sharing—in 280 characters or less—the stories of their favourite badass women from history. The unlikely round-up has been both intersectional and inspirational, highlighting women from well-known to the undersung. You can find a list of some of the most memorable tweets on The Mary Sue. And if you're like me, you'll want to dig into these women's lives to fully learn about what made them truly badass. Lucky for us, there are some great intersectional compilations to read on the topic!
These companion books (volume 2 just came out!) profile courageous and badass women from history alongside today's feminist heroines. Those profiled in charming two-page spreads include Queen Elizabeth I, Serena Williams, Queen Nefertiti, and Beyoncé.
Rejected Princesses: Tales of History's Boldest Heroines, Hellions, and Heretics by Jason Porath
Based on the tumblr of the same name, this is an empowering illustrated collection that celebrates inspirational badass women from history, literature, mythology, and folklore. The women profiled include a princess-cum-pirate in fifth century Denmark, a rebel preacher in 1630s Boston, a bloodthirsty Hungarian countess, and a former sex worker who commanded a fleet of more than 70,000 men on China's seas.
This gorgeously illustrated letterpress-inspired book combines feminist history with a vision for a better future. Inspired by the artists' series of broadsides, intricate art pieces take center stage in this richly visual book that ties inspiring women and the challenges they faced to today s most important issues. The 27 women profiled and illustrated here include Annie Oakley, Fatima al-Fihri, Harriet Tubman, Queen Liliuokalani, and Sadako Sasaki.
The women highlighted in this gorgeously illustrated book were bad in the best sense of the word: they challenged the status quo and changed the rules for all who followed. From pirates to artists, warriors, daredevils, scientists, activists, and spies, the accomplishments of these incredible women vary as much as the eras and places in which they effected change. Women profiled include Anna Mae Wong, Aphra Behn, Sojourner Truth, and Ada Lovelace.
Smart women have always been able to achieve amazing things, even when the odds were stacked against them. This book shares the stories of the brilliant, brainy, and totally badass women from history who broke barriers as scientists, engineers, mathematicians, adventurers, and inventors. Also included are interviews with real-life women in STEM careers, an extensive bibliography, and a guide to women-centric science and technology organizations—all to show the many ways the geeky girls of today can help build the future.
Based on the Instagram account @TheUnsungHeroines, this book celebrates the pioneering, forgotten female athletes of the twentieth century. Alongside profiles of athletes like Althea Gibson and Conchita Cintron are interviews with past and present game changers about what it means to be a woman on and off the field.
From Mary Wollstonecraft—who, for decades after her death, was more famous for her illegitimate child and suicide attempts than for A Vindication of the Rights of Woman—to Charlotte Brontë, Billie Holiday, Sylvia Plath, and even Hillary Clinton, Doyle dissects the centuries-old phenomenon of women as trainwrecks. For an age when any form of self-expression can be the one that ends you, this book is as fierce and intelligent as it is funny and compassionate—an essential, timely, feminist anatomy of the female trainwreck.
The co-authors of Rad American Women A-Z expand their focus internationally to tell fresh, engaging, and inspiring tales of perseverance and radical success. Featuring an array of badass women from history including King Hatshepsut, Malala Yousafzi, Frida Kahlo, and Liv Arnesen and Ann Bancroft, this progressive and visually arresting book is a compelling addition to women's history.
This book introduces readers to 26 of history's most notorious women, each with a rotten reputation. The women profiled include those from literature, folklore, and history, and include Delilah, Catherine the Great, Mae West, Cleopatra, and Mata Hari. Guay's detailed illustrations provide a rich, stylized portrait of each woman, while the inclusion of comic panels will resonate with fans of graphic novels.
The lives of real princesses couldn't be more different than those in popular fairytales. Sure, many were graceful and benevolent leaders—but just as many were ruthless in their quest for power, and all of them had skeletons rattling in their royal closets. This book digs into the true stories of royals like Princess Rani Lakshmibai, who waged war with her toddler son strapped to her back.
Based on the author's Twitter series of the same name, this book features scours the world to find 52 badass women from history. Starting in the fifth century BC and continuing to the present, the book takes a closer look at bold and inspiring women who dared to step outside the traditional gender roles of their time. Coupled with riveting illustrations and Lee's humorous and conversational storytelling style, this book is an outright celebration of the badass women who paved the way for the rest of us.
From well-known figures like Sojourner Truth, Harriet Tubman, and Rosa Parks to women rarely found in any history book, this book explores the lives of writers, athletes, singers, activists, and educators who have made an indelible mark on our country and our culture. Perfect for kids and adults who like to read about important figures and unsung heroes, this collection will delight, surprise, and challenge readers.
Based on legends, poems, letters, and first-hand accounts, these seven biographical tales tell of women who disguised themselves as men. From ancient Egypt through the Middle Ages to the 19th century, this historically accurate graphic treatment is perfect to transport readers back to bygone eras. The lives of these daring women were often filled with danger and the fear of discovery. However, for the sake of freedom, ambition, love or adventure, these women risked everything. No Girls Allowed brings a contemporary edge to a part of history largely untold—until now.
Pirate Women: The Princesses, Prostitutes, and Privateers Who Ruled the Seven Seas by Laura Sook Duncombe
This first-ever history of female buccaneers tells the story of women, both real and legendary, who through the ages sailed alongside—and sometimes in command of—their male counterparts. Here are the stories of badass women from history, pirate edition, from ancient Norse Princess Alfhild and warrior Rusla to Sayyida al-Hurra of the Barbary corsairs and Cheng I Sao, who commanded a fleet of 400 ships off China in the early nineteenth century.
A charmingly illustrated and educational book, this highlights the contributions of fifty notable women to the fields of science, technology, engineering, and mathematics from the ancient to the modern world. The trailblazing women profiled include Jane Goodall and Katherine Johnson. The same author has also written the complementary work Women In Sports: 50 Fearless Athletes Who Played to Win.
Learn about other historical women in our list of books about the history made by well-behaved women.