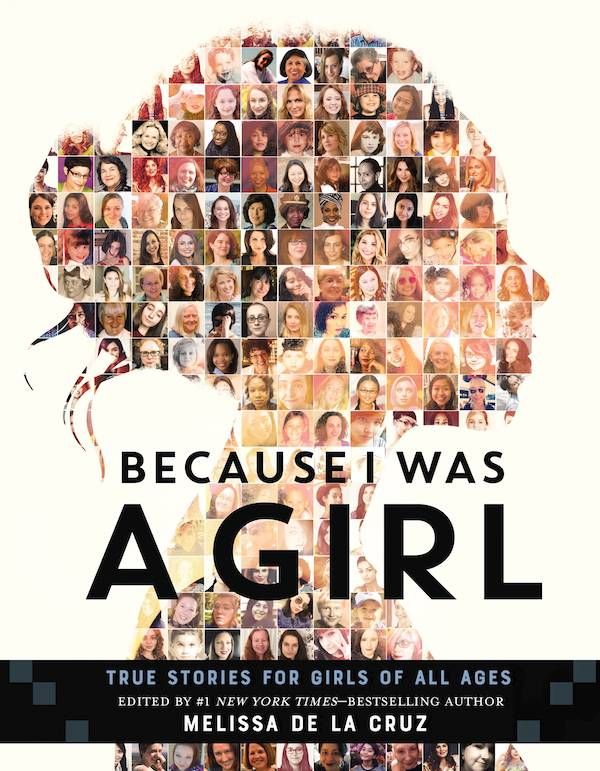 Sponsored by Because I Was a Girl, edited by Melissa de la Cruz
Whether they're young or old, household names or behind-the-scenes players, so many women have incredible stories to tell. And now is their chance.

Because I Was a Girl showcases true stories from an inspiring roster of talented, diverse women ages 10 to 88 about the obstacles they've faced because of their gender—and the dreams they've made come true. This beautifully designed book is the perfect gift for young women to show them that they can do and be anything.
---
There is no shortage of great books about amazing girls, and this list has recommendations from picture books up to young adult books, covering both fiction and nonfiction. What books would you add to this list?
Picture Books About Amazing Girls
The Youngest Marcher: The Story of Audrey Faye Henricks, a Young Civil Rights Activist by Cynthia Levinson and Vanessa Brantley-Newton
Nine-year-old Audrey Faye Hendricks intended to go places and do things like anybody else. So when she heard grown-ups talk about wiping out Birmingham's segregation laws, she spoke up. As she listened to the preacher's words, smooth as glass, she sat up tall. And when she heard the plan—picket those white stores! March to protest those unfair laws! Fill the jails!—she stepped right up and said, I'll do it! She was going to j-a-a-il! Audrey Faye Hendricks was confident and bold and brave as can be, and hers is the remarkable and inspiring story of one child's role in the Civil Rights Movement.
Swimming with Sharks: The Daring Adventures of Eugenie Clark by Heather Lang, illustrated by Jordi Solano
Before Eugenie Clark's groundbreaking research, most people thought sharks were vicious, blood-thirsty killers. From the first time she saw a shark in an aquarium, Japanese-American Eugenie was enthralled. Instead of frightening and ferocious eating machines, she saw sleek, graceful fish gliding through the water. After she became a scientist—an unexpected career path for a woman in the 1940s—she began taking research dives and training sharks, earning her the nickname "The Shark Lady."
Dorothea Lange: The Photographer Who Found the Faces of the Great Depression by Carole Boston Weatherford, illustrated by Sarah Green
Before she raised her lens to take her most iconic photo, Dorothea Lange took photos of the downtrodden from bankers in once-fine suits waiting in breadlines, to former slaves, to the homeless sleeping on sidewalks. A case of polio had left her with a limp and sympathetic to those less fortunate. Traveling across the United States, documenting with her camera and her fieldbook those most affected by the stock market crash, she found the face of the Great Depression.
Brave Girl: Clara and the Shirtwaist Makers' Strike of 1909 by Michelle Markel, illustrated by Melissa Sweet
When Clara arrived in America, she couldn't speak English. She didn't know that young women had to go to work, that they traded an education for long hours of labor, that she was expected to grow up fast. But that didn't stop Clara. She went to night school, spent hours studying English, and helped support her family by sewing in a shirtwaist factory. Clara never quit, and she never accepted that girls should be treated poorly and paid little. Fed up with the mistreatment of her fellow laborers, Clara led the largest walkout of women workers the country had seen.
The Gardener by Sarah Stewart, illustrated by David Small
Lydia Grace Finch brings a suitcase full of seeds to the big gray city, where she goes to stay with her Uncle Jim, a cantankerous baker. There she initiates a gradual transformation, bit by bit brightening the shop and bringing smiles to customers' faces with the flowers she grows. But it is in a secret place that Lydia Grace works on her masterpiece—an ambitious rooftop garden—which she hopes will make even Uncle Jim smile. Sarah Stewart introduces readers to an engaging and determined young heroine, whose story is told through letters written home, while David Small's illustrations beautifully evoke the Depression-era setting.
Malala's Magic Pencil by Malala Yousafzai, illustrated by Kerascoët
As a child in Pakistan, Malala made a wish for a magic pencil. She would use it to make everyone happy, to erase the smell of garbage from her city, to sleep an extra hour in the morning. But as she grew older, Malala saw that there were more important things to wish for. She saw a world that needed fixing. And even if she never found a magic pencil, Malala realized that she could still work hard every day to make her wishes come true.
Maya Lin, Artist-Architect of Light and Lines by Jeanne Walker Harvey, illustrated by Dow Phumiruk
As a child, Maya Lin loved to study the spaces around her. She explored the forest in her backyard, observing woodland creatures, and used her house as a model to build tiny towns out of paper and scraps. The daughter of a clay artist and a poet, Maya grew up with art and learned to think with her hands as well as her mind. From her first experiments with light and lines to the height of her success nationwide, this is the story of an inspiring American artist: the visionary artist-architect who designed the Vietnam Veterans Memorial.
I Dissent: Ruth Bader Ginsberg Makes Her Mark by Debbie Levy, illustrated by Elizabeth Baddeley
Supreme Court justice Ruth Bader Ginsburg has spent a lifetime disagreeing: disagreeing with inequality, arguing against unfair treatment, and standing up for what's right for people everywhere. This biographical picture book about the Notorious RBG, tells the justice's story through the lens of her many famous dissents, or disagreements.
Chapter Books About Amazing Girls
Jasmine Toguchi by Debbi Michiko Florence, illustrated by Elizabet Vukovic
Eight-year-old Jasmine Toguchi is a flamingo fan, tree climber, and top-notch mess-maker! She's also tired of her big sister, Sophie, always getting to do things first. For once, Jasmine wishes SHE could do something before Sophie―something special, something different. The New Year approaches, and as the Toguchi family gathers in Los Angeles to celebrate, Jasmine is jealous that her sister gets to help roll mochi balls by hand with the women. Her mom says that Jasmine is still too young to join in, so she hatches a plan to help the men pound the mochi rice instead. Surely her sister has never done THAT before.
Jada Jones by Kelly Starling Lyons, illustrated by Vanessa Brantley-Newton
When Jada Jones's best friend moves away, school feels like the last place she wants to be. She'd much rather wander outside looking for cool rocks to add to her collection, since finding rocks is much easier than finding friends. So when Jada's teacher announces a class project on rocks and minerals, Jada finally feels like she's in her element. The only problem: one of her teammates doesn't seem to like any of Jada's ideas. She doesn't seem to like Jada all that much, either. Can Jada figure out a way to make a winning science project and a new friend?
Skunked!: Calpurnia Tate, Girl Vet by Jacqueline Kelly, illustrated by Jennifer L. Meyer
When soft-hearted Travis discovers an abandoned baby skunk, he can't help but bring him home and take care of him. Stinky, as Travis names him, settles in pretty well. But when Travis discovers Stinky's litter-mate, Winky, who is in need of some help, things get complicated around the Tate house. One skunk is a piece of cake; two is just asking for trouble. Will Travis and Callie be able to keep the critters away from Mother's careful eyes—and nose?
Lola Levine Is Not Mean! by Monica Brown, illustrated by Angela Dominguez
Lola Levine likes writing in her diario, sipping her mom's cafe con leche, eating her dad's matzo ball soup, and playing soccer with her team, the Orange Smoothies. So what if she doesn't always fit in? Lola is fierce on the field, but when a soccer game during recess gets too competitive, she accidentally hurts her classmate Juan Gomez. Now everyone is calling her Mean Lola Levine! Lola feels terrible, but with the help of her family, her super best friend, Josh Blot, and a little "pencil power," she just might be able to turn it all around.
Clementine by Sara Pennypacker, illustrated by Marla Frazee
Clementine is having not so good of a week.
-On Monday she's sent to the principal's office for cutting off Margaret's hair.
-Tuesday, Margaret's mother is mad at her.
-Wednesday, she's sent to the principal again.
-Thursday, Margaret stops speaking to her.
-Friday starts with yucky eggs and gets worse.
-And by Saturday, even her mother is mad at her.
Okay, fine. Clementine is having a DISASTROUS week.
Middle Grade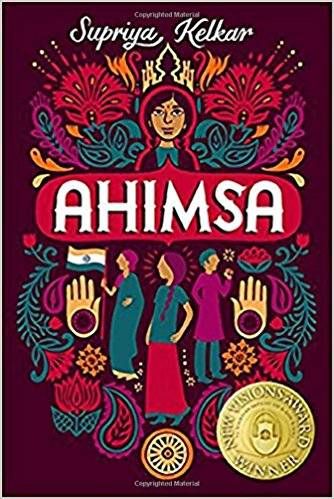 Ahimsa by Supra Kelkar
In 1942, when Mahatma Gandhi asks Indians to give one family member to the freedom movement, ten-year-old Anjali is devastated to think of her father risking his life for the freedom struggle. But it turns out he isn't the one joining. Anjali's mother is. And with this change comes many more adjustments designed to improve their country and use "ahimsa"—non-violent resistance—to stand up to the British government. First the family must trade in their fine foreign-made clothes for homespun cotton, so Anjali has to give up her prettiest belongings. Then her mother decides to reach out to the Dalit community, the "untouchables" of society. Anjali is forced to get over her past prejudices as her family becomes increasingly involved in the movement.
Sonia Sotomayor: A Biography by Sylvia Mendoza
Arguably one of the most prominent US Supreme Court Justices at the moment, Sonia Sotomayor has paved her own way to enact profound changes and reforms, despite the obstacles that stood in her way. And she certainly has had her share of adversity: she was diagnosed with diabetes when she was just eight years old, lived in housing projects in the Bronx in her youth, and fought (and still is fighting) against blatant discrimination throughout her career. Now in her early 60s, Justice Sotomayor has already made history in being appointed to the Court as the first Latina justice, the third woman justice, and one of the three youngest justices in this position.
Finding Perfect by Elly Swartz
To twelve-year-old Molly Nathans, perfect is:
-The number four
-The tip of a newly sharpened No. 2 pencil
-A crisp white pad of paper
-Her neatly aligned glass animal figurines
What's not perfect is Molly's mother leaving the family to take a faraway job with the promise to return in one year. Molly knows that promises are sometimes broken, so she hatches a plan to bring her mother home: Win the Lakeville Middle School Poetry Slam Contest. The winner is honored at a fancy banquet with white tablecloths. Molly is sure her mother would never miss that. Right…?
Counting Thyme by Melanie Conklin
When eleven-year-old Thyme Owens' little brother, Val, is accepted into a new cancer drug trial, it's just the second chance that he needs. But it also means the Owens family has to move to New York, thousands of miles away from Thyme's best friend and everything she knows and loves. The island of Manhattan doesn't exactly inspire new beginnings, but Thyme tries to embrace the change for what it is: temporary.
Forever, Or a Long, Long Time by Caela Carter
Flora and her brother, Julian, don't believe they were born. They've lived in so many foster homes, they can't remember where they came from. And even now that they've been adopted, Flora still struggles to believe in forever. So along with their new mother, Flora and Julian begin a journey to go back and discover their past—for only then can they really begin to build their future.
The Way to Bea by Kat Yeh
Everything in Bea's world has changed. She's starting seventh grade newly friendless and facing big changes at home, where she is about to go from only child to big sister. Feeling alone and adrift, and like her words don't deserve to be seen, Bea takes solace in writing haiku in invisible ink and hiding them in a secret spot. But then something incredible happens—someone writes back. And Bea begins to connect with new friends, including a classmate obsessed with a nearby labyrinth and determined to get inside. As she decides where her next path will lead, she just might discover that her words—and herself—have found a new way to belong.
I Got This: To Gold and Beyond by Laurie Hernandez
At sixteen years old, Laurie Hernandez has already made many of her dreams come true—and yet it's only the beginning for this highly accomplished athlete. A Latina Jersey girl, Laurie saw her life take a dramatic turn last summer when she was chosen to be a part of the 2016 US Olympic gymnastics team. After winning gold in Rio as part of the Final Five, Laurie also earned an individual silver medal for her performance on the balance beam. Nicknamed "the Human Emoji" for her wide-eyed and animated expressions, Laurie continued to dance her way into everyone's hearts while competing on the hit reality TV show Dancing with the Stars, where she was the youngest-ever winner of the Mirrorball Trophy.
Insignificant Events in the Life of a Cactus by Dusti Bowling
Aven Green loves to tell people that she lost her arms in an alligator wrestling match, or a wildfire in Tanzania, but the truth is she was born without them. And when her parents take a job running Stagecoach Pass, a rundown western theme park in Arizona, Aven moves with them across the country knowing that she'll have to answer the question over and over again. Her new life takes an unexpected turn when she bonds with Connor, a classmate who also feels isolated because of his own disability, and they discover a room at Stagecoach Pass that holds bigger secrets than Aven ever could have imagined. It's hard to solve a mystery, help a friend, and face your worst fears. But Aven's about to discover she can do it all…even without arms.
Where the Mountain Meets the Moon by Grace Lin
In the valley of Fruitless mountain, a young girl named Minli lives in a ramshackle hut with her parents. In the evenings, her father regales her with old folktales of the Jade Dragon and the Old Man on the Moon, who knows the answers to all of life's questions. Inspired by these stories, Minli sets off on an extraordinary journey to find the Old Man on the Moon to ask him how she can change her family's fortune. She encounters an assorted cast of characters and magical creatures along the way, including a dragon who accompanies her on her quest for the ultimate answer.
Vilonia Beebe Takes Charge! by Kristin L. Gray
Fourth grader Vilonia hasn't lost her rain coat in the three weeks she's had it and she's brushed her teeth every night and she's volunteered to be the Friday Library Helper. But all that hard work is worth it if it means she can get a dog. Besides, this dog isn't just because Vilonia has wanted one for pretty much ever. It's also to help Mama, who's been lost in one, big sadness fog for forty-three days—ever since Nana died. But Vilonia read that pets can help with sadness. Now all she has to do is keep the library goldfish alive over spring break, stop bringing stray animals home, and help Mama not get fired from her job. And she's got to do all of it before the Catfish Festival. Easy as pie, right?
Life in Motion: Young Reader's Edition by Misty Copeland
As the first African-American principal dancer at the American Ballet Theatre, Misty Copeland has been breaking down all kinds of barriers in the world of dance. But when she first started dancing—at the late age of thirteen—no one would have guessed the shy, underprivileged girl would one day make history in her field. Her road to excellence was not easy—a chaotic home life, with several siblings and a single mother, was a stark contrast to the control and comfort she found on stage. And when her home life and incredible dance promise begin to clash, Misty had to learn to stand up for herself and navigate a complex relationship with her mother, while pursuing her ballet dreams.
Young Adult Books About Amazing Girls
Girl Rising: Changing the World One Girl at a Time by Tanya Lee Stone
Girl Rising, a global campaign for girls' education, created a film that chronicled the stories of nine girls in the developing world, allowing viewers the opportunity to witness how education can break the cycle of poverty.
Now, award-winning author Tanya Lee Stone deftly uses new research to illuminate the dramatic facts behind the film, focusing both on the girls captured on camera and many others. She examines barriers to education in depth—early child marriage and childbearing, slavery, sexual trafficking, gender discrimination, and poverty—and shows how removing these barriers means not only a better life for girls, but safer, healthier, and more prosperous communities.
It All Comes Down to This by Karen English
It's 1965, Los Angeles. All twelve-year-old Sophie wants to do is write her book, star in the community play, and hang out with her friend Jennifer. But she's the new black kid in a nearly all-white neighborhood; her beloved sister, Lily, is going away to college soon; and her parents' marriage is rocky. There's also her family's new, disapproving housekeeper to deal with. When riots erupt in nearby Watts and a friend is unfairly arrested, Sophie learns that life—and her own place in it—is even more complicated than she'd once thought.
How Dare the Sun Rise by Sandra Uwiringiyimana
Sandra was just ten years old when she found herself with a gun pointed at her head. She had watched as rebels gunned down her mother and six-year-old sister in a refugee camp. Remarkably, the rebel didn't pull the trigger, and Sandra escaped. Thus began a new life for her and her surviving family members. With no home and no money, they struggled to stay alive. Eventually, through a United Nations refugee program, they moved to America, only to face yet another ethnic disconnect. Sandra may have crossed an ocean, but there was now a much wider divide she had to overcome. And it started with middle school in New York. In this memoir, Sandra tells the story of her survival, of finding her place in a new country, of her hope for the future, and how she found a way to give voice to her people.
The Heartbeats of Wing Jones by Katherine Webber
Wing Jones, like everyone else in her town, has worshipped her older brother, Marcus, for as long as she can remember. Good-looking, popular, and the star of the football team, Marcus is everything his sister is not. Until the night everything changes when Marcus, drunk at the wheel after a party, kills two people and barely survives himself. Every night, unable to sleep, Wing finds herself sneaking out to go to the school's empty track. When Aaron, Marcus's best friend, sees her running one night, he recognizes that her speed, skill, and agility could get her spot on the track team. And better still, an opportunity at a coveted sponsorship from a major athletic gear company. Wing can't pass up the opportunity to train with her longtime crush and to help her struggling family, but can she handle being thrust out of Marcus's shadow and into the spotlight?
The Hate U Give by Angie Thomas
Sixteen-year-old Starr Carter moves between two worlds: the poor neighborhood where she lives and the fancy suburban prep school she attends. The uneasy balance between these worlds is shattered when Starr witnesses the fatal shooting of her childhood best friend Khalil at the hands of a police officer. Khalil was unarmed. Soon afterward, his death is a national headline. Some are calling him a thug, maybe even a drug dealer and a gangbanger. Protesters are taking to the streets in Khalil's name. Some cops and the local drug lord try to intimidate Starr and her family. What everyone wants to know is: what really went down that night? And the only person alive who can answer that is Starr.
Piecing Me Together by Renee Watson
Jade believes she must get out of her poor neighborhood if she's ever going to succeed. Her mother tells her to take advantage of every opportunity that comes her way. And Jade has: every day she rides the bus away from her friends and to the private school where she feels like an outsider, but where she has plenty of opportunities. But some opportunities she doesn't really welcome, like an invitation to join Women to Women, a mentorship program for "at-risk" girls. Just because her mentor is black and graduated from the same high school doesn't mean she understands where Jade is coming from. She's tired of being singled out as someone who needs help, someone people want to fix. Jade wants to speak, to create, to express her joys and sorrows, her pain and her hope. Maybe there are some things she could show other women about understanding the world and finding ways to be real, to make a difference.
Under a Painted Sky by Stacey Lee
All Samantha wanted was to move back to New York and pursue her music, which was difficult enough being a Chinese girl in Missouri, 1849. Then her fate takes a turn for the worse after a tragic accident leaves her with nothing and she breaks the law in self-defense. With help from Annamae, a runaway slave she met at the scene of her crime, the two flee town for the unknown frontier. But life on the Oregon Trail is unsafe for two girls. Disguised as Sammy and Andy, two boys heading for the California gold rush, each search for a link to their past and struggle to avoid any unwanted attention. Until they merge paths with a band of cowboys turned allies, and Samantha can't stop herself from falling for one. But the law is closing in on them and new setbacks come each day, and the girls will quickly learn there are not many places one can hide on the open trail.
You Bring the Distant Near by Mitali Perkins
Five girls. Three generations. One great American love story. You Bring the Distant Near explores sisterhood, first loves, friendship, and the inheritance of culture—for better or worse. Ranee, worried that her children are losing their Indian culture; Sonia, wrapped up in a forbidden biracial love affair; Tara, seeking the limelight to hide her true self; Shanti, desperately trying to make peace in the family; Anna, fighting to preserve Bengal tigers and her Bengali identity—award-winning author Mitali Perkins weaves together a sweeping story of five women at once intimately relatable and yet entirely new.
Victoria: Portrait of a Queen by Catherine Reef
Victoria woke one morning at the age of eighteen to discover that her uncle had died and she was now queen. She went on to rule for sixty-three years, with an influence so far-reaching that the decades of her reign now bear her name—the Victorian period. Victoria is filled with the exciting comings and goings of royal life: intrigue and innuendo, scheming advisors, and assassination attempts, not to mention plenty of passion and discord.
What are your favorite books about amazing girls?
SaveSaveSaveSaveSaveSaveSaveSaveSaveSaveSaveSave
SaveSave