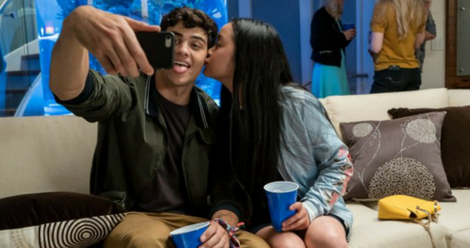 Humor
The Week in Romcom-Starved Bookish Twitter
This content contains affiliate links. When you buy through these links, we may earn an affiliate commission.
This week saw Book Twitter at its peak, when, starved of wholesome romcoms, we saw the release of Netflix's highly anticipated adaptation of Jenny Han's To All the Boys I've Loved Before.
We just couldn't believe our luck: a non-problematic male romcom lead who doesn't slip once!?
https://twitter.com/cvntineos/status/1030438362384089088?s=20
There were several uncanny comparisons to baby Mark Ruffalo, with just a dash of Jess Mariano.
thrilled to report that #ToAllTheBoysIveLovedBefore is a delight, and also that Noah Centineo is the Mark Ruffalo/Jess Mariano hybrid that teens today deserve!! pic.twitter.com/4gLDohKlkt

— Kate Halliwell (@katehalliwell) August 18, 2018
Netflix US has also unabashedly become a TATBILB fan account:
the three stages of talking to boys pic.twitter.com/FT8EjY08I3

— Netflix (@netflix) August 21, 2018
We need to talk about how Lara Jean handled things like an absolute boss in a situation where the likes of me would've melted off the face of the planet:
i'm watching to all the boys i've loved before and i still don't get how lara jean goes on with her life after all her crushes have read her letters, i would fully disappear from the country

— erika 🌿 (@theseribbons) August 18, 2018
We also need to talk about how Peter Kavinsky handles that direct hit to his heart:
https://twitter.com/blythescurls/status/1032694068181127169
My absolute favourite development from the release of this movie is this Twitter account:
Peter: come on, I wasn't that drunk
Lara Jean: you tried to color my face with a highlighter because you said I was important
Peter: *tearing up* because you are!

— incorrect To All The Boys I've Loved Before (@IncorrectTATBIL) August 19, 2018
Also, Preeti called us all right out:
Look, I know we all want to be Lara Jean, but you know we're all actually Joan, right?
(Yes, I'm watching #ToAllTheBoysIveLovedBefore again) pic.twitter.com/fyeRDwJEQy

— Babu Prit (Preeti Chhibber) (@runwithskizzers) August 21, 2018
In other news of some A+ Asian rep on screen:
https://twitter.com/kenobarnes/status/1030468109641994240?s=20
---
Romcom-starved bookish Twitter basically ruled our feeds for five days, but let's not lose sight of this account, which is just calling out horror writers one after the other:
Stephen King: For the approval of the Midnight Society, I call this… The Tale of the Creepy Small Town with a Spooky Secret
Clive Barker: Is the town in Maine
King: NO
King:
King: yes

— Hell's Courtesan (@bitterkarella) August 18, 2018
Clive Barker: Presented for the approval of the Midnight Society, I call this… The Tale of the Horny Ghost who liked to Fuck.

Stephen King: Oh for Pete's sake

Edward Lee: No wait I want to hear this

— Hell's Courtesan (@bitterkarella) August 18, 2018
A reminder, at the end, to watch this extremely important piece of content:
when u Miranda Priestly. pic.twitter.com/IvQ75lVesJ

— Bowen Yang 杨伯文 (@bowenyang) August 23, 2018