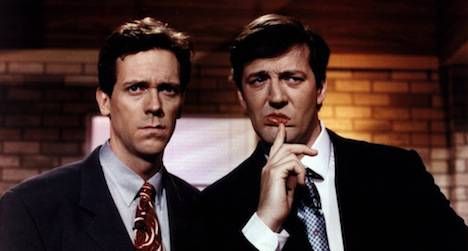 Pop Culture
The Best Bookish Sketches from A BIT OF FRY AND LAURIE
A Bit of Fry and Laurie featured truly wonderful comedy sketches, but some of my personal favorites are the sketches where they take on literature, poetry, writers, and libraries with their usual convoluted logic and utterly strange word play. For your pleasure I've collected a few of my favorites (if you'll pardon the pun).
"The Letter" is quite possibly the greatest Dracula parody in the history of Dracula parodies. Stephen Fry's dramatic reading is full of grammar jokes, one-liners, weird voices, and Stephen Fry in a jacket of some sort of red velvet.
If you're a short-term commuter, a busy housewife, or about to go off on vacation Fry and Laurie are here to share some brief poems to fit into your schedule and travel tips on taking your poems with you.
Here Fry and Laurie become long-winded, pompous, frustrating, delusional farts sharing strange poetry, sexual fantasies, and anecdotes about their friend T.S. "Tommy" Elliot with the inmates of a maximum security prison.
https://www.youtube.com/watch?v=uiV4F7HWHRk
The most insufferable dinner party of insufferable writers.
"I can't pretend to be much of a judge of poetry, I'm an English teacher not a homosexual." (For those of us who wrote dark poetry as overly emotional teenagers this sketch might feel a little close to home…)
Hearing Stephen Fry call Gertrude Stein "an overly lesbicious writer," is only second to Hugh Laurie's character of a genteel and sweet judge on my list of Favorite Things That I've Ever Exerpienced.
I'm getting away with including this sketch on the grounds that Bibles are books and so talking about them counts as "bookish."
This is the sketch for anyone who has suffered through an author being interviewed about their new novel by a talk show host who has obviously never read the book.
A library patron who just wants a book on cricket comes up against two librarians who are deadset on proving the greatness of Great Britain.
Honestly this one isn't a bookish sketch, I'm just throwing it in because I think it's deadly hilarious.