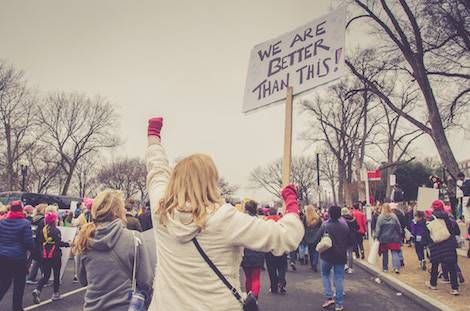 News
Bookish Signs from the Women's March 2018
This content contains affiliate links. When you buy through these links, we may earn an affiliate commission.
January 20, on the one year anniversary of the first Women's March, we assembled again. This time, the focus is on voting, with the Power to the Polls initiative. Votes matter. If we didn't know that before, the past year has provided a number of noteworthy examples. Remember Alabama?
We remember! #WomensMarch2018 pic.twitter.com/UjYgSU8gyY

— Ricky Davila (@TheRickyDavila) January 21, 2018
For me, the best part of any march or protest is getting to see all of the very clever and creative signs. So many of them come from books! Like these from Harry Potter (with guest appearances by Princess Leia and Katniss Everdeen).
We love when fan activists lend their creativity to protest signs! What are some of your favorite signs from #WomensMarch2018? #WomensMarch pic.twitter.com/wMbmmJFoQR

— The Harry Potter Alliance (@TheHPAlliance) January 20, 2018
Margaret Atwood's The Handmaid's Tale made an appearance at many marches.
Seen today at the #WomensMarch in #PalmBeach #TrumpShutdown #Handmaids pic.twitter.com/4JSSjETYLy

— KerstenPR (@kerstenpr) January 21, 2018
There were more than a few women who borrowed the words of Lin Manuel Miranda in his ever relevant musical examination of the founding of this country, Hamilton.
Eliza Hamilton at the #womensmarch …. because of course she did. @Lin_Manuel @HamiltonMusical – you inspire greatness! pic.twitter.com/WSvVd1Ek7T

— Kate Hamernik (@KateHamArt) January 20, 2018
theatre kids – we get the job done #WomensMarch #hamilton (thanks for great poster material @Lin_Manuel) pic.twitter.com/G7DyEGYZVn

— syd (@sydduhney) January 20, 2018
Rioter Teresa Preston spotted these signs at the march in Washington, D.C.
A great day and lots a great signs at the DC Women's March today. pic.twitter.com/S1xbheRZ3f

— Teresa P. (@teresareads) January 20, 2018
Her own sign came from Ocatavia Butler's Parable of the Talents.
Poster ready for #WomensMarchDC pic.twitter.com/asYKrEXAzJ

— Teresa P. (@teresareads) January 20, 2018
Rioter Beth O'Brien found inspiration for her sign in Bitch Planet. Maybe what we all need is a little more non-compliance.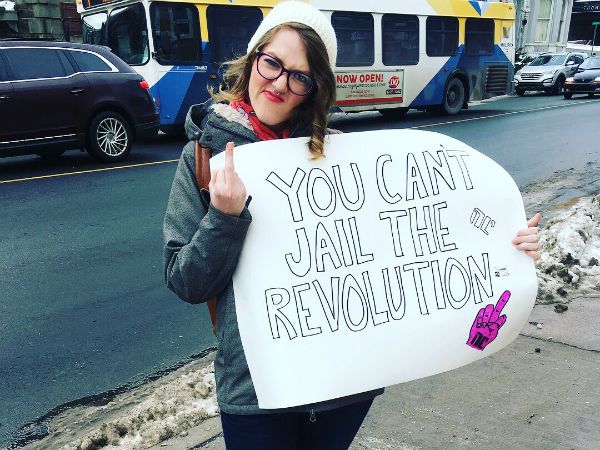 I'll leave you with a poem from Halsey, one that she shared at the Women's March in New York City.
here is my entire "A Story Like Mine" poem from today's #WomensMarch2018 in NYC tw: rape / assault. Thank you. pic.twitter.com/l3fji73woM

— h (@halsey) January 20, 2018