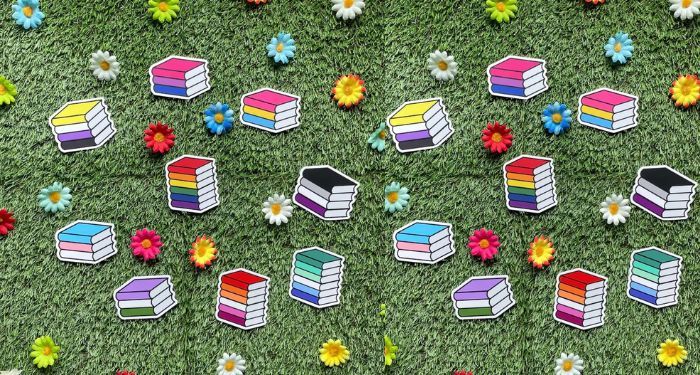 Book Fetish
Stacked with Pride: Stickers, Pins, and Bookmarks for Celebrating Literary Style
This content contains affiliate links. When you buy through these links, we may earn an affiliate commission.
Rainbow capitalism is a thing, and we know that this year more than any other, corporate Pride merchandise has experienced backlash thanks to right-wing provocateurs. While it's disappointing that stores like Target and Kohls have pulled some of their Pride themed goods, they're corporations. On the one hand, it's powerful to see major retailers have these items available in store, but on the other hand, there's no question to anyone — queer or ally — this is an easy cash grab. While we know this year is trickier since actual violence from fascists has been an issue, we have not seen these same organizations give money directly to queer organizations or people who are under attack every single day. All of that is to say as much as rainbow capitalism is important to deconstruct, it is June and there are thousands of small queer creators across the world who can and should benefit from love, support, and cash money this time of year.
Today, let's look at a whole host of awesome bookish stickers, pins, and, of course, bookmarks that celebrate all things LGBTQ+ and Pride. All of these creations come from Etsy, and I have done my best to make sure these items are made by or curated by the shop owner. Etsy has become increasingly a place for the use of drop shipping, which we especially see in the T-shirt/sweatshirt department. Someone will mock up a design in Canva that they've put together after seeing what's popular on Etsy, then they'll outsource the work of producing and shipping to another place. This doesn't mean they aren't making something, but there is something that feels a little too mass produced for the purposes of this particular roundup. It is impossible to always know or tell, so know they might pop up here too (I'll save the deeper dive for another post).
Let's celebrate all things LGBTQ+ readers, bookworms, and pride.