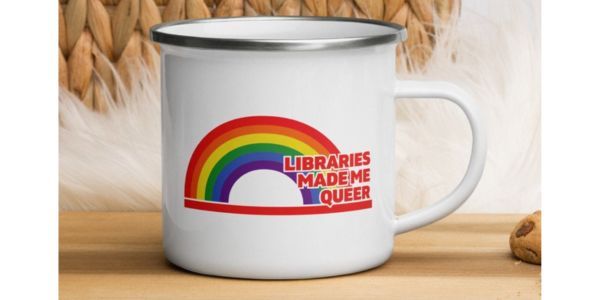 Book Fetish
Bookish Pride Mugs for Celebrating All Year Long
This content contains affiliate links. When you buy through these links, we may earn an affiliate commission.
This has been the longest June in a long time, hasn't it? We're wrapping up a Pride month that has been joyful but also one tinged with ongoing fear about the future for queer people in America. I don't need to tell you this, and I also don't need to say that celebrating queer folks is an all-year thing that begins at the voting booth, continues in school and library and community board meetings, and shows up everywhere along the way. We emphasize that libraries are safe places for ALL and we also acknowledge that showing up looks different for everyone. Maybe you're at the board meetings to talk or maybe you're writing a letter; both matter, both make a difference, and both require work and effort on everyone's part. One other small thing you can do to celebrate queer people all year long is to identify yourself as part of or ally to the community. Again, acknowledging rainbow capitalism is important, but so, too, is in supporting queer people and creators.
All of that is to say, have you seen the fun bookish Pride mugs floating around? There are so many, and they offer an opportunity to enjoy your favorite warm beverage (or cold, I'm not judging how you drink your cold stuff) in a mug that celebrates queer people and/or supports their creative work.
Grab your wallet. It's time to do some bookish Pride mug shopping.