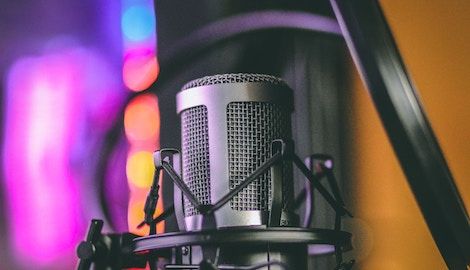 Sites We Like
Bookish Podcasts That Will Help You Pick Your Next Read
This content contains affiliate links. When you buy through these links, we may earn an affiliate commission.
When it comes to books, most readers agree: The challenge isn't finding some great options, it's choosing which one to read. Between the constant slew of notable new releases and those classic titles you've been meaning to get to for years, making a choice on what to pick up next can get more than a little overwhelming. Luckily, there are now plenty of podcasts to help you do just that.
If you're finding yourself paralyzed by the problem of too many choices, check out one of these bookish podcasts. From in-depth discussions on both new and old book releases to interviews with notable authors to personalized recommendations, these podcasts are not only fun to listen to, but also immensely helpful for shaking you out of that indecision-induced reading slump. At the very least, they'll probably get you thinking more critically about the kinds of books you like to read—which could give you some direction the next time you walk into a library or bookstore.
This podcast does exactly what its name implies: helps book lovers determine their next reads. In each episode, host Anne Bogel, who's also behind the Modern Mrs. Darcy blog, interviews a different reader and provides them with several recommendations based on which titles they loved, which they didn't like, and their overall reading habits. Probably my favorite part of this podcast is Bogel's serious knack for finding a through line between the books that readers gravitate to, no matter how different they may seem. I often find myself adding her suggested titles to my TBR list—not necessarily because of the plot description, but because of her analysis of specific story elements or character traits.
The struggle of choosing from so many damn books is real, and Christopher and Drew get it. In each episode of the podcast, the hosts work through this discussing what they're reading now, what they're looking forward to reading, and offering a recipe for a book-themed cocktail to make at home while you're listening. Books and booze—seriously, what else could you ask for?
Whether you're aiming to read more works by women in 2019 or just want to add more titles to your TBR list, you'll find plenty of great options on this podcast. Every week, Kendra and Autumn aim to "reclaim half the bookshelf" by discussing books by and about women from all different backgrounds. The books they discuss center on a specific theme or subject, which changes monthly. The podcast also features bi-monthly interviews with notable authors, such as Gail Honeyman, Lucy Tan, and Rebecca Traister.
In each episode of The Bookstore, former booksellers Becca and Corinne team up to talk about buzzworthy new releases, what they're currently reading, and the latest news in the book world. They also cover plenty of other fun and informative bookish subjects, from literary feuds and scandals to how to create a book budget.
Self-help is as overcrowded a genre as any other, and it's not always easy picking a title to read—especially when all promise to improve your life in one way or another. Enter By the Book. The podcast follows hosts Kristen Meinzer and Jolenta Greenberg as they adjust their lives to follow the rules of popular titles, like The Life-Changing Magic of Tidying Up or Year of Yes. After two weeks, they share which tips actually worked and which were not so helpful.
The series involves more social experimentation than actual recommendations, but you may be more (or less) inclined to pick up one of these books once you hear how their experiences affected their lives for better or worse.
While we're here, I might as well remind you that Book Riot has no shortage of podcasts that are sure to boost your TBR list. Get Booked offers personalized book recommendations for listeners (and you can submit a form for your own recommendation request). You can also check out All the Books for more ideas and discussions on all things books!
---
What bookish podcasts are you listening to?