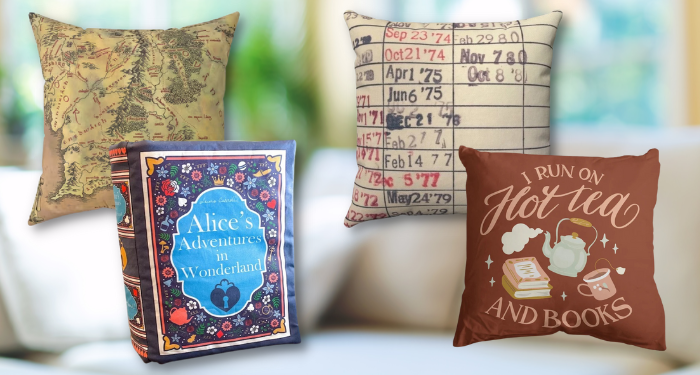 Book Fetish
17 Bookish Pillows For The Coziest Reading Experience
This content contains affiliate links. When you buy through these links, we may earn an affiliate commission.
Readers don't ask for much: an infinite budget for books, a TBR longer than we can finish in a lifetime, pretty bookshelves filled to the brim, a nice comfortable chair, and a good beverage by our side. And, of course, more free time to read.
Okay, so maybe that is asking for a bit much. This is not a perfect world, after all. But while I would say that most of us lack the time and the budget for all the books we want to get to, other things are pretty simple to come by: a nice beverage, even a good reading chair. And if you'd like to add extra comfort to your reading time, why not invest in one of the things that are a bit easier to acquire than floor-to-ceiling bookshelves or an infinite budget? See: bookish pillows!
Pillows are handy and cute, and it's easy to just stack them in a corner when not in use. Moreover, we all know how hard it is sometimes to keep a good reading position, so pillows are your best bet when it comes to adding more comfort to your reading. Not to mention that a cute pillow can tie up a bookish corner like nothing else!
Below there are several book-themed pillows I have selected for you. I love them all, and I can assure you, you will have trouble choosing a favourite.
---
Not only are these pillows cute and comfy, they will certainly be a point of conversation amongst friends and family. That may not be your favourite thing if all you want to do is read uninterrupted, but try to see it on the bright side: they're also good to throw without creating much damage. *wink wink*. Make the best use of them!
Looking for more? Here are a few more bookish pillows, and here some cute bookish blankets to combine with them.