Inspired by Oprah, 9 of Our Favorite Bookish Items for Holiday Gift-Giving
This post contains affiliate links. When you buy through these links, Book Riot may earn a commission.
When my friend Jen asked me what I would include on a list of my favorite things, I was really excited to think like Oprah. The list I sent her included fancy tea, my favorite cheese, and a selection of cozy loungewear. But then I thought about how my real absolute all-time favorite thing is reading. What items would I include on a list of favorite bookish holiday gifts?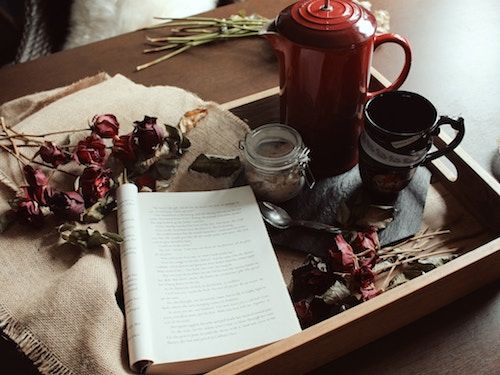 I asked my fellow Book Riot contributors to pretend to be Oprah and add their items. Here are the favorite bookish holiday gifts we came up with, just in time for holiday gift-giving. Any of the ideas below would be a perfect literary gift for a bookworm!
A Nice, Sturdy Mug for Sipping and Reading
I am often reading while drinking tea, hot chocolate, water, juice…a girl's gotta stay hydrated during hours of reading. I don't know about you, but I'm usually reluctant to put down my book even for a second, so I'm fumbling around for my mug or trying to set it down without looking. I love a sturdy mug with a flat, wide bottom that I can grab without thinking. Bonus points if it's a bookish mug, like this one featuring Jane Eyre or this stylish mug inspired by Rebecca (hint, hint, Santa).
Find more bookish mugs in the Book Riot store.
https://www.instagram.com/p/BjUHf6_lJbD/?hl=en&tagged=literarymug
A Blanket Scarf
Blanket scarves are my absolute favorite fall thing, and they're perfect for cozy reading anytime, anywhere. You can wear it to keep warm and stylish, you can use it as a blanket while snuggling up to read, or you can even spread it out as a blanket to sit on while enjoying a good book outdoors. I'll be wearing this scarf every day once the weather turns cold.
(P.S. The Book Riot store has scarves, too!)
Fun Socks
To be completely honest, I enjoy fun socks for any occasion. However, when I'm reading inside while the A/C is blasting in the summer or when I'm reading inside and winter is being winter, I like cozy socks that reflect what I'm doing (like these or these if I'm reading a library book). Also, I enjoy socks that reflect what I'm reading about (like these if I'm reading about art).
(AND socks.)
"Not Today" Necklace
All bookish jewelry is fun. It's a small reminder of your bookish-ness that you project onto the world, where only the sharp-eyed and similarly minded will recognize the references. My favorite bookish jewelry is my Arya Stark necklace. When her teacher asks her, "What do we say to death?" Arya responds, "Not today." It's a good mantra. I wear the necklace on exhausted days, rough days, days when 2018 really begins to grate on me, and I just need to face it all and tell it, "Not today. You won't get me today." I think everyone needs a piece of jewelry that propels and supports them through the bad days.
More gift ideas: bookish earrings; bookish necklaces.
Thumb Thing Book Page Holder
Sometimes I want to enjoy a snack while I read my book, which necessitates a free hand. I was gifted a bright pink Thumb Thing Book Page Holder in a Galentine's Day gift exchange and I totally love it. Is it comfortable? Not really. Does it work exceptionally well? Definitely not. But it makes me feel like some kind of professional bookworm when I use it, and that's enough for me.
For more book holders, check out this post listing 35 of our favorites.
I'm not much of a book swag person or a shopper in general. An exception is my green canvas tote bag with the iconic blue and red cover of Catch-22 by Joseph Heller on it. I bought it at Barnes & Noble several years ago and brought it to work with me. They sell other tote bags with classic covers on them, but this one appears out of stock at the moment.
Looking for a tote? The Book Riot store has you covered.
All the Bookmarks You Can Collect
Bookmarks will likely never become valuable, in the resale value. I pick a lot up for free from my local library. But they are valuable for keeping your place, without having to crease a cover or memorize the page number. They're also handy to store, since you can put your extras…in a book!
Our picks for bookmarks: Halloween themed; leather; printable.
My "Dangerous Women Read" Tote Bag
I've got roughly fifty-leven hundred tote bags in my possession, but this one by Gibbs Smith is one of my faves. There's something empowering about walking around and announcing to the world that this woman reads and you should probs be scared of her. *shrugs and gives no f*cks*
More Book Riot posts about totes: 11 of our favorites; large tote bags; even more good totes.
A Bath Caddy That Holds A Book, A Candle, and a Glass of Wine, and Magically Fits in My Weird Bathtub Perfectly
I haven't found it yet, but WHEN I DO.
More Book Riot posts about bath caddies: one woman's quest to read in the bath; 6 essentials for bathtub reading.
What would you put on your list of favorite bookish holiday gifts? Channel your inner Oprah and let us know in the comments.