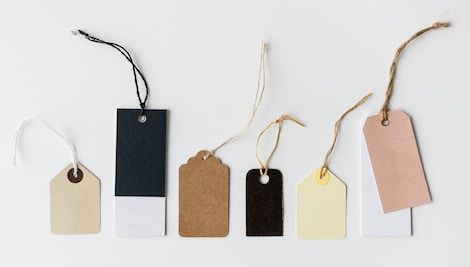 15 Bookish Gifts For The Whole Family
Though your heart may be in the right place when searching for the perfect gifts for everyone in your family this December, let's be real. Having more than a handful of family members to buy for during the holiday season can be very time consuming and expensive. But don't fret, Book Riot has your back. Singular gifts for the whole family are always a great way to save time and money during the holiday shopping season. Below is a list of 15 bookish themed gifts across all price levels that your whole family will enjoy.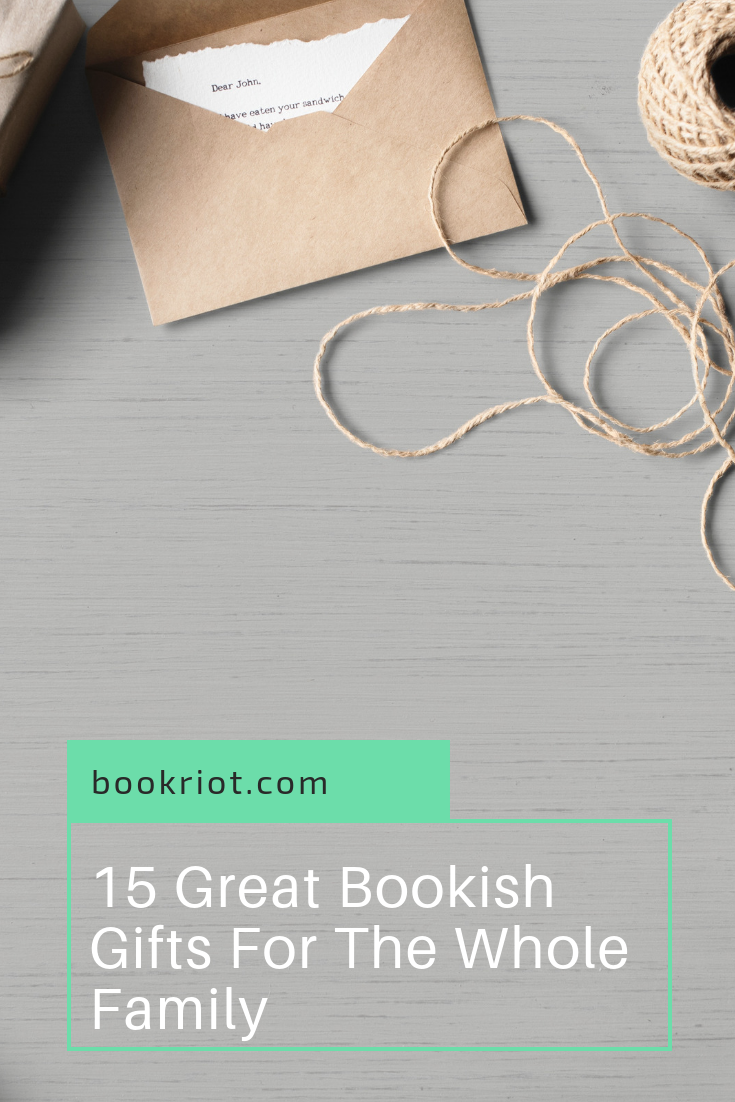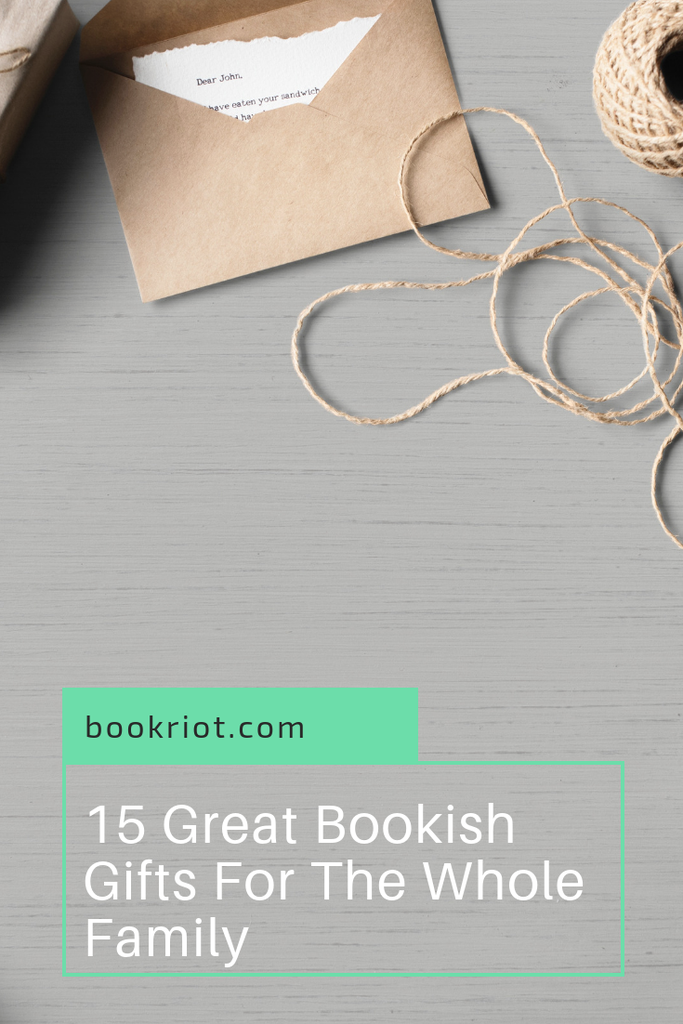 Note: All prices shown are subject to change.
Customize your own map poster with Mapiful to add some cool art to your home. Take it to that bookish level by customizing your map to your favorite literary place. Take a look at this customized Raven Cycle inspired map. You don't have to stick to real places—get creative with your favorite fictional places! Price: $39+
A monthly subscription to a literary themed subscription box also makes a great gift for the family. OwlCrate will send you a young adult novel and 3–5 bookish items every month. Read the book as a family and share the goodies! OwlCrate also offers the option of OwlCrate Jr., a monthly subscription for kids aged 8–12. Price: $27.99/$29.99
The Bookish Box is also a literary subscription box that is themed monthly and lets you have the option of a young adult or adult book. You are also given the option to customize your box depending on how much you want to spend. Price: $18–$46
This "Favorite Books" art print by Kelly Nasuta is fully customizable and would make a perfect gift for a family room or office. The options for how to personalize this print are endless: choose from multiple print sizes, have the option of several different frames, and customize the print itself with a different color scheme and personalized text. Idea: in the name area, type "OUR," and then change the book titles to books the entire family has loved! Price: $29+
5. Audiobook Service Subscription
Does your family like listening to audiobooks on long drives or at home? A subscription to an audiobook service makes a great gift. Choose your preferred audiobook service, and gift one or a few months worth of a subscription to the family. Then pick out a book to listen to together! Price: Varies
You can find these library card pillows in a variety of bright colors from Gas Station Burrito on Society6. Buy one or multiple to spice up your reading area. Price: $29.99+
StorytaleDecor on Etsy has a wide variety of bookish and literary quote prints. This "Just One More Chapter" print is a perfect edition to the family reading nook. Price: $16.18
Add these awesome folding book lights to your home decor to show off your love of books in a unique way. These make great additions to the family room and your reading nook. They also light up in five different colors: white, blue, red, green, and purple. Price: $19.99
If you're buying for the family that loves tea, RosieLeaTeaUK on Etsy has a variety of literary-inspired teas available. Check out this Literary Tea Gift Set. Price: $26.29
Reading in the bath: relaxing, but potentially dangerous (for your books). Enter: The Literary Gift Company's Aquala Bath Caddy. Everyone in the family can find use with this bath caddy whose main feature is its fold away book support. Price: $70
The Literary Gift Company also sells literary themed bars of soap that are so cute. Idea: buy all seven bars available, put them together in a gift basket, and throw in a loofah and some hand towels. Price: $3.99
Candles are always a good gift idea. Give this "In Fair Verona" candle from LemonCakes Candle Co to the family who loves a cozy reading setting. Idea: create a "Reading Essentials" gift basket and toss in some snacks and sweet treats, tea or hot chocolate, and some cool bookmarks. Price: $9.25+
13. Coffee Table Books
Large coffee table books are great gifts for the whole family, especially when catered to what most of the family enjoys. Most film franchise have books dedicated to the film art or history. For example, The Art of Harry Potter from Titus Books covers the art and visuals from all of the Harry Potter films. Price: $52.74
Board games always make great gifts for the whole family because they offer the opportunity to do something fun together. And Scrabble is the perfect gift for the family with an affinity for words. Check out this awesome bookish edition of Scrabble from Winning Solutions Game Company's "Linen Book Games" collection. They also have lots of other games, like Clue and Monopoly, and all are packaged to look like a hardcover book! Price: $39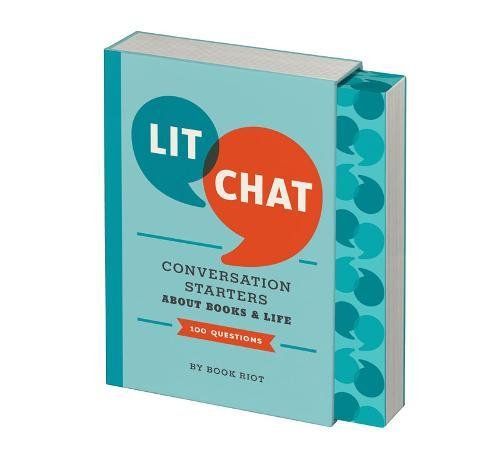 Did you know Book Riot has its own game? Lit Chat: Conversation Starters About Books & Life is a 50 card conversation deck with 100 reading-themed questions. Price: $16.99
Find more bookish gift ideas for the readers in your life here at 15 Bookish Gifts For $10 And Under, Bookish Gifts for $20 Or Less, and 10 Super Luxe Christmas Gifts For Book Lovers.