Wear Your Feminism on Your Ears: Bookish Feminist Earrings
This content contains affiliate links. When you buy through these links, we may earn an affiliate commission.
Your ears are pierced. Good for you. Now how to adorn those gorgeous lobes of yours? Well, you're a feminist and you love books, and clearly you want everyone to know that. But does that mean choosing between wearing bookish earring or feminist earrings? Dear reader, I say no! Here are a few earrings you can buy now on Etsy that will fulfill your literary needs as well as your need to smash the patriarchy. Go you!
Handmaid's Wings Earrings, $8.00. Under his eye? Try under her ear! (No? Not funny?) What feminist list would be complete without a nod to Margaret Atwood's dystopian The Handmaid's Tale? The best thing about these earrings, besides the awesome price point? You can choose from different skin tones. Because intersectionality is important!
Bell Jar Typewriter Earrings, $20.00. These earrings feature an image of Plath's feminist novel The Bell Jar and a typewriter with the famous quote, "I Am. I Am. I Am." on one side and "I took a deep breath" on the other. Like these and want more? This seller does many books in this same style, so check out DesignsByAnnette's store.
Wonder Woman for President Earrings, $9.00. Get political while supporting your favorite comic book hero with these Wonder Woman earrings. Because it's about time we had a woman in the White House!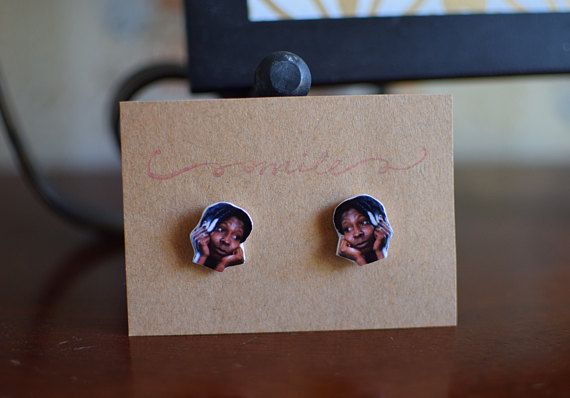 The Color Purple Celie Studs, $8.00. Show your love for Alice Walker's amazing novel The Color Purple and for women empowering women. Wear these little studs featuring Celie, as played by Whoopi Goldberg in the film version of the novel.
Jane Eyre Bird Earrings, $15.58. Next time the patriarchy tries to keep you down, just throw on your Jane Eyre earrings and remind yourself: "I am no bird; and no net ensnares me. I am a free human being with an independent will." Right on!
Still feel like the patriarchy needs more smashing? Why stop with bookish feminist earrings? Check out all of these Book Riot articles about feminism and books.