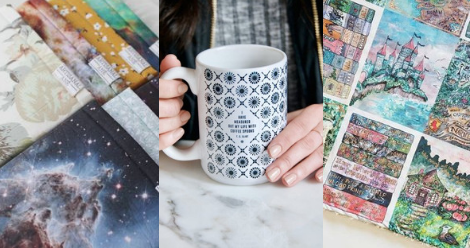 10 Incredible Bookish Etsy Shops
This content contains affiliate links. When you buy through these links, we may earn an affiliate commission.
Anytime I'm shopping for a gift giving occasion, one of my favorite places to turn to is Etsy. I love the quality, creativity, and vast variety of items that can be found there. I've bought everything from earrings to mugs. But I'm most drawn to all this literary– suprise, suprise, I know. It can be hard to find exactly what you're looking for, though. There are so many sellers on Etsy, it can become a bit overwhelming. Which is why sometimes you need help–like, say, a handy-dandy round up of some great places to start.
If you're looking for your new favorite etsy shop or a great place to find some bookish goodies–for yourself or others–I've got you covered. These 10 incredible bookish etsy shops are everything you need– trust me.
"Literary Art Prints & Book Lover Gifts"
Book quote mugs, gorgeous floral totes featuring Romantic poets, dramatic black and white art prints. This shop is perfect for anyone who loves books but doesn't want to sacrifice their style. I particularly love this spoon patterned mug featuring a quote from T. S. Eliot's "The Love Song of J. Alfred Prufrock" and this floral poetry tote.
"Bookish Delights for You and Your Little"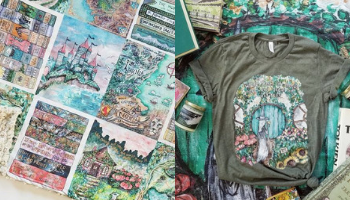 The cutestiest bookish Etsy shop to ever exist. Lots of lovely art prints sold alone or as designs on quilts, swaddling blankets, shirts, pillows, and book sleeves. I want it all! But this fantasy blanket featuring Harry Potter, Lord of the Rings, and Chronicles of Narnia prints and this Shire shirt are both exceedingly cute.
"Book Lovers Soy Candles & Handmade Goods for Book Nerds"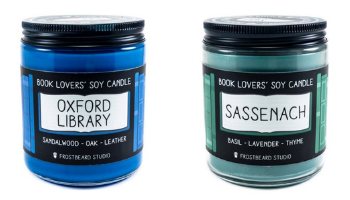 One of my favorite bookish shops! I love books and I love candles, so what could be better than a shop that brings the scents of my favorite books to life? This Oxford Library candle makes me feel like I'm reading in the Bodleian and this Sassenach candle is perfect for Outlander fans.
"Literature Gifts for Book Lovers"
Gorgeous enamel pins featuring Shakespeare quotes, bookish earrings, and tee-shirts with subtle literary nods. Lots of lovely designs for the stylish book nerd. This Frankenstein anatomical heart shirt is so perfect, and I love this enamel pin featuring a quote from Shakespeare's "The Taming of the Shrew."
"Ideal Bookshelf"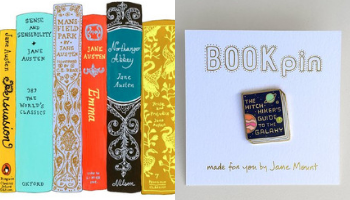 You've probably seen–and maybe drooled over– some of these gorgeous Ideal Bookshelf prints floating around. Now you know where you can get one for yourself! This shop has tons of different Ideal Bookshelf prints like this one featuring a Jane Austen stack as well as adorable enamel pins like this Hitchhiker's Guide to the Galaxy book pin.
"Books and Magick"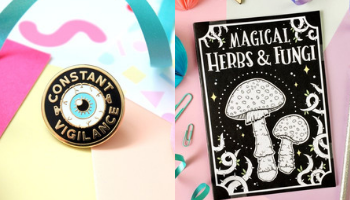 This shop is chock full of adorable enamel pin and badges as well as cute notebooks and other bookish goodies. If you're not in love with this Mad-Eye Moody pin and Magical Herbs & Fungi notebook, then you must be Confunded or something because they're the cutest.
"Where Style Meets Literature"
If you've ever wanted to wear your favorite book around your neck, this is the Etsy shop for you! This literary scarf features passages from Persuasion and this book tote is inspired by Strange the Dreamer.
"Designer Book Purses, Clutches, iPad and Phone Cases"
Book clutches and book cover phone cases– the perfect way to make sure no one ever questions your love of books. You can find all sorts of beautiful designs like this lovely Alice in Wonderland book clutch and this Pride and Prejudice phone case.
"A Jane Austen-Inspired Shop"
Austen-lovers only! This shop features a collection of lovely, understated Jane Austen print tees. I especially love this shirt featuring Darcy's proposal and this shirt with a list of Austen heroes.
"Items to fulfill your bookish needs"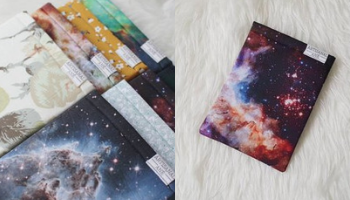 These days, every book nerd is looking for the perfect book sleeve. There are lots of great options out there, but I'm in love with this galaxy one. And if space exploration isn't your style, this shop has lots of other options including an option to customize your order.
Still need more bookish goodies/gifts in your life? Check out these wooden bookmarks from etsy, this guide to finding gorgeous book sleeves, a list of bookish gifts for $20 and under, and a round up of bookish gift guides from all over the internet.