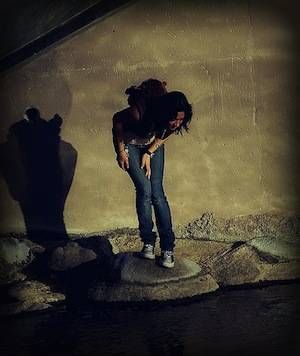 A couple weeks ago, I posted about owning several books by the same author that I hadn't read yet. This weekend, while browsing a bookstore with a colleague who's a huge Haruki Murakami fan, she was encouraging me to read something by him, even if I didn't start with 1Q84, which – of course – I already own. I also own The Wind-Up Bird Chronicle and Norwegian Wood.
As we walked the aisles, I expressed to her that I wanted to start somewhere, and there are plenty of suggestions out there of where to begin, including one by Book Riot editor Jeff O'Neal. Even with all these nudges, all these books I have already, I can't gear myself up to finally start any of them.
So why the hesitation?
It comes down to a very simple explanation: fear.
Murakami is one of those authors that, at least for me, strikes at the heart of my reading insecurities. What if I won't get it? What if I don't like it? What if I'm not smart enough, cultured enough, insightful enough to appreciate the brilliance that is Haruki Murakami?
It's a similar fear that stops me from reading David Foster Wallace, Neal Stephenson, Jose Saramago and Paulo Coelho. And it counts double for most works of classic literature; even though I managed to make it through an entire high school and college career entrenched in classic literature, I still fear that I won't have the motivation or the intelligence to get anything out of them when I read on my own.
I know that it's a silly fear – how will I know unless I try? But I so desperately WANT to love Murakami. It's easier to say, oh, yeah, I really want to read him, but I haven't gotten around to it yet. Instead of admitting that I read him and didn't like it (or worse, tried to read and couldn't finish), I just choose not to attempt his work.
And it is very much a choice. I admit freely that it's a cowardly one, and one that I'd like to change. I don't want to feel like reading these authors I fear will be a chore. And I so desperately want to sit at the cool kids' table when it comes to tough authors.
Are there authors you haven't tackled, just because you are so afraid that you won't get them?