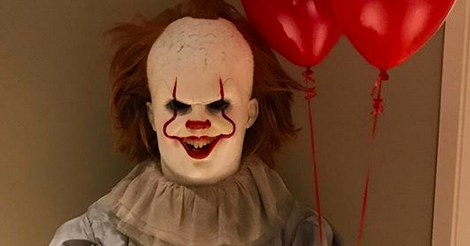 Lists
Favorite Bookish Celebrity Halloween Costumes: 2017
This content contains affiliate links. When you buy through these links, we may earn an affiliate commission.
Celebrities—they're just like us in bookish Halloween costumes! I know the holiday is over and the candy is half-off because Christmas and Thanksgiving decor is on sale now, but I can't not roundup my favorite celebrity Halloween costumes inspired by books. And what better way to come off that sugar high than shaking in front of your computer while looking at some awesome costumes? (And, if you're anything like me, eating more candy because I never learn…)
In case you missed the memo, Dolly Parton won all the costume awards this year: Veruca Salt from Charlie and the Chocolate Factory.
Happy #Halloween from Veruca Salt! pic.twitter.com/ENZnQ69cdB

— Dolly Parton (@DollyParton) October 31, 2017
Kelly Ripa and live Kelly and Ryan crew as the box office giant and amazonian badass Wonder Woman.
Ryan Seacrest and Kelly Ripa also brought to life Margaret Atwood's The Handmaid's Tale for a truly terrifying costume.
If you're afraid of clowns, look away, because LeBron James brought Pennywise from Stephen King's IT to life!
This year we have three Cruella De Vills from 101 Dalmations so please keep your pups safe!
https://www.instagram.com/p/BakI3ooF1no/
https://www.instagram.com/p/Ba5epi7hWnM/
Zoë Kravitz and Karl Glusman bringing Fight Club to life—but we can't talk about it!
Janet Jackson giving us fabulous comic villain Catwoman!
Michael Strahan put on the gold locks and channeled his inner Thor.
Bruce Willis and Stephen Eads channel Stephen King's twins from The Shining.
Stephanie Beatriz with ALL the wins as America Chavez.
What celebrity would you love to see from what book next Halloween?