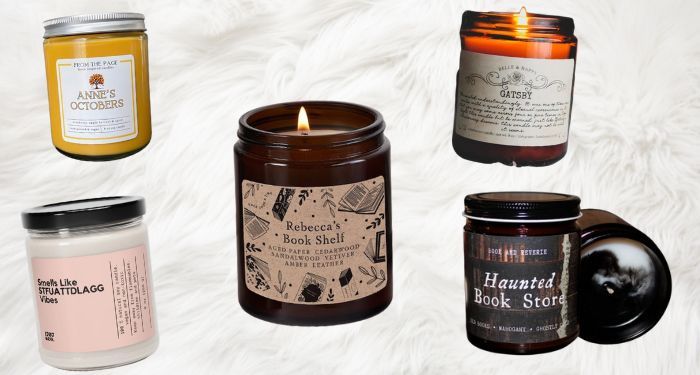 Book Fetish
10 Bookish Candles to Light in the Dark Months
This content contains affiliate links. When you buy through these links, we may earn an affiliate commission.
There are many accessories I associate with the hobby of reading. Give me all the themed mugs, spicy stickers, and pretty stationery, please! However, nothing tops the coziness of a fluffy throw, a favorite book, and a gently flickering bookish candle. It's the ultimate in reading moments, and the timing is perfect for those of us in the northern hemisphere heading into the winter months.
Are you shopping for bookish candles? You do not lack choice! Etsy is teeming with endless options from industrious and clever artists. Whether you're looking for something to represent a favorite character or a general bookish theme (smell of old books, anyone?), you'll be able to find more than one option for every idea you dream up. Using the exact search term "bookish candles," I was able to spend a delightful hour browsing. Honestly, these book fetish articles really threaten my wallet, but it's a glorious problem to have.
Below are just 10 of my favorites I found on Etsy. Some are beautiful, some made me laugh, and some are already earmarked as amazing gifts. Whether you're finding a present for someone special or simply treating yourself to what you deserve, there should be something below to pique your interest!
Hopefully, you've found some bookish candles to light your dark months! Looking for more bookish swag? Check out these stickers for romance readers or this round-up of library-themed shirts! Happy shopping!