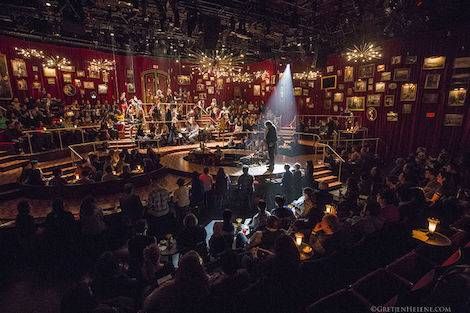 Hamilton ain't the only bookish Broadway show in town!
A few weeks ago, I was lucky enough to snag tickets to previews of Natasha, Pierre, and the Great Comet of 1812 (music and libretto by Dave Malloy, directed by Rachel Chavkin). With this adaption of volume two of Tolstoy's War and Peace celebrating its Broadway opening on Monday November 10th, this raucous, lively show is destined to inspire intimidated readers to finally pick up the big bad book our culture has come to define as The White Whale (oh wait, no… different book. Sorry Herman!).
The talented musicians and actors so much as implore you to in The Great Comet's opening number:
This is all in your program
You are at the opera
Gonna have to study up a little bit
If you wanna keep with the plot
Cuz it's a complicated Russian novel
Everyone's got nine different names
So look it up in your program
We'd appreciate it, thanks a lot
I personally have read War and Peace (in 12 days… a feat I like to crowbar into conversation as often as possible. As you can imagine, it makes me super popular at dinner parties), but can assure you that knowledge of the book is wholly unnecessary to enjoy this musical featuring Josh Groban as Pierre and introducing Denee Benton as Natasha. In fact, I'd venture to guess that this staging of Tolstoy's masterpiece will make the story easier to digest for those previously terrified of the complicated Russian surnames found in its 1,225 pages.
The characters are brought to life in an intimate setting that employs use of the entire theater and many of the audience members. Pierre's dark brooding and lack of direction is perfectly captured in Groban's performance. And the beauty and naivete that is ultimately Natasha's downfall is in expert hands with Benton's debut. However, Brittain Ashford's Sonya was the character that for me seemed to be magicked from the page to the stage. Ashford's portrayal took Sonya from a sad, orphaned cousin to a woman whose motivations and heart I could clearly understand.
So if you're in New York City and are one of the 3 bazillion people that never win the Hamilton lottery (or don't have $4,000 to spend on tickets that might get you a seat in the ladies bathroom at the Richard Rodgers), do not write off (see what I did there?) "Natasha, Pierre, and the Great Comet of 1812". I venture to guess that we'll be seeing this cast and crew on stage at the Tonys this coming June!