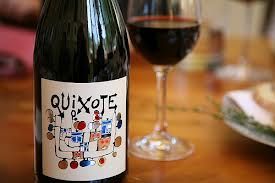 Bookish Boozing: 5 Literary Wine Labels
Judging by the wine labels I've been looking at lately (like Jimmy Carter, with lust in my heart), many winemakers are notably well-read. As the old-fashioned labels with castle etchings and sweeping domaine pronouncements make way for a new guard of sharp, fun graphic designs, vintners reveal their personal tastes and inspirations. And by the looks of it, more than a few turn to their bookshelves.
Here are a few bottles whose names salute the literary world—perfect for serving at a book club or to your favorite fellow reader. Have you come across any others lately?
It's hard to beat this for literary provenance: Dante Alighieri's direct descendants still hold the poet's Valpolicella estate, with its vineyards. Toast a divine comedy with some of the region's well-known reds, like a rich Amarone. (The current Count Serego Alighieri is campaigning to stop encroaching development in the region, to save more room for the vines.)
Bonny Doon's Clos de Gilroy, a.k.a the Proust wine
The mustachio'ed gent gazes serenely out from the front label—though he might have groaned over the pun on the back label, spoofing the first line of his opus: "For a long time I went to bed aioli." Would the delicate author have stomached a bold California grenache? If not, more for me. Virginia Woolf once said of reading Proust, "the pleasure becomes physical—like sun and wine and grapes." Put them all together and surely it would be exponentially divine.
Pick your reference—Homer's wine-dark sea or James Joyce's epic novel—and break out this bottle of big red from Washington's Yakima Valley. Need a Joycean white? Nab a Finnegan's Lake chardonnay.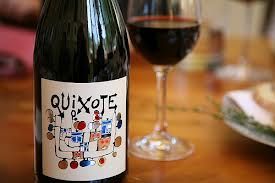 Quixote
When famed vintner Carl "Stags' Leap" Doumani launched a smaller, personal winery, he took Cervantes's knight errant as his guide. His first vintage of organic petite syrah was named after Don Quixote's sidekick, Sancho Panza; now Quixote cabernet sauvignon also makes the rounds. The winery itself would make the gallant knight's head spin. Designed by Austrian artist Friedensreich Hundertwasser (it gets easier after a glass), it prickles with golden turrets, candy-colored columns, with not a single right angle to be seen.
The phrase "ex libris" leaps from bookplates to a bottle. "From the library" is a Bordeaux-style blend, meaning mostly cabernet sauvignon, pulled from the archives of vineyards in Washington and California. The Vitruvian Man-meets-alphabet-soup label is fun—maybe you could play a version of Boggle on it, after one more glass than is good for you?
Bonus round if you're a Thomas Pynchon fan: Will the flashback-filled novel Vineland might make more sense after a bottle from Vineland Estates?