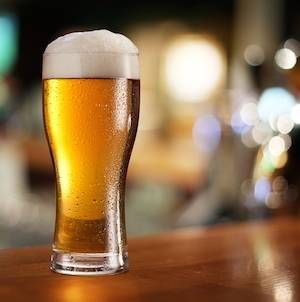 Lists
Bookish Boozing: 12 Beers With Literary Names
Beer and books. Books and beer.
They're a pretty good pairing, huh?
When you want to do even more than just hold a pint while reading a book, though, you can sample some of these literary-inspired brews. Drinking Bell's Two-Hearted Ale while reading Hemingway? Reading Hunter S. Thompson with your Flying Dog beer?
It's like book heaven.
Crime and Punishment by Stone Brewing Co. in Escondido, CA
Stone's throwback to Dostoyevsky's work is too big for one bottle. Crime takes Stone's Bastard series–Arrogant Bastard, OAKED, and Double Bastard–and mixes them with jalapenos, black nagas, and Moruga scorpion peppers. Punishment continues the masochist tradition with the Double Bastard Ale brewed with the same peppers and aged in Bourbon barrels.

Death of a Contract Brewer by HE'BREW Beer in upstate NY
This black IPA commemorates HE'BREW's expansion from contract brewers to brewers with a place to sit and stay, but it's also a fun allusion to Arthur Miller's Death of a Salesman.
Flying Dog Brewery in Frederick, MD
All of Flying Dog Brewery's beers are tied to Hunter S. Thompson. Their labels feature artwork by Thompson's long-time illustrator, Ralph Steadman. The brewers themselves were long-time friends with Thompson, enough so that he penned this toast upon the launch of their Road Dog beer: "There is an ancient Celtic axiom that says 'Good People Drink Good Beer.' Which is true, then as now. Just look around you in any public barroom and you will quickly see: Bad People Drink Bad Beer. Think about it."
Game of Thrones series by Ommegang Brewery in Cooperstown, NY
If any beer series is up for the prize, these certainly feel like THE MOST EPIC of beers. Done in a partnership with HBO, Ommegang Brewery has released three Game of Thrones beers: the Iron Throne blonde ale, Take the Black Stout, and their red ale, Fire and Blood.

Inferno Ale by The Lost Abbey in San Marcos, CA
Lost Abbey creates beer that tastes like a punch in the face. Bold and unapologetic, yet somehow still delicious at the end, this golden strong ale balances peppers, cloves, and apples in the aptly named brew.
Mad Hatter IPA by New Holland Brewing in Holland, MI
New Holland creates an entire series of Hatter-themed beers that all put a twist on the common IPA. They've got the Black Hatter, a black IPA, a Rye Hatter featuring rye (obvs), and the MI Awesome Hatter, which is a collaboration with Michigan Awesome.
Mephistopheles Stout by Avery Brewing in Boulder, CO
Avery named this beer after the demon in the Faust legend and other German folktales. As should be expected, therefore, Mephistopheles is a damn BIG beer. This black, almost thick beer comes in at over 15% ABV with the taste of rum-soaked dark fruits (!), chocolate covered cherries (!!), and espresso (!!!). Wait… double espresso, natch.
Odysseus IPA by Deschutes Brewery in Bend, OR
It's a pub exclusive, but if you're in the area and it's on tap, it's probably worth the visit. We've got Odysseus here which is all literary and such but, even better, it comes on tap AFTER their Trojan Horse IPA. *giggle snorts at book jokes*
Pliny the Elder by Russian River Brewing Company in Guerneville, CA
Named after the Roman author and naturalist who was one of the first to write about hops, Pliny the Elder is a solid DIPA brewed with four varieties of 'em. It creates a beer heavy with floral, citrus, and pine aromas that's best enjoyed fresh.
Shakespeare Oatmeal Stout by Rogue Ales in Portland, OR
I like to think that Shakespeare did drink beers like this–good dark beers with creamy heads and just a hint of chocolate at the end. And, well, he may have had something close. If you're ready to let your history dork out, you can read all about Elizabethan beers, which History Today describes as "dark in colour, not very heavily hopped by modern standards, and probably rather sweet and vinous."
Tart of Darkness by The Bruery in Placentia, CA
*snickers* The Bruery KNOWS how to name their beers. Beyond this dark, roasty sour stout, they also have the funky Sour in the Rye as part of their special collection beers.
Two Hearted Ale by Bell's Brewery in Kalamazoo, MI
Likely one of my all-time favorite IPAs, Bell's Two Hearted Ale is lovingly named after the nearby Two-Hearted River and Ernest Hemingway's story, "Big Two-Hearted River." It's one of those great beers that is as classic as Hemingway (and, well, with a little bitterness to it too). Bell's also does a great wheat ale called the Oberon Ale.
Did I miss any other beers that are named after books or authors?
Editor's note: Pliny the Elder was Roman NOT Russian, obviously. Post has been updated to reflect this.