Lists
Bookish BAE: Literary Loves, Dream Dates, and Space Partners
This content contains affiliate links. When you buy through these links, we may earn an affiliate commission.
Bookish boyfriends have long been a popular topic among the readerly set and, hey, if the guys float your boat, power to you. There are those of us, however, who have other head canons and we thought it was time we gave our literary loves shout outs.
S.W. Sondheimer
Roberta (Bobbie) Draper: The Expanse
Bobbie Draper will kill you where you stand if you're in the way of what's right or dare lay a finger on someone she loves. If she does love you, or if she's made a promise to you, she will bust up aliens and planets and armies to see to your safety. A lot of us thought she was going to end up in a romantic relationship with fellow Martian, Alex Kamal; they remain, so far as the series has gone, best friends without any benefits whatsoever, which remains an excellent reminder to those a little behind the ball that such a thing is possible. Bobbie has made mistakes and she admits to them, is willing to risk her own life to fix what's gone wrong. I fell in love with her convictions and have only come to adore her more as she's done battle with doubts and demons while always remaining true to her conscience and her found family.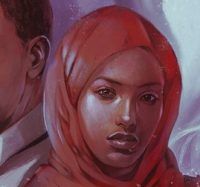 Sahra Guleed: Rivers of London
Brooks no nonsense and takes no shit be it about her choice of career, gender, or hijab. The men around Sahra recognize her intelligence and her skill and have no issue deferring to her when appropriate (which says a fair bit about them as well) despite her lesser rank in the police force just as she has no issue telling them when they're being idiots. With sass to burn and a wicked sense of humor with a droll, dry default setting, Sahra never backs down from a challenge, takes the weird of supernatural London in stride.
Aimee Miles
Jess Goldberg: Stone Butch Blues
I'm pretty sure that everyone is supposed to come out of Stone Butch Blues with a little crush on Jess. Jess is our main character, a self-described "he-she" who grows up in a 1950s working class town in New York state. Life throws a lot of harshness at Jess, in particular, regular brutalization by the police and rejection from people close to Jess. Despite this all, Jess remains an honest worker, a caring lover, and a true friend, moving through changes inside and outside. Jess's gentleness and awareness of the layering of oppressions, even ones don't impact them, makes my heart fill at the thought of that kind soul.
Leah Rachel von Essen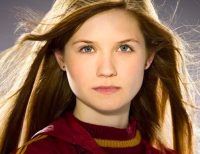 Ginny Weasley: Harry Potter
When I first read the books, I thought Ginny was an awesome person, and liked that Harry was dating a badass daring Quidditch star. But then, years and years of defending their relationship to fellow fans made me fall head over heels for Miss Weasley: the girl who throws the best hexes at Hogwarts, the star chaser and seeker who plays professionally for the Holyhead Harpies, the girl who dates who she wants and never backs down from a fight. She's now my favorite character from the Harry Potter series, and my reread of the books last August solidified my respect for her talents (artist blvnk's incredible art and headcanons also helped.) Ginny Weasley is my one and only bookish bae.
Anonymous
Genevieve LeFoux: The Parasol Protectorate
LeFoux is the crossdressing inventor from Gail Carriger's steampunk world. She is a woman of science and emotions and explosions of all kinds. Since seeing The Great British Bake-Off, I always picture her as host and comedian, Sue Perkins, on whom I definitely have a small crush. I know, Sue's English and LeFoux is French, but I'll bet Sue can speak enough French for these purposes. Maybe it's the blazers. Actually, Shane McCutcheon, maybe there's just something appealing about women who own men's clothes and wear them with total confidence. And LeFoux gets her own gay happy ending (plus vampires and an inventor's workshop), which is all I really wanted from the series. (Well, I would probably have subtracted the vampires, given my druthers.)
Christina Orlando
Lila Bard: Shades of Magic
I fell in love with Lila immediately. I love me a bad girl, and while some may call her unlikeable (NPR even went so far as to call her a sociopath), I have zero qualms about her body count. Ambition is sexy, and I identified with her need to get out of her boring, grey world; to have adventure whatever the cost. But it's more than that – the way Lila is written is…well, pretty genderfluid. And while V.E. Schwab doesn't refer to her as such (from a Reddit AMA: "while I think 2017 Lila could very well consider herself non-binary, the fact is that 1819 coding means Lila has no basis for that kind of consideration. In fact there is another degree of coding in Lila's historical time, because of the extremity of male power over female power. Lila has little attachment to her gender, but she's still the product of a real world"), there are a few instances in the text where Lila would rather be seen as a man, or doesn't care if people view her that way. She prefers to dress masculine, to present herself as such, and only performs femininity when it suits her needs. To see a character act this was so boldly is refreshing. I'm ready to board that pirate ship with her (them?) any time.
Who is (are) your bookish BAE? Who did we miss? Who should we meet next?