Lists
50 Great Bookish Articles From ATLAS OBSCURA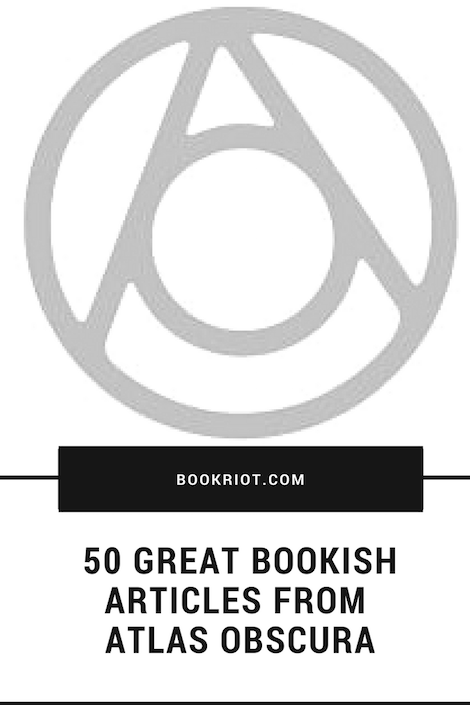 One of my favorite sites on ye old web is Atlas Obscura. For readers unfamiliar, it's a site that bills itself as "the definitive guide to the world's wondrous and curious places." I like to think of it as the website where I get cure some of my wanderlust, visiting some of the coolest and weirdest places from the comfort of my own home.
Beyond travel, though, Atlas Obscura has published numerous pieces about books, about reading, and about historical bookish life that have always been among some of my favorite reads. The site is a treasure trove for book nerds.
Here's a round-up of 50 of the site's most interesting, engaging, evocative, and downright weird features perfect for book lovers. I've not included everything Atlas Obscura has included in their destinations, so spending a little time poking around their map of cool places is well worth your time.
Authors
The Strange Afterlife of Edgar Allan Poe's Hair
8 Places From Shakespeare That You Can Actually Visit
Book History & Book Nerdia
The Banned 1910s Magazine That Started A Feminist Movement In Japan
Bibliomania, The Dark Desire For Books That Infected Europe In The 1800s
Book Towns: Where Reading Is The Reason To Live
Every Book Is A Journey But These Posters Make Reading Seem Like A Trip
How Nigerian Romance Novelists Sneak Feminism Into Their Plots
Letter Writing Manuals Were The Self-Help Books Of The 18th Century
The Past and Future of Magnetic Poetry, The Populist Product That Began With A Sneeze
The Russian Poetry Scandal That Ended In A Duel
The Saga of a Long-Lost 15th Century Illuminated Prayer Book
See a 400-Year-Old Book Made Entirely From Feathers
See The Most Luxurious Medieval Manuscripts in Existence
Why Fake Diaries Can Be As Powerful As The Real Thing
Why The London of British Literature Barely Changed For 200 Years
Bookstores
This Adorable Alabama Bookstore Only Sells Signed Copies
A Jordan Bookseller's 24-Hour "Emergency Room For The Mind"
Children's Literature
The Forgotten Government-Funded Kids Books Of the Great Depression
A Guide To The Real-Life Homes Of The Heroes of Children's Literature
The Secret Jokes Hidden in Alice in Wonderland
These Hand-Drawn Maps Helped Create 'Choose Your Own Adventure' Books
Why People Have Such Strong Feelings About The Spelling Of "The Berenstain Bears"
Libraries
The Fierce, Forgotten Library Wars of the Ancient World
Get Lost In The Stacks of These 10 Beautiful University Libraries
Growing Up In A Library Is Exactly As Magical As You'd Imagine
The Hushed Interiors of 19th Century Libraries
Inside The Most Amazing Map Library You've Never Heard Of
Inside The New York Public Library's Last Secret Apartments
Inspiring Libraries In The Most Unexpected Places
Library Hand, The Fastidiously Neat Penmanship Style Made For Card Catalogs
The Oldest Treasures From 12 Great Libraries
Reading In Restraint: The Last Chained Libraries
Secret Libraries of New York City
The Strange Affliction of "Library Anxiety" And What Librarians Do To Help
The US-Canada Border Runs Through This Tiny Library
Vintage Photos of Traveling Libraries
The Women Who Rode Miles On Horseback To Deliver Library Books
Publishing
How Books Designed For Soldier's Pockets Changed Publishing Forever
How Novels Came To Be Written in the Voice of Coins, Stuffed Animals, and Other Random Objects
Lovely Hidden Paintings Adorned The Edges of Historic Books
The Strange History of Microfilm, Which Will Continue To Be With Us For Centuries
The True Practice of Binding Books in Human Skin
The Unsung Delight Of a Well-Designed Endpaper