This content contains affiliate links. When you buy through these links, we may earn an affiliate commission.
Imagine driving through the picturesque French countryside, observing sheep or vineyards or what have you, when you come across a town that looks like it time traveled right from the middle ages. You get out of your car to explore, expecting a sleepy village. Instead, the narrow streets are bustling, packed with tables piled high with books. Colorful façades of specialized bookstores line the main street, along with art galleries and shops specializing in book crafts. Have you died and gone to bibliophile heaven? No, you've managed to land yourself in one of the book towns of France.
book towns | France | literary tourism | bookish travel">
Book towns–communities actively attracting book lovers with a high concentration of bookshops and bookish arts–exist all over the world, from Tokyo's Jimbochō to Hay-on-Wye in Wales. France has eight book towns, all rural medieval villages full of charm and history, but lacking the industry and opportunity to attract new residents. That is, until they became book towns!
By establishing themselves as book towns, many of these small cities and villages have jump-started their economy and culture. They're not just centers for bookselling, but homes for artists, artisans, writers, restauranteurs, and gallery owners.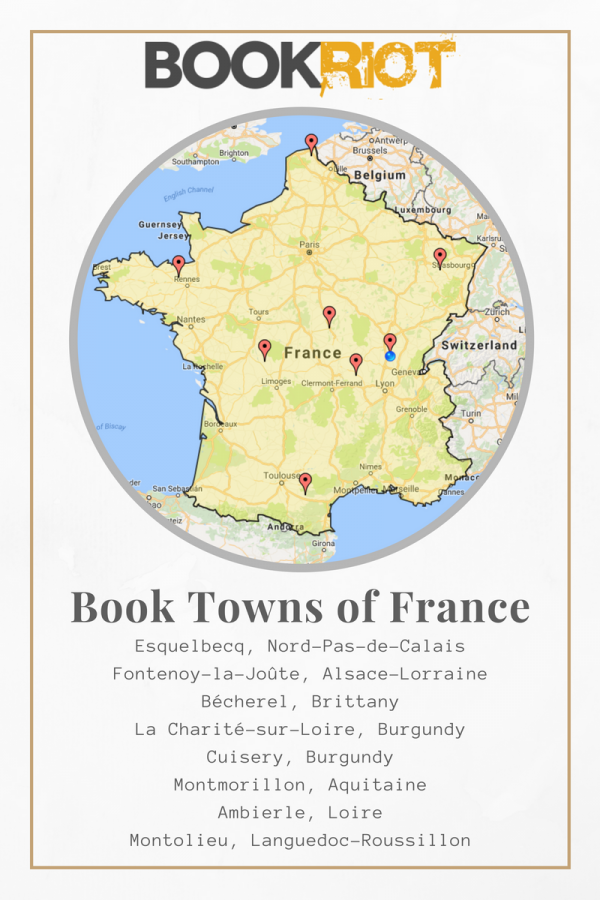 If you ever visit France, you owe it to yourself as a bibliophile to venture outside the big cities and visit at least one book town. And if you want to learn more about book towns, of France and elsewhere, I recommend Alex Johnson's Book Towns: Forty-Five Paradises of the Printed Word.
Now on to France's book towns!
Bécherel, Brittany, est. 1988
The oldest–and, according some, most beautiful–book town in France, Bécherel is the perfect example of what transforming into a book town can do for a small, isolated village. Bécherel's population of 800 enjoys excellent restaurants, cultural events, art galleries, and tourism thanks to numerous literary festivals, bookish exhibits at the Maison du Livre, and more than a dozen bookshops.
Some bookstores of note include Neiges d'Antan (a reference to a poem by François Villon), with 40,000 titles covering three floors; Librairie la Chouette, specializing in illustrated books from the 19th and 20th centuries, plus African Art; and Outrepart, which carries scifi, fantasy, utopian (or distopian?), and gothic novels.
If you want to see more of Bécherel, you can view this video.
Montolieu, Languedoc-Roussillon, est. 1989
Ridiculously picturesque, Montolieu is arguably France's most successful book town. It's the vision one man–Michel Braibant–who wanted to celebrate not only books, but their production and broader role in arts and culture.
Montolieu is famous not only for its dozen-odd bookshops, but for its artists and galleries, plus a world-class fine arts collection that attracts visitors from all over the globe. Also be sure to visit the popular Musée des Arts et Métiers du Livre, where you can walk through exhibits on the history of writing and publishing, or view a demonstration in paper making, printing, and more bookish arts.
If you're feeling lucky, take your copy of Perfume along–you might spot notoriously reclusive author Patrick Süskind and convince him to sign it for you.
Named one of the best book towns in the world by The Guardian, Fontenoy-la-Joûte is a very small village (population around 300 people) that, at its bookish best, attracted more than 100,000 visitors a year through book fairs alone. While that number has declined somewhat, the town is still home to literary-themed restaurants and shops, a calligrapher, and 10 bookshops. That may not seem like a lot, but keep in mind that means there's a bookstore for every thirty people living in Fontenoy. Image what that ratio would look like where you live!
Fontenoy-la-Joûte also hosts a yearly writing contest, art fairs, and is known for its signpost pointing the way toward other book towns around the world, as well as fictional places like Atlantis.
Cuisery, Burgundy, est. 1999
If you've read The Little Paris Bookshop by Nina George, you might remember a stop on the bookstore barge's journey called Cuisery, which Jean Perdue describes as a, "whole village […] crazy about books–or crazy period".
Well, Cuisery doesn't just exist in George's imagination. It's a real place, and a real book town, most famous for its city gate made out of giant books. There are 20 bookstores and book-related shops, some with crazy-specific focus (polar history at Vae Victus, speleology at La Découverte, and social movements at La Chats Noirs, to name a few). Most of the bookstores can be found along Grand Rue, Cuisery's main drag. There are also Gutenberg Press printing demonstrations, monthly book fairs, and an annual short story competition sponsored by Cuisery's Bookseller Association.
Founded around a medieval monastery, La Charité-sur-Loire is a UNESCO World Heritage Site and a stop along the Santiago de Compostella pilgrimage route. Unlike the other towns and villages on this list, the push to turn it into a book town came not from the town's citizens, but from outsiders: a group of Parisian booksellers led by Christian Valleriaux who migrated south in 2000 seeking lower rents. At its height, there were 15 bookstores in La Charité, possessing hip and mysterious names like The Upside Down World and There, the Cat Sleeps.
Today, La Charité's book town atmosphere is on the wane. But it's still well worth a visit for the lovely 11th-century priory and the Festival du Mot, which takes place every May. There's also a literary walking trail/scavenger hunt with famous literary quotations hidden amongst the city's landmarks.
With a little over 6,000 residents, Montmorillon is France's largest book town–or, as they like to call it, a cité de l'ecrit. There's a ton of stuff to do in Montmorillon, with 24 bookstores, the yearly Salon du Livre attracting more than a hundred writers, a bookstore bar called De la Trappe aux Livres, a typewriter museum, and bookish art schools (calligraphy, document restoration, etc.).
Hungry? Montmorillon is famous across France for its macarons, so find a sweet shop and dig in! There's even a macaron museum you can visit if you're full up on books.
Ambierle, Loire, est. 2010
A charming medieval village of less than 2,000 inhabitants, Ambierle has three bookshops open year-round, weekly book fairs, and four larger book festivals focusing on poetry, an Easter book hunt, "International Book of Travelers Day" (not sure what that it is, exactly), and graphic novels.
Ambierle is also actively recruiting writers and booksellers to move to the community (opportunity knocks!), and hosts bookish workshops like book binding courses.
Esquelbecq, Nord-Pas-de-Calais, est. 2010
The northernmost book town in France, Esquelbecq (or Esquelbook, as it's been dubbed) is a castle town surrounded by oak forests. Currently it's home to four booksellers and five artisans, plus a literary festival called Nuit des Livres.
Pro-tip: Since the book towns of France are so small, most have limited hours and facilities in the off-season. Check before you go to make sure the bookstores and museums you want to see are open!