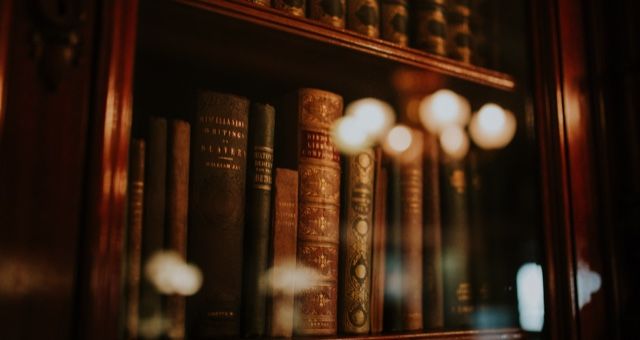 Lists
50 Famous Book Titles Taken From Literature
This content contains affiliate links. When you buy through these links, we may earn an affiliate commission.
What's one thing that immediately marks out a literary novel as 'literary'? Having a title which declares I'm taken from a famous work of literature, of course. Shakespeare and the Bible are, unsurprisingly, the greatest works of titular inspiration, but here are 50 famous book titles whose authors drew on a wide range of predecessors to name them.
I've split up the books into sections for titles taken from the Bible, Shakespeare, poetry, and other novels. Though I have included women and authors of colour wherever I found them, the limitations of this article has meant that there aren't as many of either as I would have liked.
Famous Book Titles Taken from The Bible
This quotation for Faulkner's 1936 novel comes from the Books of Samuel – more specifically, 19:4 in 2 Samuel, which is in the Old Testament and relates some of the history of Israel. Absalom, the third son of David, rebelled against his father and was killed in battle. The full Biblical sentence is But the king covered his face, and the king cried with a loud voice, O my son Absalom, O Absalom, my son, my son! Faulkner was a big fan of borrowed titles: his 1939 If I Forget Thee, Jerusalem is also from the Bible, Psalms 137:5. The line in question is If I forget thee, Jerusalem, let my right hand forget its skill.
This one is from 3:3 in the Ecclesiastes, again part of the Old Testament. The anonymous author is a King of Jerusalem who relates and analyses events in his own life. This has resonated strongly with a lot of people: Abraham Lincoln quoted Ecclesiastes when addressing Congress in 1862, and the novelist Thomas Wolfe called it 'the greatest single piece of writing I have ever known.' Grisham's 1989 title is taken from the line that [To every thing there is a season, and a time to every purpose under the heaven:] A time to kill, and a time to heal; a time to break down, and a time to build up…
Another Ecclesiastes quotation, this time from line 7:4. A brilliant sentence: The heart of the wise is in the house of mourning; but the heart of fools is in the house of mirth. One of Wharton's best-known novels, it came out in 1905.
Steinbeck apparently considered this 1952 novel to be his magnum opus, the one which all other novels before it had merely been practice for. The title is suitably grand. Taken from Genesis, the first book of the Old Testament, it refers to line 4:16, after Cain has slain his brother Abel. And Cain went out from the presence of the Lord, and dwelt in the land of Nod, on the east of Eden.
More Ecclesiastes! This particular quotation is from 1:5, which states that The sun also ariseth, and the sun goeth down, and hasteth to his place where he arose. Hemingway's modernist novel came out in 1926.
Waugh took the title for his 1930 novel from Philippians, full name Epistle to the Philippians, which is part of the New Testament and generally attributed to Paul the Apostle. Most scholars consider it to be a collection of letter fragments sent from Paul to the church of Philippi, a city on the Greek island of Thasos. The line in question is 3:21 and refers to Jesus Christ, [w]ho shall change our vile body, that it may be fashioned like unto his glorious body, according to the working whereby he is able even to subdue all things unto himself.
One of Dick's most famous novels (published in 1977), its title is taken from the First Epistle to the Corinthians. Like above, it's written by Paul the Apostle, this time to the church in Corinth. The line, 13:12, goes For now we see through a glass, darkly; but then face to face: now I know in part; but then shall I know even as also I am known. It's a particularly well-known one, and its opening words have often been used as famous book titles to other works, such as Sheridan Le Fanu's 1872 short story collection In a Glass Darkly and Karleen Koen's 1986 historical fiction novel Through a Glass Darkly (its sequel continues the quotation, being called Now Face to Face).
Undoubtedly an odd quotation; it comes from line 60:8 of the Book of Psalms in the Old Testament, which reads in full Moab is my washpot; over Edom will I cast out my shoe: Philistia, triumph thou because of me. The context is that people would often use washpots to clean their feet of sand after roaming the desert, and Moab, a kingdom of Jordan which was often warring against the Israelites, needed to be overcome. The Israelites therefore likened these containers to the kingdom. Fry chose this as the title for his 1997 autobiography as he considered the book to be 'scrubbing at the grime of years'.
Although she's most famous for her dystopian novel The Giver, Lowry's 1989 novel Number the Stars focuses on the life of a Jewish family living in Copenhagen during World War II. In line 147:4, the Psalms declares that He [God] telleth the number of the stars; he calleth them all by their names. The quotation is also used for its connotations of the Star of David associated with Judaism.
Rizal, one of the national heroes of the Philippines, wrote this book in 1887 while the nation was under Spanish control in order to draw attention to the social ills which beset the country at the time. It's now required reading in every secondary school in the Philippines and is considered the country's national epic.
The title quotation is extraordinarily famous: it comes from 20:17 of the Gospel of John, part of the New Testament, and is Jesus's response to Mary Magdalene when she encounters him outside his tomb after his resurrection. The translation from the Latin is Touch me not. It can also be found in Sir Thomas Wyatt's famed Tudor-era poem Whoso list to hunt (a close copy of Petrarch), as well as a painting by Titian. The phrase was used to refer to cancer of the eyelids, and Rizal – a medical student – chose it because it symbolised the people's blindness to the misdeeds of the ruling Spanish government.
Famous Book Titles Taken From William Shakespeare
This is possibly the most famous book to take its title from a Shakespeare play – in this case, The Tempest. In Act V Scene I, Miranda declares:
How beauteous mankind is! O brave new world
That has such people in 't!
She says this when encountering new arrivals to her island for the first time in her life, and the 'savage' John repeats it when gazing at the corrupt, hedonistic society portrayed in Huxley's 1932 novel. Huxley was a big fan of Shakespeare and quoted him in two more famous book titles, namely Tomorrow and Tomorrow and Tomorrow (1956) and Mortal Coils (1921), from Macbeth and Hamlet respectively. Both are part of famous soliloquies; Hamlet's in particular is the 'to be or not to be' speech.
Tomorrow, and tomorrow, and tomorrow,
Creeps in this petty pace from day to day,
To the last syllable of recorded time;
And all our yesterdays have lighted fools
The way to dusty death. —Macbeth, Act V Scene V
For in that sleep of death, what dreams may come,
When we have shuffled off this mortal coil,
Must give us pause. —Hamlet, Act III Scene I
#12. Rosemary and Rue (October Daye #1) by Seanan McGuire
The first installment of McGuire's bestselling fantasy October Daye series, this title is taken from The Winter's Tale. Rosemary signifies remembrance (very key to Toby's character) whilst rue is for repentance. The lines are spoken in Act IV Scene IV by Perdita as she gives the flowers in question to Camillo and Polixenes.
Reverend sirs,
For you there's rosemary and rue; these keep
Seeming and savour all the winter long:
Grace and remembrance be to you both…
#13. Pale Fire by Vladimir Nabokov
Timon of Athens is one of Shakespeare's less well-known and less-read plays, so it's not often quoted. But Timon's speech here in Act IV Scene III is an excellent one. Suitably for a 1962 postmodernist novel full of cross-quotations and complex footnotes, there's also a possible secondary Shakespeare reference here. In Hamlet, the Ghost states that the glow-worm 'gins to pale his uneffectual fire.' Lolita (1955) is of course Nabokov's best work and one of history's most famous book titles, but Pale Fire also received acclaim.
The sun's a thief, and with his great attraction
Robs the vast sea: the moon's an arrant thief
And her pale fire she snatches from the sun
The sea's a thief, whose liquid surge resolves
The moon into salt tears…
You could say this one is cheating, a little bit. Proust wrote his 1913 seven-volume masterpiece in French, with the title À la recherche du temps perdu, which more directly translates into In Search of Lost Time. But C.K. Scott Moncrieff was its first English translator, and he released his version in 1922 under a title taken from Shakespeare's Sonnet 30.
When to the sessions of sweet silent thought
I summon up remembrance of things past,
I sigh the lack of many a thing I sought,
And with old woes new wail my dear time's waste…
Maybe I was wrong about Brave New World being the most famous Shakespeare-inspired title. With the novel that secured Green undying fame in 2012, we have a quotation from Act I Scene II of Julius Caesar, specifically by the character Cassius. He's trying to persuade Brutus of the very real danger that Caesar wants to be king, and how dangerous that would be for Rome.
The fault, dear Brutus, is not in our stars
But in ourselves, that we are underlings.
Gibbons's 1932 classic about a deeply unpleasant farm, a satire of typical Victorian rural fiction, has a title taken from Act V Scene VII of King John, spoken by the titular character.
…I do not ask you much,
I beg cold comfort; and you are so strait
And so ingrateful, you deny me that.
Here we have another Timon of Athens quotation. For his 1966 nonfiction account of a notorious family murder, Capote selected a line from Alcibiades' speech in Act III Scene V – Who cannot condemn rashness in cold blood? Committing crimes 'cold-bloodedly' has long been a staple of speech, however.
This isn't really one of the world's most famous book titles; Heyer's contemporary detective novels were far less popular than her historical romances. But Behold, Here's Poison (1936) has always been one of my favourite Heyers. Not because of its mystery plot, which is pretty standard, but because it has what I consider to be some of her best characters of all time, particularly 'amiable snake' Randal. If you're a Heyer fan (or even if you're not) I really recommend it! The title comes from a speech by Antiochus in Act I Scene I of Pericles, Prince of Tyre.
Thaliard, behold, here's poison, and here's gold;
We hate the Prince of Tyre, and thou must kill him:
It fits thee not to ask the reason why…
This 1992 historical nonfiction book about World War II was later popularised by a dramatic TV miniseries in 2001, produced by Steven Spielberg and Tom Hanks. The quotation is taken from Henry V, Act IV Scene III, in a speech delivered by Henry himself to rouse his troops on St Crispin's Day before the famed 1415 Battle of Agincourt.
We few, we happy few, we band of brothers;
For he to-day that sheds his blood with me
Shall be my brother…
Reeve's 2001 steampunk series has a name borrowed from Othello's speech in Act III Scene III of Othello. It's particularly apt since it references cities which are constantly on the move and eating other cities.
And O you mortal engines whose rude throats
Th'immortal Jove's dread clamours counterfeit…
The 2006 fourth novel in the Mortal Engines quartet also has a literary title: it's called A Darkling Plain, a quotation from Matthew Arnold's 1867 poem Dover Beach.
Ah, love, let us be true
To one another! for the world, which seems
To lie before us like a land of dreams,
So various, so beautiful, so new,
Hath really neither joy, nor love, nor light,
Nor certitude, nor peace, nor help for pain;
And we are here as on a darkling plain
Swept with confused alarms of struggle and flight,
Where ignorant armies clash by night.
This 1982 eight-book series by King has a title which is taken from Shakespeare, but comes by way of Robert Barrett Browning. In 1852, Browning wrote a poem entitled Childe Roland to the Dark Tower Came; this line is spoken in Act III Scene IV of King Lear by Gloucester's son Edgar. In his guise as Tom o' Bedlam, he speaks a lot of gibberish, and this particular piece of gibberish has even older roots as a Scottish ballad.
Child Rowland to the dark tower came,
His word was still 'Fie, foh, and fum
I smell the blood of a British man.
Another Faulkner! This 1929 title comes from Macbeth's famed soliloquy in Act V Scene V, delivered as Scottish troops are approaching his castle. It's the ending of the aforementioned 'Tomorrow and tomorrow and tomorrow' quotation.
… it is a tale
Told by an idiot, full of sound and fury,
Signifying nothing.
Another of Heyer's detective novels, the 1939 No Wind of Blame has a title from words spoken by Claudius in Act IV Scene VII of Hamlet.
…I will work him
To an exploit, now ripe in my devise,
Under the which he shall not choose but fall.
And for his death no wind of blame shall breathe…
Famous Book Titles Taken From Poetry
Angelou's autobiography has, rightly, been hailed as a landmark piece of writing since it came out in 1969. The title comes from the poem Sympathy by African American poet Paul Laurence Dunbar, who was born in 1872 and died young from illness in 1906.
I know why the caged bird sings, ah me,
When his wing is bruised and his bosom sore, —
When he beats his bars and he would be free;
It is not a carol of joy or glee,
But a prayer that he sends from his heart's deep core,
But a plea, that upward to Heaven he flings —
I know why the caged bird sings!
This 2006 children's novel relates the story of a British orphan sent to Australia after World War II. The title comes from Samuel Taylor Coleridge's famous 1798 poem The Rime of the Ancient Mariner. Though the poem is fairly long, it's narrated in short stanzas of four lines each.
Alone, alone, all, all alone,
Alone on a wide wide sea!
And never a saint took pity on
My soul in agony.
This is the sixth novel by the bestselling Japanese author, who has declared it to be the one he most enjoyed writing. It was first published in 1988 but translated into English in 1994. The title comes from the final stanza of W.H. Auden's 1937 poem Death's Echo.
Dance, dance for the figure is easy,
The tune is catching and will not stop;
Dance till the stars come down from the rafters;
Dance, dance, dance till you drop.
Mitchell's great 1936 American Civil War classic is one of my joint favourite novels (alongside Wuthering Heights) and, delightfully for me, its title comes from my all-time favourite poem! If you read my article on 22 gorgeous Victorian poems, you'll know this already, but Ernest Dowson's 1894 poem Non Sum Qualis Eram Bonae Sub Regno Cynarae is one I absolutely love. To be doubly literary, Dowson's title is itself taken from a poem – specifically, Book IV of the ancient Roman poet Horace's Odes. It translates to 'I am not as I was under the reign of the good Cynara' and is evocative of lost, haunting love, perfect for Gone with the Wind.
I have forgot much, Cynara! gone with the wind,
Flung roses, roses riotously with the throng,
Dancing, to put thy pale, lost lilies out of mind;
But I was desolate and sick of an old passion,
Yea, all the time, because the dance was long;
I have been faithful to thee, Cynara! in my fashion.
Rosalie Matilda Kuanghu Chou, who wrote under the pen name Han Suyin, produced a number of China-set novels which became very popular in the West. Chief among these is A Many-Splendoured Thing in 1952, which narrates the tale of a Eurasian doctor and her affair with a married British foreign correspondent. The novel is strongly autobiographical; Suyin herself, a Eurasian doctor, had an affair with the married British-Australian war correspondent Ian Morrison who was killed in the Korean War in 1950. Its title comes from the 1903 poem The Kingdom of God by Francis Thompson.
The angels keep their ancient places; —
Turn but a stone, and start a wing!
'Tis ye, 'tis your estrangèd faces,
That miss the many-splendoured thing.
Yet more Faulkner! This 1930 title comes from a translation of Homer's ancient Greek poem The Odyssey, published in 1925 by William Marris. In its Book XI, the dead Agamemnon tells Odysseus that As I lay dying, the woman with the dog's eyes would not close my eyes as I descended into Hades. He is here referring to his murderous, adulterous wife Clytemnestra. Considering he SACRIFICED THEIR DAUGHTER IPHIGENIA just so he could go off and fight, one really cannot blame her.
Achebe's 1958 novel narrates the story of life in southeastern Nigeria prior to its colonisation by Europeans during the late Victorian Scramble for Africa. This title comes from W. B. Yeats's 1919 poem The Second Coming. It also serves as the source material for the title of The Widening Gyre, a detective novel by Robert B. Parker.
Turning and turning in the widening gyre
The falcon cannot hear the falconer;
Things fall apart; the centre cannot hold;
Mere anarchy is loosed upon the world,
The blood-dimmed tide is loosed, and everywhere
The ceremony of innocence is drowned;
The best lack all conviction, while the worst
Are full of passionate intensity.
Since I love Ernest Dowson so much, I feel impelled to point out that the particular phrase 'things fall apart' was not invented by Yeats himself. He took it from a Dowson poem of the 1890s entitled Quid non speremus, amantes? This quotation from Virgil can be translated as What may we lovers not hope for?
Nay! She is gone, and all things fall apart;
Or she is cold, and vainly have we prayed;
And broken is the summer's splendid heart,
And hope within a deep, dark grave is laid.
The 1960 sequel to Achebe's novel also has a literary title; No Longer at Ease is taken from T.S. Eliot's 1927 The Journey of the Magi.
We returned to our places, these Kingdoms,
But no longer at ease here, in the old dispensation,
With an alien people clutching their gods.
I should be glad of another death.
Hardy was himself the subject of a thinly veiled biography with a literary title. Cakes and Ale, written in 1930 by W. Somerset Maugham, is ostensibly about a man named Edward Driffield but this is widely recognised to be Hardy. The title is a quotation by Sir Toby Belch to Malvolio in Shakespeare's Twelfth Night. As for Far from the Madding Crowd (1874), it's taken from the 1750 poem Elegy Written in a Country Churchyard by Thomas Gray, where he muses on inhabitants in a graveyard.
Far from the madding crowd's ignoble strife,
Their sober wishes never learned to stray;
Along the cool sequestered vale of life
They kept the noiseless tenor of their way.
Fitzgerald's final novel, published in 1934, takes its title from one of John Keats's most memorable poems. The Romantic poet was born in 1795 and died young from consumption in 1821, but during that time he produced a collection of gorgeous poetry from which many well-known authors have borrowed famous book titles from. This particular quotation comes from 1819's Ode to a Nightingale.
Away! away! for I will fly to thee,
Not charioted by Bacchus and his pards,
But on the viewless wings of Poesy,
Though the dull brain perplexes and retards:
Already with thee! tender is the night,
And haply the Queen-Moon is on her throne,
Cluster'd around by all her starry Fays
But here there is no light,
Save what from heaven is with the breezes blown
Through verdurous glooms and winding mossy ways.
Like Faulkner, Steinbeck was a big believer in using quotations for his book titles. The one for 1939's The Grapes of Wrath comes from a stanza in The Battle Hymn of the Republic, written in 1862 by the abolitionist and suffragist Julia Ward Howe.
Mine eyes have seen the glory of the coming of the Lord
He is trampling out the vintage where the grapes of wrath are stored
He hath loosed the fateful lightning of His terrible swift sword
His truth is marching on.
Forster's 1924 novel is often cited as one of his best works, alongside such classics as A Room with a View. The title is a quotation from Walt Whitman's 1855 poetry collection Leaves of Grass. It isn't actually one specific line from within the poems themselves, but the title for a section of verses which have this line as a refrain. One of the most famous lines from Leaves of Grass is possibly I sing the body electric, which gives its name to a 1969 short-story collection by Ray Bradbury (and a song by Lana del Rey!)
This history of Native Americans in the 1800s was first published in 1970 and is immensely popular, having never gone out of print. Brown took his title from the poem American Names by Stephen Vincent Benet, himself a winner of the Pulitzer Prize for Poetry. It is worth noting however that the poem isn't about Native Americans.
I shall not rest quiet in Montparnasse.
I shall not lie easy at Winchelsea.
You may bury my body in Sussex grass,
You may bury my tongue at Champmedy.
I shall not be there. I shall rise and pass.
Bury my heart at Wounded Knee.
More Hemingway! It was published in 1929. This line is taken from the title of the poem A Farewell to Arms, written by Tudor poet George Peele to Elizabeth I. One of its themes is the swiftness of passing time; he died in 1596 aged 40, which was actually below the Elizabethan average of 42. Another of Hemingway's titles, 1940's For Whom the Bell Tolls, is taken from metaphysical poet John Donne's famous Meditation 17.
No man is an island, entire of itself; every man is a piece of the continent, a part of the main; if a clod be washed away by the sea, Europe is the less, as well as if a promontory were, as well as if a manor of thy friend's or of thine own were; any man's death diminishes me, because I am involved in mankind, and therefore never send to know for whom the bell tolls; it tolls for thee.
Naturally, John Milton's incredible 1667 epic Paradise Lost has spawned a lot of famous book titles. One of these is Pullman's beautiful and complex 1995 trilogy. From Book II:
Into this wilde Abyss,
The Womb of nature and perhaps her Grave,
Of neither Sea, nor Shore, nor Air, nor Fire,
But all these in their pregnant causes mixt
Confus'dly, and which thus must ever fight,
Unless th' Almighty Maker them ordain
His dark materials to create more Worlds,
Into this wild Abyss the warie fiend
Stood on the brink of Hell…
This 2005 novel is another one borrowed from a W.B. Yeats poem, specifically Sailing to Byzantium, first published in 1928. Here's the first stanza:
That is no country for old men. The young
In one another's arms, birds in the trees
– Those dying generations – at their song,
The salmon‐falls, the mackerel‐crowded seas,
Fish, flesh, or fowl, commend all summer long
Whatever is begotten, born, and dies.
Caught in that sensual music all neglect
Monuments of unageing intellect.
An Indian novelist and journalist, Markandaya published Nectar in a Sieve to wide critical acclaim in 1954. It chronicles the life of a rural Indian rural woman named Rukmani as she and her family struggle to eke out a living. The title comes from the 1825 poem Work without Hope by Samuel Taylor Coleridge.
Yet well I ken the banks where amaranths blow,
Have traced the fount whence streams of nectar flow.
Bloom, O ye amaranths! bloom for whom ye may,
For me ye bloom not! Glide, rich streams, away!
With lips unbrightened, wreathless brow, I stroll:
And would you learn the spells that drowse my soul?
Work without Hope draws nectar in a sieve,
And Hope without an object cannot live.
Hosseini's 2007 novel, the second of his career, has been hugely influential and popular since its publication. It's now one of the most famous book titles in the world. In a departure from the sources in the rest of this article, the poem A Thousand Splendid Suns is borrowed from was written not by a Western poet but by Saeb Tabrizi, a 17th-century Persian poet. It is named Kabul.
Every street of Kabul is enthralling to the eye
Through the bazaars, caravans of Egypt pass
One could not count the moons that shimmer on her roofs
And the thousand splendid suns that hide behind her walls…
From the 1785 poem To a Mouse by Scottish poet Robert Burn comes the title Of Mice and Men. This 1937 novella is one of Steinbeck's most popular works, though not if you (like me) were obliged to study it for GCSE.
But Mousie, thou art no thy-lane,
In proving foresight may be vain:
The best laid schemes o' Mice an' Men
Gang aft agley,
An' lea'e us nought but grief an' pain,
For promis'd joy!
Fitzgerald employed a poem by World War I poet Rupert Brooke, Tiare Tahiti, to name his debut 1920 novel This Side of Paradise.
Dive and double and follow after,
Snare in flowers, and kiss, and call,
With lips that fade, and human laughter
And faces individual,
Well this side of Paradise! ….
There's little comfort in the wise.
This is Martin's very first novel, published in 1977, long before he gained fame for A Song of Ice and Fire. The title is a line from Welsh poet Dylan Thomas's gorgeous Do Not Go Gentle Into that Good Night, written in 1947 about his dying father. The phrase is repeated throughout the poem, but here's the first stanza:
Do not go gentle into that good night,
Old age should burn and rave at close of day;
Rage, rage against the dying of the light.
Famous Book Titles Taken From Other Books
This 2004 novel won the Man Booker prize, and it's extraordinary – the hard-hitting narrative of a young gay man studying English at Oxford during the Thatcher years of the '80s and the AIDS epidemic. The title refers to the 'line of beauty', a curved S-shaped line described by William Hogarth in his 1753 book The Analysis of Beauty.
This novel was published in 1980, eleven years after Toole died by suicide. He had been suffering from depression linked to the book's constant rejections by publishers, but once released it became one of America's most famous book titles, winning the Pulitzer Prize for fiction. The title is borrowed from Jonathan Swift's satirical essay Thoughts on Various Subjects, Moral and Diverting. The quotation in question is When a true genius appears in the world you may know him by this sign; that the dunces are all in confederacy against him.
This delightful 2003 novel about a boy investigating the death of a dog is named after Silver Blaze, an 1893 short mystery story by Arthur Conan Doyle featuring Sherlock Holmes. Here's an exchange between him and Watson featuring the quotation:
"Is there any point to which you would wish to draw my attention?"
"To the curious incident of the dog in the night-time."
"The dog did nothing in the night-time."
"That was the curious incident," remarked Sherlock Holmes.
This 1922 poem is widely hailed as one of the most important poems of the twentieth century and a key part of the modernist movement. But the title – and, in Eliot's words, 'the plan and a good deal of the incidental symbolism' – were inspired by From Ritual to Romance by Jessie L. Watson. The book, published in 1920, explores the origins of the King Arthur legends, particularly in terms of the Holy Grail and the Celtic trope of the Wasteland – a barren land whose curse must be lifted by the hero.
#48. Vanity Fair by William Makepeace Thackeray
This book was first released as a serial of 19 volumes between 1847 and 1848, and it sometimes considered to be the progenitor of later Victorian 'domestic novels.' Vanity Fair is a location described in John Bunyan's 1678 allegory Pilgrim's Progress, where it represents man's attachment to temporal distractions. Along with being one of the most famous book titles, it's been the name for a large number of British and American fashion magazines.
Maugham's 1915 novel is widely considered to be his best. Its title comes from Ethics, Demonstrated in Geometrical Order, a treatise published in 1677 by the Dutch philosopher Baruch Spinoza. Part IV of Ethics is named Of Human Bondage, or the Strength of the Emotions, and is a discussion of how inability to control one's emotions constitutes a form of bondage.
This 1988 second novel in the Dirk Gently science-fiction series is a parody of The Dark Night, a commentary written by 16th century Spanish Counter-Reformation figure St John of the Cross. The commentary itself is on a poem he wrote, which he did not name but is now referred to as The Dark Night of the Soul.
---
I hope you enjoyed these famous book titles! If you're looking for similar posts, try this one about 100 must-read books with one-word titles.