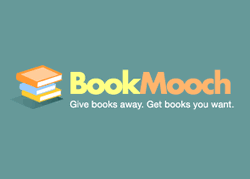 My personal library is a fluid thing, with books I didn't end up liking constantly leaving and being replaced by whatever shiny volume has caught my eye. I get books from myriad sources, including the independent bookstore where I work, the thrift store, the library, and (as I'm sure you've guessed) book swapping sites.
Book swapping sites all work on the same general principle: you list books you don't want, they are claimed by other members, and you ship the books to whoever claims them. In return, you claim books from other members which are then sent to you. Here, we've rounded-up some of the most popular book swapping sites (including one for ebooks!).
Bookmooch: International. Works on a point system–you get 1/10 of a point for each book you add to your inventory. "Mooching" (requesting) a book costs one point for books from your country, two points for international mooches. Sending a book gains you one point for domestic mooches, and three points for international. Gives you the ability to create a wishlist of books you want, and the site emails you when a book on your wishlist is available (first to get to the the book gets it). The site is free. Points are awarded when the mooch is made.
PaperbackSwap: U.S. Only. One point gained for each book sent and each book received. Points awarded when book is marked "received" by the requester. Does NOT allow users to swap books they've written in or highlighted. The site is free, but reserves the right to start charging in the future, per their FAQ. Members can also purchase points. There is a wishlist option, but if there are members ahead of you in line who also have the book wishlisted, they get first dibs. Gives users options to print postage from the site.
Books Free Swap: U.S. Only. No point system–you just browse the inventory and request the books you want. The receiver pays the postage, and the sender prints the postage paid label from the site, wraps the book, and sends it. The site is "free," but you have to add $10 to your account before requesting books. Has a wishlist function.
Read It Swap It: U.K. Only. Direct swap–when you request a book from someone, the swap only takes place if they find something in your inventory that they want (this prevents accumulation of points due to not being able to find a book you want on the site). If your books do not interest them, the swap is rejected. The number of books you can request is limited by your feedback score.
Title Trader: International. One point received for each book you send, and it costs one point to request a book. Users must receive positive feedback from a book they have sent before they can request books on the site. Points are awarded when the item is shipped to the requestor. The site is free for basic features, and costs $19.95 for "premium" membership. Has a wishlist function, but notification that a book is available on your wishlist is only available to Premium members.
WhatsOnMyBookshelf: International. Works on a point system, but each book gets a different number of points according to its original purchase price (so the more expensive a book was originally, the more points it will cost you to request it). Users get 1 point per 5 books they list, up to 100 books. Users can purchase 1 point for $2, up to five points per month.
eBookFling: International, open to Kindle and Nook owners. Works on a point system- you list the books on your e-reader and earn one point each time another user "borrows" the book. The borrower keeps the e-book for 14 days, and then it is automatically returned to your reader. It costs one point to borrow from other users. Users can also purchase points.