Featured
Book Subscription Services: The Gift That Keeps on Giving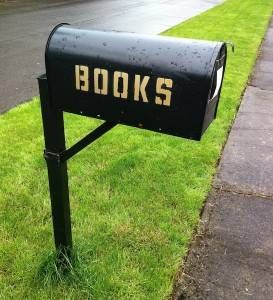 Buying books for other readers is hard. There's the "Will they really like it?" second guessing. The maybe-they-already-have-it back pedaling. The temptation to keep it for yourself and read it first just to be really sure. (Just me?) Recommending books you love can feel like baring your soul, and that's a lot of pressure in an already stressful season. Why not leave it to the professionals, who sling books the way the rest of us sling…whatever it is the kids are slinging these days?
These subscription services from indie bookstores will deliver new books, often hand-selected for your reader's taste, right to their mailbox. Think of it as a regular visit from the book fairy!
For Customized Selections
R.J. Julia's Just the Right Book: The book subscription service that started them all (or so I'm told). You provide the booksellers at this renowned store with information about your reader–recipients can adjust their preferences at any time–and sit back while they hand select the perfect next read. Choose from quarterly, bi-monthly, and monthly deliveries; select paperbacks, hardcovers, or a mixture. Prices range from $90 (a new paperback once per quarter) to $395 (a new hardcover every month).
WORD Brooklyn's WORD To Your Mailbox: This one's for the kids! Each month, the badass staff at Brooklyn's finest (spoiler alert: Riot writer Jenn Northington is one of them) choose a new board book, picture book, and chapter book to feature. The lucky nuggets in your life will receive the age-appropriate selection each month for six months ($80) or a full year ($160).
RiverRun Bookstore's Paperback to the Future:Veloci-reader Liberty Hardy (also a Riot writer) is always on the look-out for books and authors not noticed by the mainstream. Your gift recipient will tell Liberty about their reading taste by email, and she'll use "a complex, furtive, and unscientific formula" to pick a paperback for them. Prices range from $20 (for one shot) to $18/month or $195 up-front for one year.
Green Apple Books' Apple-A-Month Club: Each month the staff at San Francisco's Green Apple Books sift through piles of galleys in search of new fiction paperback originals they think will be appealing to all types of readers. These aren't individually customized recommendations, but they are based on boatloads of bookselling know-how. Just check out the archive of their picks so far! Prices range from $60 (3 months) to $220 (12 months).
For Special Editions
Powell's Indiespensable: Give the gift of ooh-la-la. Every six weeks, Powell's delivers a signed first edition of a new book in a super-snazzy slipcase, accompanied by a thematically appropriate surprise gift. They pay special attention to independent publishers, and books are often from exclusive-for-Powell's printings. Subscriptions are pricy at $39.95/month. Browse previous installments and learn what goes into selections here.
Book Passage's Signed First Editions Club: Perfect for readers who like to be on the cutting edge, Book Passage's club features a signed first edition copy of a new work of fiction by an emerging author each month. Year-long subscriptions are not listed on the site–each month's fee is the list price of the selected book plus shipping and handling. A generous gift card would do the trick, or contact the folks there to find out about a pre-paid membership.
Greenlight Bookstore's First Editions Club: This one's for readers who like quality and variety. The knowledgeable staff at Greenlight (also located in Brooklyn, we're out to represent!) select a new hardcover release of fiction, nonfiction, or poetry each month. Their selection committee considers factors including publisher, print-run, author's reputation, artistic merit, and enjoyability. For readers in the U.S., cost is $250 (6 months) or $500 (12 months). International membership is also available. All books are signed.