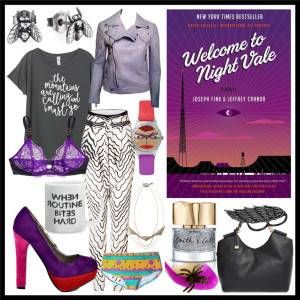 This content contains affiliate links. When you buy through these links, we may earn an affiliate commission.
Welcome to 2016's first Book Style! This round is all about the book that broke my reading slump (finally!), Welcome to Night Vale by Joseph Fink and Jeffrey Cranor. First off, if you haven't listened to the stellar podcast of the same name, I strongly recommend it purely for its awesomesauceness. Secondly, a prior familiarity with the world of Night Vale is not strictly necessary to appreciate this novel; the authors did a truly admirable job of translating the show from podcast to printed page while creating a completely original plot. Partially related side note: The Amazon reviews for this one are perfection.
I think, think mind you, that I was working with Jackie Fierro, one of the novel's two protagonists, as the inspiration for this outfit. Honestly though, this is really what I'm wearing if the Night Vale live show ever swings by Pittsburgh. Let's start with base layers: "Desert Wanderer" panties and a vibrant "Stargazing" bra will give you support in all the right places. If you want support in the wrong places, I can't help you. Moving on to the main outfit we have "Radio Waves" pants to cover those things you may or may not call legs and a "The Mountains are Calling (and I Must Go)" tee to express all of your controversial political beliefs. A leather jacket, in a fetching shade of lavender, will keep you warm on those chaotic and dangerous desert nights and will add the perfect note of nineteen-year-old rebellion. Step into a saturated pair of heels, evocative of desert sunsets, and clip on these adorable tarantula shoe clips.
Today's accessories are brought to you by the Desert Flower Bowling Alley and Arcade Fun Complex. Keeping your deerskin suitcase purse classic and simple lets you play with the rest of the accessories. A pair of fly earrings (Josh? Is that you?), an angel wing ring (Of course angels don't really exist, please don't report me to the Secret Police!), a "Dirty Librarian Chains" necklace, and a funky librarian watch will complete your outfit. Only thing left to do is to paint your nails with some "Teen Cage Riot" lacquer and have your "Routine Bites" mug topped off with your preferred brew at the Moonlite All-Nite Diner (Tell Laura I say hello!). Out the door to face the perils of existence you go!
All hail the Glow Cloud.