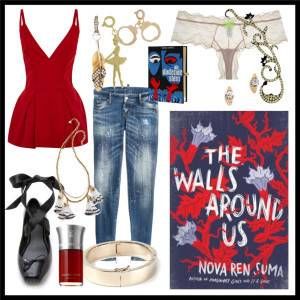 This content contains affiliate links. When you buy through these links, we may earn an affiliate commission.
The Walls Around Us
the very moment my eyes fell on a copy. Just look at that navy and crimson beauty! The flowering vine clings to the cover looking so graceful yet conveying such daunting lethalness. This was a particularly delightful book for me because ballerinas and murder? Oh my, yes please! The ballerina theme was also a lot of fun to incorporate (without going too costumey) into this Book Style. If you haven't read
The Walls Around Us
, I highly recommend it, even if you're not typically into YA; Nova Ren Suma wields a feisty, fresh, and slightly wicked pen!
We've started with some paint-splattered denim that may or may not be tied to some graffiti-ed walls in the book. Next let's add this elegant "Ballerina" peplum top and a pair of lace up ballet flats. (These ballet flats also come in a semi-clear gold glitter that I need. NEED I tell you!!!) Toss on a pair of "Orianna" boyshorts underneath for the Bloody Ballerina herself. Okay, so there's the clothing handled, now onto accessories.
The purse is a bookish little clutch based on Ursula Curtiss' 1962 De Dodende Stem (Voice Out of Darkness in English) which is an appropriately murderous mystery filled with long buried secrets. The "Jail" cuff is for Ori's time inside juvenile detention and the "Vine" ear cuff is for the creeping and hallucinogenic flowering vine that gives the girls inside a glimpse of beauty. A "Dancing Feathers" necklace and "Mini Ballerina" stud earrings are a nod to Ori's past as a star ballerina bound for greatness. The jewelry is rounded out with three charms that would make perfect additions to the enviable charm bracelet Violet, Ori's former (?) best friend (??), wears all the time. There's a ballerina, handcuffs, and a "Firebird" feather – for the dance that cemented Ori's balletic skills. The final touch to this Book Style is the "Bloody Wood" perfume, because you don't become the Bloody Ballerina if you don't have any blood on your hands.
____________________
Get four surprise books and bookish goodies for all your summer reading needs in our Summer Reading Box: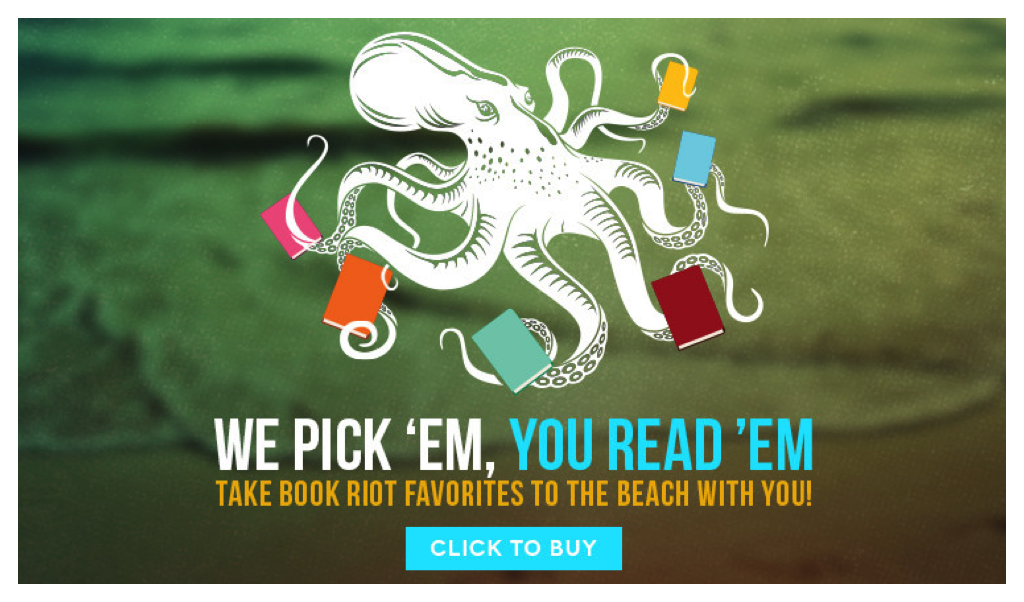 I fell in love with the cover of Nova Ren Suma's