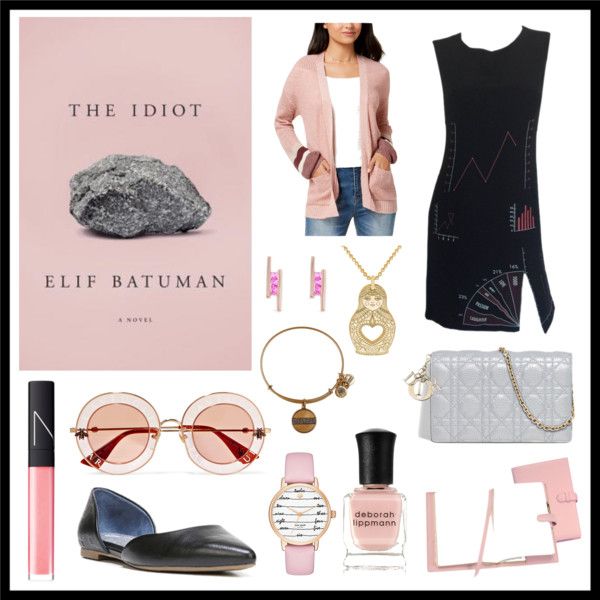 Book Style: THE IDIOT By Elif Batuman
Elif Batuman's The Idiot was chosen for more than one "Best Cover of 2017" list and for good reason, too. The simplicity of the design harks back to mid-1990s minimalism, which is fitting since the novel is set smack in the heart of that decade: 1995. I also think the dusky, baby pink color choice is perfect for conveying the angsty, uncertain first love of the semi-autobiographical protagonist, Selin. Batuman does a fantastic job of conveying that weird sensation of discovering yourself during the transition to adulthood in college. I actually think Selin comes through the process less scathed than I did, personally.
For this Book Style, I wanted a modern '90s minimalism look. I started with a vintage Moschino dress printed with mathematical charts and diagrams since Selin's love interest, Ivan, is a math major. The delightfully collegiate pink cardigan is from Freshman, fitting as the story centers around Selin's freshman year and the summer after. The shoes, "Svetlana" flats, are a nod to Selin's roommate. For accessories I chose a pair of rose-colored glasses (literally) inscribed with "L'AVEUGLE PAR AMOUR" which translates to "blind for love." I also sought inspiration from the it bag of 1995, and something Selin could've splurged on in Paris: the Lady Dior. For the outfit, I went with a gray wallet-on-a-chain version. The jewelry consists of Russian doll necklace for the Russian class where Selin and Ivan met, a pair of ruby studs from Selin Kent, a Harvard bangle since it is the setting of most of the book, and a writerly watch from Kate Spade. Playing on the writerly theme, which is Selin's destiny, I also included a notebook for her to carry on her travels and to class. Finally, the makeup consists of "Turkish Delight" lipgloss for Selin's Turkish parentage, and "Baby Love" nail lacquer.