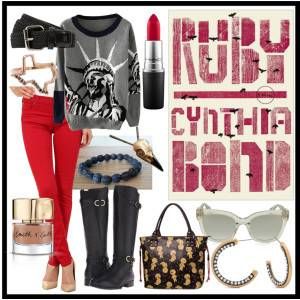 Fiction
Book Style: RUBY by Cynthia Bond
This content contains affiliate links. When you buy through these links, we may earn an affiliate commission.
Ruby by Cynthia Bond is the inspiration for today's Book Style. This book of survival, love and redemption is steeped in the religions and folklore of that mystical region of East Texas that is nearly Louisiana. (I'm a romantic for the Bayou country, can't help myself.) Ruby is also inspired by Cynthia Bond's real life; a fact that makes this tale even more poignant.
Not much of this outfit is inspired by the mid-century setting of the novel. Honestly, Ruby probably would have really enjoyed creating a wake of gossip with these ruby-colored skinnies, or maybe I'm projecting myself onto her. A cozy New York & Liberty (Texas) inspired sweater will keep you toasty and casual. "Jennings" boots will let you stomp through dirt road lanes and East Village avenues with equal confidence. A braided belt cinched at your waist and a Voodoo-inspired bag on your arm and we're ready to move onto accessories.
"Maggie" shades for your eyes, best not to let them see how much their words hurt. "Celia" hoop earrings, a black diamond Texas ring, a crow skull necklace, and a black chinaberry bracelet comprise this Book Style's jewelry. Add THE classic ruby red to your lips – MAC's Ruby Woo, of course! – and paint those talons with "Feathers & Flesh" nude lacquer and you're all set.
Have you read Ruby, yet? Can we talk about it? It gives me major feels.