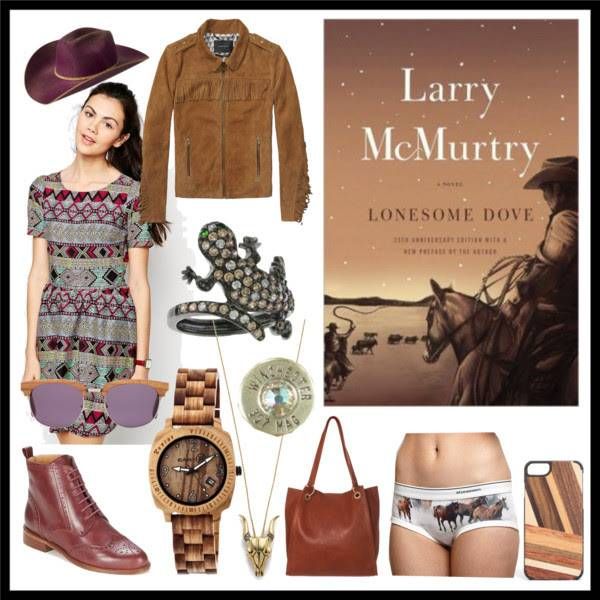 Fiction
Book Style: LONESOME DOVE by Larry McMurtry
This content contains affiliate links. When you buy through these links, we may earn an affiliate commission.
Little House on the Prairie
or suggested a John Wayne classic for movie night. As an adult, I've tried time and again to get into them and it seems like I can tolerate
True Grit
(the 2010 one) and the Shanghai Western mash-up genre. Books have always been different for me, though. I really appreciate a good western novel. I read my way through all of Laura Ingalls and Rose Wilder's books in elementary school a couple of times. I have a soft spot for Charles Portis, Zane Grey, Cormac McCarthy, Patrick deWitt, and, of course, Larry McMurtry. This round of Book Style is all about McMurtry's modern classic,
Lonesome Dove.
One of my favorites for capturing the fading legacy of the American West.
Let's start with the "Mex Tex" dress for the actual location of the border town from which the novel takes its name. Don't forget to throw on a suede western style jacket for those chilly nights around the campfire. I added some "Clara" boots for Gus's one true love, a pair of horse print panties because, uh, horse print panties, and a "Montana" bag for the cowboy's final destination. I wanted to make sure I included plenty of wooden elements since, as fellow Rioter Nikki reminded me, there's a pretty important wooden sign that keeps popping up – you'll just have to rent your pigs elsewhere 😉 So we have the wooden framed sunglasses, a wooden watch, and a wooden phone case. A bit of bling with the newt ring for Call's potential (and very likely) child; a steer skull necklace because a cattle herd is the whole reason Gus, Call, and the others are trekking north; and those fabulous Winchester stud earrings because every cowboy needs a reliable pistol, especially Call. Drop that sunset-purple cowboy hat on your head and ride off into the actual sunset now. Giddy up.
Most of my mother's family loves westerns. I do not. I cringed internally every time a cousin excitedly turned on another episode of