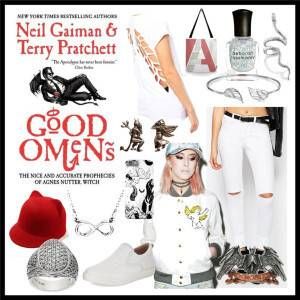 Fiction
Book Style: GOOD OMENS by Terry Pratchett and Neil Gaiman
This content contains affiliate links. When you buy through these links, we may earn an affiliate commission.
Some things are great alone, but are even better in pairs. Angels & Demons, Terry Pratchett & Neil Gaiman, and Book Styles! I couldn't resist doing a twofer edition of Book Style for both editions of Good Omens. Crowley and Aziraphale deserve equal screen (er page?) time after all. And it has absolutely nothing to do with my inability to choose between them. I could choose if I had too! But I make the rules, and I say we do both! Black & white, good & evil, angel & demon, Crowley & Aziraphale. Also, total sidenote here: I am not an audiobook convert. It takes crazy amounts of focus for me to listen to an audiobook and actually, well, listen, but Good Omens narrated by Martin Jarvis is arguably even better than the print version.
For the black outfit: Start by layering this "Runnin' with the Devil" dress over a crisp French-cuff button-down. Toss these angelic tights on your stems and slip on a pair "Angelic Touch" loafer/bootie/foot-covering-things. A "The Devil's Own" clutch will hold everything you need – including your phone in its swanky new Queen phone case! Don't worry, all phone cases will turn into Queen phone cases if you leave them unattended in your car for at least a fortnight. Accessories include these angel/devil cufflinks (why else would I subject you to French cuffs?), an "Angel" ring, an "Evil" necklace, "Celestial" earrings, and an "Angel" watch. Some "Shattered Souls" nail lacquer will add some sparkle to your fingertips and a spritz of "Endless Summer" will have you smelling quite proper and futuristic, because "If you want to imagine the future, imagine a boy and his dog and his friends. And a summer that never ends." Toss on your "Tough as Hell" leather jacket and you're out the door!
For the white outfit: First, step into a pair of crisp and torn "Devil" white skinnies. Throw a not-so-basic winged t-shirt on top and add an "Angel" jacket for warmth. For the toes we have a pair of "Angel Lace" slip ons. An "Apocalypse" tote and a cherry red devil-eared cap add a brilliant splash of color. Add the requisite bling – what? in my world this is required – with a "Guardian Angel" ring, devil/angel earrings, an "Angel" winged bangle, an "Eden" ear cuff, and an "Infinity" necklace. No better way to show off your "Stairway to Heaven" nail lacquer than while gripping your new

"Good vs. Evil" phone case, either. Last step? Cinch your belt up with a Death-tastic "Guardian Angel" buckle. Just avoid tomato sauce and anything chocolate in this all-white outfit. Actually, best not to be near any food when your outfit is this brilliantly-Haptons-White-Party-worthy white.
Which cover do you prefer?