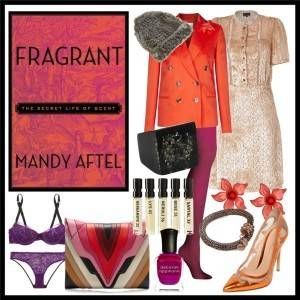 This content contains affiliate links. When you buy through these links, we may earn an affiliate commission.
Hello, I'd like to introduce you all to my current book crush. Everyone meet Fragrant: The Secret Life of Scent by Mandy Aftel. This book has been begging me to turn it into a Book Style since my color-loving eyes landed on the galley copy. I'm going to have to insist that you all make a point of running out to your closest bookstore and gazing at the magnificence of this book in person because no amount of fancy, twenty-first century technology can capture it's gloriousness in print or online. A serious good job to the design team over at Riverhead Books and extra kudos to Janet Hanson for her jacket design. This book is everything I've been craving lately: lushness – visual, tangible, and mental lushness. Which, in essence, is the whole point of Aftel's book. She's advocating, through a history of perfume, getting away from the over-processed modernity and sinking our noses and our souls into something truly special, precious, and luxurious.
In a somewhat incongruous message, I have chosen an outfit ripe with over the top glamour. (I will be damned if you try to take my fancy 'u' out of glamour. Glamour deserves its 'u' and you can't have it!). Manic pixie dream girl meets Baz Luhrmann's aesthetic circa Romeo + Juliet. Hyper-saturated colors compete with shimmering metallics here and it's all good and my heart was happy. First a note on the foundation garments: This stunner of a set is called "Sarah Sailing" and, while I have no clue who this Sarah person is, the sailing bit ties in nicely with the themes of exploration and colonization – all in the name of exotic trade – which are essential in the history of perfume. They are also intentionally purple because, even though you can't see it until you remove the mesmerizingly vivid dust jacket, this book is purple perfection underneath. A glittering "Cinnamon" dress layered over bright fuchsia tights is perfect for cocktails or a dinner date. Pops of orange in a luxe satin blazer (with a floral chiffon lapel piece) and metallic heels work surprisingly well.
I was trying to include something of the five distinct classes of perfumery materials that Aftel has structured the book by. She chose cinnamon (a spice), mint (an herb), frankincense (a resin), ambergris (an animal component), and jasmine (a floral). The cinnamon and spice notes are the most obvious, followed by the florals – aren't those jasmine earrings amazing? Resins also came into fairly easy play with a statement resin ring and this "Gift of Wisdom" bracelet – which might be a stretch unless you grew up with a close familiarity with the story of the Three Wise Men. I added a touch of luxury animal with a rabbit fur beanie (there are plenty of fabulous faux options available too) but I couldn't figure out a way to truly incorporate an herbal element within this color palette. You can always wear an herbal perfume, though, maybe by dabbling with a sampler set to see what you really love to wear. Bright polish and a funky clutch will round out this unapologetically flamboyant outfit!
____________________
Follow us on Pinterest for drool-worthy covers, Book Fetish-y lit swag, bookish inspiration, and more!