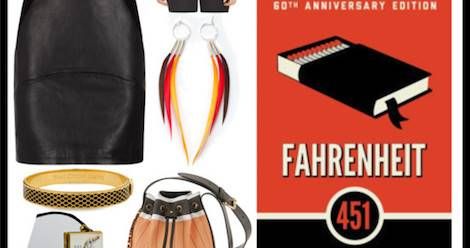 Classics
Book Style: FAHRENHEIT 451 by Ray Bradbury
This content contains affiliate links. When you buy through these links, we may earn an affiliate commission.
For outfit details click image.
There's something about this election year that has me dwelling on all of the fictional dystopias I've explored over the years. None have been more terrifying to me than the world of Ray Bradbury's Fahrenheit 451. The painful shallowness of the society just guts me, but mainly, the idea of literature being illegal and free thought being suppressed makes my skin crawl with terror.
For this fiery Book Style, I didn't stick with any aesthetic inspiration from the book, instead I went for more thematic elements. Start with this "Clarisse" leather skirt and a flame-red silk blouse. Add a "Poems" cardigan for warmth on top. Add some cheek with these "Banned Books" socks peeking out of a pair of "Faber" booties. I went a little meta with a "Fahrenheit 451" book locket. Add a little sparkle and shine with a "Matchstick" ruby ring and a "Salamander" bangle. A pair of phoenix-worthy earrings finished off the jewelry for this look. Finally, grab a "Matchstick" bucket bag – perfect for hiding your illegal lit inside – with your "Burnt Out" lacquered nails and off you go. Remember, it's oka