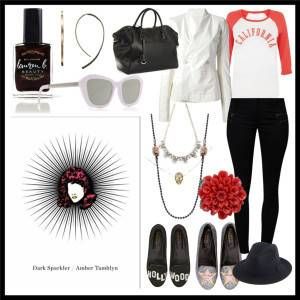 Poetry
Book Style: DARK SPARKLER by Amber Tamblyn
This content contains affiliate links. When you buy through these links, we may earn an affiliate commission.
This round of Book Style is tackling poetry. Not just any poetry, either. Dark Sparkler by Amber Tamblyn was the inspiration behind this Hollywood-centric outfit. You may only be familiar with Tamblyn for her acting credits (Joan of Arcadia, The Sisterhood of the Travelling Pants, Two and a Half Men). You may kind of know she writes poetry thanks to her recurring column with BUST Magazine. But trust me, the lady writes some killer poetry and has been for years. Dark Sparkler is actually Tamblyn's third published collection, not to mention that she has been included in several anthologies. Dark Sparkler is an collection of elegiac poems, each one dedicated and inspired by an actress who died too soon. Tamblyn's style keeps the poems brisk while tackling the darker side of fame.
Clearly Hollywood, fame, celebrity, actress, and film were all big keywords for this outfit, which seems like something any modern-day actress could be spotted wearing around L.A. We have "Fame" trousers paired with a "California" raglan tee under a stylish "Hollywood" blazer. I honestly couldn't choose between the "Hollywood Star" glitter loafers or the "Glitter Hollywood" suede loafers, they're both too good. For the accessories I present to you an over-sized (for all those scripts and super-sized, non-fat, dairy-free, magic-calorie-less lattes) "Celebrity Status" purse, "Hollywood Boulevard" sunglasses, and a wide-brimmed, paparazzi-deterring fedora. The penultimate touch is the jewelry – a dahlia ring for actress Elizabeth Short, a "Flashbulb Fab" necklace layered with "Till Death Do Us Part" and "Head of Death" necklaces, and a new spin on hoop earrings from Lana Jewelry. A couple of layers of "Hollywood Royalty" nail lacquer and the outfit is complete. Now crank up the Lana Del Rey and dig into this mesmerizing collection when it releases on April 7th.
____________________
We run a pretty sweet little bookish Instagram account, if we do say so ourselves (and we do). Come check it out.