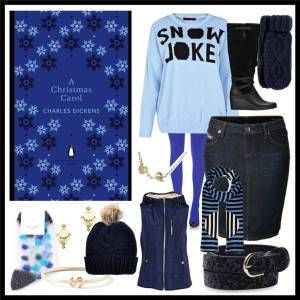 Classics
Book Style: A CHRISTMAS CAROL by Charles Dickens
(Click the image to see all the items!)
Oh, A Christmas Carol. Charles Dickens' classic novel has been published countless times and adapted for film and television over and over again. If you're not familiar with the basic plot at this point, I'd like to suggest a viewing of The Muppet Christmas Carol, as it remains my all time favorite movie rendition. Because, well, Muppets and Michael Caine.
What better outfit to extract from this snowflake-studded edition of the classic than one fit for some holiday caroling. Any holiday activity pretty much requires you to look festive, but looking festive, cute and not freezing retires strategic and cozy layers. This "Snow Joke" sweater was too humorous to pass up, and really, echoes the message that the various spirits keep trying to hammer into Ebenezer's thick skull: "This lesson is no joke, your mortal soul is in danger!" On the note of warmth, I'd advise layering a long-sleeved tee under this before venturing out for a couple of hours wassailing. A "Ghost Wash" denim skirt is layered over warm, vibrant tights. They'll be a bit of a treat for you alone, but these sheer polka dot socks simultaneously remind me of whimsical snow and the creepy Ghost of Christmas Past from the aforementioned The Muppet Christmas Carol. (Seriously, it's my favorite.) I weighted the outfit with a festive glitter belt and chic snow boots.
For the outerwear I chose a puffer vest from Pull & Bear, which I may have read as "Bull & Bear" originally, and at that point it tied a lot closer to Scrooge's professional life in finance… but any which way, it's cute. A graphic scarf balances a cozy knit pair of mittens and beanie. The accessories allowed me to pull in some key book references: A delicate dollar sign (although I suppose a pound symbol would have been more accurate) ring, an adorably haunted necklace, and these literal door knocker earrings.
Happy Holidays everyone!
____________________
Follow us on Pinterest for drool-worthy covers, Book Fetish-y lit swag, bookish inspiration, and more!