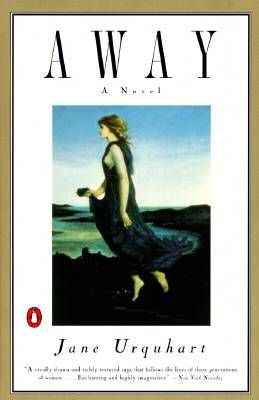 Book Riot Does Canada Reads Book 3: AWAY by Jane Urquhart
So Canada Reads is a BOOK RIOT EVENT this year, y'alls — I laid out all the goodies in this post, and this is the second week of our seven-week mini-spectacular. We're onto AWAY by Jane Urquhart (1993) now, which I think is probably the most famous of the selections this year — a veritable classic of Canadian, women's, and immigrant literature. Today you'll read this intro post, I'll be Tweeting my reading progress all week at #brcr3 (please please please read-a-long and tweet-a-long with me!), and then I'll meet you on the Twitters on Thursday (January 24) for an hour-long chat at 7:30 EST (4:30 PST) to discuss the novel.
Jane Urquhart is legit cool, you guys. Born in Thunder Bay, Ontario, in 1949, she's one of Canada's most decorated writers and even holds the Order of Canada (that's the second highest honour in Canada, folks, and not just Canadian letters — Canadian anything). She's got zoodles of honourary degrees and awards and bestsellers in Canada and around the world to her name, and in LitFic in Canada she's like, A Name.
Confession: this was totally on one of my comp exam lists for my PhD and I may have sort of kind of skipped it a little. Um. But I'm reading it now! So that counts in my favor, right?!
For American readers, this is probably the easiest title for you to find; it's published in the US by Penguin and should be widely available through libraries and bookstores.
This is a story of Irish immigrant experience, with the narrative moving from the 1840s to the 1990s across generations, national borders, class divides, and historical moments. The novel suggests that and separation between the personal and political is illusory, as our characters shape and are shaped by the potato famine, Canadian confederation, and contemporary life. It's also about how our family histories shape us, whether we like it or not.
So AWAY with you this week! Follow my tweets at #brcr3 and jump in at will!