Lists
The Book Riot Canadian Election Reading List
This content contains affiliate links. When you buy through these links, we may earn an affiliate commission.
American Rioters, did you know your neighbours to the north are having an election at the moment? At eleven weeks of campaigning, this will be our longest (no, really) election in recent memory — exhausting for us political junkies, but it means you've got lots of time to read up on America's Hat. In fact, by the time you get through the reading list I've prepared for you, you'll know that at least one of the following facts isn't true.
If the Canadian election ends in a tie, a moose will choose the victor by scent.
There is a legal limit to the amount of money a campaign can spend on Molson Canadian or Tim Horton's products, but no one knows what it is.
The MPs of the third-place party have to wear toques that say "hoser" for a minimum of six weeks following the election.
BUT WHICH ONE.
Ok ok. On to the books.
The current Canadian Prime Minister is Conservative leader Stephen Harper, who has been in charge since 2006. He's running again this year. In The Longer I'm Prime Minister: Stephen Harper and Canada, 2006- political journalist Paul Wells gives a thoughtful and in-depth look at Harper's years in power. This is a great book to understand how governance works — and how it has shifted — in Canada.
The big change in Canadian politics in recent years has been that the one-time third party, the left-wing New Democratic Party, has made huge gains, becoming the opposition in the last election. In fact, they are now leading this one (well, depending on the pollster). Building the Orange Wave: The Inside Story Behind the Historic Rise of Jack Layton and the NDP by former campaign director Brad Levigne tells the story of how that change came to be.
What does it take to win power in Canada now, and are elections really so different than they used to be? In Winning Power: Canadian Campaigning in the 21st Century by political scientist and strategist Tom Flanagan, you get an insider view of campaigning — including a good hard analysis is how and why "going negative" works.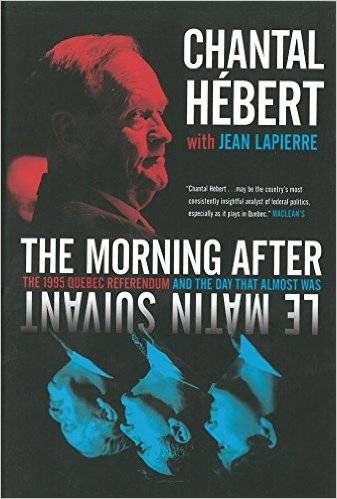 This election is interesting because separatist leader Gilles Duceppe is back, which might change the state of play in Quebec. Journalist Chantal Hébert, expert at explaining Quebec to English Canada, deconstructs the ramifications of the last referendum in The Morning After: The 1995 Quebec Referendum and the Day that Almost Was. It's a good primer on Quebec politics and how its issues continue to resonate.
For the real political nerds, Fights of Our Lives: Elections, Leadership, and the Making of Canada by John Duffy is a treat. It walks the reader through five elections that Duffy argues have answered important questions about Canadian identity. It's a good primer in Canadian political history, and Duffy is a super political nerd who makes these old, dusty elections feel utterly essential and immediate.
Any other Canadian political nerds in the house? What are you reading, and how's this very very very long election treating you? More titles and talk down in the comments!
And I would be remiss if I didn't leave you with the greatest (totally real, I'm serious) political ad of this campaign so far.
[youtube]https://youtu.be/DG6fhub9HDQ[/youtube]