This content contains affiliate links. When you buy through these links, we may earn an affiliate commission.
When you're on a five-year mission, with light years between planet leave, you're going to need some books to read. Here we recommend books to grace the cabin nightstands of each major crew member of the Starship Enterprise. Further reading suggestions for Star Trek characters welcome in the comments.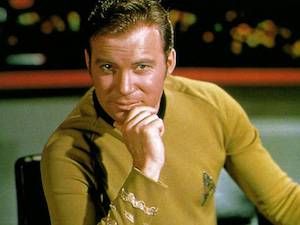 Captain James T. Kirk's subconscious search for success and popularity leads him to pore over personal development books (How to Win Friends and Influence People by Dale Carnegie). A born leader, womaniser, and all-American hero type, he will lose himself in classic Westerns (Silver Canyon by Louis L'amour), and American historical biographies (Alexander Hamilton by Ron Chernow). (Kirk and Spock went on a date to see the Hamilton musical on its 212th run. Spock complained throughout about the historical inaccuracy of the musical styles). But it was travel memoirs (All God's Children Need Traveling Shoes by Maya Angelou; The Lost Continent: Travels in Small-Town America by Bill Bryson) that led to Kirk's passion for exploration, whether at home or far across the stars.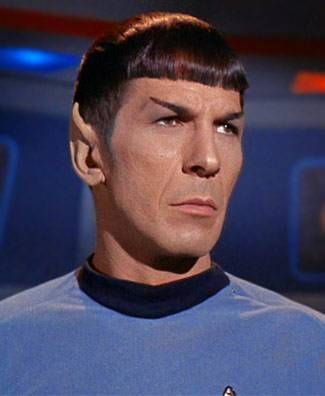 Spock's first literary love are the logical deductions of his ancestor Sherlock Holmes (The Adventures of Sherlock Holmes by Sir Arthur Conan Doyle) alongside the wider mystery canon (Murder on the Orient Express by Agatha Christie). (Whilst reading Sherlock Holmes stories, Spock also has a talent for writing Johnlock fan-fiction.) A detail-orientated scientist, Spock will often be found with a book of science history (Hidden Figures by Margot Lee Shatterly) or theory (A Brief History of Time by Stephen Hawkings). Other interests include science-fiction with biracial characters (On the Edge of Gone by Corinne Duyvis).
Big-hearted Dr. Leonard "Bones" McCoy blanks out the discomforts of space, and of divorce, with Earth-based literary fiction: sometimes romantic; sometimes brooding (Mr. Fox by Helen Oyeyemi; On Beauty by Zadie Smith). Wary of much 23rd-century technology, Bones will immerse himself in a pre-industrial world whether broodingly romantic (My Cousin Rachel by Daphne du Maurier) or medical (The Canon of Medicine by Avicenna).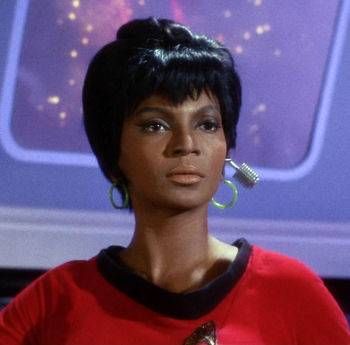 Nyota Uhura: xeno-linguistic genius; lover of language and communication-based SFF (Story of Your Life by Ted Chiang; Embassytown by China Mieville; Alif the Unseen by G. Willow Wilson; A Wizard of Earthsea by Ursula K. Le Guin) and Afrocentric space travel (Dawn by Octavia Butler; Binti by Nnedi Okorofo).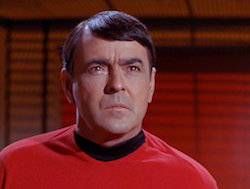 On-duty, Montgomery "Scotty" Scott seeks thrills through his engineering. Off-duty, he gets those thrills rather more safely from reading adventures and suspense thrillers (Angels and Demons by Dan Brown; The Girl with the Dragon Tattoo by Stieg Larsson).
Hikaru Sulu's talent for flight and navigation was fostered by aeronaut and astronaut memoirs (An Astronaut's Guide to Life on Earth by Chris Hadfield). Sulu's escapism in both fencing and reading material lead Spock to refer to him as "at heart a swashbuckler out of the 18th century" (The Three Musketeers by Alexandre Dumas).
Young and precociously talented Pavel Chekov relaxes off-duty with science-fiction humour (The Hitchhikers Guide to the Galaxy by Douglas Adams), in between keeping his mind fresh with some popular science and engineering (Packing for Mars: The Curious Science of Life in the Void by Mary Roach).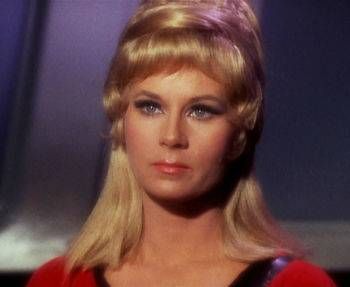 Highly intelligent and skilled in communications officer Janice Rand will cosy up between shifts with an empowering romance novel (Knit One, Girl Two by Shira Glassman; Kushiel's Dart by Jacqueline Carey; Lost Stars by Lisa Selin Davis).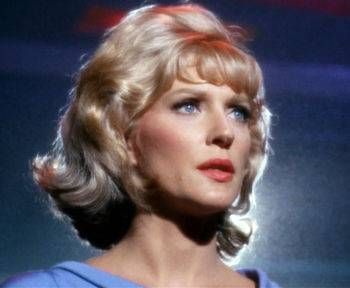 Christine Chapel has a preference for historical fiction (The Golem and the Djinni by Helene Wecker) and it was historical science fiction that first encouraged her to take her nursing career into space (From the Earth to the Moon by Jules Verne).