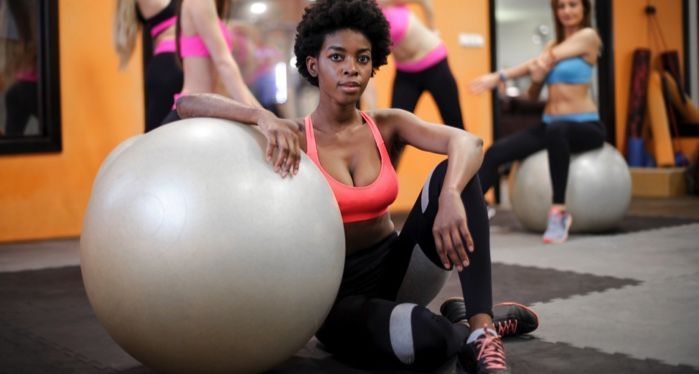 Lists
Your Next 2 Reads, Based On Your Favorite Type of Exercise
This content contains affiliate links. When you buy through these links, we may earn an affiliate commission.
If I'm not reading, you'll find me working out—sometimes you'll find me doing both at the same time, chugging away on a treadmill or elliptical while gazing intently into my Kindle (for those of you who get motion sickness, I am sorry; I do not recommend that for you). Quarantine has inspired even those who never used to identify as gym rats to get into the fitness zone. There are as many types of movement as there are types of books. But you can't work out all day, so here are my recommendations for what to do while on the couch—one for those gainz, and the other for working those muscles that tend to get a little less love.
Fitness is a multidisciplinary world, so this list is multi-genre, multi-age, multi-format. I firmly believe every book on the list will be engaging for an adult reader. It's always good to shake it up a bit, right?
Now, let's get going. Don't forget to hydrate!
Cycling/Running
Well hello there, Little Engine That Could! You've got amazing stamina, and you know your only true competition is who you were yesterday. You're probably the most reliable and resourceful person for miles, and your friends are both awed and afraid of your drive. You may or may not publicly phrase it this way, but you embody the Elle Woods maxim that exercise gives you endorphins, endorphins make you happy, and happy people just don't shoot their husbands. They just don't. They do, however, get to experience the high of being totally in the zone and having nothing on their mind except the feel of sneakers hitting the pavement or that flywheel whirring.
Yoga
You're a pro at staying present and grounded, and your superpower is mindfulness. Even when things get rough, you are able to find it in yourself to stay calm and collected, and you're flexible and amenable to change. It is both an honor and a burden to be you, because you are probably the person your friends cry to when they need support, and you always deliver. If someone tells you to stop and smell the roses, you actually stop and smell them. I wish I had your discipline.
Martial Arts
To the casual fight spectator or moviegoer, martial arts looks down and dirty, but you know well that being that good requires impeccable control over yourself and your surroundings and anticipation of your opponent's every move. That serves you well outside the ring too, as you're probably a great manager or teacher in your professional life. Also, it feels really good to hit something as hard as you possibly can and not get into trouble for it. My therapist agrees that kicking and punching an Everlast bag is good for me and for the people around me.
Crossfit/Lifting
You've got a bit of a competitive streak. No stranger to hard effort, you are used to working hard and getting swole. You high achiever, you! Just maybe don't group text the details about the WOD and your personal best AMRAP at 5am. Some of us are not ready for the world yet. We will double-tap your Instagram post about it later, promise, and then we will begrudgingly admit that you, yes you, are the only reason we have a group chat anyway, because you are the kind of steadfast friend whose dedication to excellence doesn't end when you leave the gym but follows you everywhere you go in everything that you do.
Pilates/Barre
You are precise, detail-oriented, but not a total perfectionist. Absolutely not. (You are definitely a perfectionist.) Nothing wrong with a little frivolity now and again, but, like, can we first finish this set of pulses in quiet contemplation so we can pretend our muscles aren't quaking? You are one of three kinds of people: good at math in the real world but completely incapable of keeping track of reps once you lie down on the reformer, or desperately attached to music so reps can always go according to the 8-count and there's no need to count them individually. And that's the joke. Ba-dum-tshh! You're beloved for your intellect; nobody cares that you're not a comedian.
Dance Cardio
Your Instagram is all green juice, neon activewear, and #SweatySelfies. You always find the sweet spot between consistency and variety, between the familiar and the new. A social butterfly, you're really good at convincing others to join you for a class, and you're equally excited for the latte or cocktail that comes after. You already made reservations at the bar, in fact. You also have a preferred cubby, dumbbell set, and spot on the floor, and everybody else respects that. People like to follow the leader, and the leader is you.