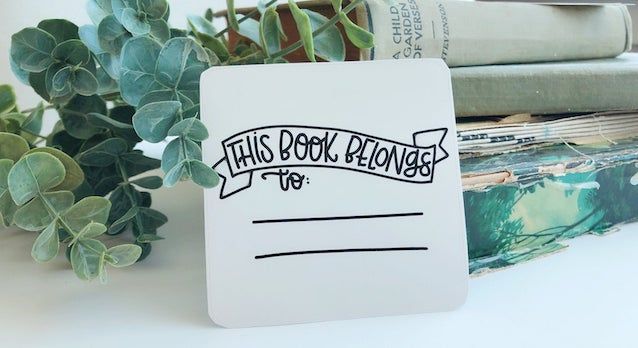 Book Fetish
Ex Libris: 50+ Rad Book Plates For Your Personal Library
Although I'm not one to use book plates for my personal collection, it's hard for me not to run my fingers over the gorgeous options for those ex libris labels when I see them. But for readers who love to use book plates, whether because you like having all of your books marked or because you want to ensure you get books back from those who may borrow them (friends, family, your students, etc.), there are so many gorgeous, fun, and fresh options.
I've pulled together some great book plates within different design categories, offering up all kinds of animals, vegetables, and minerals for your varying needs. I've stuck to stickers or paste plates, as book plate stamps will make for an excellent future post.
Let's collectively drool and drop a few pennies on these rad book plates.
50+ Excellent Book Plates
Animal Book Plates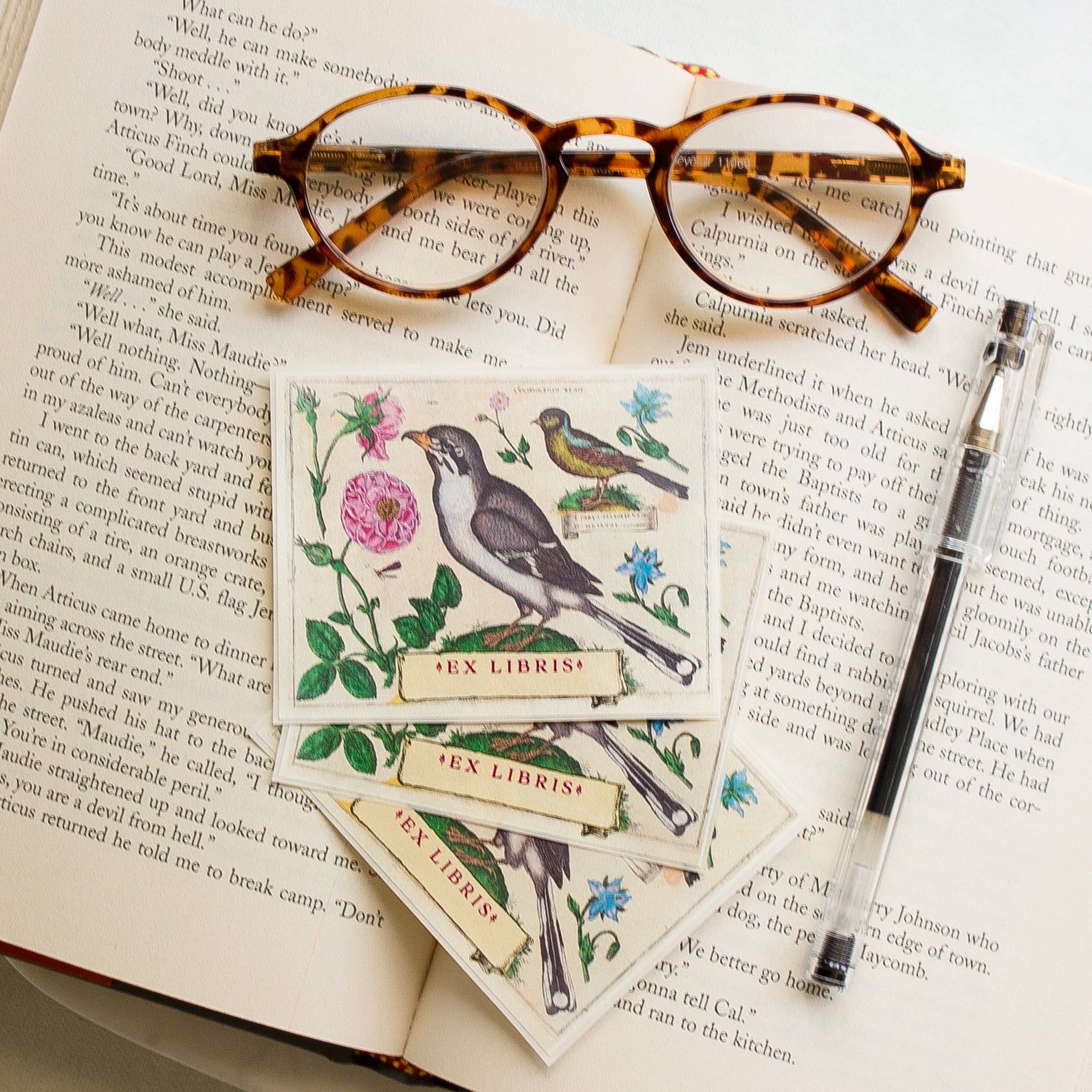 These botanical bird book plates are perfectly vintage inspired. $13 for a set of ten, with the option to personalize them.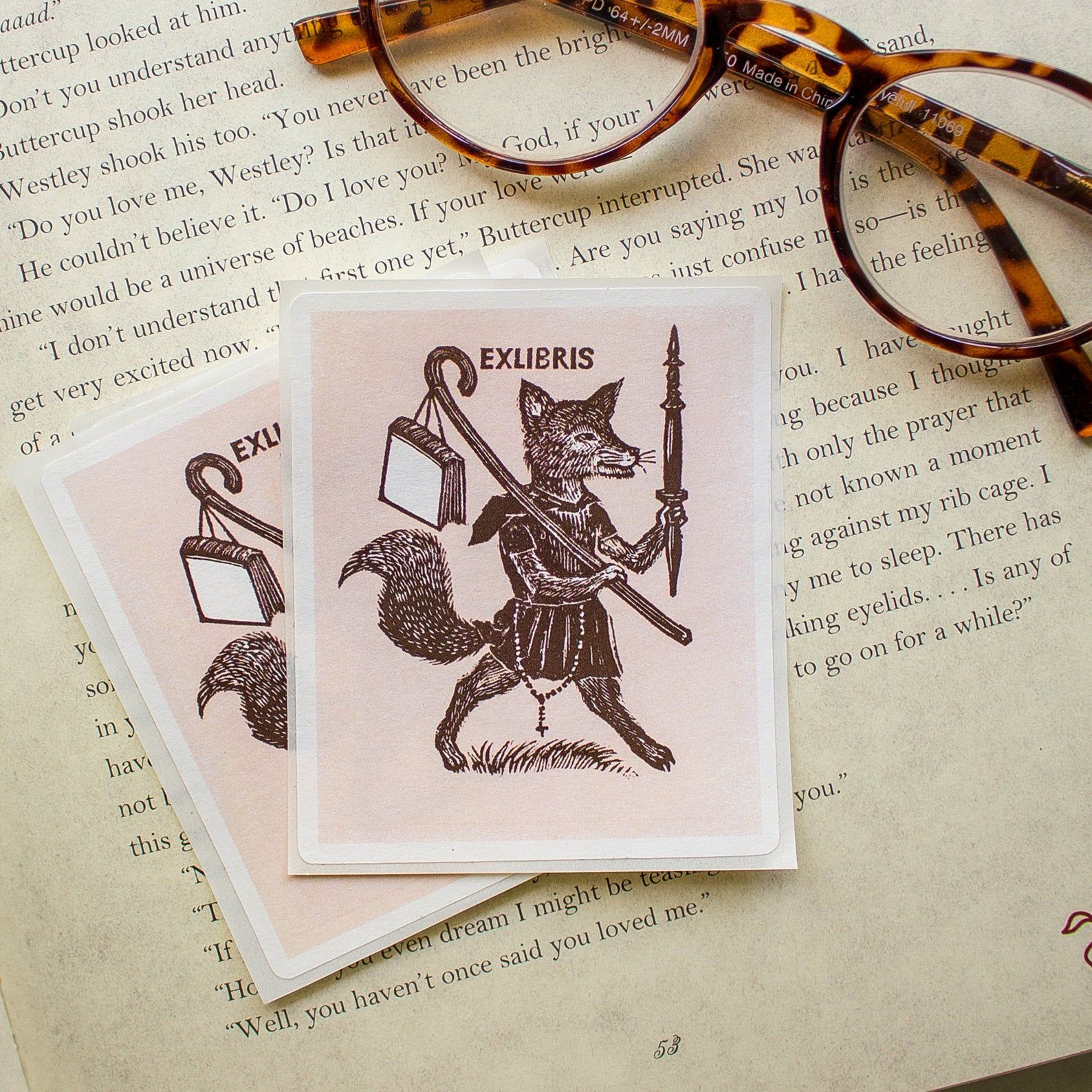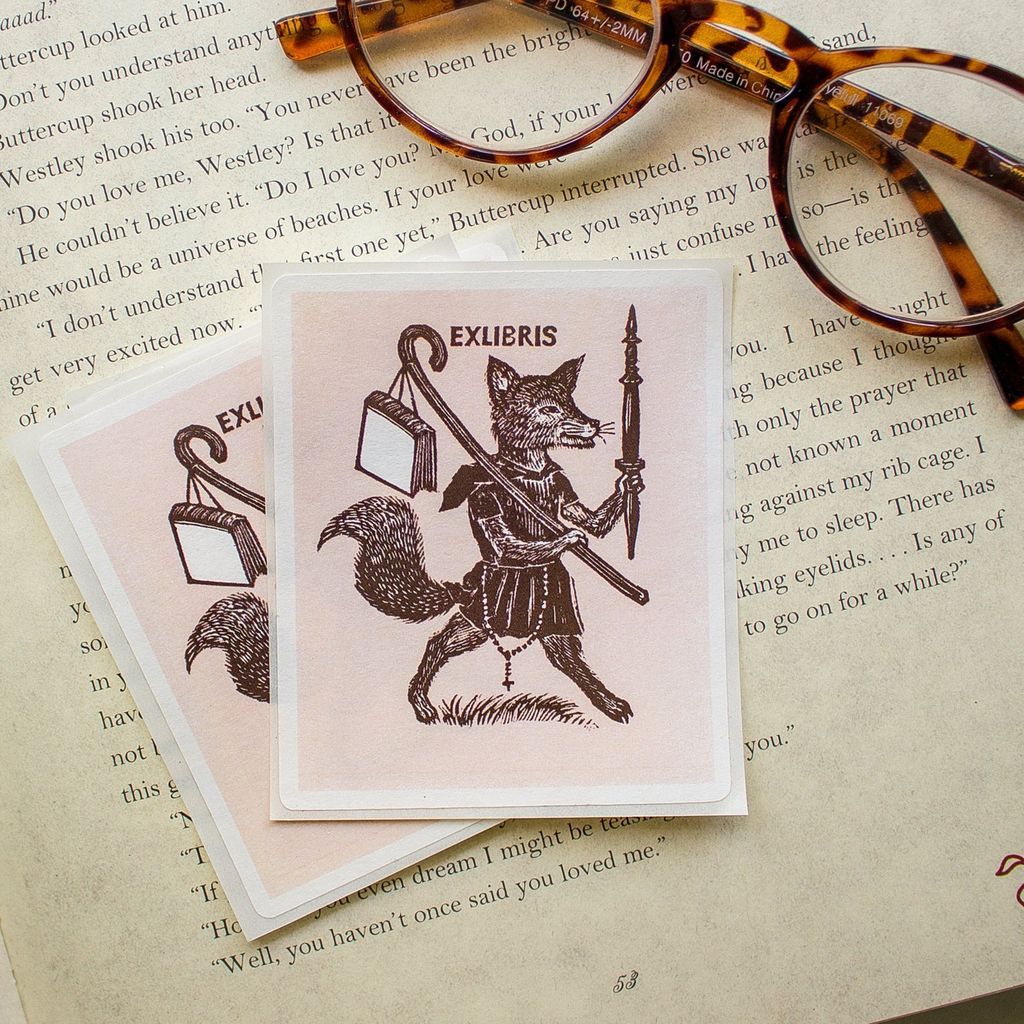 These fancy foxes are certainly something. $13 for a set of ten, with the option for personalization.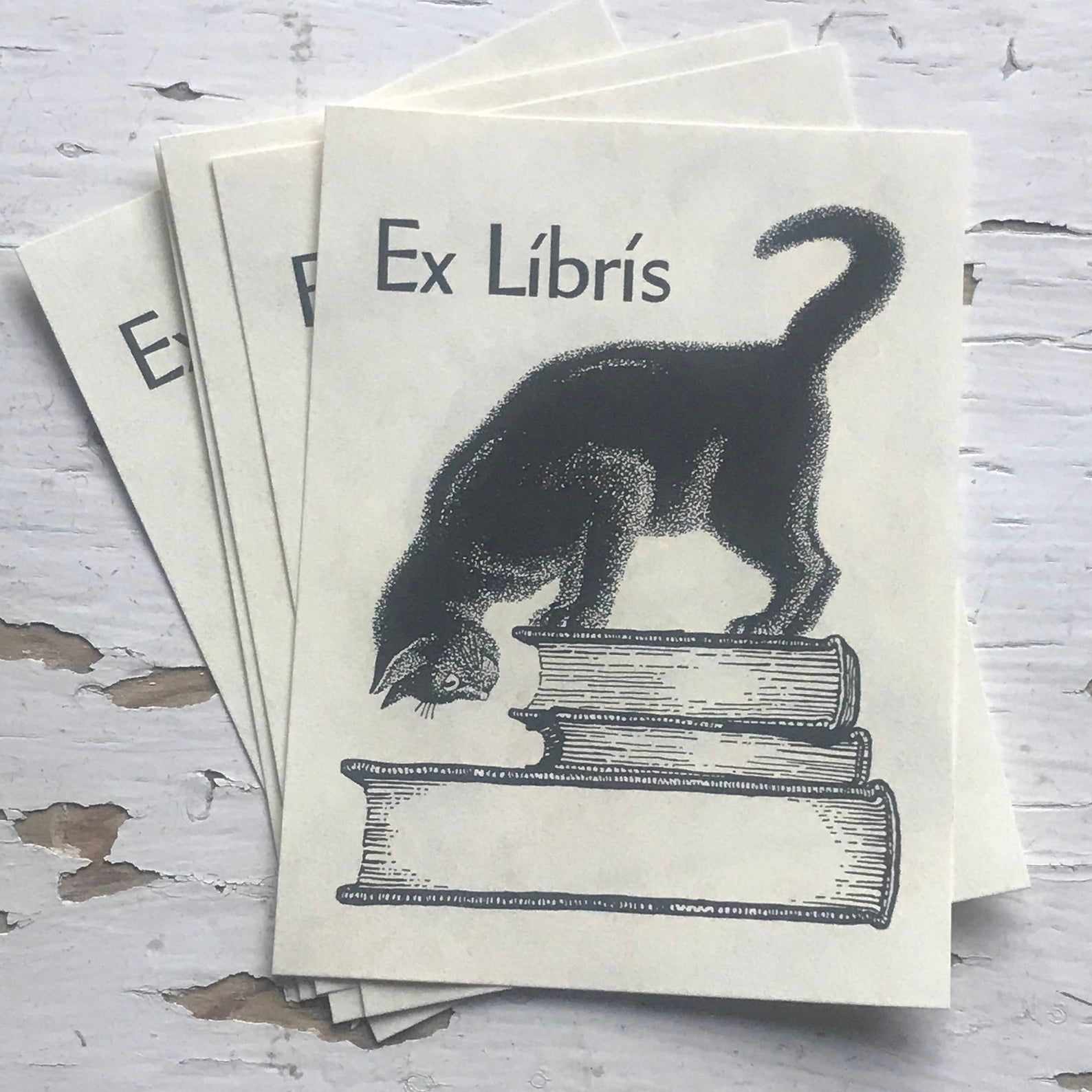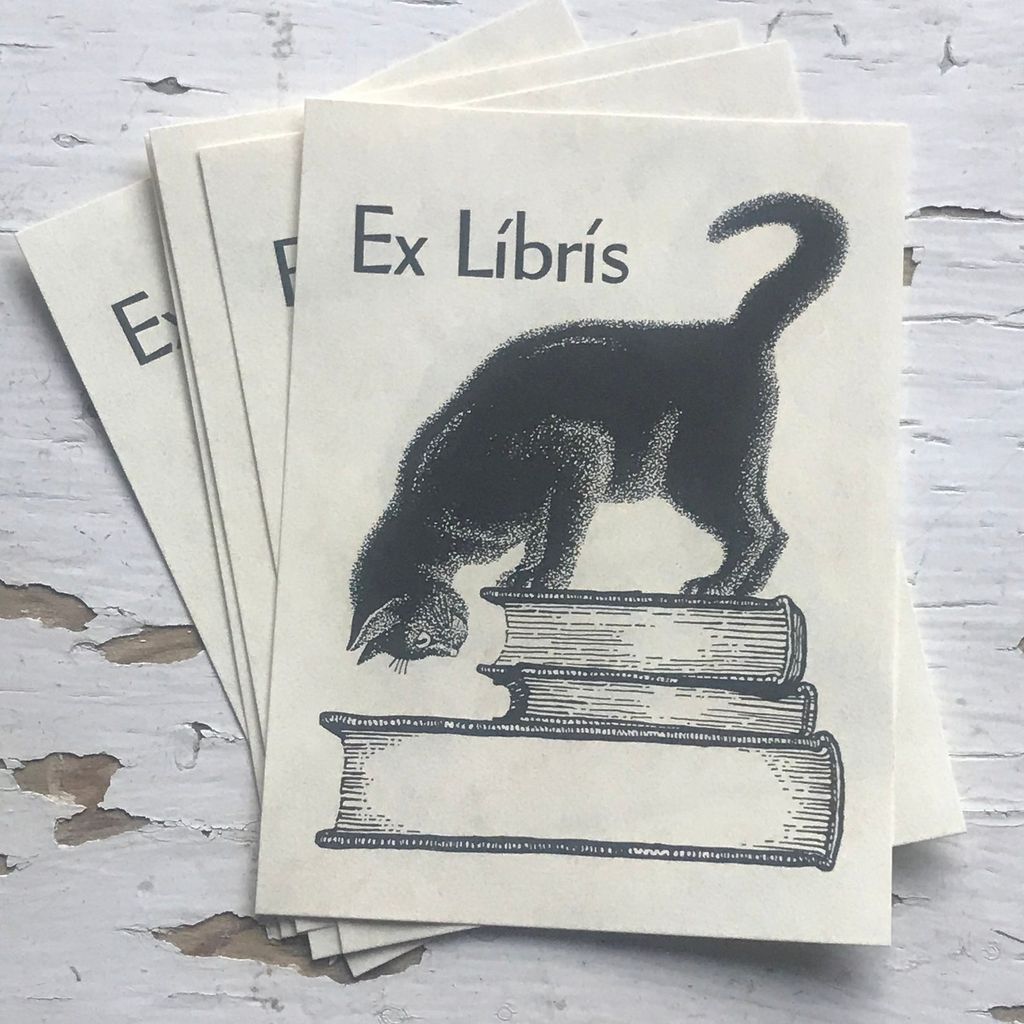 From the library of your favorite cat. $5 for a set of five.
The perfect gift for bee fans. $12 for 17, with the option to have them personalized.
Festoon your books with some art nouveau owls. $19 for a set of 24.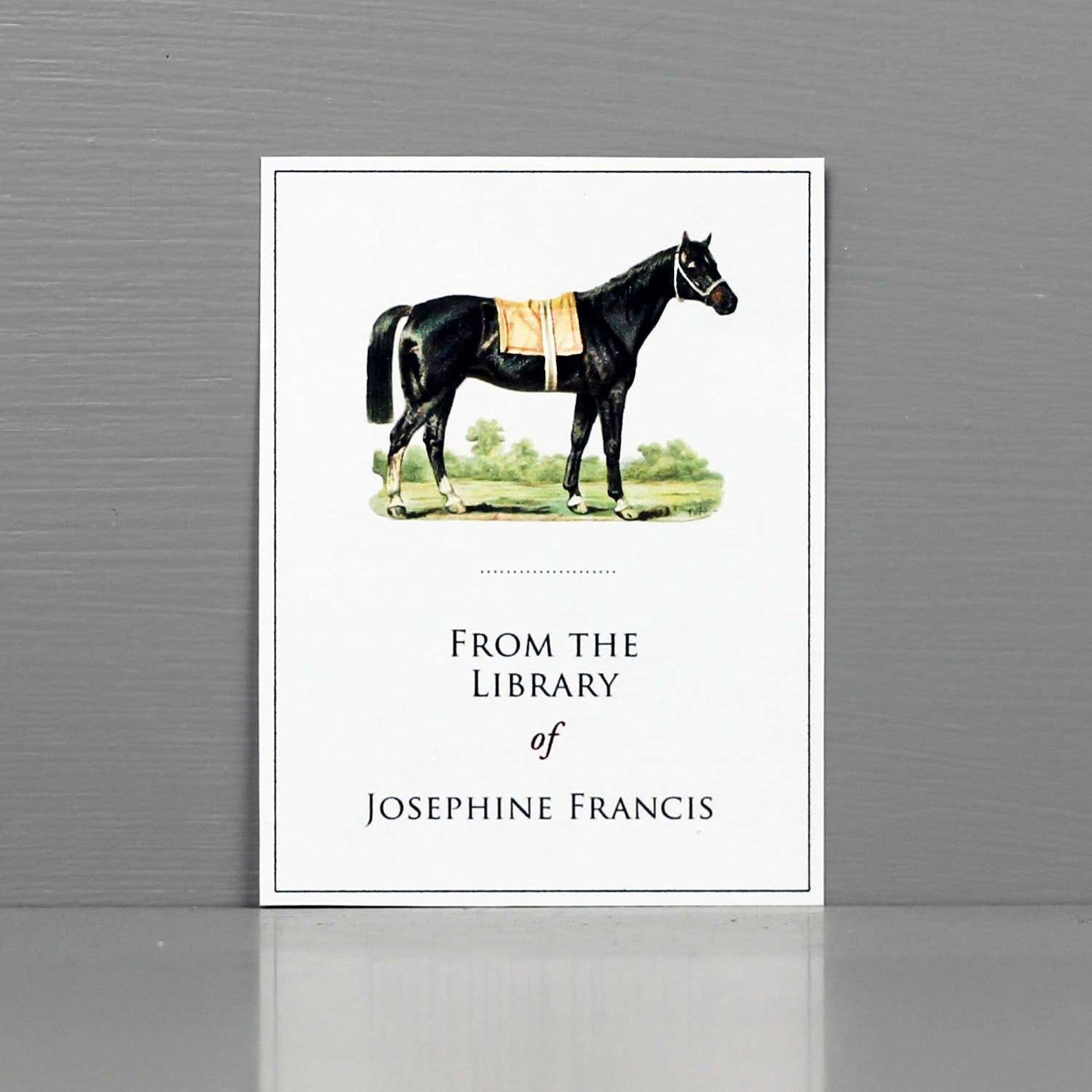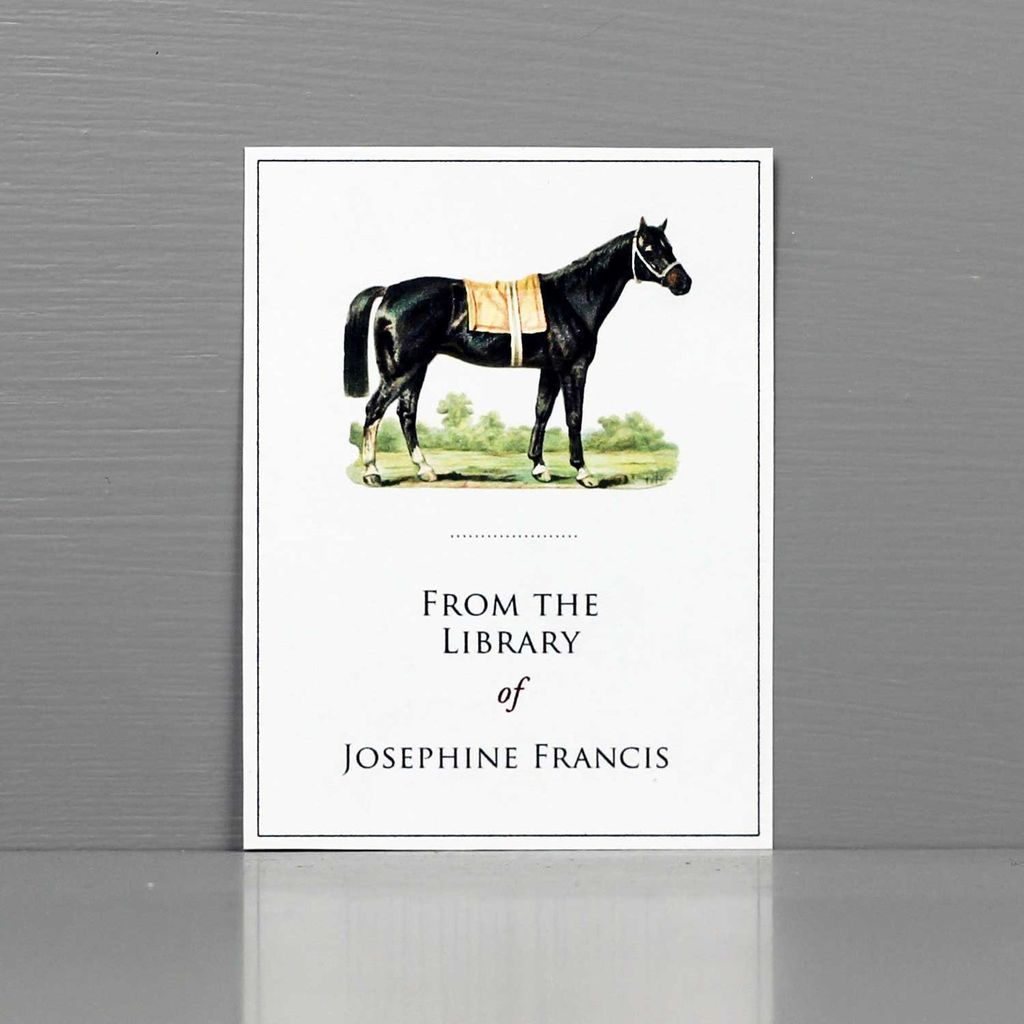 Pony fans, you'll want these horse book plates. Get them personalized for $28 (set of 24).
Whatever your favorite kind of animal, these adorable book plates will have you covered. $11 for a set of 14.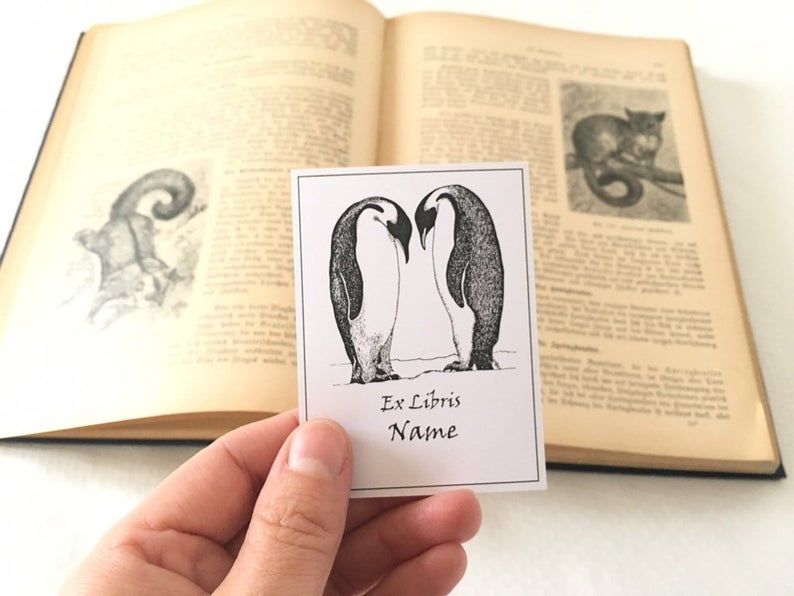 Penguins! Get 'em personalized for $35 (set of 50).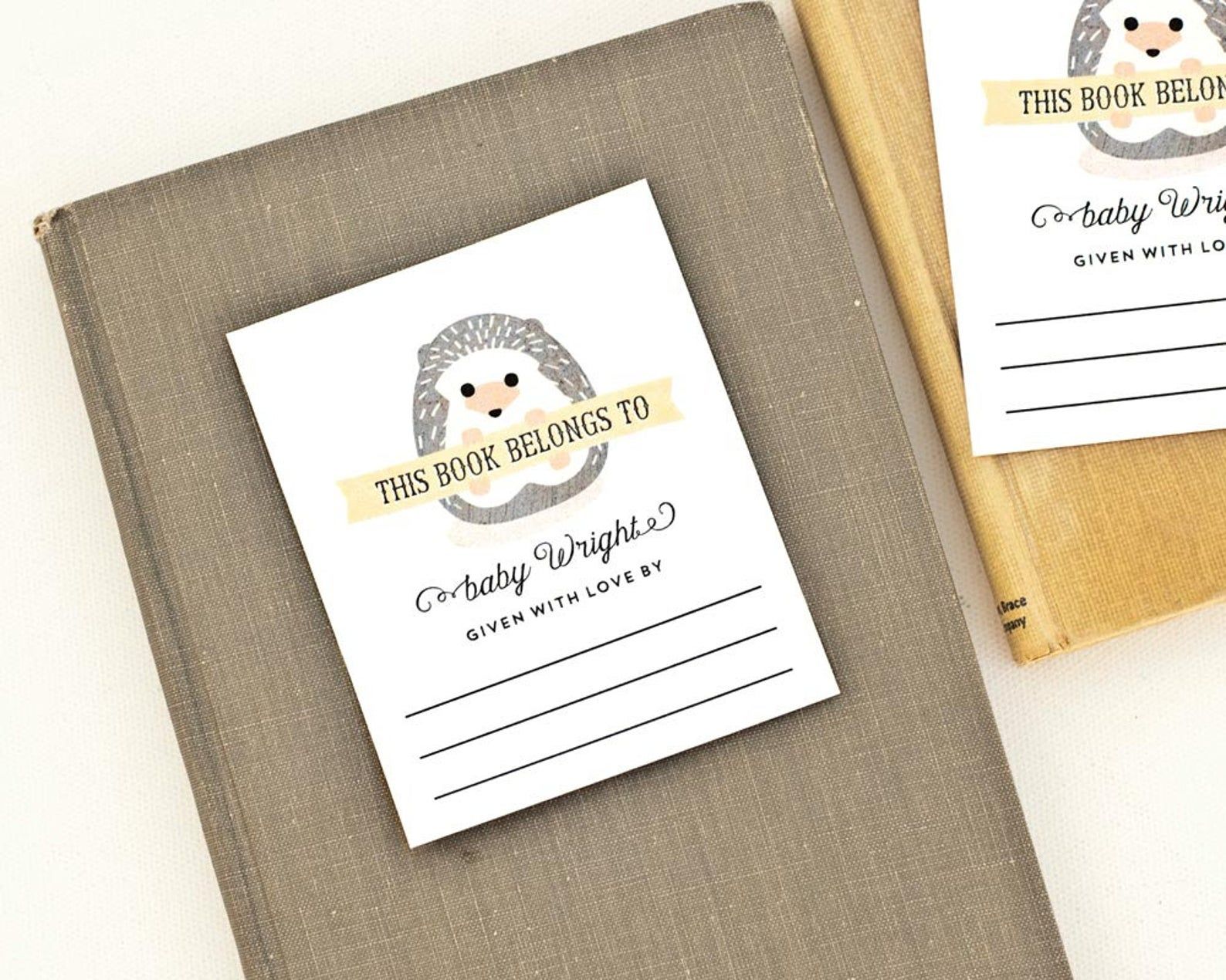 These hedgehog personalized book plates would be so great for gift giving or for keeping record of who gave you a book. $12 for 12 and able to be personalized.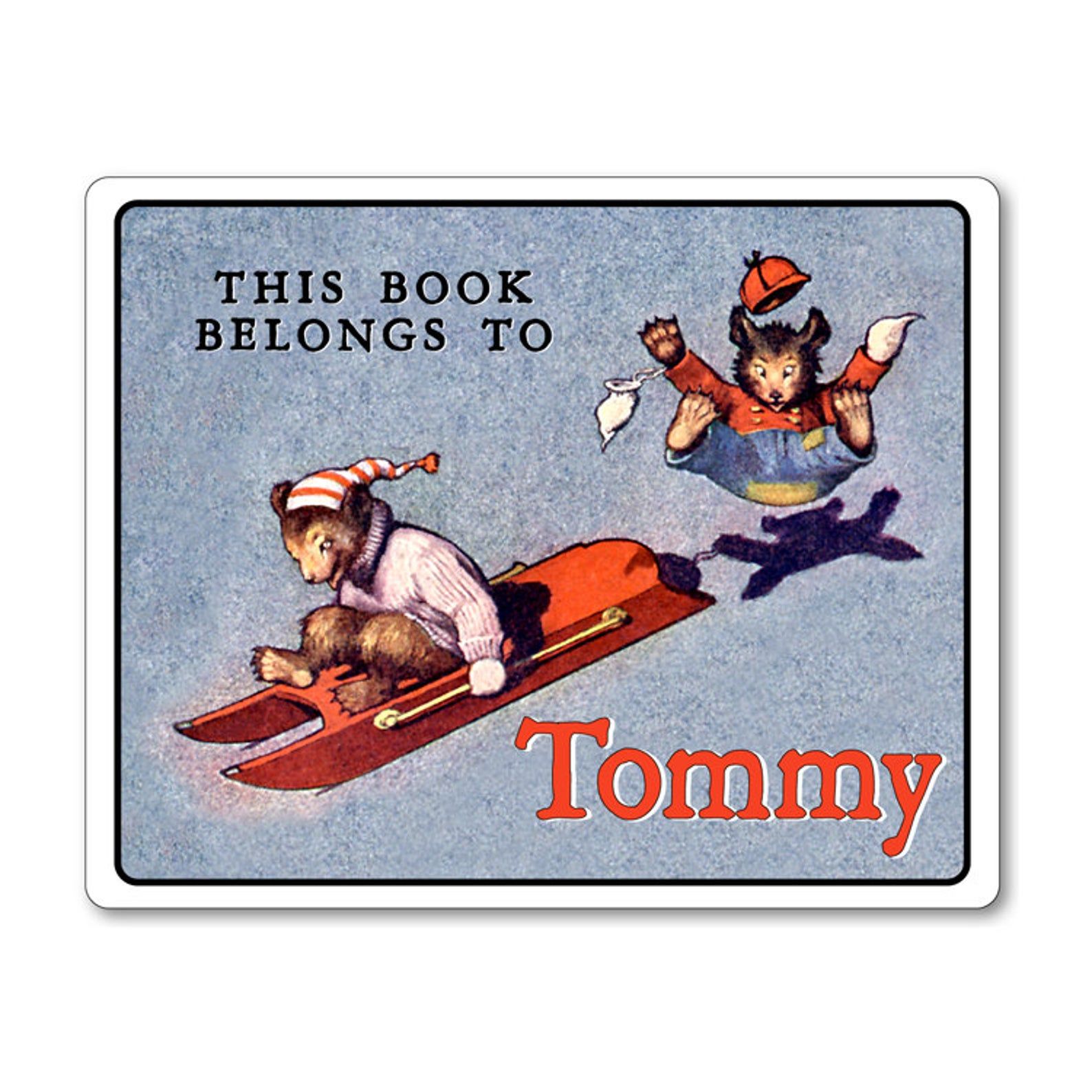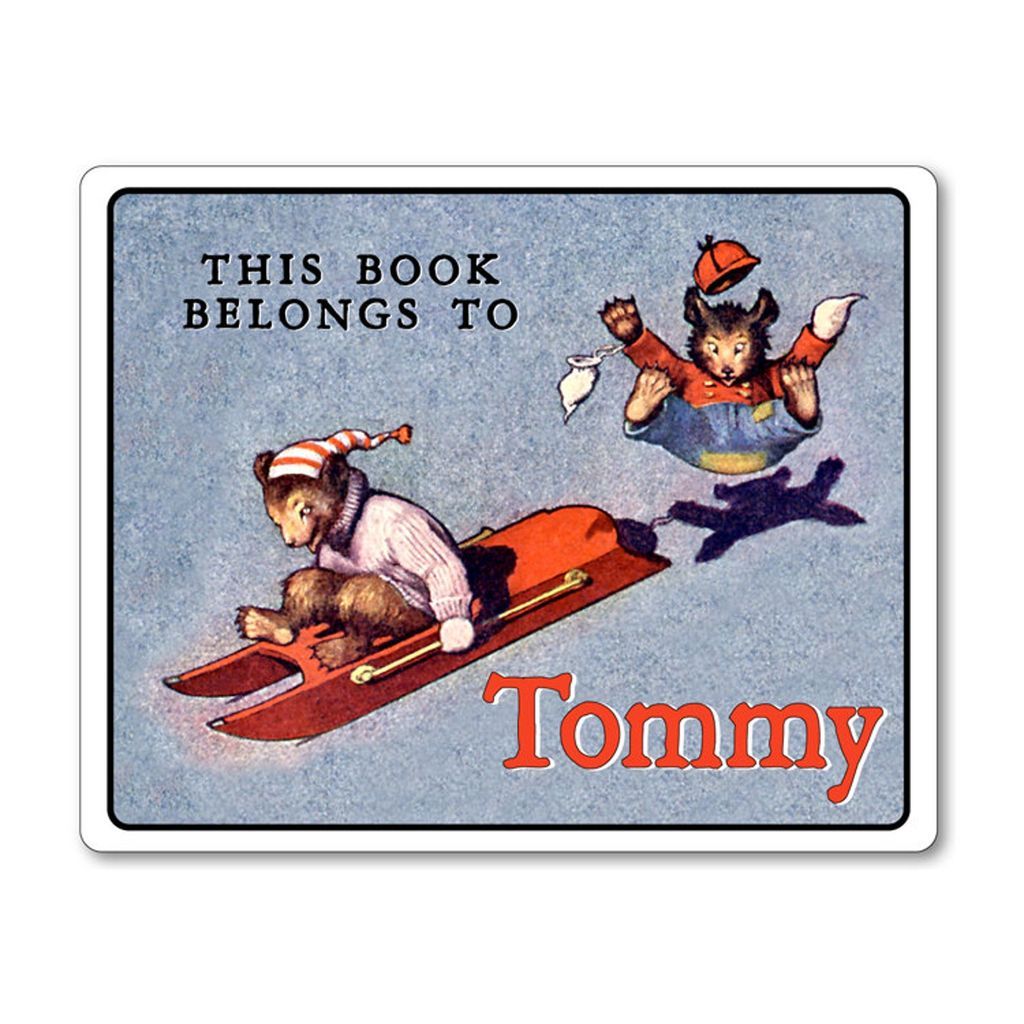 I cannot get enough of these adorable vintage bears. Personalized for $19 (set of 24).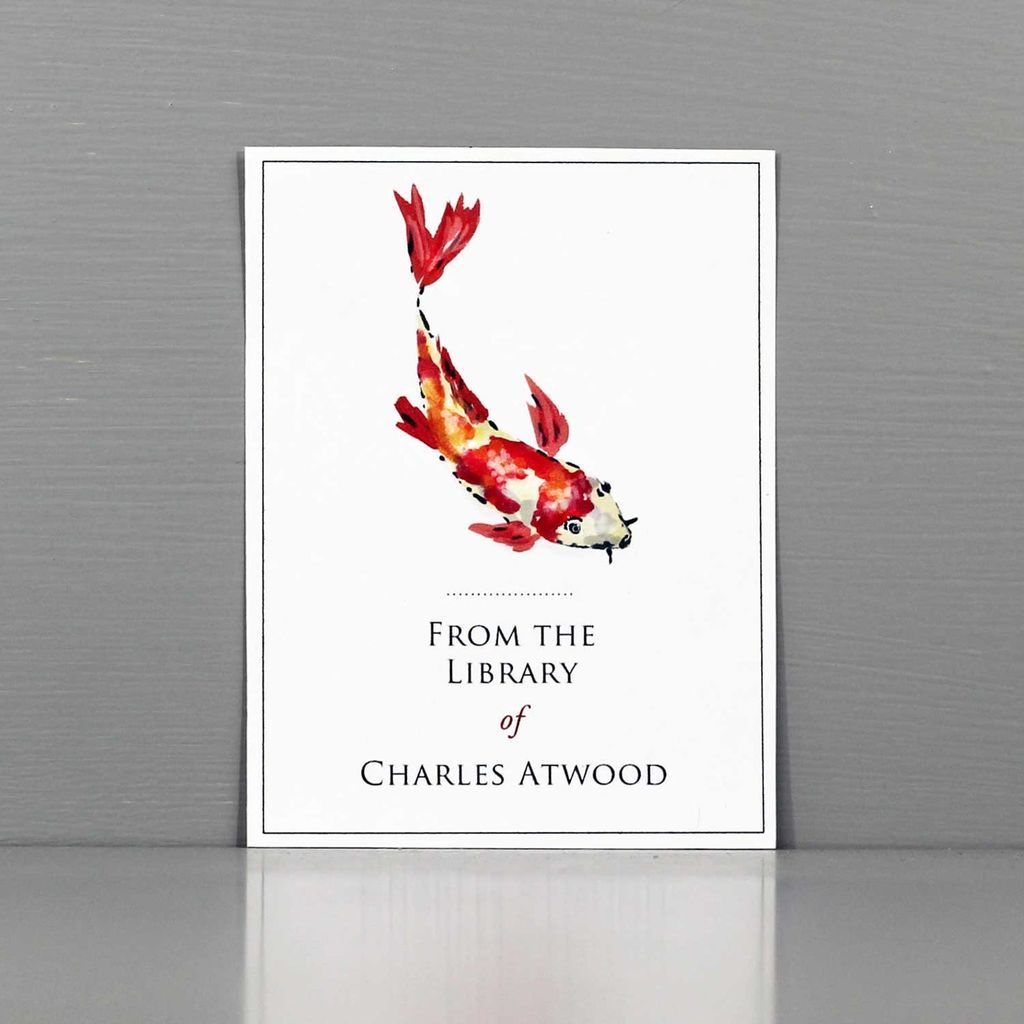 Grab a set of 24 book plates featuring beautiful koi. Personalized for $28.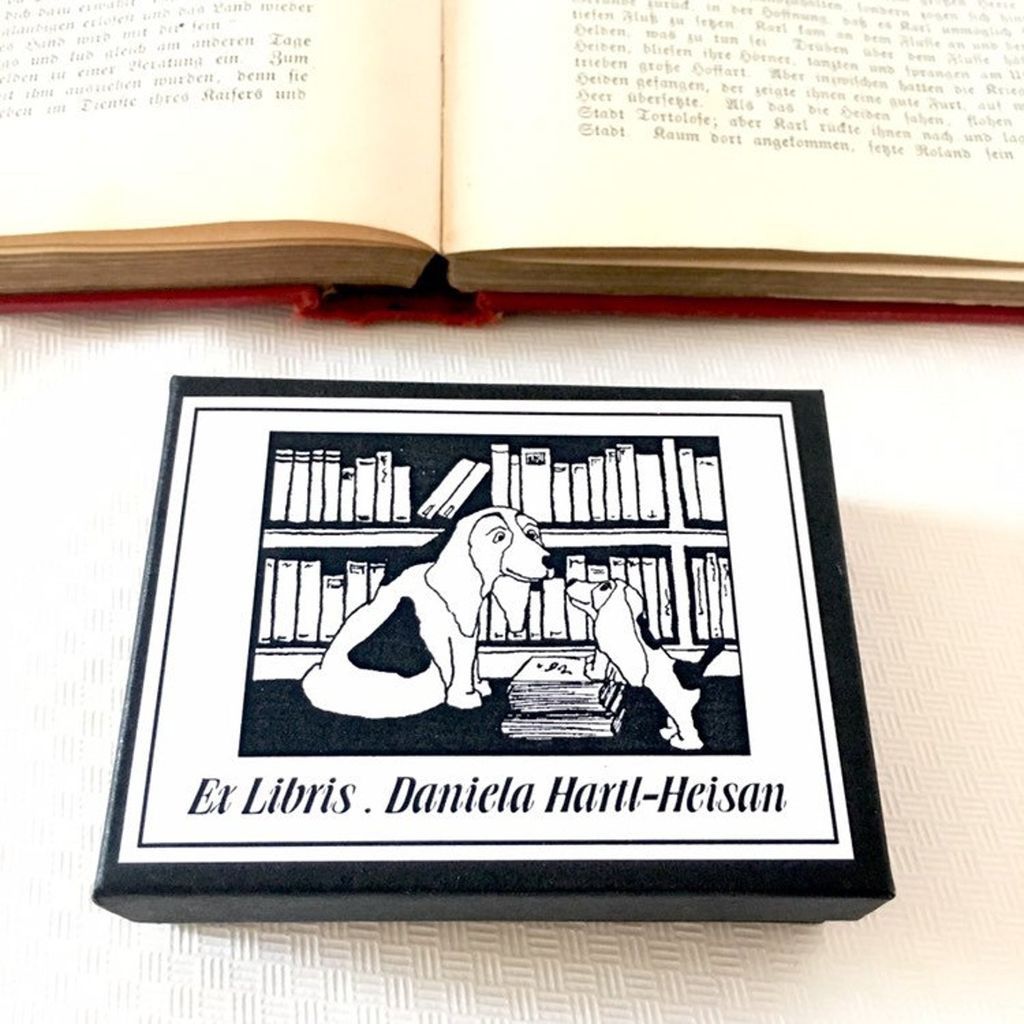 Woof! Woof! 24 cute ex libris stickers with dogs for $23 that can be personalized.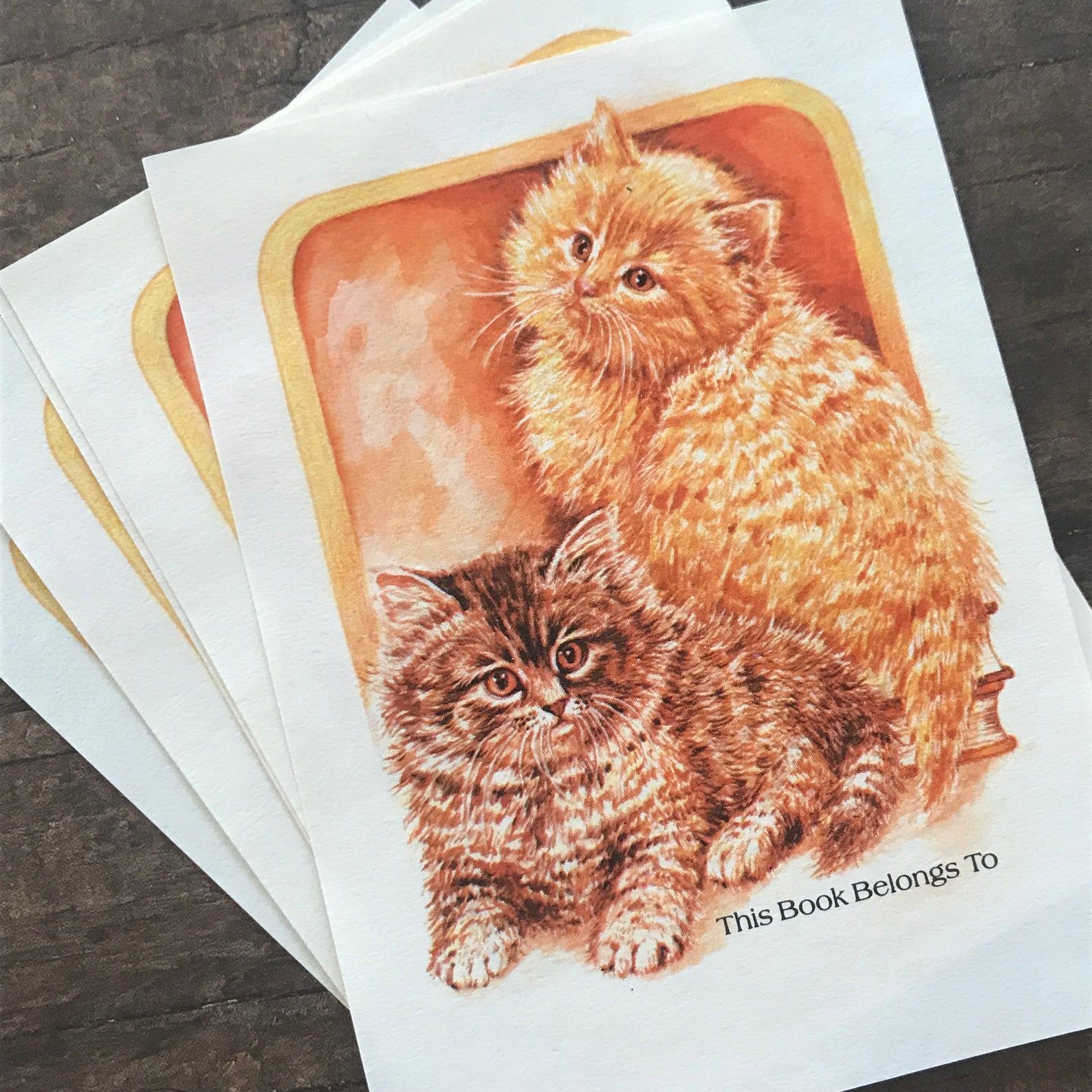 Look at these fluffy vintage cats! $5 for 5 book plates.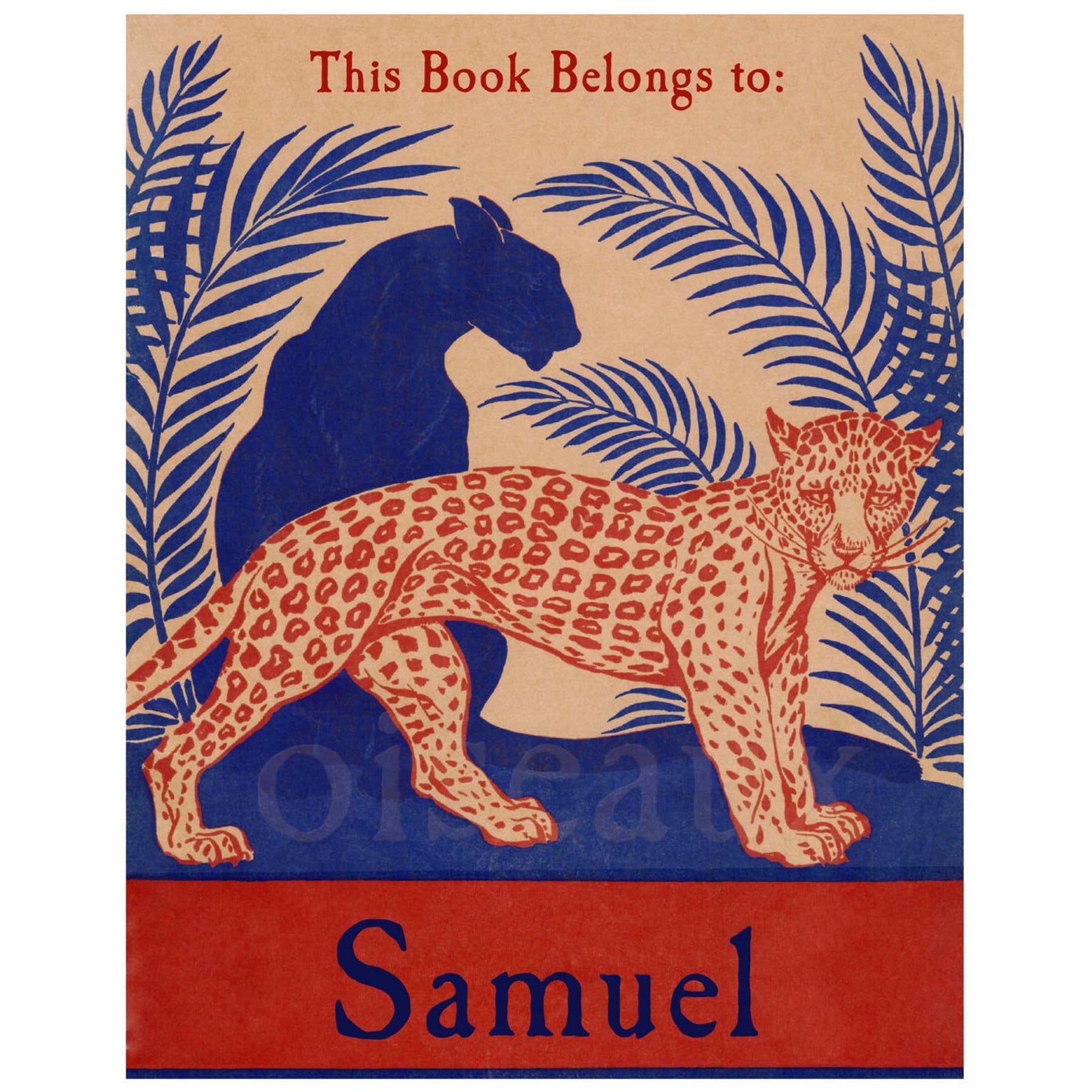 How can you resist these jaguars? 24 personalized plates for $19.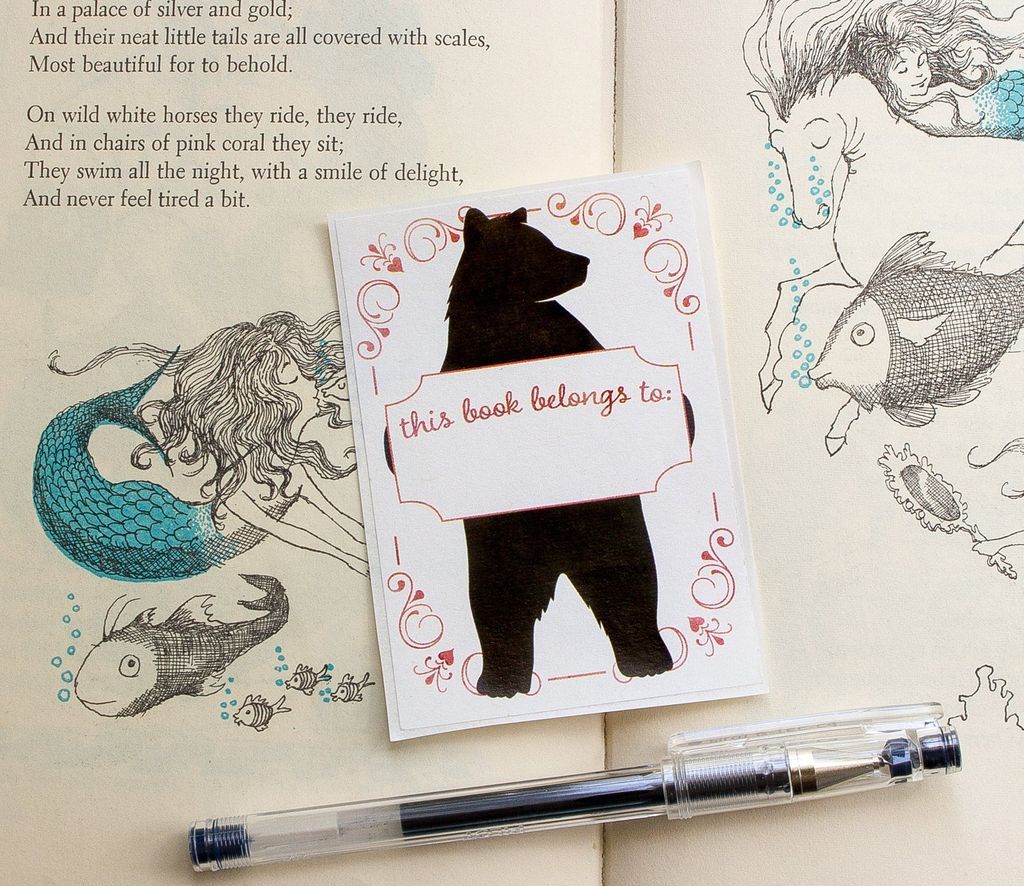 These bear silhouette stickers aren't just for kids. Snag ten for $13 and get 'em personalized.
Flora and Other Nature Themed Book Plates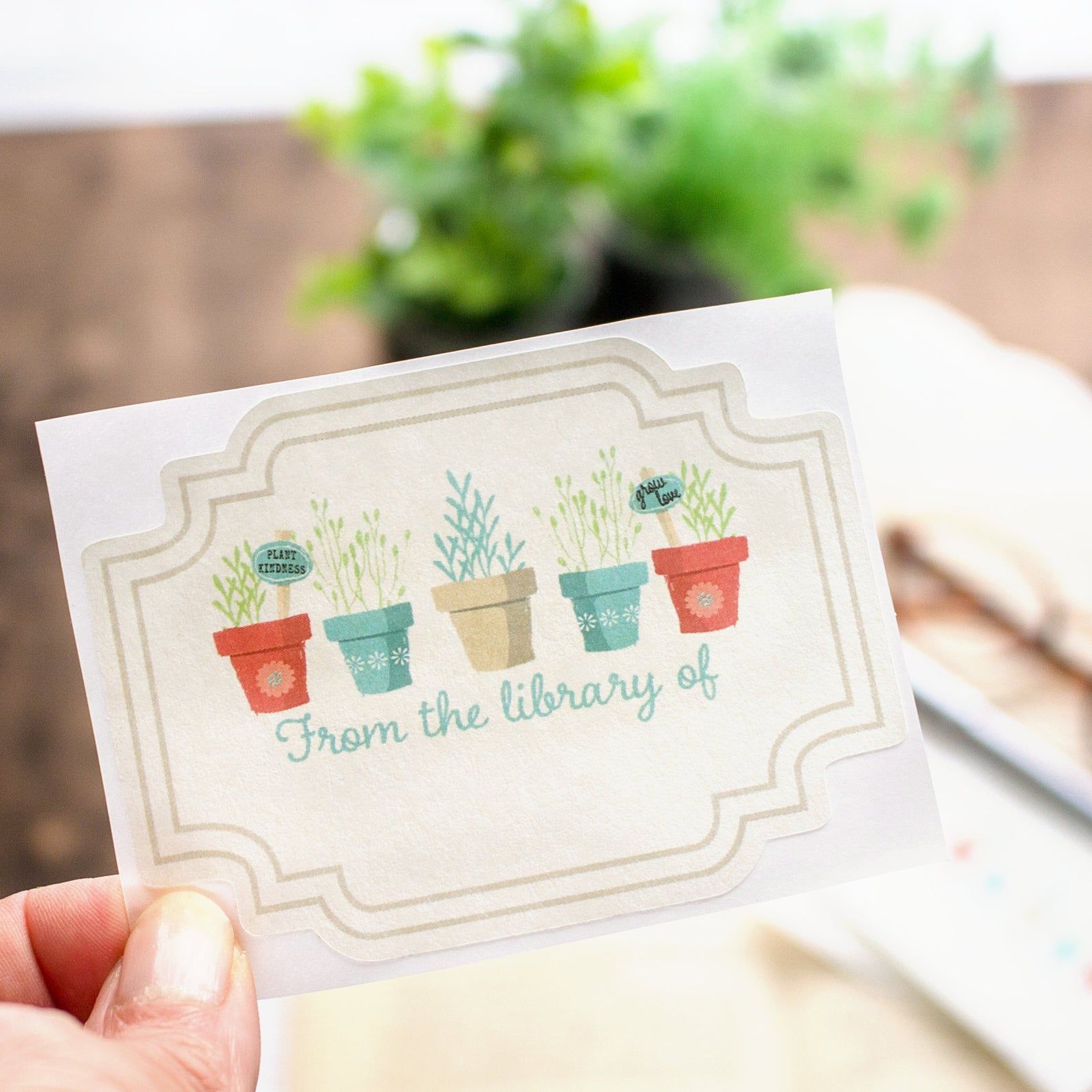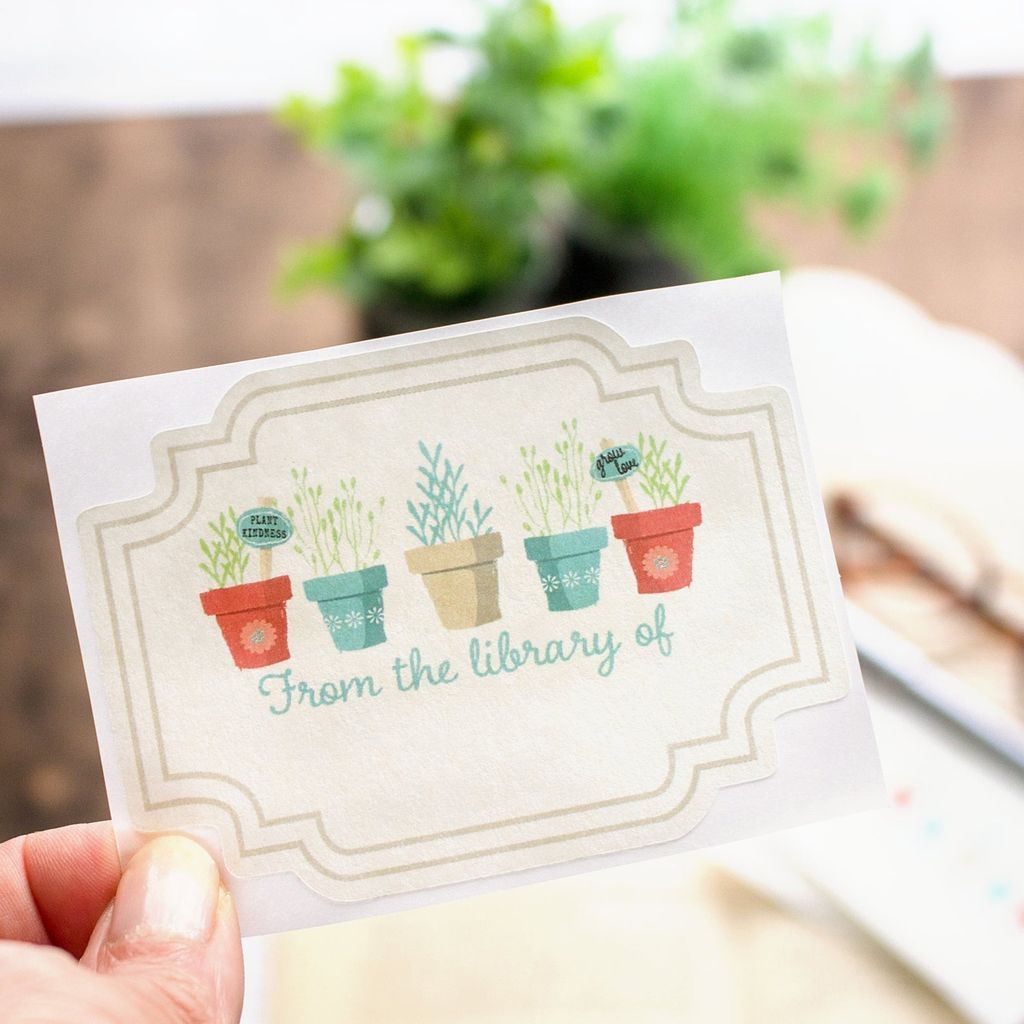 Potted plant fan? Potted plant fan! $13 for ten that can be personalized.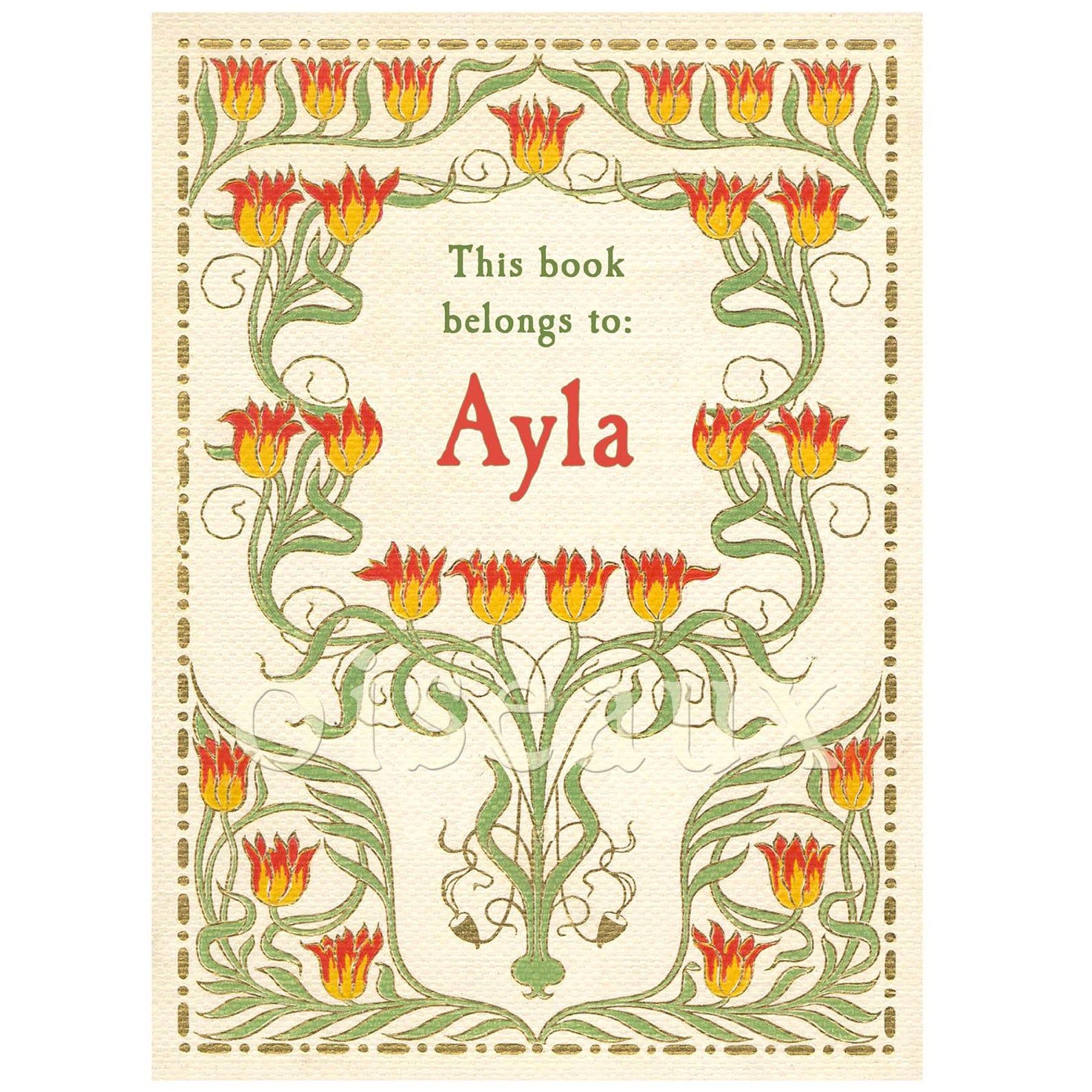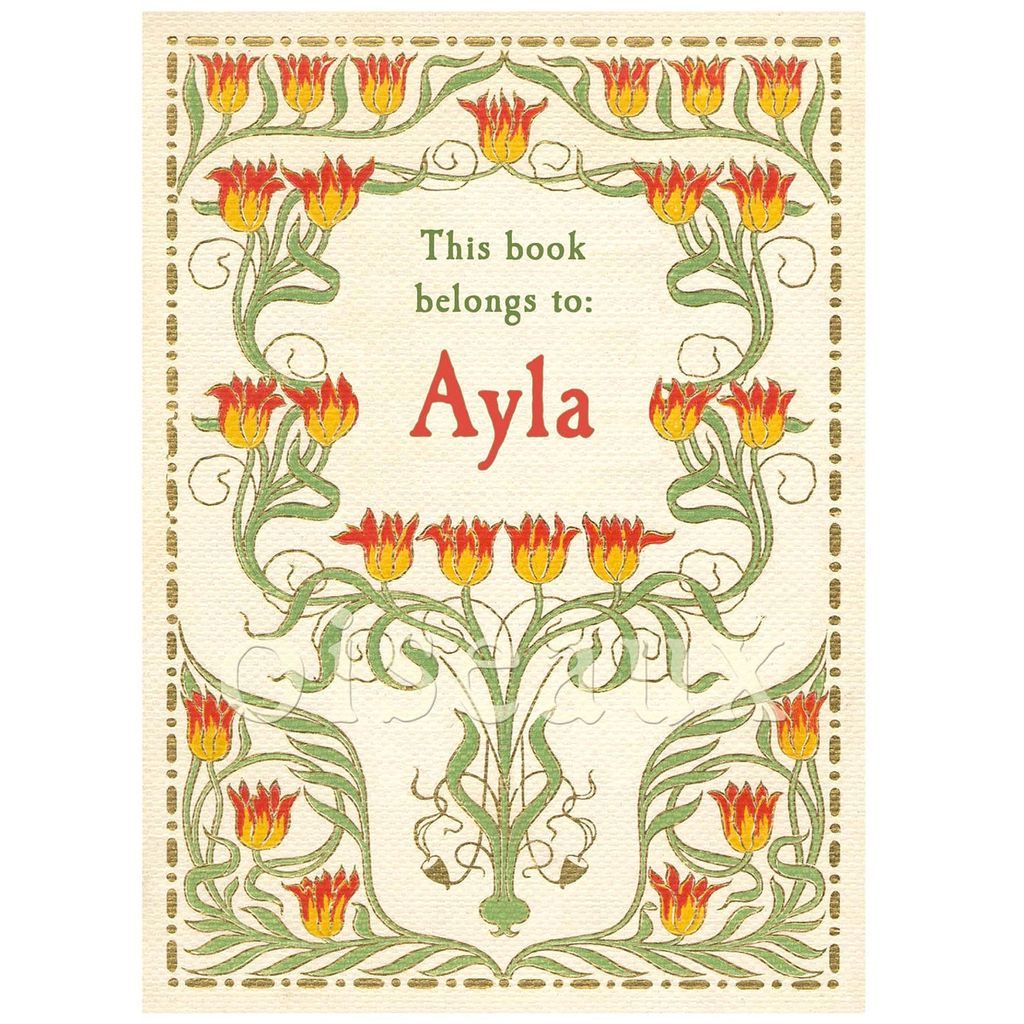 This early 1900s design features gorgeous vintage tulips. Personalized for $19 (set of 24).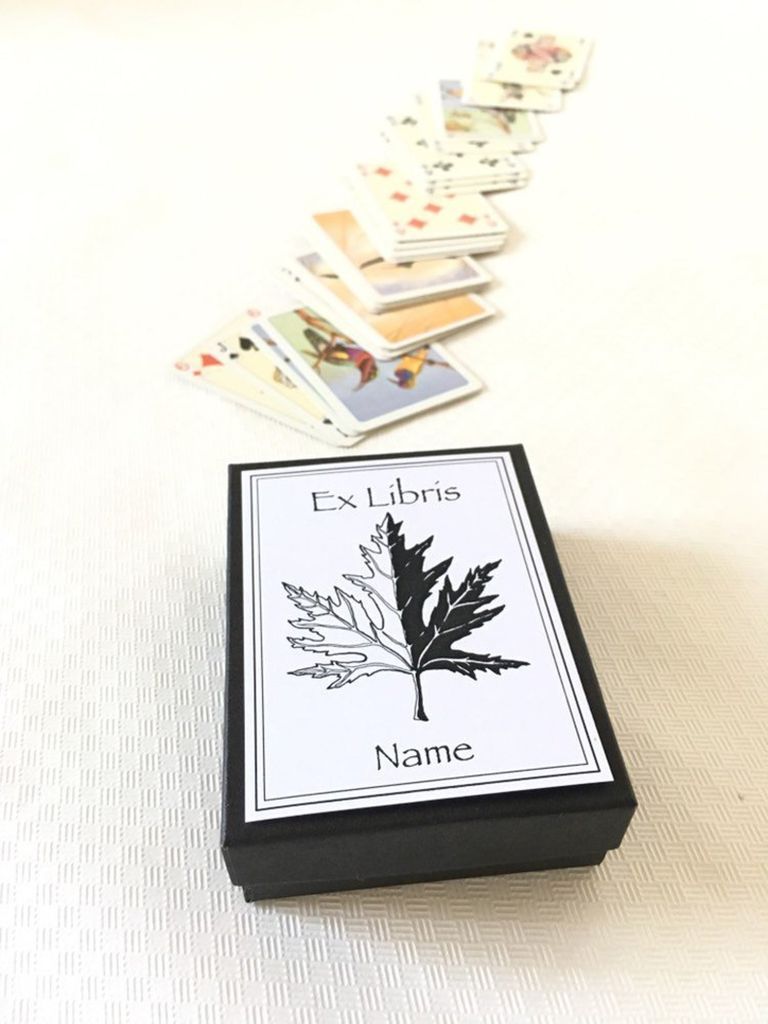 These maple leaf book stickers have a ton of options for customization. Grab a set of 25 for $23.
Add a little sun to your books. Set of 24 for $28.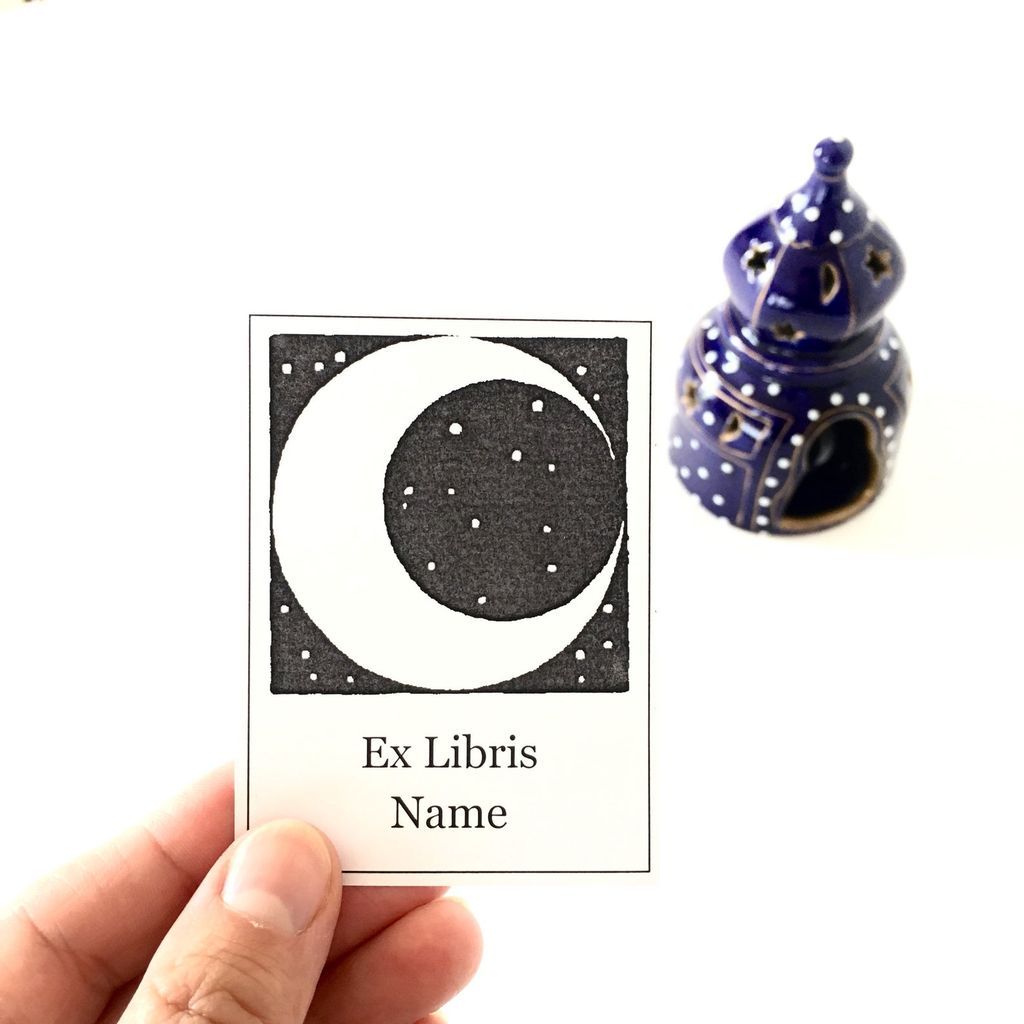 Prefer the moon? $35 for 50 book plates that are customizable.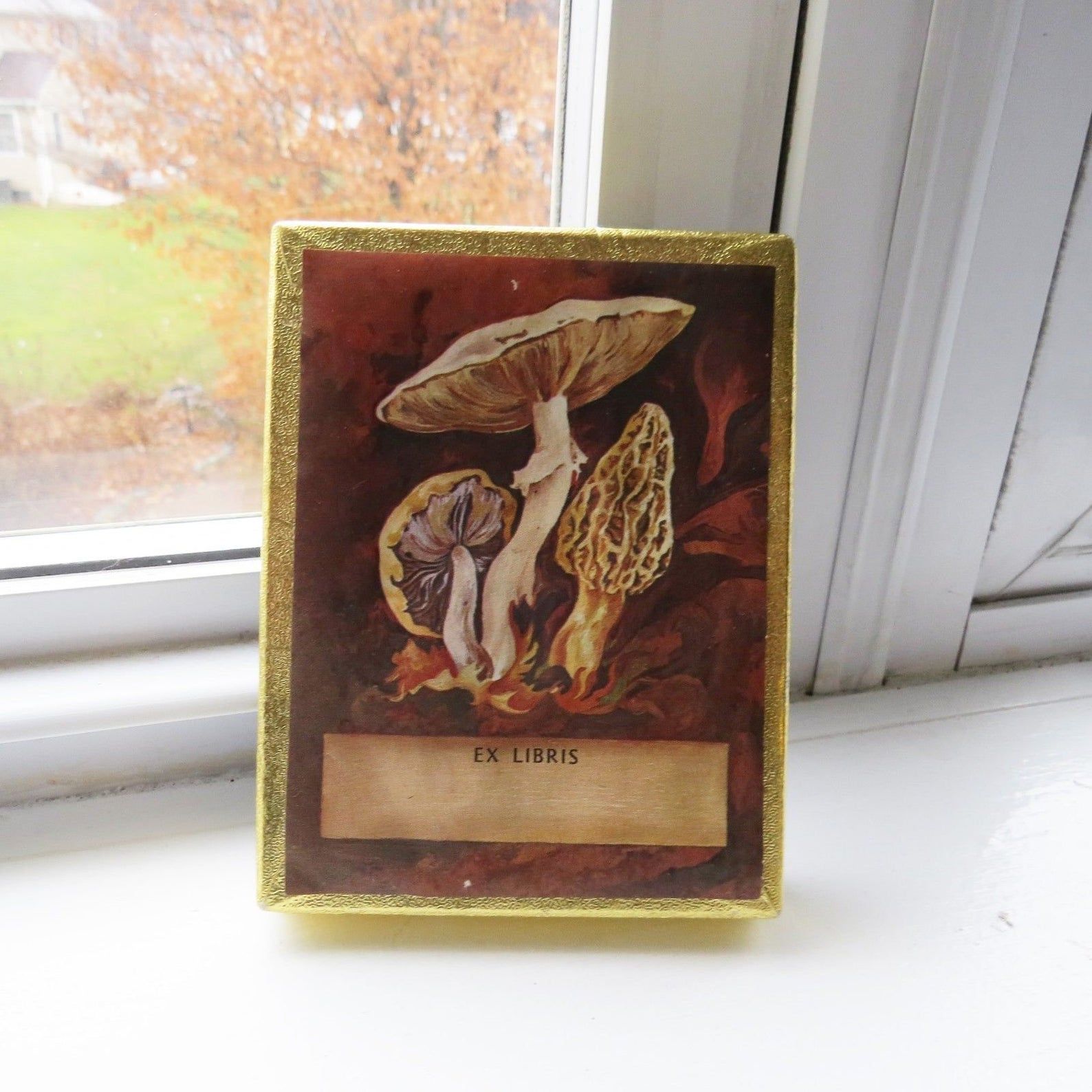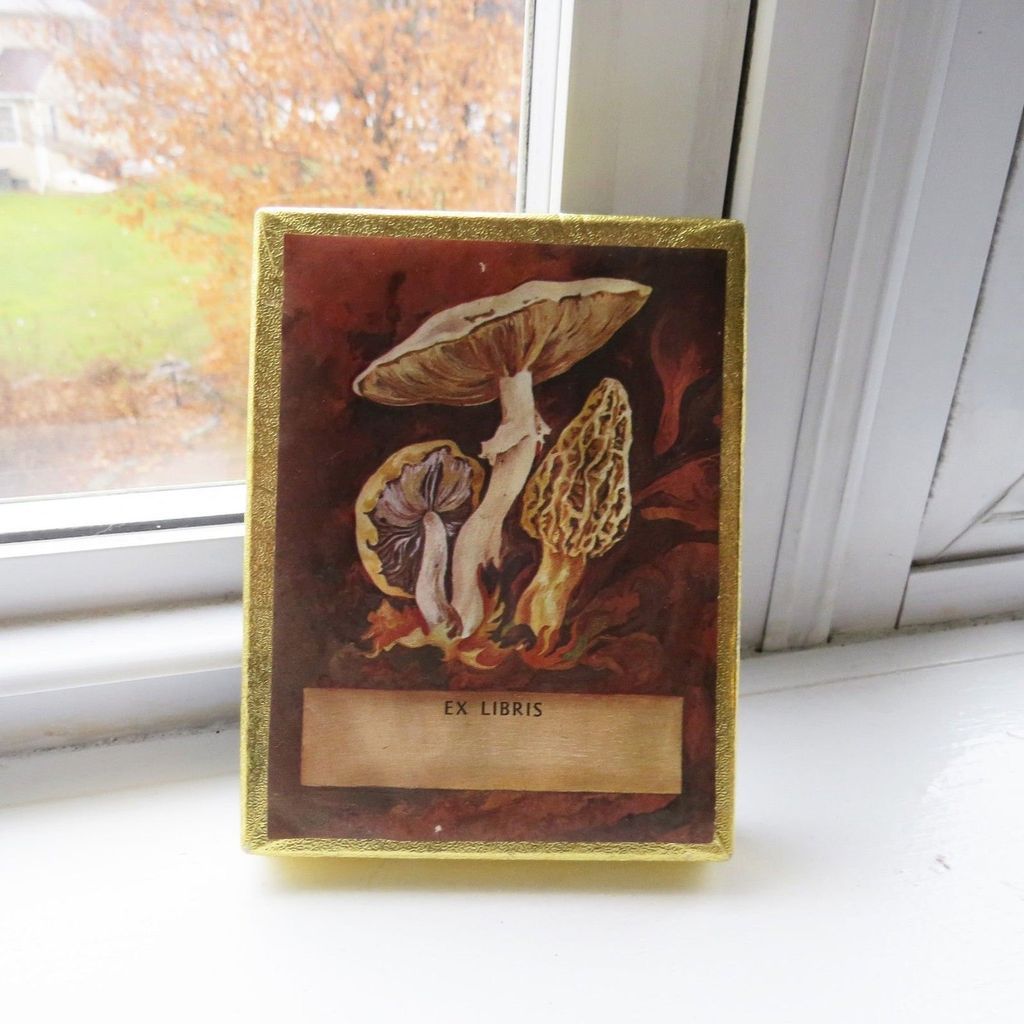 All of the fun guys for mushroom fans. $15 for 51.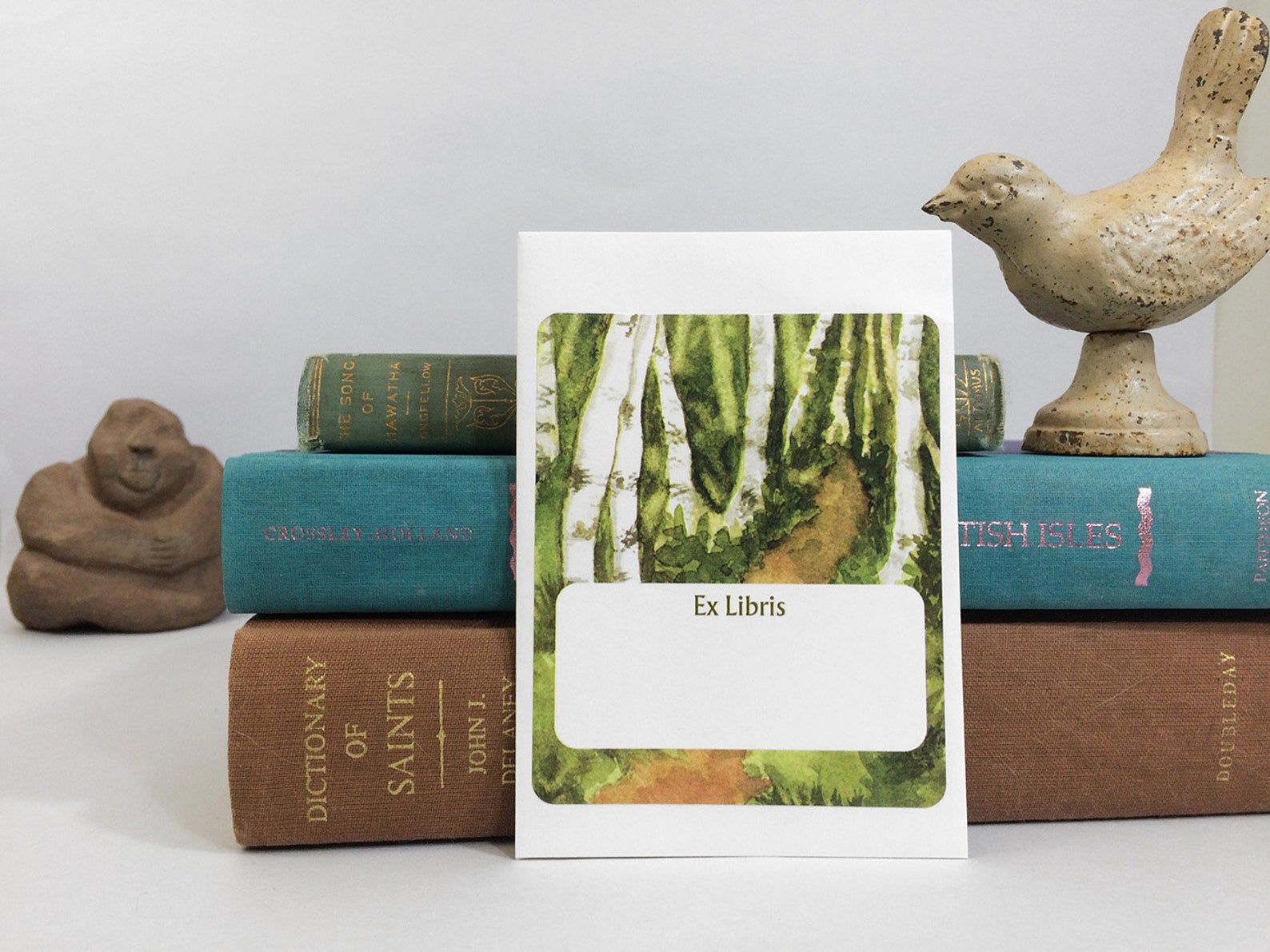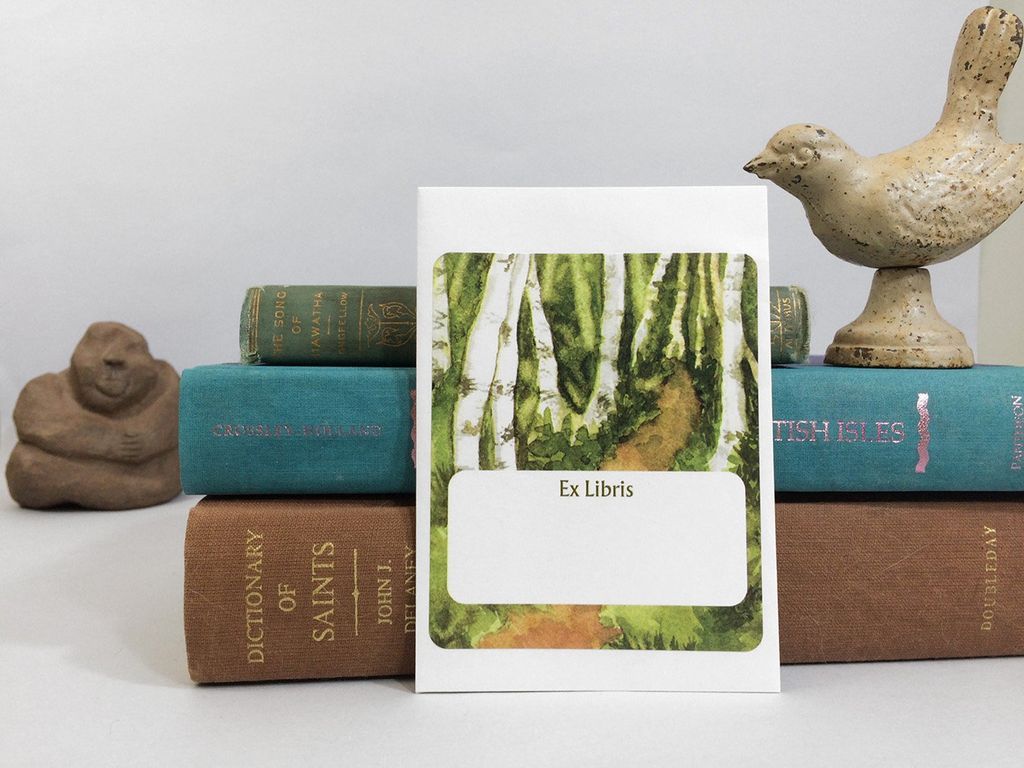 It's a magical woodland scene. Personalized set of 17 for $12 and up.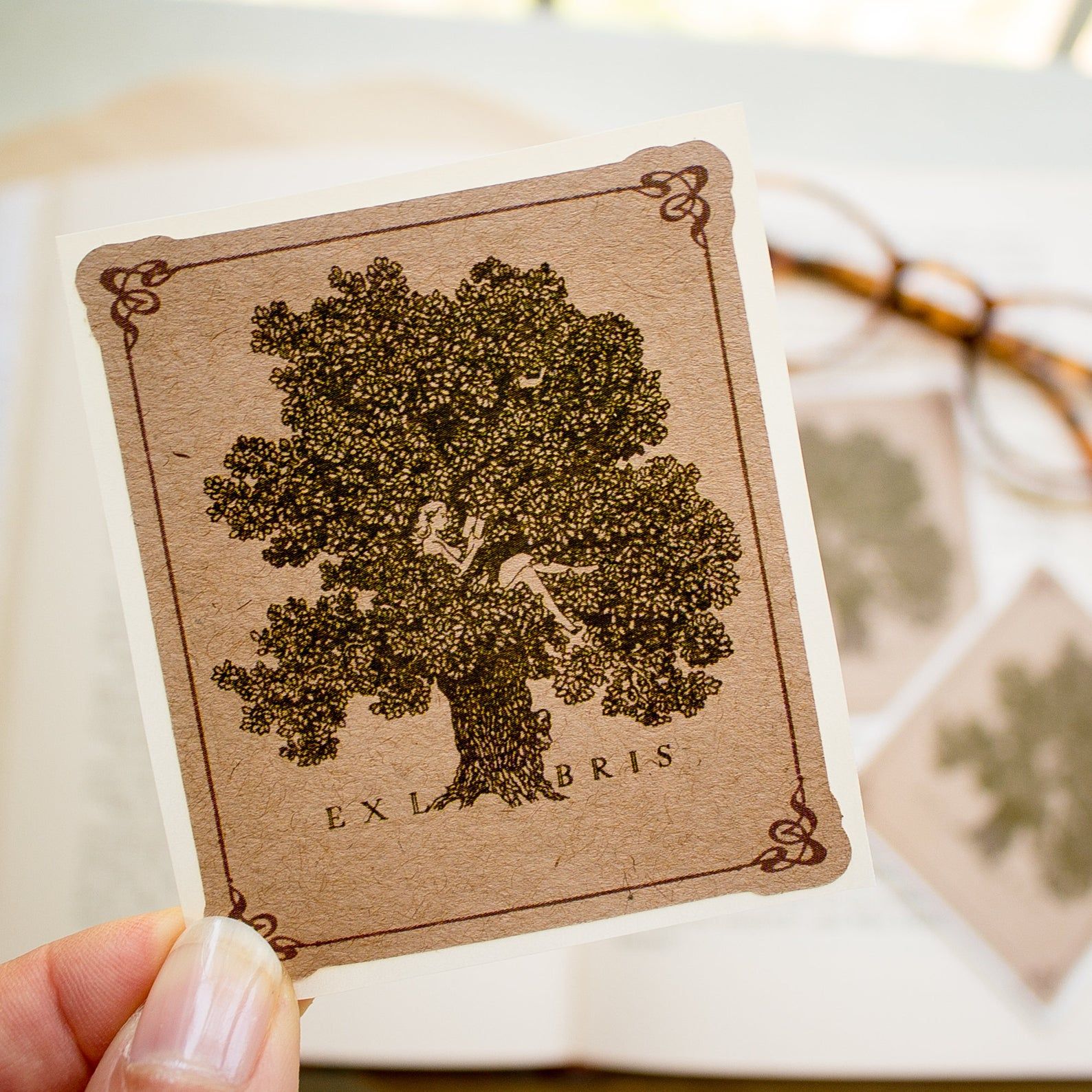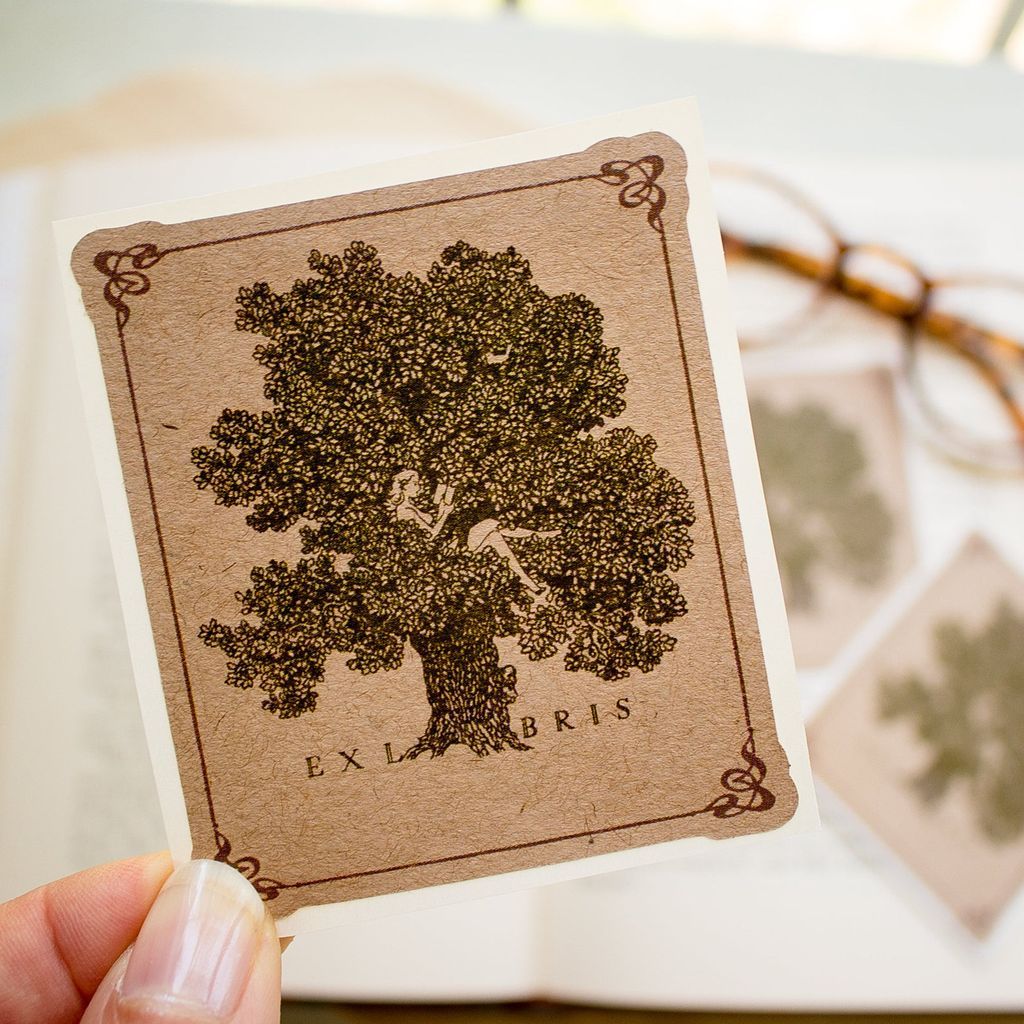 A girl reads in a tree on this dreamy book sticker. $13 and up for ten.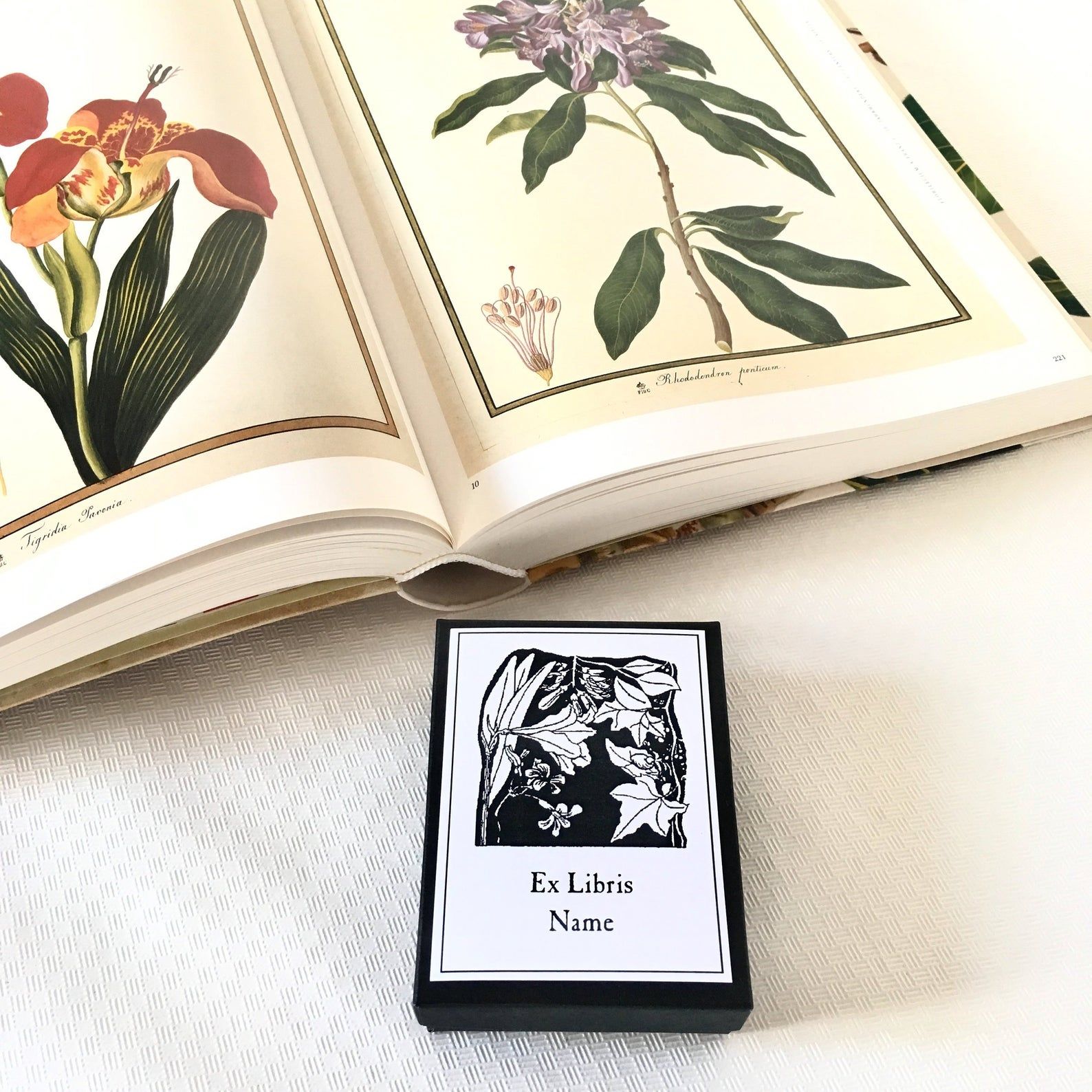 Personalize this bouquet of flowers for inside your book cover. $23 for a set of 25.
Keep it simple with this bright floral sticker. Personalize 12 for $12.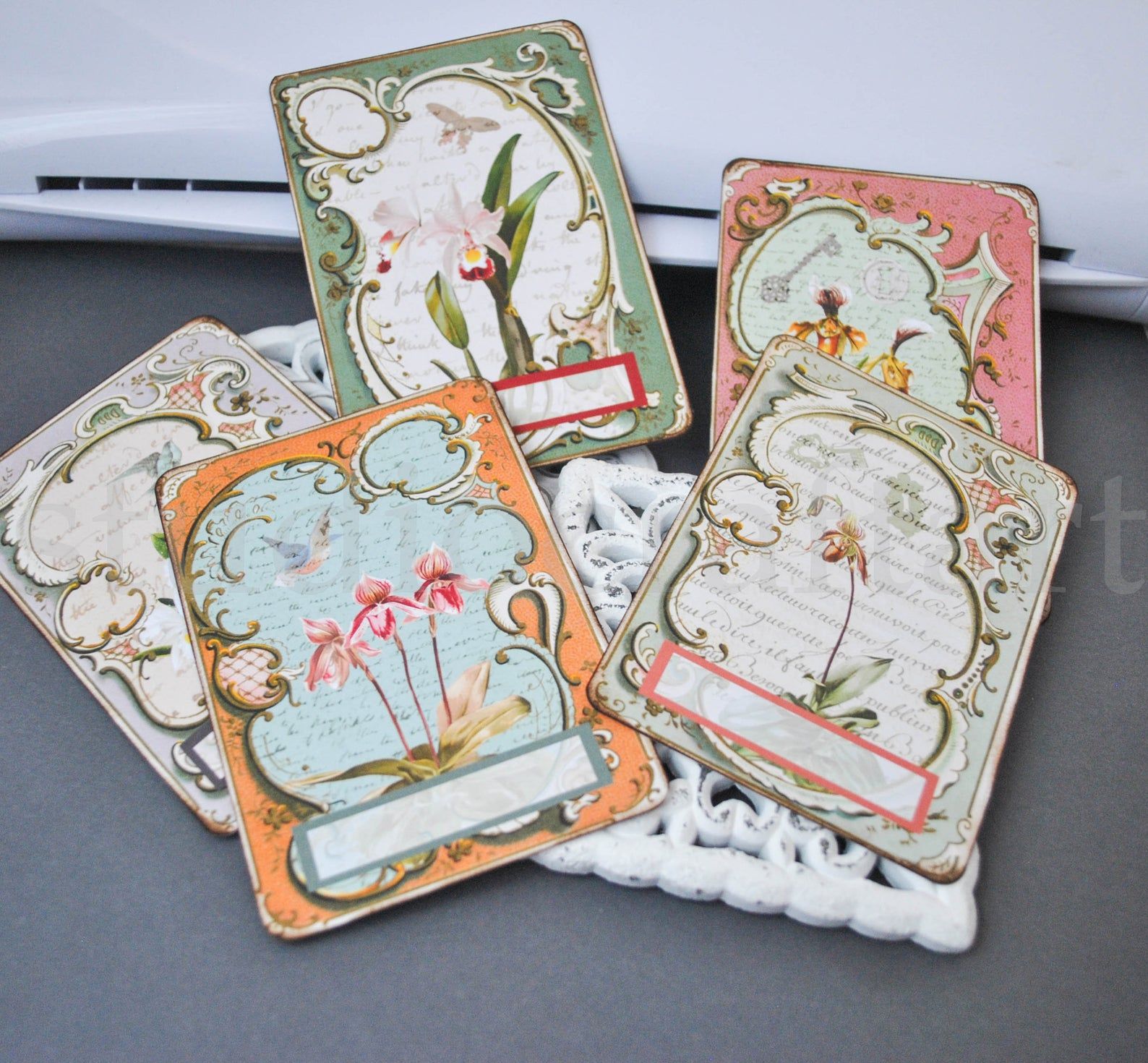 Go vintage and choose between book stickers or paper plates with these floral designs. $7 for 5.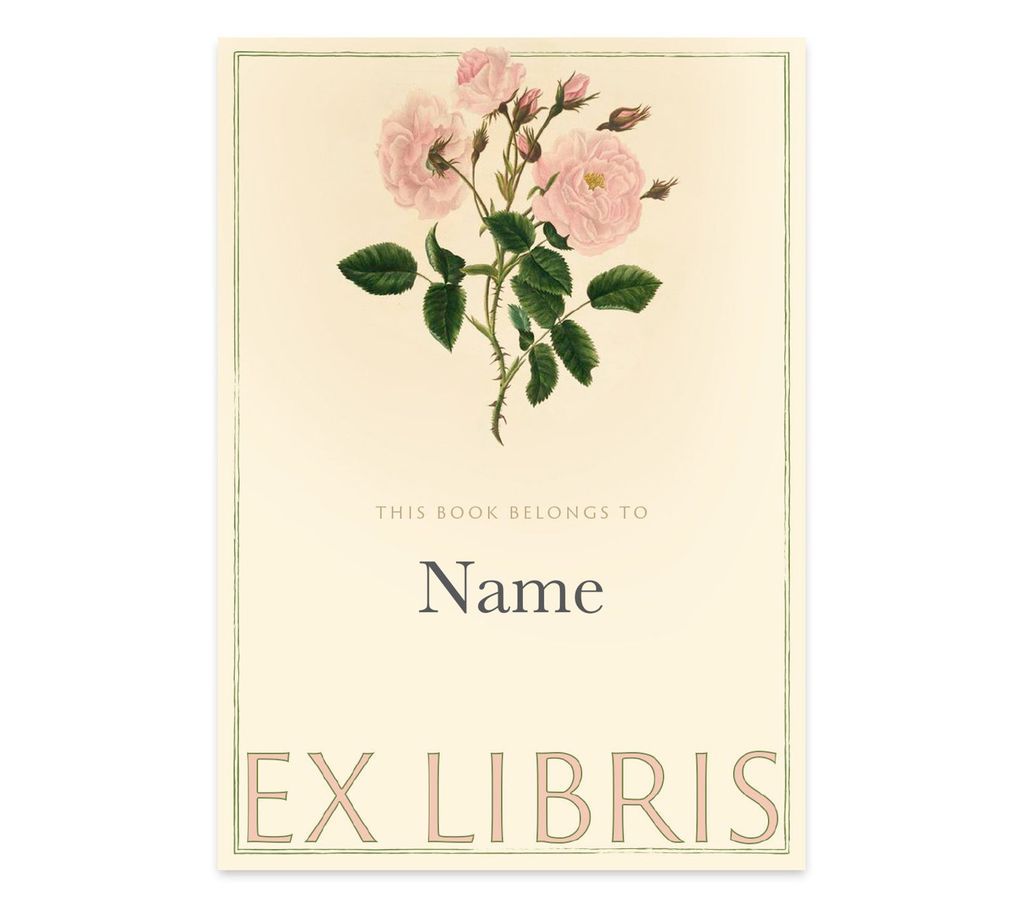 Personalize some blush roses. 20 for $22.
Book Plates Featuring Books, Reading, and Libraries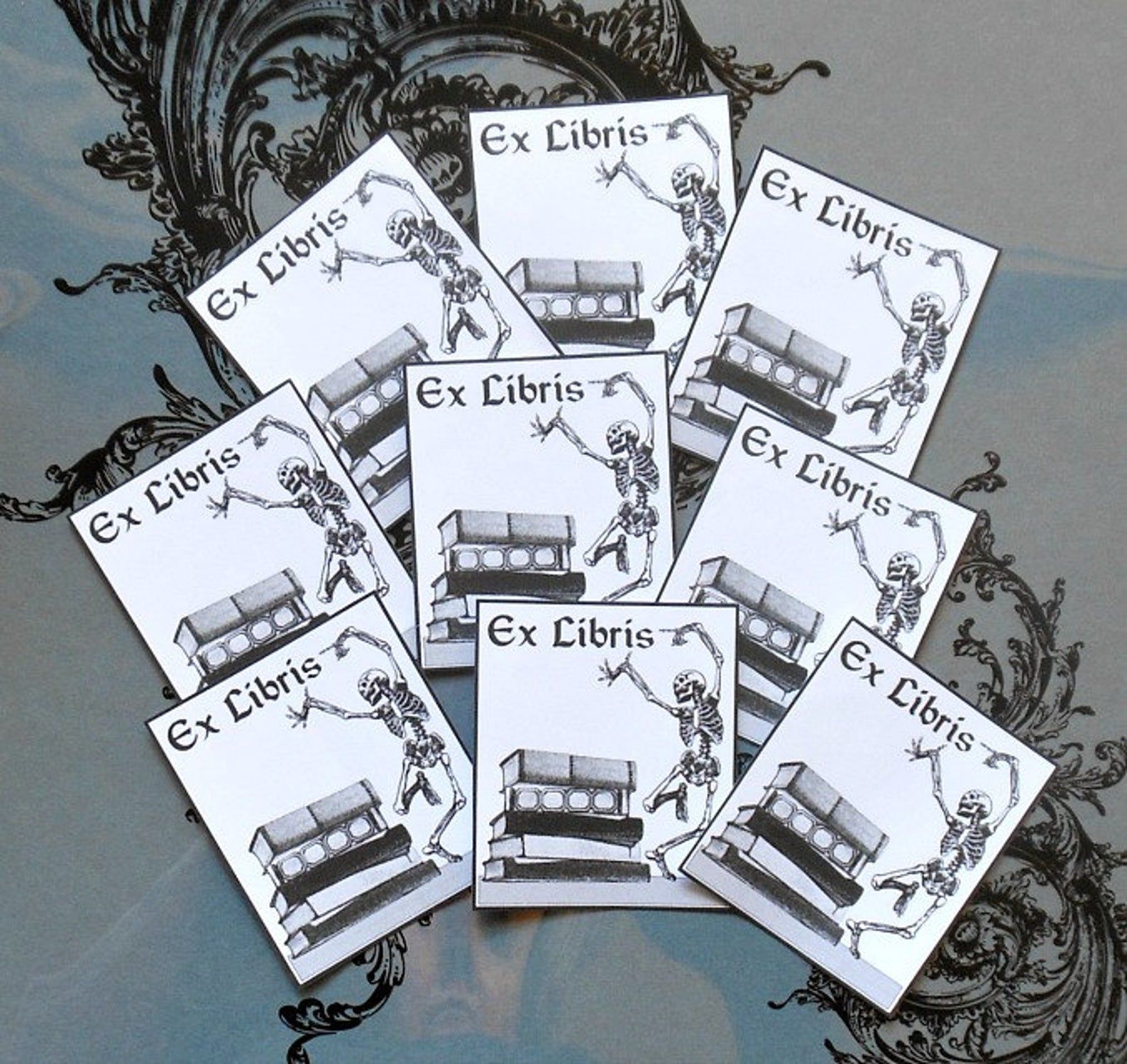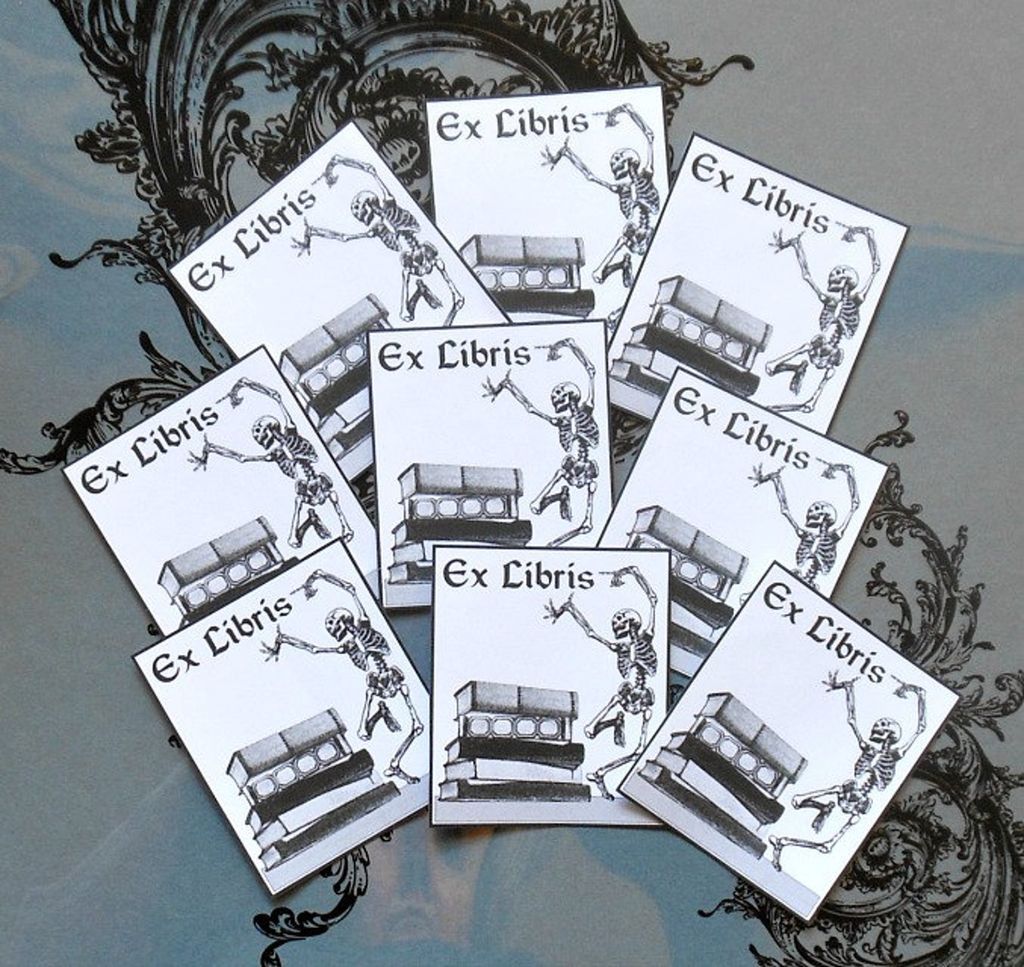 Book plates featuring books and a dancing skeleton? Count me in and take all my bones. $5 for nine.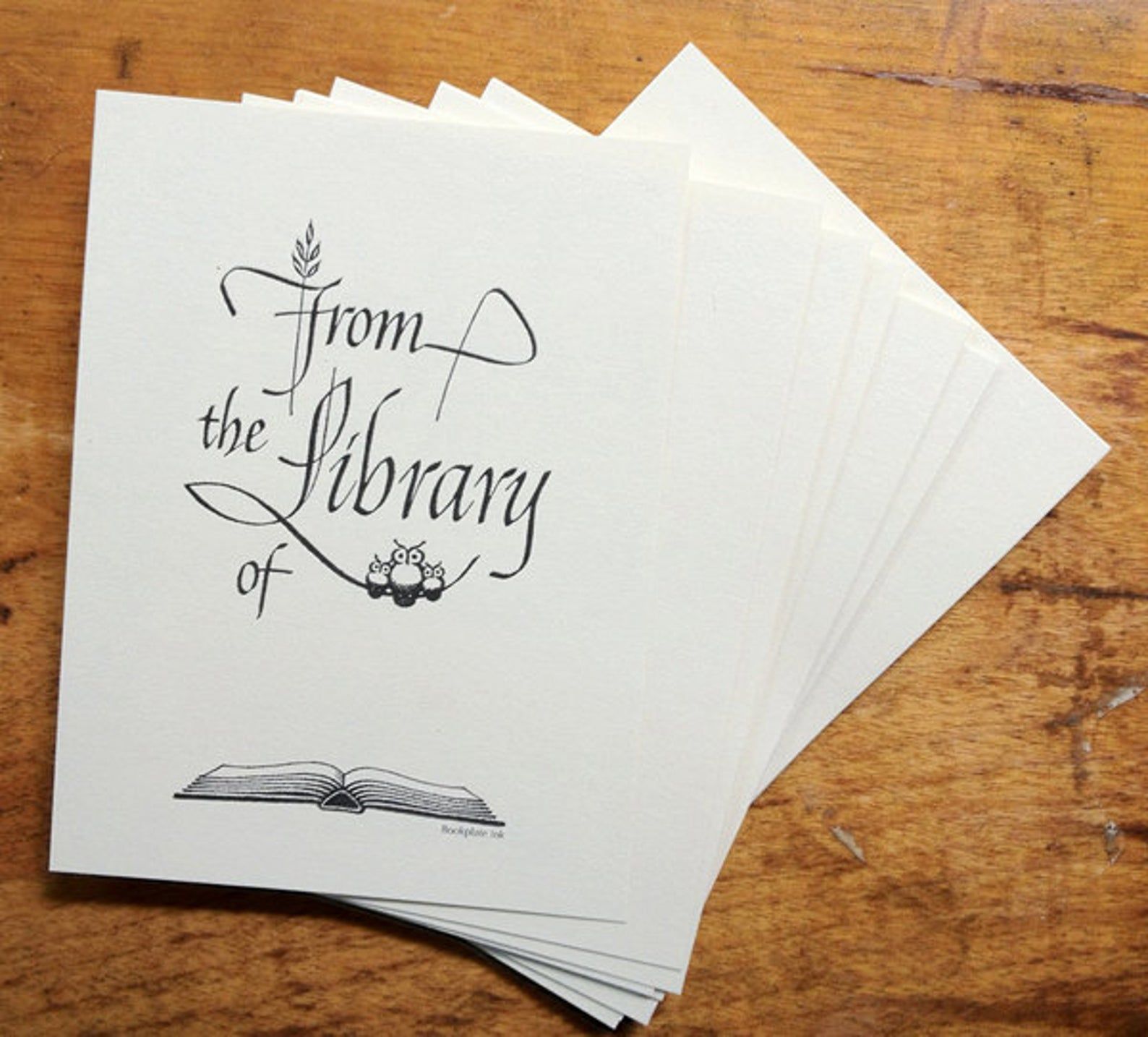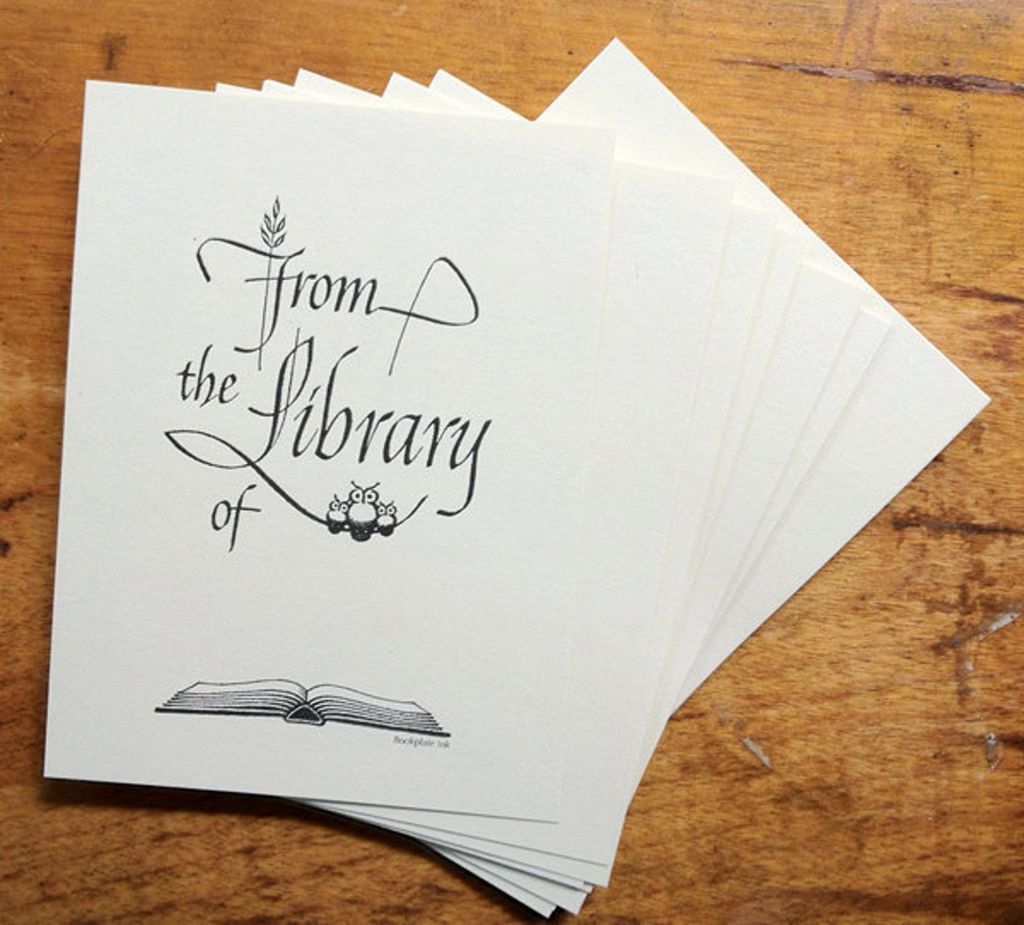 Sometimes, simple is best. $8 for 20.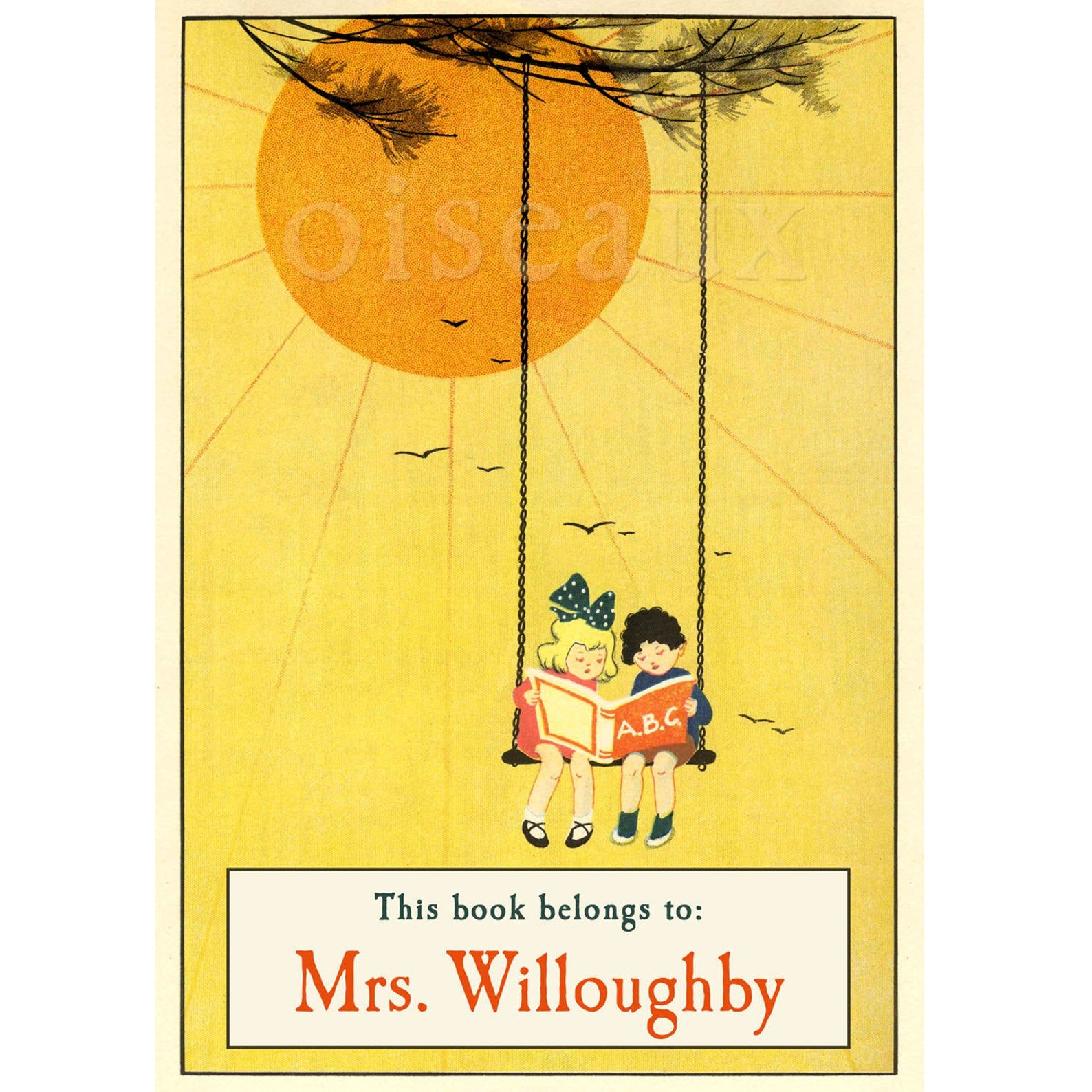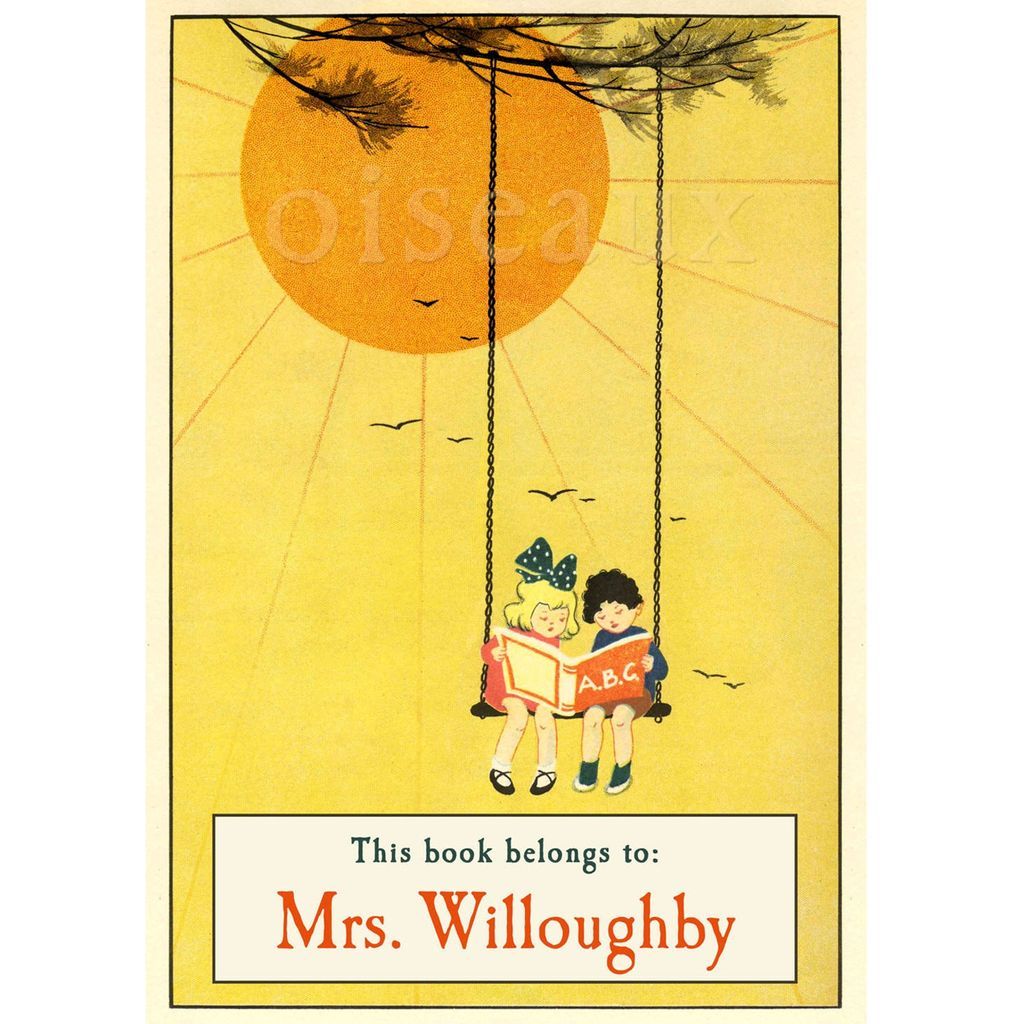 It's a reading swing! Personalize 24 for $20.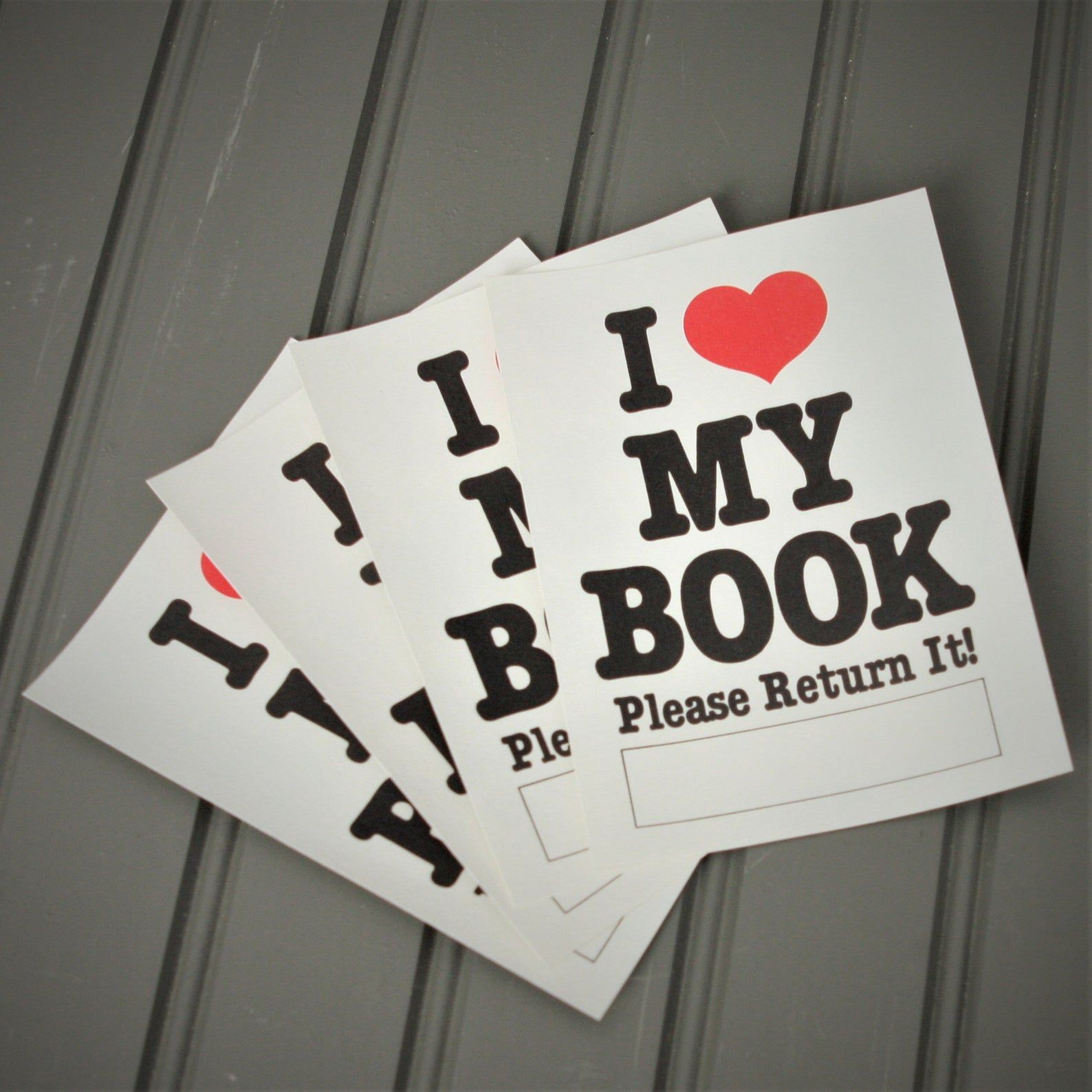 These will ensure you always get your books back. Set of 20 for $9.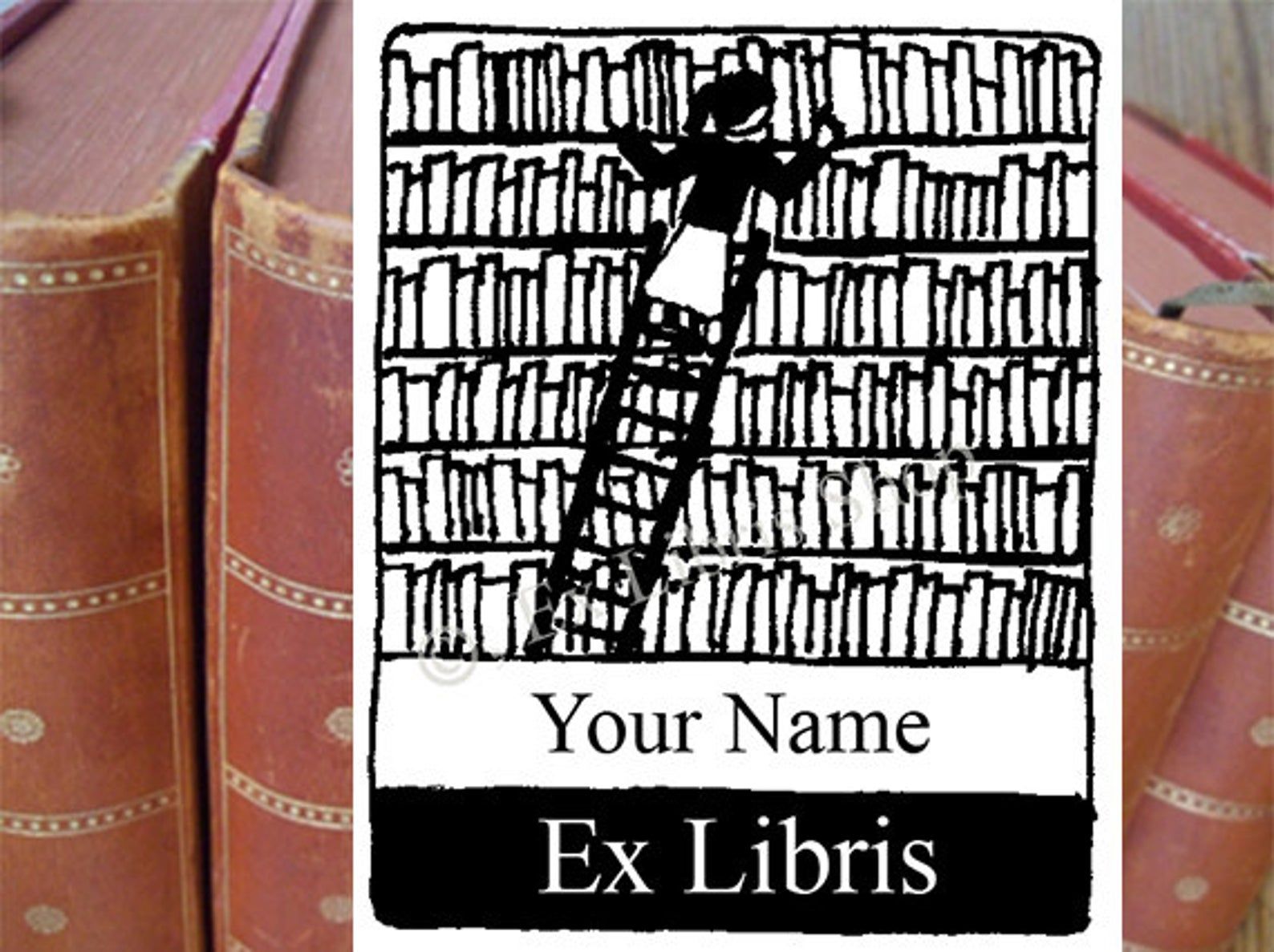 A librarian for your library of books. Grab 50 personalized book plates for $37.
From the same shop as above, with the same idea, but this time with a close up of the books and no librarian. $37 for 50 personalized stickers.
This one is for all of the Jane Austen fans. $28 gets you 24 personalized plates.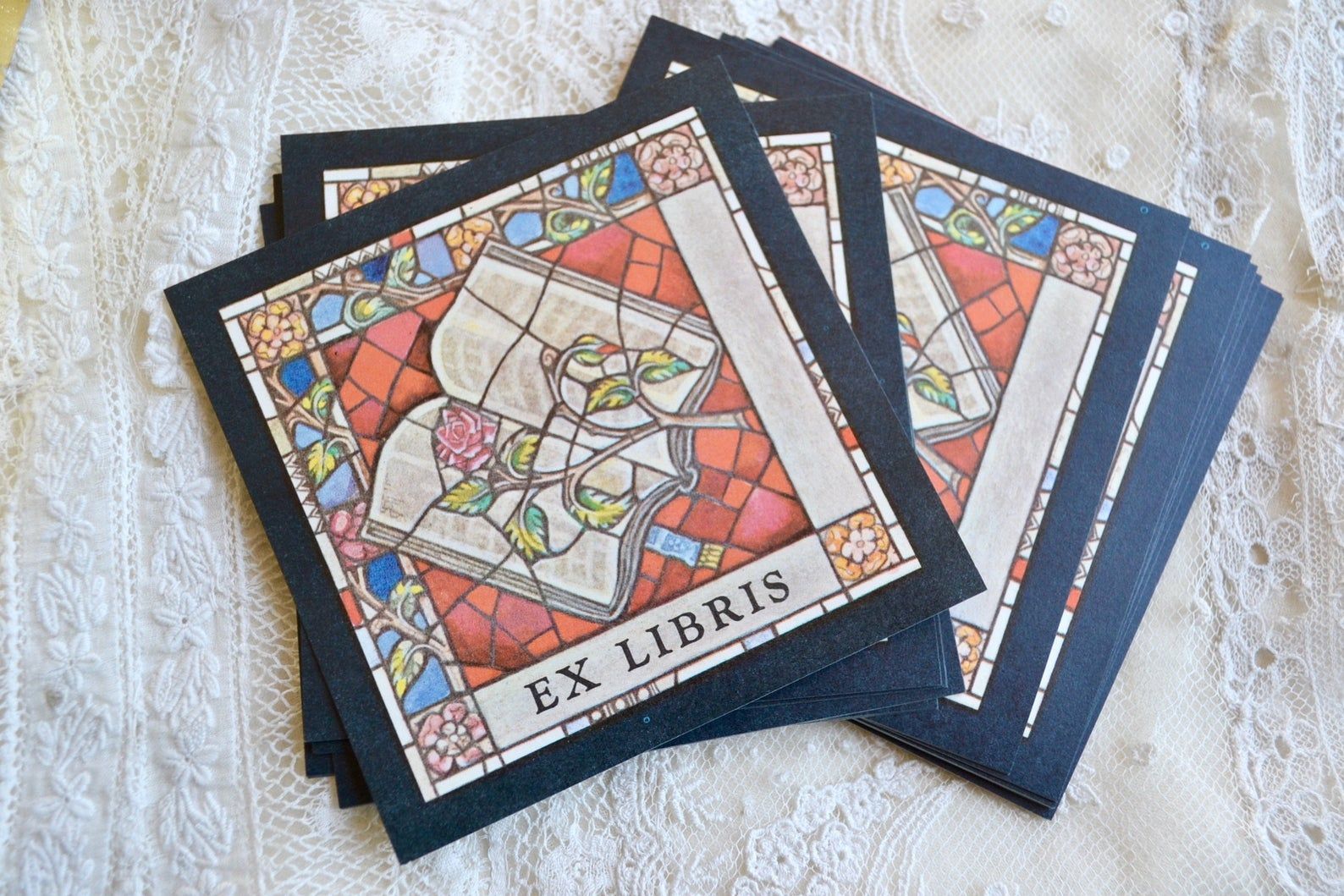 Stained glass, with a book and a rose. It reminds me of Beauty and the Beast for some reason. $3.50 for ten.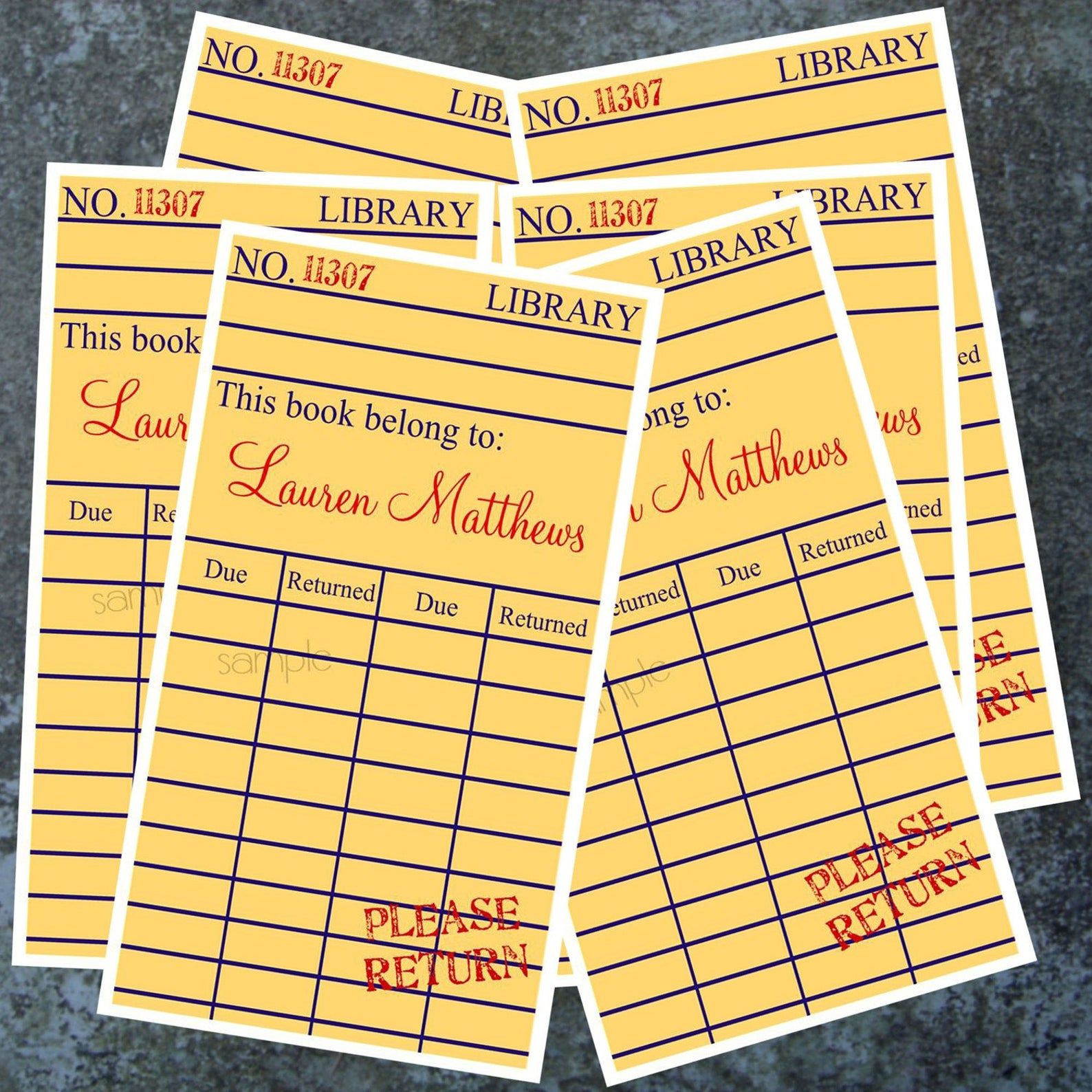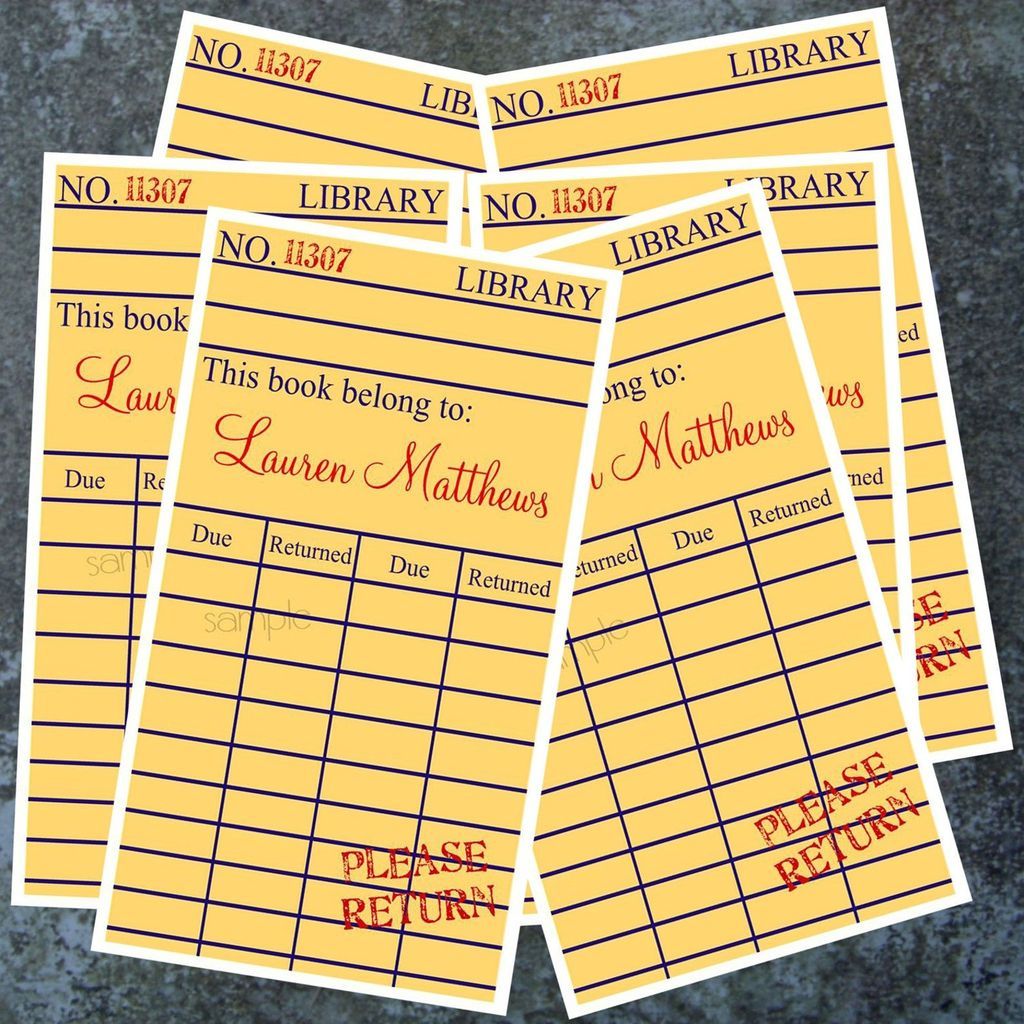 Personalize some date due book stickers. $7.50 for 12.
This variety pack of book stickers is so cute. $5.60 for 16.
Magical and Fantastical Book Plates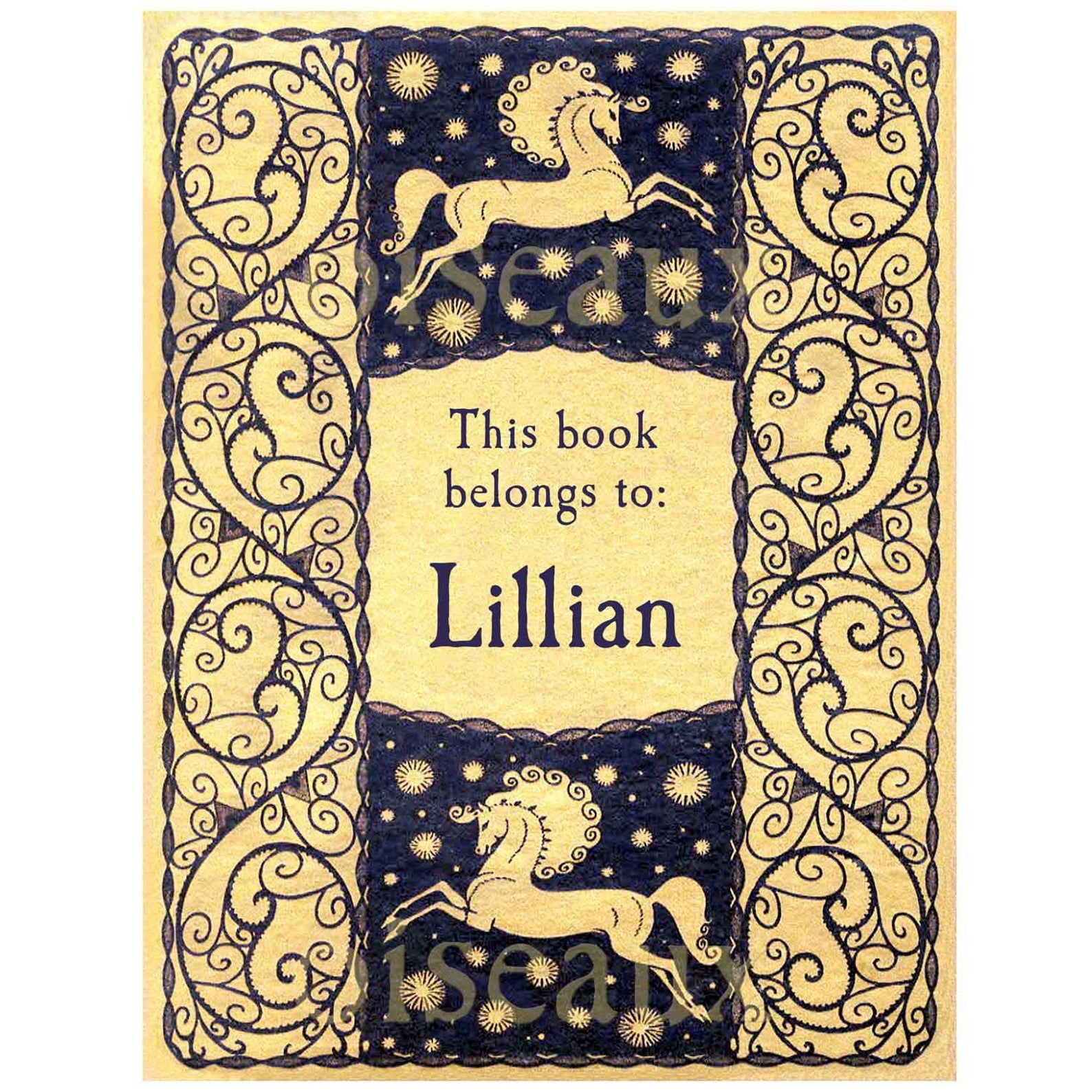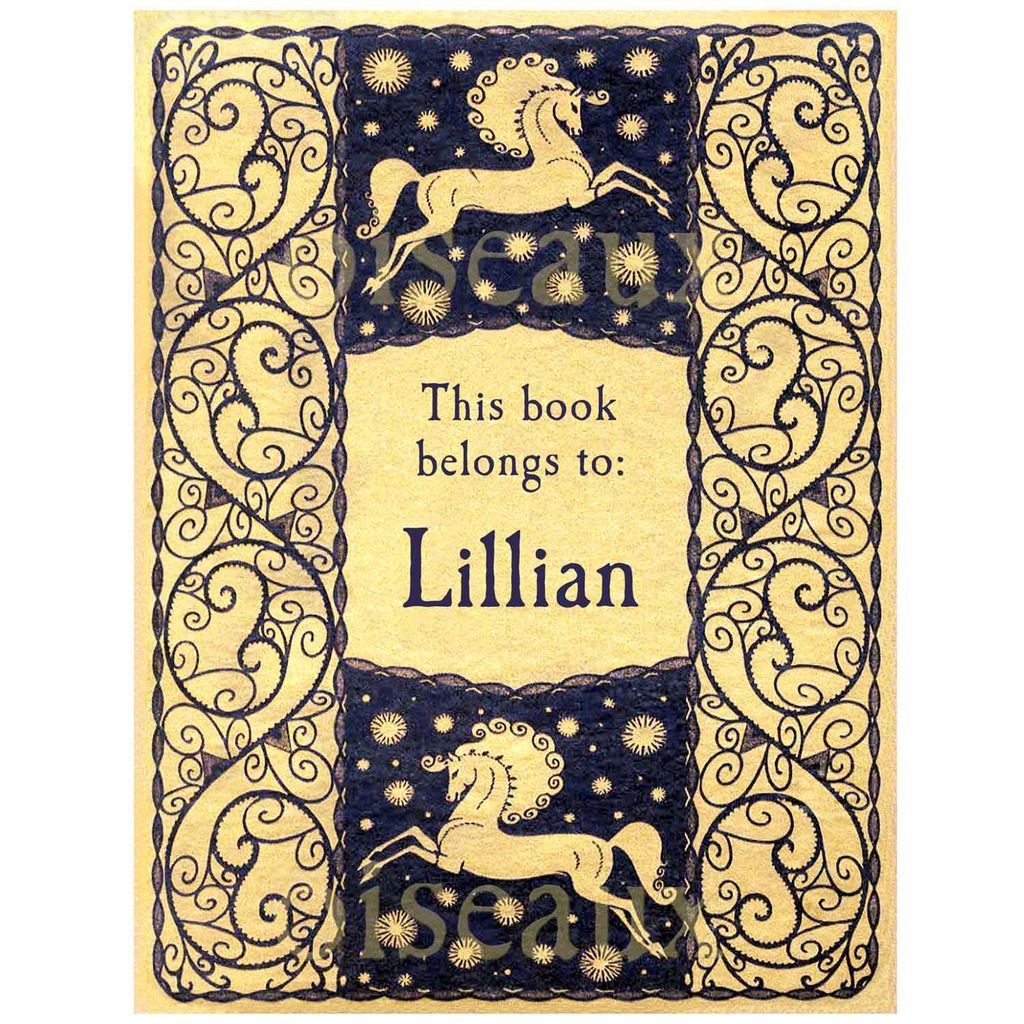 These look like unicorns but they're not. They're night horses. Personalize 24 for $19.
Who hasn't dreamed of a castle? Personalize 12 of these for $12.
It's a vintage apothecary book sticker! Grab 24 for $19.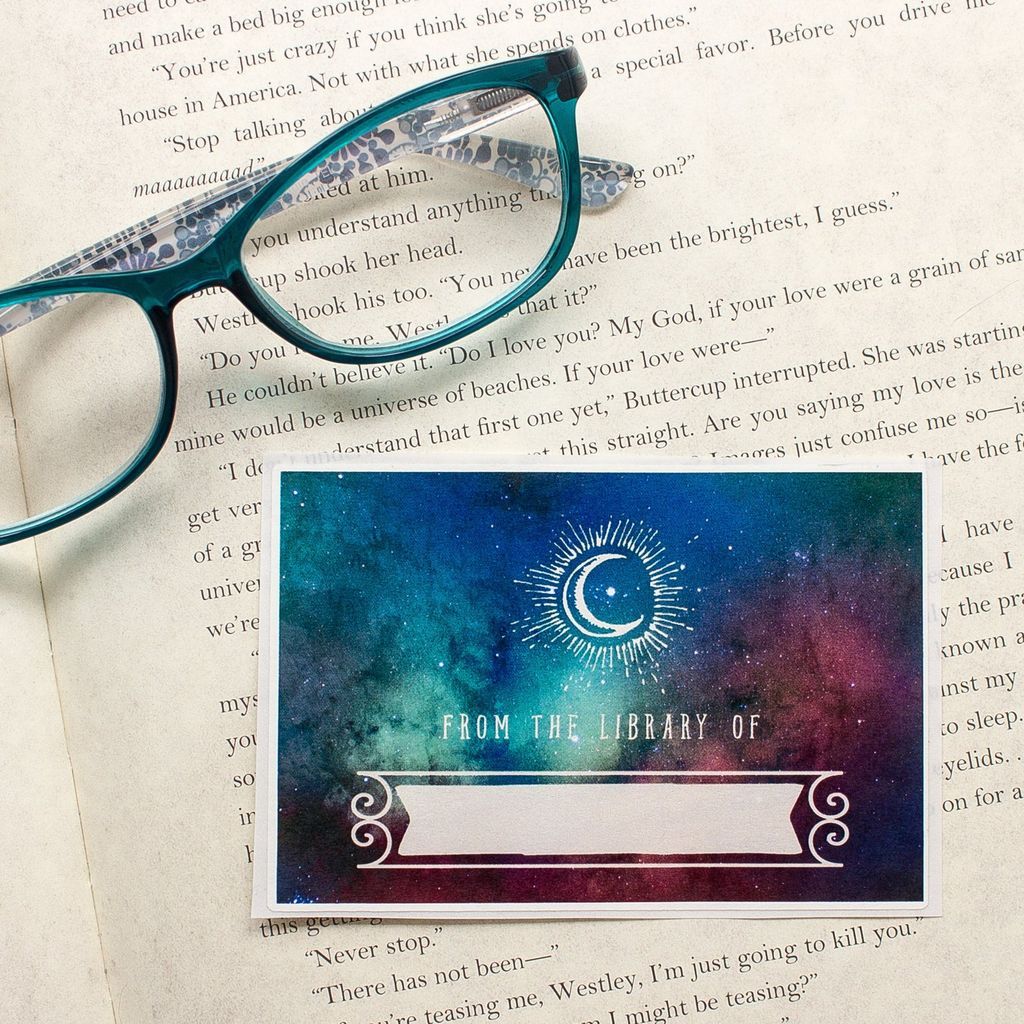 Go out of this world with some space themed book stickers. $13 for ten and you can personalize them.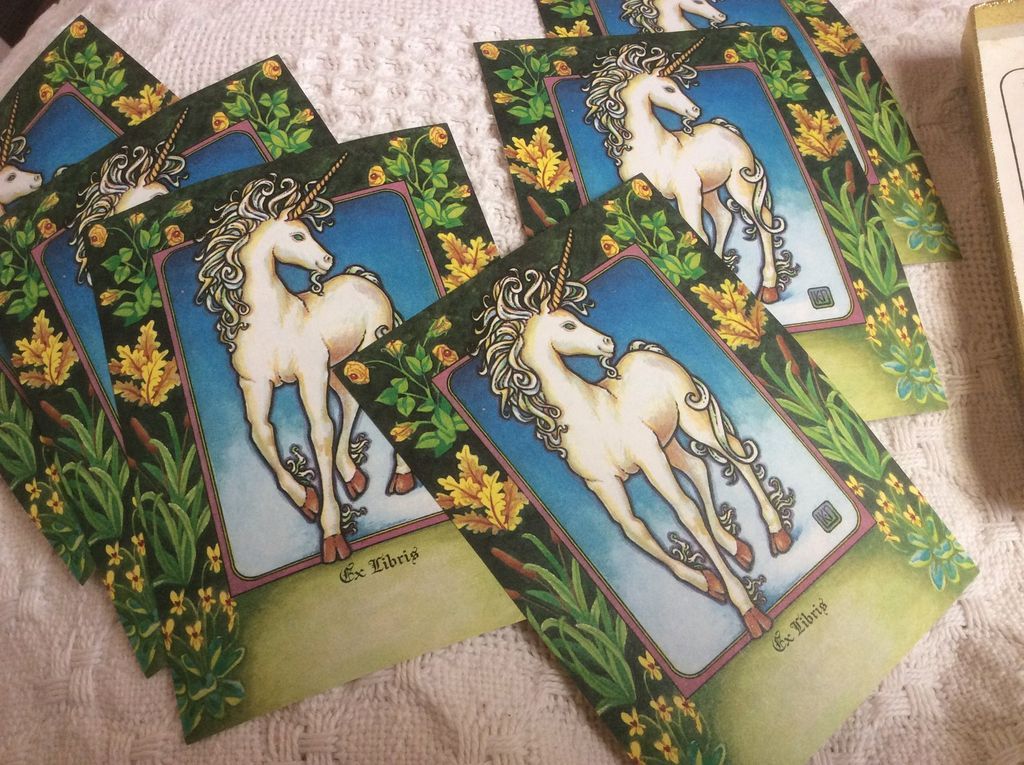 Six vintage unicorns will set you back $5.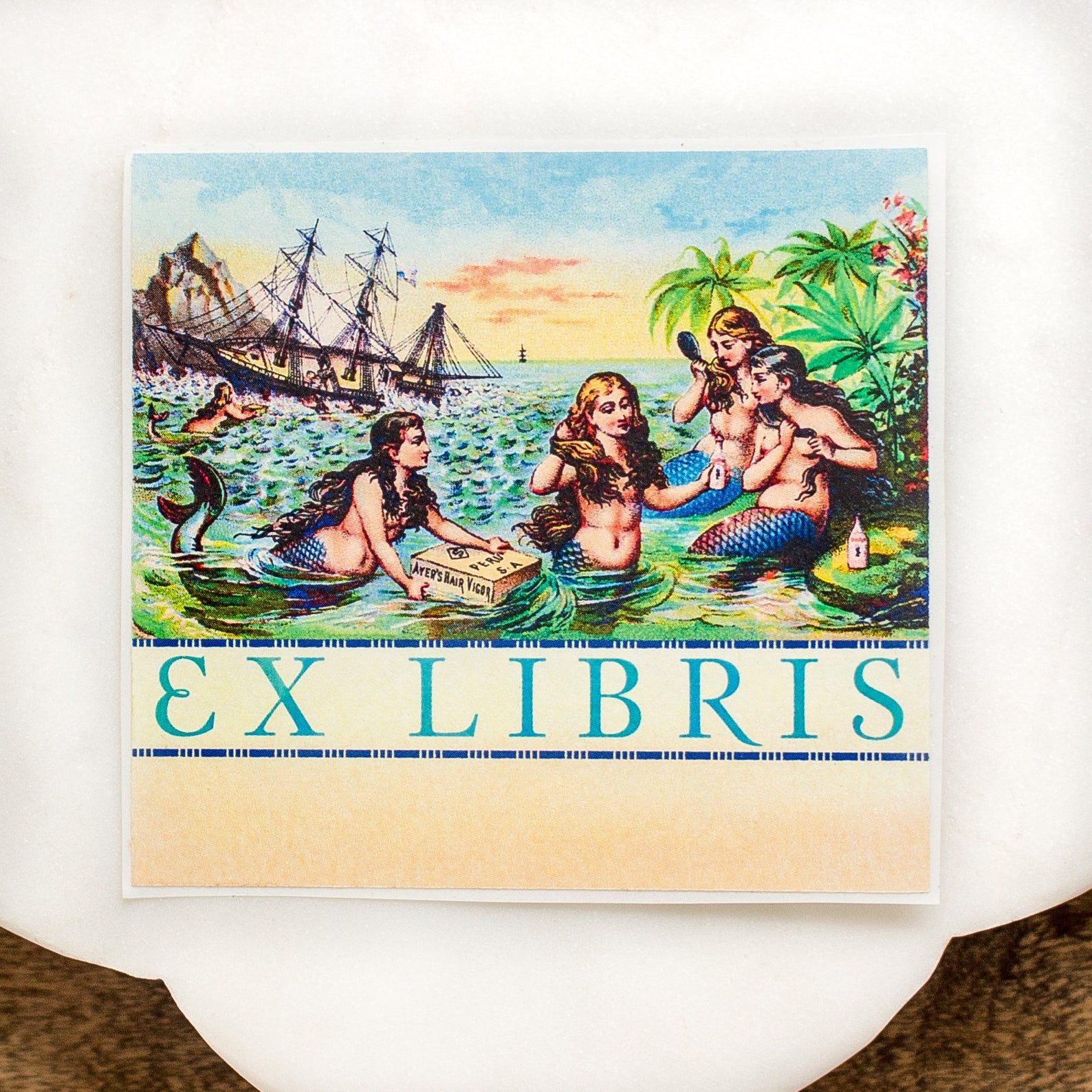 I did not realize how much I needed mermaid book plates in my life until right this moment. $13 for ten and you can customize.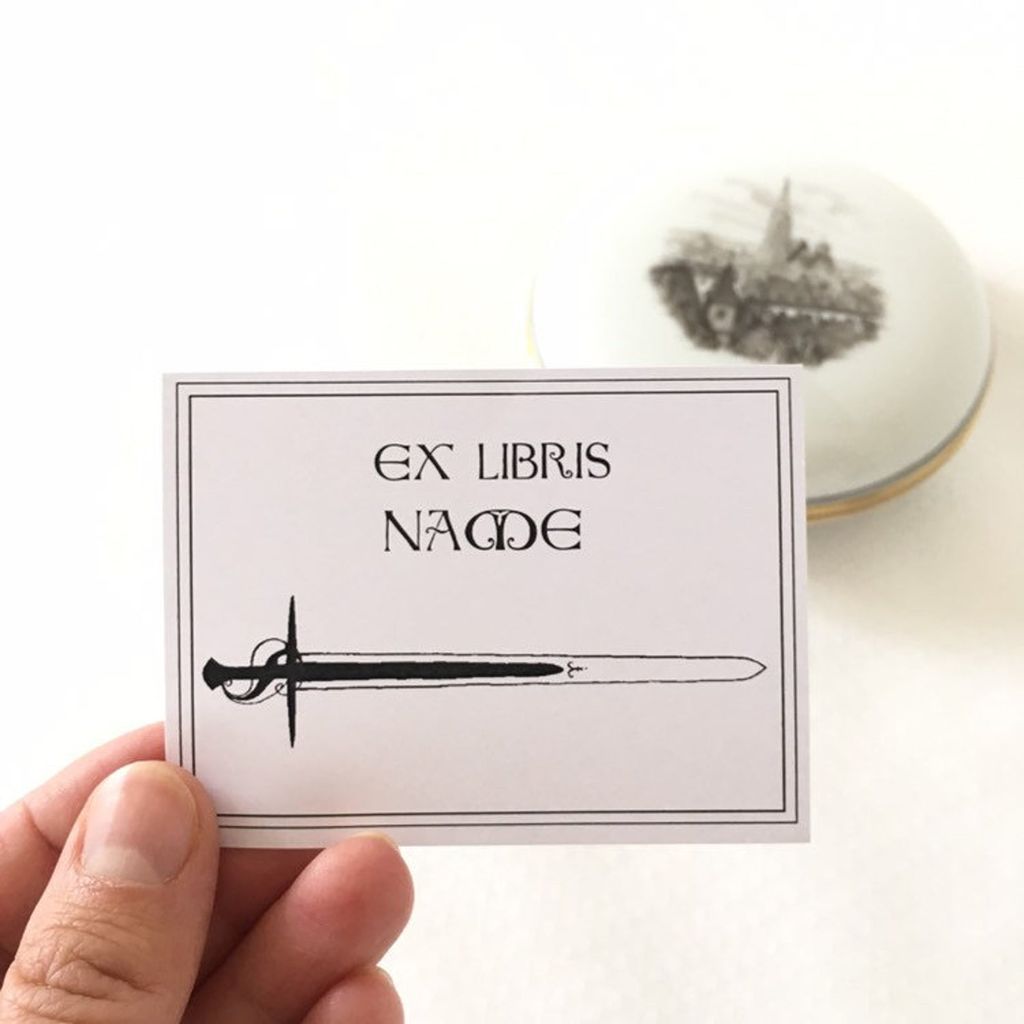 A sword to protect your books. $23 gets you 25 and you can personalize them.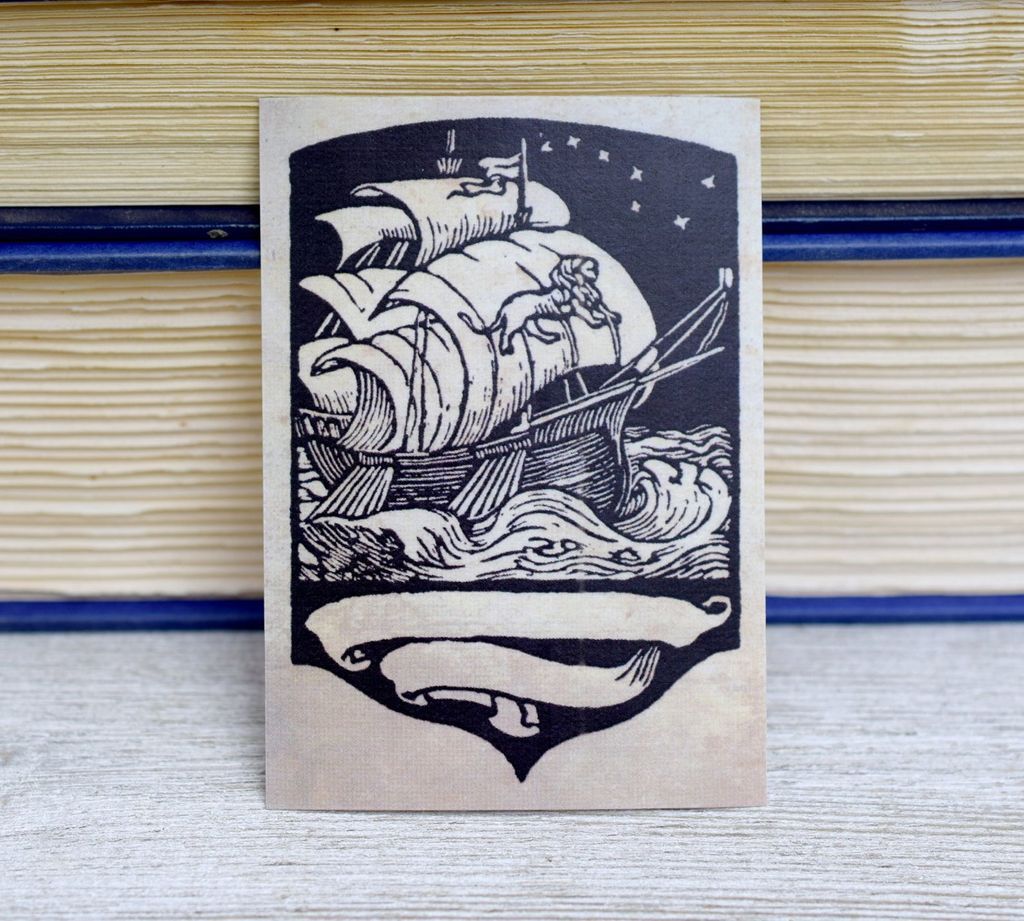 Get nautical. $19 for a set of 24.
Go back to the Middle Ages with these heraldic shields. $19 for 24.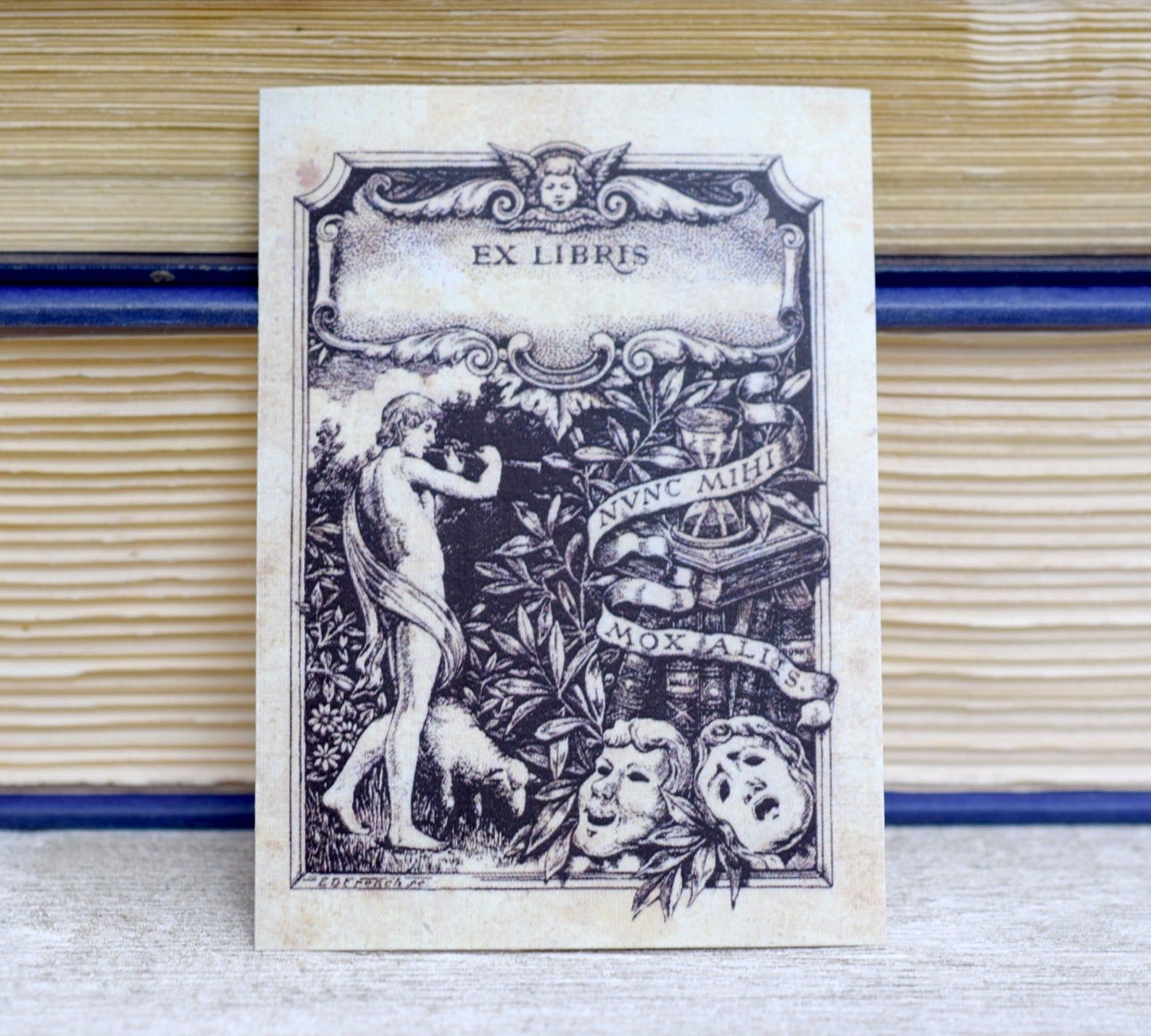 For fans of classic theater. $19 gets you a set of 24.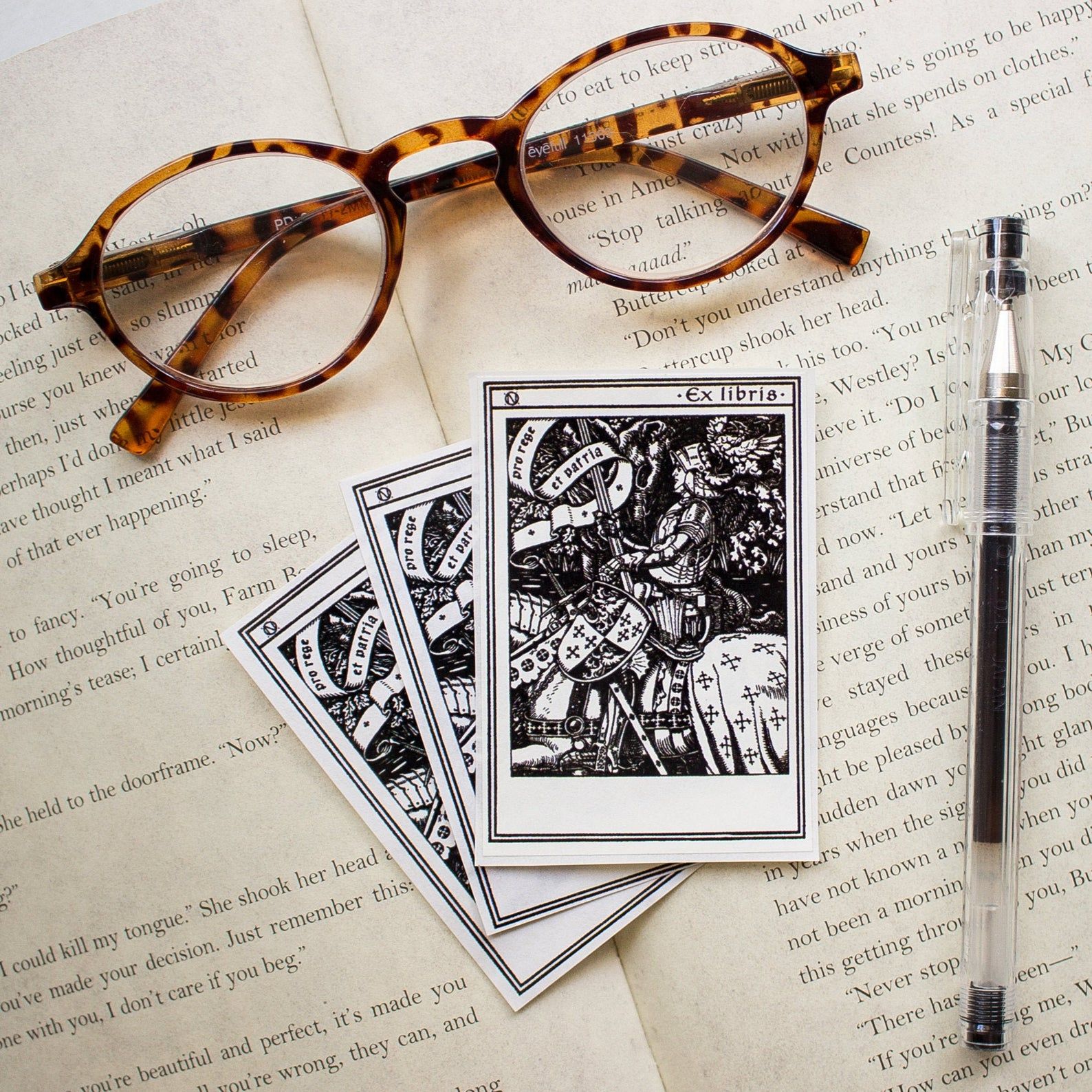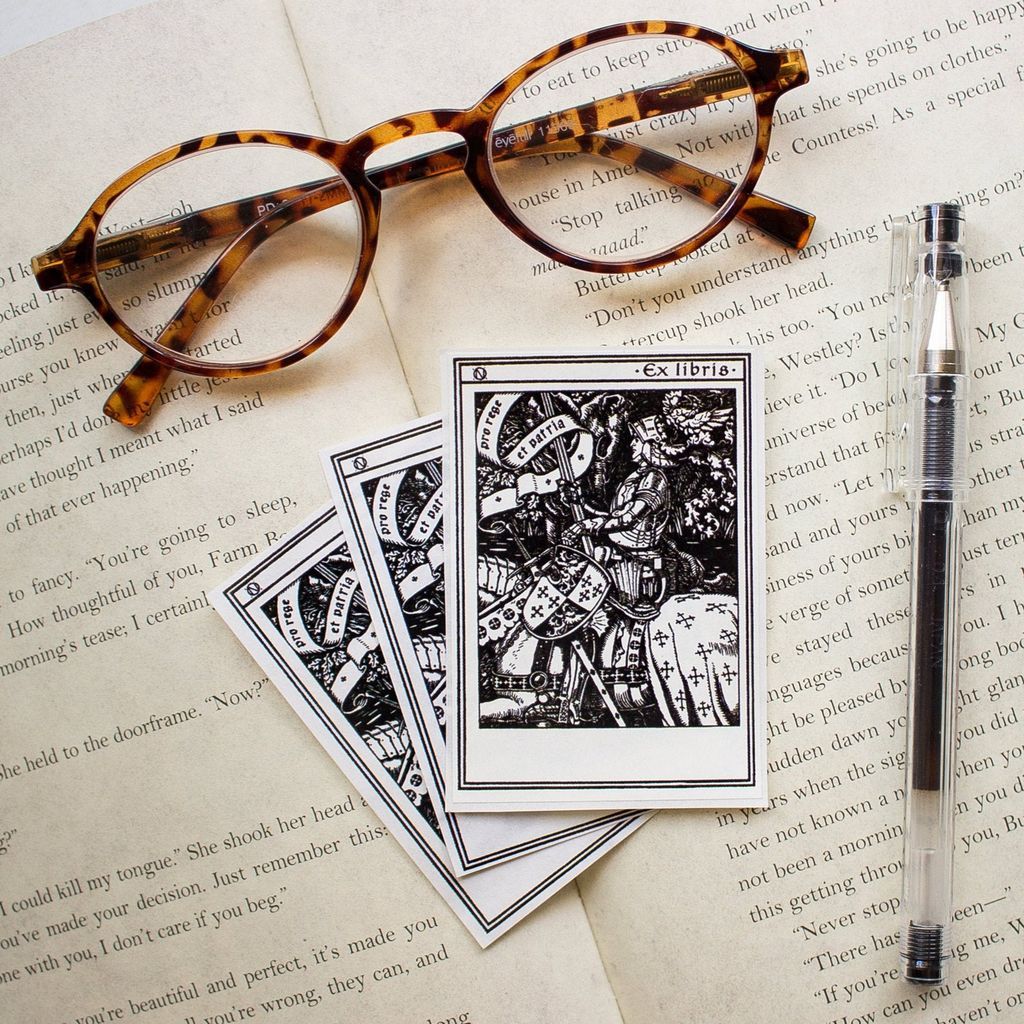 Maybe go Medieval with these knights in armor book plates. $13 for ten and they can be personalized.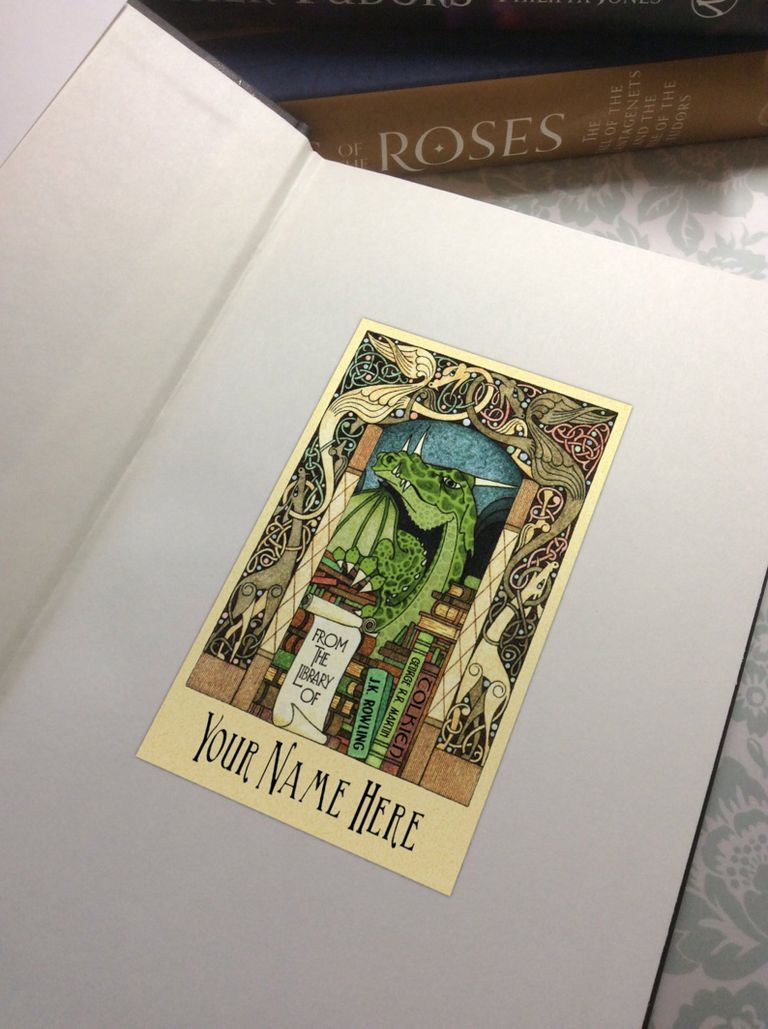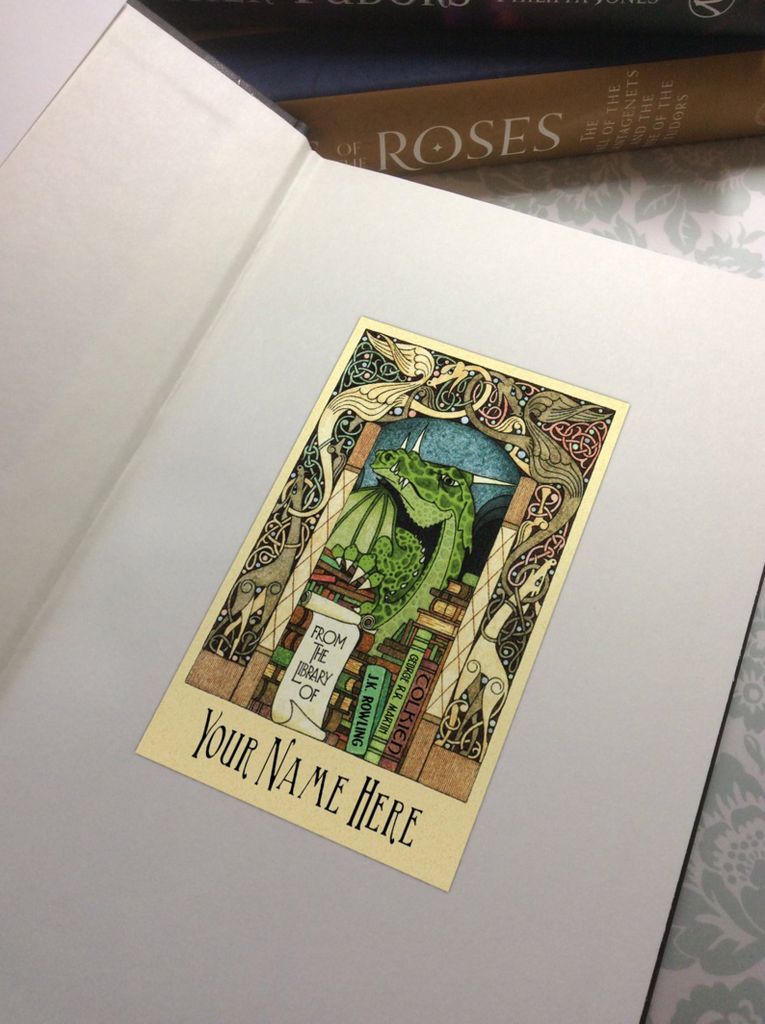 All good dragons are librarians themselves. $30 for 30, and you can customize them down to the color of the dragon.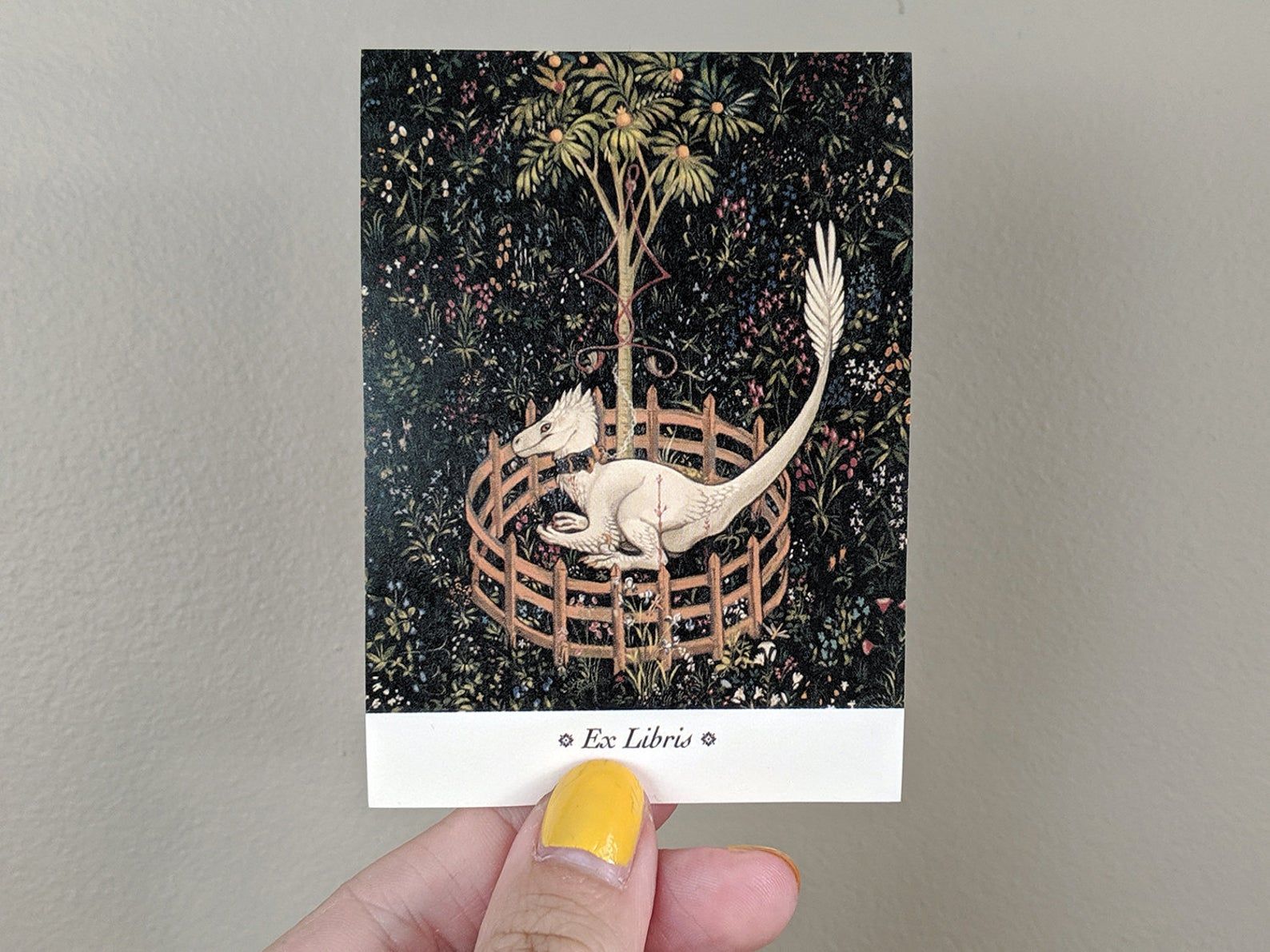 Dinos to help protect your book spine-os. $12 for ten.
Miscellaneous Book Plates
Because this post promises more than 50 book plate options, here are a few random, unique designs that didn't fit neatly in a category above.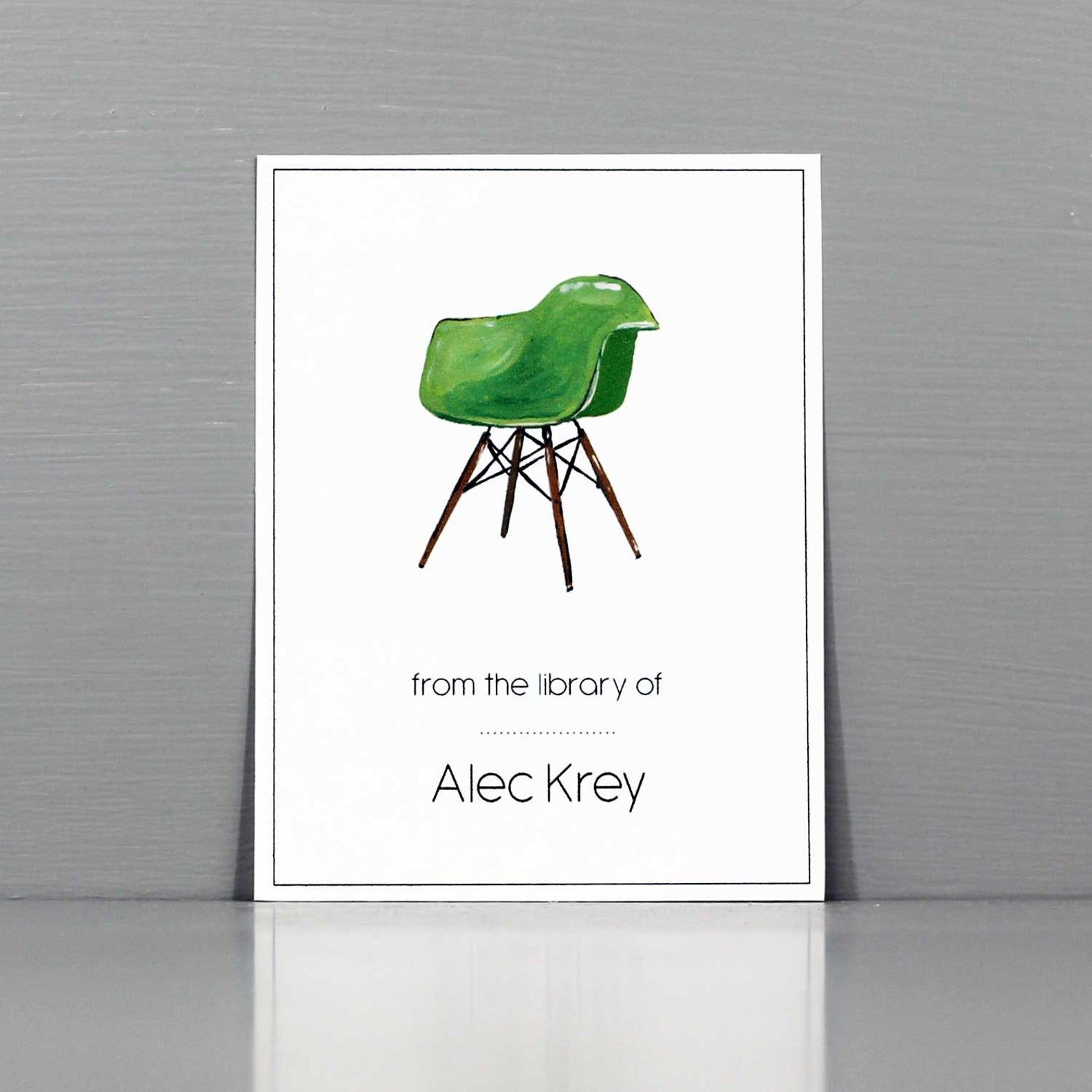 Fan of modernist chairs? Here you go! $28 for 24 book plates and you can personalize them.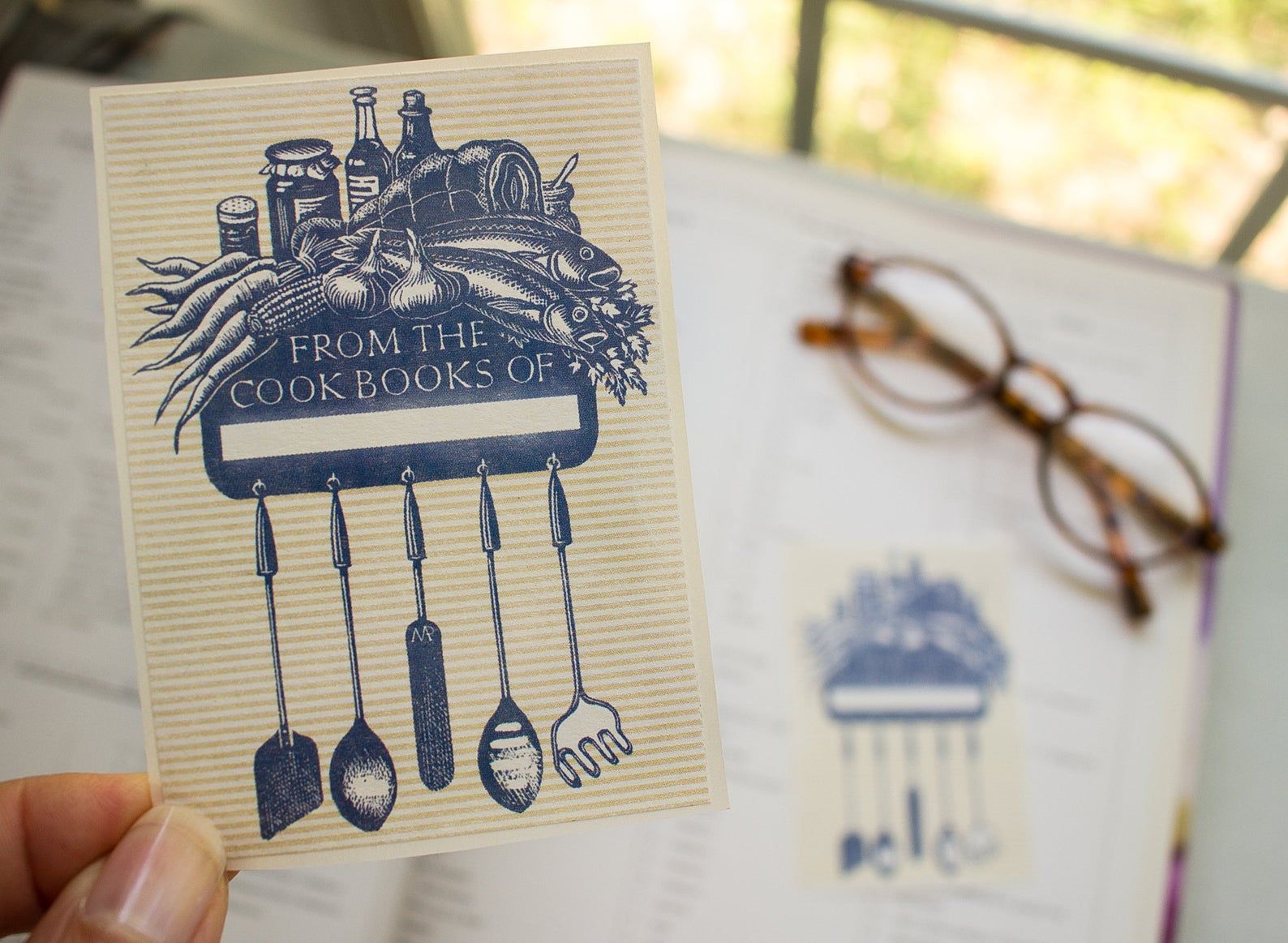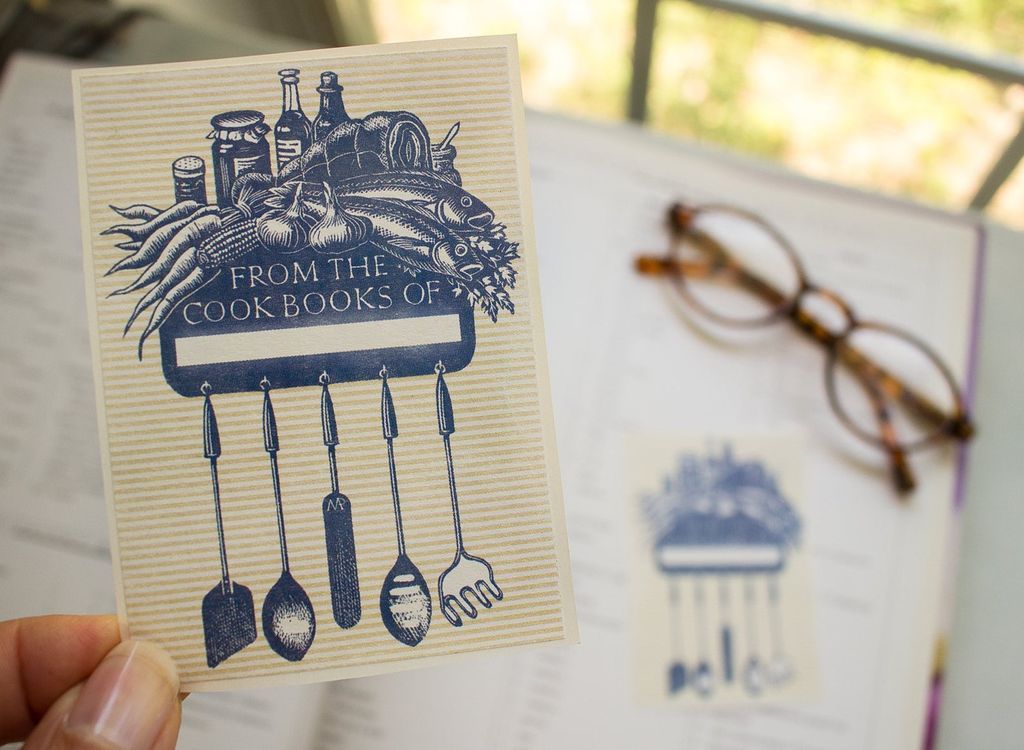 Never lose your cookbooks again with this cookbook book sticker. $13 and up for ten, with options to personalize.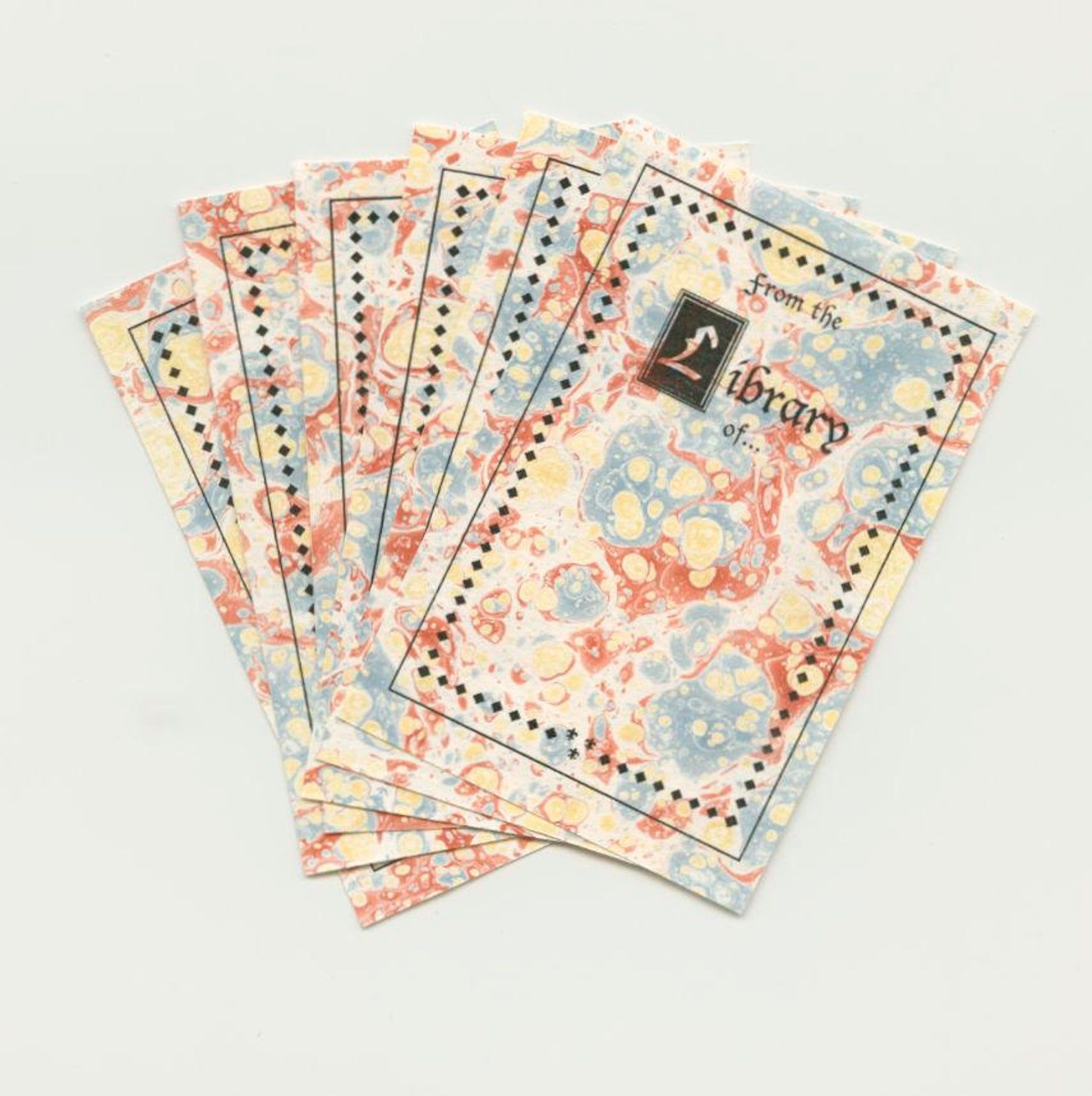 How pretty are these marbled book plates? $4 gets you six.
Keep it simple with these "this book belongs to" stickers. $5 for three.
Skeletons! $7 for a set of five.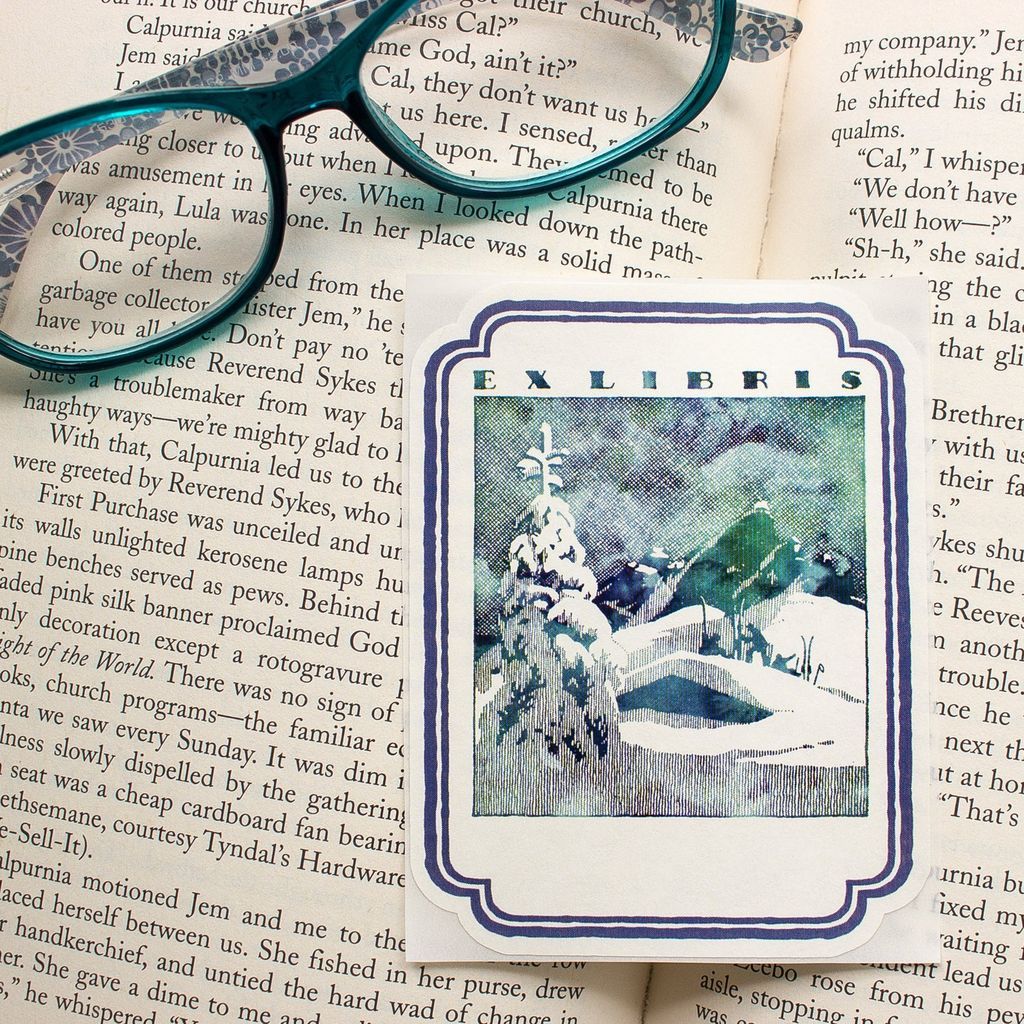 Chill out with these winter scenes. $13 for ten and can be personalized.
---
Want more fun bookish goods? Pick up some literary keychains or awesome book stickers.