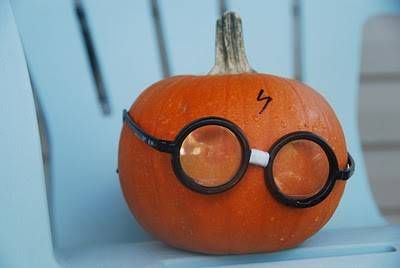 It's the most wonderful time of the year, lit-lovers: HALLOWEEN TIME! And what better way to combine your love of books and your love of Halloween than by carving a pumpkin in a book-related fashion? Trick question! THERE IS NO BETTER WAY.
Full disclosure: I haven't personally carved a pumpkin in a long, long time. That's not because I think I'm too cool for Halloween or because I hate dealing with the goopy pumpkin insides – it's because I never progressed past the "three triangles and a mouth slash" stage of jack-o'-lantern design. You know the one.
Luckily, there are people in the world who are extremely creative and talented in the realm of pumpkin carving, and thanks to the magic of the internet, we can use their ideas for inspiration. Here are some cool bookish jack-o'-lanterns I dug up that haven't been featured on other such lists out there.
Our own Rebecca Schinsky recently kicked off the spooky fun on our Facebook page with her wonderful READ pumpkin. (And a response on our Facebook page is what inspired this post, so thank you, readers!)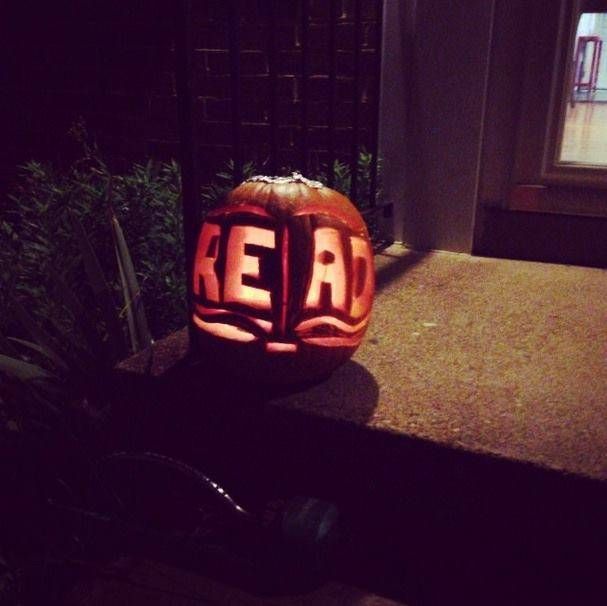 Blogger Christie Speich has some awesome YA-lit inspired jack-o'-lanterns on her site, including the two below, which display some serious carving skills. (She also provides free patterns on her site, so be sure to check it out!)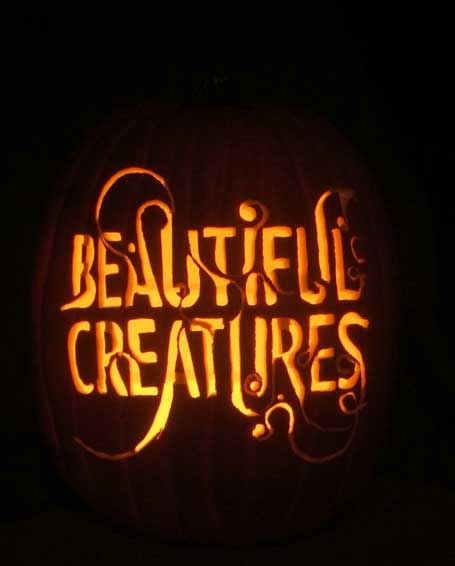 There are many Harry Potter-themed pumpkins out there, but I like this one featured on the Our House of Paint blog because it's A) adorable B) easy to make. (Instructions are provided on the site, and there's lots of other great Halloween stuff on there too!)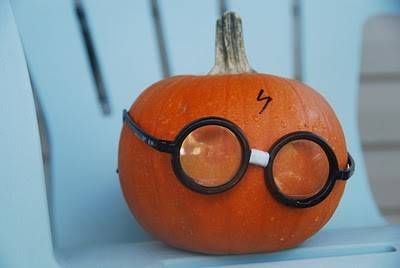 If you're interested in more elaborate "Harry Potter" patterns, some can be found here and here.
For you manga fans, here's a badass "Dragon Ball Z" pumpkin created by Anj of the Comic Box Commentary blog (and there's more on the site). Don't try to steal any candy from THIS guy.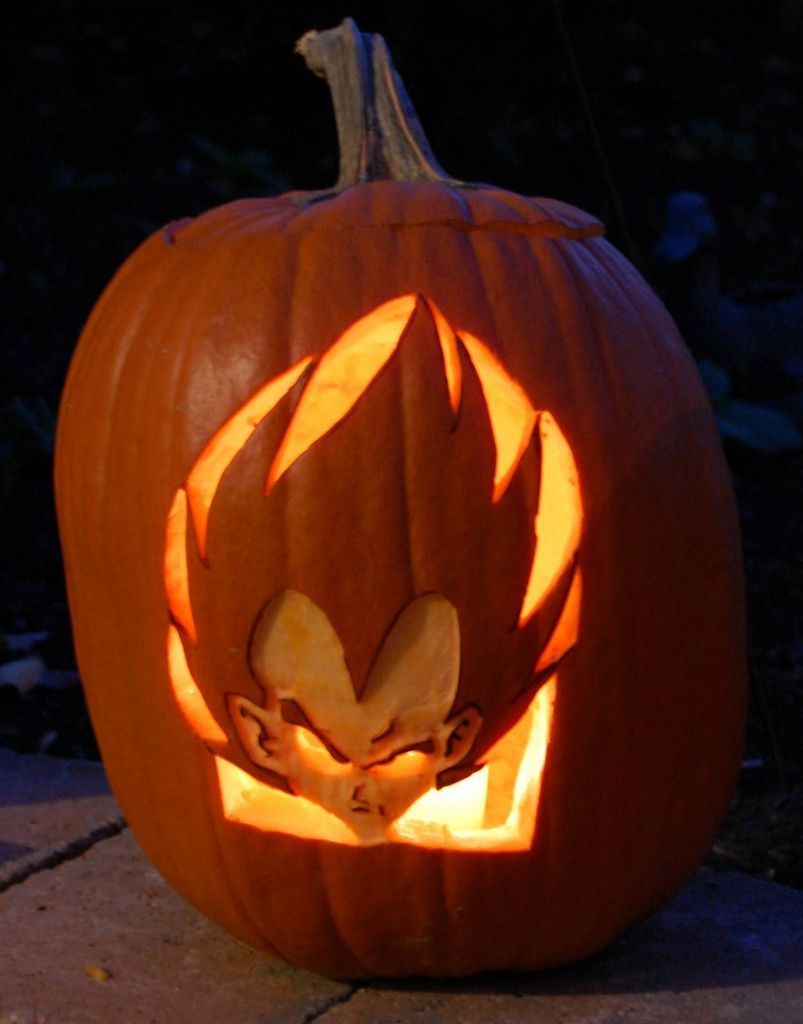 Anj was also nice enough to email me a photo of another impressive jack-o'-lantern he carved featuring the Mockingjay pin. May the trick-or-treating be ever in your favor.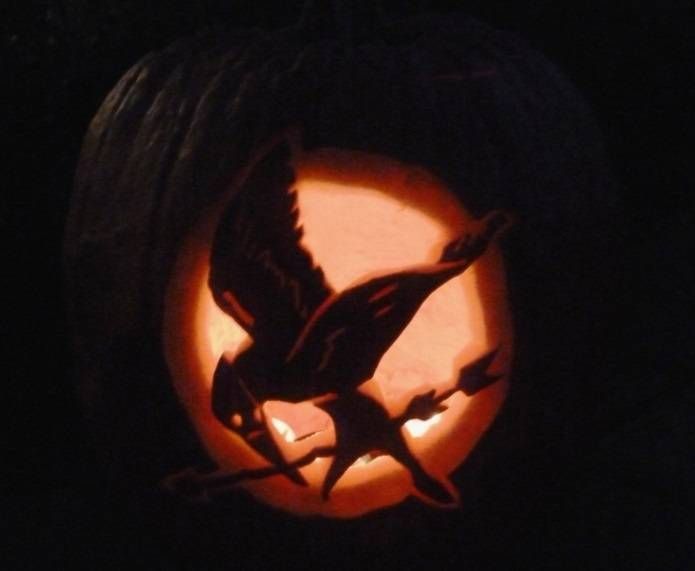 On the ObSEUSSed blog, the Cat in the Hat is featured in all his mischievous glory. (I especially like the first stage photo because it shows that you don't necessarily need to break out the Ginsu knives to make a festive pumpkin.)
Author David Rochelle's talents apparently include writing AND pumpkin carving. Check out the cute "Fall Into a Good Book" jack-o'-lantern (via librarian extraordinaire Mr. Schu).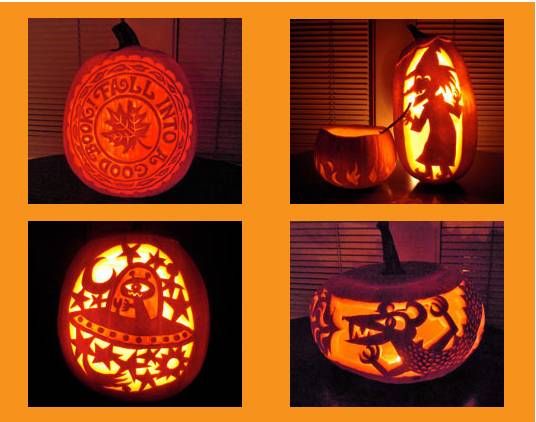 Spoonful has many cute printable patterns, including this one inspired by Mary Poppins.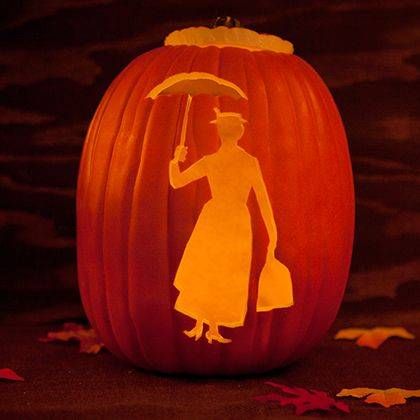 You can also find some other great YA-inspired patterns over at YA Highway. Awesome stuff.
Did you carve a literary inspired pumpkin this year? Or do you have a favorite site for bookish carving patterns? Let us know! And, of course, have a happy, safe, and book-filled Halloween.
____________________________
Sign up for our newsletter to have the best of Book Riot delivered straight to your inbox every week. No spam. We promise.

To keep up with Book Riot on a daily basis, follow us on Twitter, like us on Facebook, , and subscribe to the Book Riot podcast in iTunes or via RSS. So much bookish goodness–all day, every day.