Opinion
Book Lovers and Tote Bags: A Perfect Pairing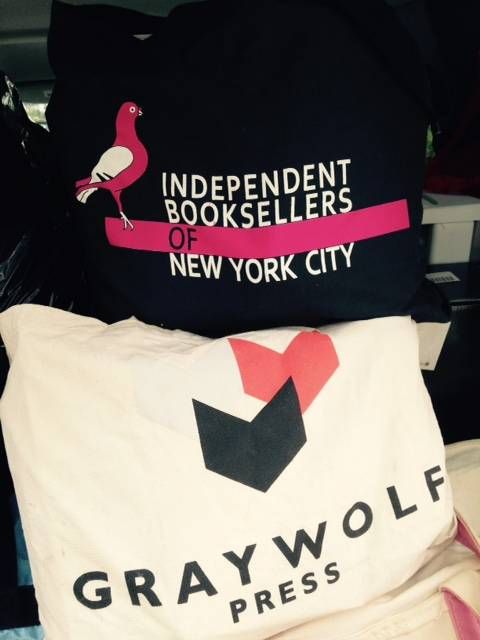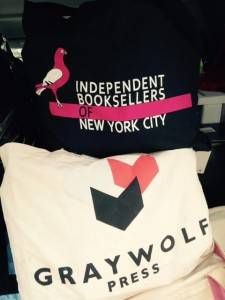 As a writer, I'm well aware of the stereotypes slapped on writers, especially those living in NYC. (Do I still get to count myself as one of those, even though I just moved out of the city?) Embarrassingly enough, some of those stereotypes are quite accurate, like wearing black hipster glasses and carrying around Moleskines, reading (or at least flaunting) The New Yorker and/or The Paris Review, and complaining about things being literary or not, or your latest bout of writer's block. But perhaps one of the most true stereotypes about writers (or bookish types, really), is the love of tote bags. Bookish tote bags, to be exact.
I mean, come on. What's not to love about tote bags? They're durable, they're relatively inexpensive, they're quirky, they can express your personality, and most importantly, they can hold a lot (perfect for those of us who carry around three or four books every day at all times) and are machine washable (for when pens explode). You don't have to worry about being super cautious when you use totes, because they're just cloth. They break in easily, and provide easy access to pens, notebooks, books, candy, Metrocards, and everything else. (Which is why I tend to keep my wallet at the very bottom of my tote, which is not so convenient when I'm at the grocery store).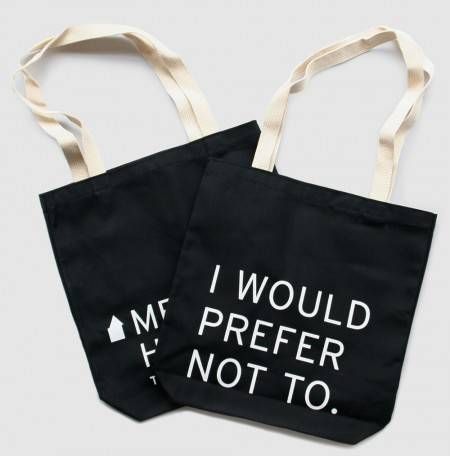 I recently moved, and instead of boxes, I used my collection of totes to carry kitchenware, food, shoes, books, and hangers. And still had an actual duffle bag full of totes still unused. Which may or may not have made me realize I have a bit too many. My collection includes totes from Malaprop's bookstore (Asheville, NC; it's also currently missing, which is distressing), bookculture (Upper West Side/Morningside Heights), McNally Jackson (Soho), Powell's Books (Portland, OR), Independent Booksellers of NYC, Columbia University's School of the Arts, the Rumpus, an old Marimekko pink flower print, Harper's, Out of Print (The Hungry Caterpillar and Gone With the Wind), my Melville House Publishers tote that says I Would Prefer Not To, a Graywolf Press tote (which is huge, and a favorite for those heavy workload days), a black Penguin Classics tote, several triband Penguin Classics totes (The Lost Girl and A Room of One's Own), and of course, Strand. Strand bookstore totes are a subset of totes of mine, and when I lived in the city, though I loved them, was always a bit self-conscious wearing them, since they're popular among tourists. (I blame the websites skewering various bookish tote bags for that little insecurity.) But the first one I got, back in 2009 or 2010, a mauve/tan toile print, is still one of my favorites. But if I listed them all (from the iconic Hooty the Owl print, to the New Yorker/Strand collab, to the Kanji book print one, a Kate Spade/Strand collab, and my newest acquisition, one with an excerpt from "Howl" on it), it would be a little crazy. When I worked at bookstores, sometimes I'd be lucky enough to nab a free tote that came with an ARC for a promotion.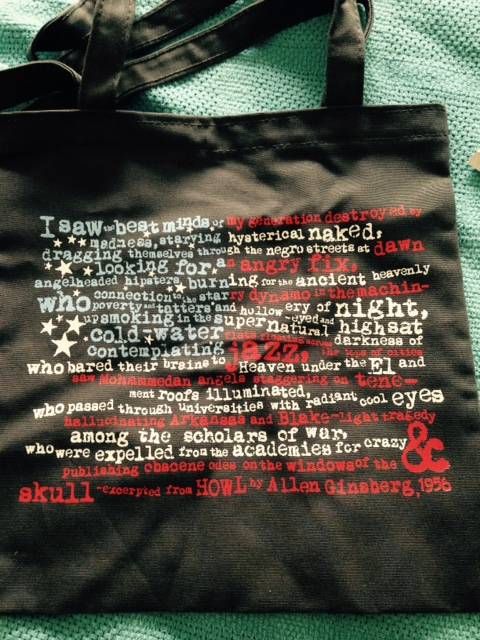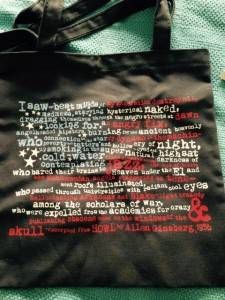 And then there are the ones that got away – like those old totes from the original Labyrinth Books, which bookculture took over here in the city. I used to sideeye my elderly neighbor's vintage Labyrinth Books tote whenever she went out with it.
As you can see, I'm quite enthusiastic about my totes. In fact, I'm guilty of double-fisting totes — using one as a purse, and one for my work. Totally normal for a writer, right? Yes? Maybe? Humor me, here.
There must be something to the enduring pairing of books and tote bags. Millions of book and tote-loving readers/writers can't be wrong, right?
What's your favorite bookish tote bag?