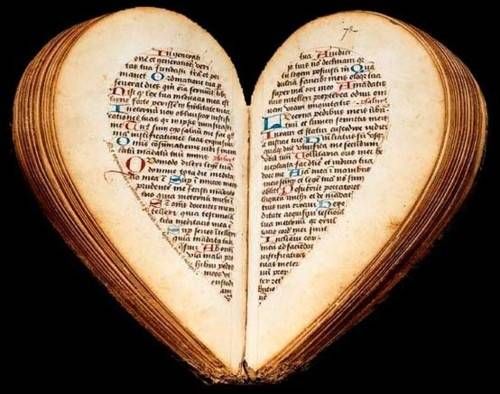 Fiction
The Book I Love Too Much to Keep It Pristine
This is a guest post by Sean Michael Varner, who is allergic to writing about himself in the third person. It makes his eyes water, to say nothing of his nose. He, me, Sean — we all three of us can't bear it any longer, so here comes the sneeze: I am 23. I'm becoming a writer. So far I've managed to sneak my writing into a few places, most notably Highlights for Children, The Baltimore Sun, and, now, Book Riot.
_________________________
My books are pristine. You could eat off of them, except that you couldn't, since that's why they're pristine.
I take care of them, is what I mean. I do not, for instance, use Zen and the Art of Motorcycle Maintenance as a bib. I resist the daily urge to use Three Men in a Boat as a coaster for a good cup of tea, and despite owning a copy of Good Omens, I've not dropped it in the bath.
Instead, I perform all that proper, eccentric maintenance that people do when they confuse their books with pets. Whenever a new hardcover joins my ranks, I condition it — place its spine flat against a table, allow the covers to flop down, then release the pages aside in batches. I store all of my books upright and never too tightly packed together. Whenever I pull one from the shelves, I make sure to grab hold by its spine edge, in the middle and not from the top. I keep them all out of the sunlight, away from any heater, and try to keep the room temperature reasonable: if I'm comfortable, I figure my books are. They've never complained.
As I say, I take good care of them.
Except for one.
Look at my shelves, and you will find one book that looks put through its proof, as if it's led a good life full of intrigue and dare and has seen a few things and been a few places in its time.
It has. It's been across the Atlantic and back. It's pressed the edges of the Cliffs of Moher. It's gone to kiss the Blarney stone, seen the Giant's Causeway, absorbed in its pages the wonderfully invigorating aroma of a nun-cooked meal in an ancient abbey, and hiked in a rain storm through the hills of Connemara, which is admittedly how it received the majority of its wounds.
Wounds, yeah. It's spine is creased deep. It's cover, at the bottom leftmost corner, is peeled, the outer layer of paper stock separating from the under layer. It's edges are all faded, fuzzy, like water — like rain water — had at one point wetted them. Along its back cover run ripples near the top, just above the San Francisco Chronicle's admonition that he "who has not met Wodehouse has not lived a full life."
Open it up and you will find pages as pristine as those of any other book on my shelves. Yet, every so often, you will come upon a page splotched, its ink smudged, its paper wavy, misshapen, and bent.
To see it on the shelf, amongst my many more well-tailored others, you might think it a scar: it's tiny blotches all adding up to one big stain on an otherwise unblemished collection. You may think it some neglected child, ill-loved, ignored.
It is the most treasured book I own.
What you would mistake for impious abuse is really wrung-out love. The book you may see as a grotesquerie is to me a book which not only tells a story with its words but also with its scars.
I treasure my copy of Leave It to Psmith, simply not because it is a very fine book full of funny sentences you could poke an eye out with at twenty paces (although that's certainly part of it), but because it kept me good company for the six summer weeks I wandered around Ireland.
I read it once, twice, again, and again. I couldn't inhale enough of it. I read it when traveling by bus. I read it by flashlight when bunking in a hostel, by citylight when sitting of an evening at a cafe on a Galway sidestreet. I kept it in the front pocket of my pack, so I could pull it out with ease whenever time lulled.
And time did lull, and I did pull it out. I stuffed it in, too, and put the weight of the pack on it, and exposed it to the elements, to the wind and to the rain. And after a rain, I would leave it out to dry next to my socks and shoes. And after a long day, I would fall asleep with it in my hands and wake with it under my pillow.
As I traveled alone, it traveled with me. In its wonderful words and humor, it stayed me, like basking in the sun. In its characters I found companions for the road — there was the eponymous, dashing Psmith ("the p is silent, as in phthisis, psychic, and ptarmigan"), there was that "amiable, boneheaded peer" Lord Emsworth, the efficient Baxter, the lovely Eve Halliday, the butler Beach, the poet McTodd, and all the rest of them.
In its author, Mr. Wodehouse, I found one of the great practitioners of the English language, using his unmitigated status as one of the twentieth century's Most Lordly Lords of Language for no good reason other than to make people laugh.
Psmith and Wodehouse, there they were, teamed in my hands, in my pack, in my head — ease and joy and the good life, sunshine and gardens, hijinks and midnight rendezvous with butlers on lawns, and lush, verdant country estates where it was and still is, both in the pages of this book on my shelves and in my mind and memory, eternally summer.
_________________________
Sign up for our newsletter to have the best of Book Riot delivered straight to your inbox every week. No spam. We promise.
To keep up with Book Riot on a daily basis, follow us on Twitter, like us on Facebook, , and subscribe to the Book Riot podcast in iTunes or via RSS. So much bookish goodness–all day, every day.