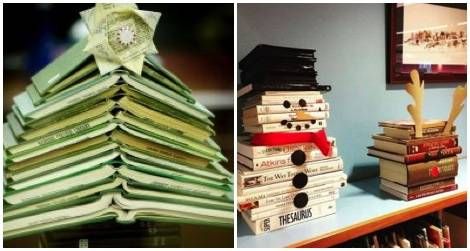 How To
Book the Halls: Bookish Holiday Decor
I just wanna load my house with holiday décor but it's already full of books so we can just turn the books into décor, it's fine. Here go.
General wintry things:
Make a snowman of books!
Make a snowman of books, more differently!
Everyone is always making trees out of books when they COULD be making cozy fireplaces!
People are always making trees out of books, though:
Remember like two years ago when the towering stack of books shaped roughly like a tree was such a novelty? I love this new thing of just like slumping books on top of each other.
Use only green books for some mild verisimilitude!
Just like STACK A BUNCH OF PAGES (this one has the potential to look EXTREMELY DIY if you don't have some real artistic moxie).
Here's a leetle one if you don't trust yourself.
If you're doing a book advent calendar (if you're not, why aren't you), stand your books up tall and slap some numbered stars on them!
We've many of us made Christmas trees in our youth by folding down the corner of each page of a Reader's Digest and then spray painting the whole of it green, but I like the sleek, modern look of these skinny duders.
Things that aren't trees:
This is where it gets EXCITING. This Christmas diorama INSIDE a Christmas book is some Christmasception and I am literally dying from how much I want it.
While we are on the subject of me dying. This vintage book house village! *fans self* I am unable.
I'm not taking this one on, YOU take this one on. (Link is for etsy pattern if you legit want to take this one on.)
Use vintage book covers as part of your décor! This is the kind of Extremely Tacky that I can fall in with; I get very MORE IS MORE around the holidays.
Ornaments and garlands &c:
Book page wreaths are pretty common, but this one kicks it up eleventy notches with RUFFLING and GREENERY. Soooooo pretty.
Book page ornaments are likewise a dime a dozen but this library due date one is DARLING. Do it yourself, or pick up a ceramic one from zazzle.
the pin

Source
Make little bows and then make a garland. Alternately, just slap bows on ERRRRRthing.
Speaking of garlands. This garland is just folded pages! I can fold pages.
Books just booking:
Books are so versatile! Hang your stockings on 'em!
Stick all your holiday cards in 'em!
Leave 'em out like regular but let 'em wear fancy seasonal jackets!
Hannukah is bookish, too:
Look at this ridiculously lovely book menorah!
This one is a lot more Doable At Your House and way less Gonna Burn The Place Down, Probably (in the previous guy's defense, he does mention using a flame-retardant substance).
This menorah, which folds up into a prayer book, was found in the ruins of the Lodz Ghetto. I almost didn't include it because it made me feel a bunch of feelings and this is a light-hearted home décor post with exclamation points, but history must be remembered, right?
How are you making your holidays more bookish? Any of these look doable to you?