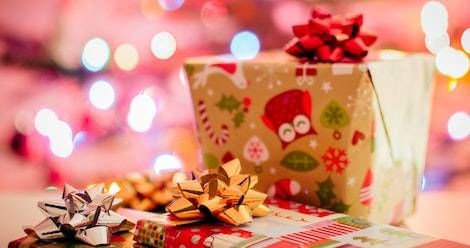 Children's
Children's Book Gift Giving Guide: Middle Grade Recommendations
This content contains affiliate links. When you buy through these links, we may earn an affiliate commission.
* This list was originally published on The Kids Are All Right newsletter on December 3, 2017. Follow this link to subscribe to the newsletter for weekly children's book lists, news, and recommendations!
It's holiday season, which means I am making a list of all the books I need to buy for the kids in my life. There have been so many great books out in 2017, so I thought I'd do a recommendation list of this year's books, grouped based on themes from classic children's books. This week I am focusing on middle grade books (books geared for kids ages 7–12), and next week I'll post about picture books. (All book descriptions from Goodreads.)
If you liked A Wrinkle in Time, try…
The Dam Keeper by Robert Kondo and Dice Tsutsumi
Life in Sunrise Valley is tranquil, but beyond its borders lies certain death. A dangerous black fog looms outside the village, but its inhabitants are kept safe by an ingenious machine known as the dam. Pig's father built the dam and taught him how to maintain it. And then this brilliant inventor did the unthinkable: he walked into the fog and was never seen again.
A colony of honeybees mistakes seventh-grader Zinnia's hair for a hive—and that's the least of her problems. While Zinnia's classmates are celebrating the last day of seventh grade, she's in the vice principal's office, serving detention. Her offense? Harmlessly yarn-bombing a statue of the school mascot. When Zinnia rushes home to commiserate with her older brother and best friend, Adam, she's devastated to discover that he's gone—with no explanation. Zinnia's day surely can't get any worse…until a colony of honeybees inhabits her hive-like hair!
In one day, four lives weave together in unexpected ways. Virgil Salinas is shy and kindhearted and feels out of place in his crazy-about-sports family. Valencia Somerset, who is deaf, is smart, brave, and secretly lonely, and she loves everything about nature. Kaori Tanaka is a self-proclaimed psychic, whose little sister, Gen, is always following her around. And Chet Bullens wishes the weird kids would just stop being so different so he can concentrate on basketball. They aren't friends, at least not until Chet pulls a prank that traps Virgil and his pet guinea pig at the bottom of a well. This disaster leads Kaori, Gen, and Valencia on an epic quest to find missing Virgil. Through luck, smarts, bravery, and a little help from the universe, a rescue is performed, a bully is put in his place, and friendship blooms.
Inside a small Yorkshire parsonage, Charlotte, Branwell, Emily, and Anne Brontë have invented a game called Glass Town, where their toy soldiers fight Napoleon and no one dies. This make-believe land helps the four escape from a harsh reality: Charlotte and Emily are being sent away to a dangerous boarding school, a school they might not return from. But on this Beastliest Day, the day Anne and Branwell walk their sisters to the train station, something incredible happens: the train whisks them all away to a real Glass Town, and the children trade the moors for a wonderland all their own.
If you liked Number the Stars by Lois Lowry, try…
Josef is a Jewish boy living in 1930s Nazi Germany. With the threat of concentration camps looming, he and his family board a ship bound for the other side of the world…Isabel is a Cuban girl in 1994. With riots and unrest plaguing her country, she and her family set out on a raft, hoping to find safety in America…Mahmoud is a Syrian boy in 2015. With his homeland torn apart by violence and destruction, he and his family begin a long trek toward Europe…All three kids go on harrowing journeys in search of refuge.
Ahimsa by Supriya Kelkar
In 1942, when Mahatma Gandhi asks Indians to give one family member to the freedom movement, ten-year-old Anjali is devastated to think of her father risking his life for the freedom struggle. But it turns out he isn't the one joining. Anjali's mother is. And with this change comes many more adjustments designed to improve their country and use "ahimsa"—non-violent resistance—to stand up to the British government. When Anjali's mother is jailed, Anjali must step out of her comfort zone to take over her mother's work, ensuring that her little part of the independence movement is completed.
Wishtree by Katherine Applegate
Red is an oak tree who is many rings old. Red is the neighborhood "wishtree"—people write their wishes on pieces of cloth and tie them to Red's branches. Along with a crow named Bongo and other animals who seek refuge in Red's hollows, this wishtree watches over the neighborhood.
You might say Red has seen it all.
Until a new family moves in. Not everyone is welcoming, and Red's experience as a wishtree is more important than ever.
Eleven-year-old Mor was used to hearing his father's voice, even if no one else could since his father's death. It was comforting. It was also a reminder that Mor had made a promise to his father before he passed: keep your sisters safe. Keep the family together. But almost as soon as they are orphaned, that promise seems impossible to keep. With an aunt from the big city ready to separate him and his sisters as soon as she arrives, and a gang of boys from a nearby village wanting everything he has—including his spirit—Mor is tested in ways he never imagined.
It's Mississippi in the summer of 1955, and Rose Lee Carter can't wait to move north. For now, she's living with her sharecropper grandparents on a white man's cotton plantation. Then, one town over, an African American boy, Emmett Till, is killed for allegedly whistling at a white woman. When Till's murderers are unjustly acquitted, Rose realizes that the South needs a change and that she should be part of the movement. Linda Jackson's moving debut seamlessly blends a fictional portrait of an African American family and factual events from a famous trial that provoked change in race relations in the United States.
If you liked Hatchet by Gary Paulsen, try…
Lily refuses to believe what everyone else accepts to be true: that her father has died while climbing Denali, the highest mountain in North America. Lily has grown up hiking in the Alaskan wilderness with her dad. He's an expert climber. There's no way he would let something like this happen. So instead of grieving, Lily decides to rescue him. Her plan takes her to Denali and on a journey that tests her physically and emotionally. In this powerful debut, Hannah Moderow has written an authentic Alaskan adventure that crosses terrain both beautiful and haunting—and ultimately shows the bond of family and the wonder of wild places.
Thirteen-year-old Karma is desperate to become a certified falconer. At her dad's bird education center, she helps give demonstrations to guests and can fly the birds. But when her favorite rescued falcon, Stark, hurts Karma, her parents insist that they return the bird to its previous owner—in Canada. On the way to bring Stark back, a car accident in the middle of nowhere leaves Karma's dad trapped, and it's up to Karma to find a way to rescue him and her younger brother.
On the island, everything is perfect. The sun rises in a sky filled with dancing shapes; the wind, water, and trees shelter and protect those who live there; when the nine children go to sleep in their cabins, it is with full stomachs and joy in their hearts. And only one thing ever changes: on that day, each year, when a boat appears from the mist upon the ocean carrying one young child to join them—and taking the eldest one away, never to be seen again.
If you liked Are You There, God? It's Me, Margaret by Judy Blume, try…
There are no shortcuts to surviving your first day at a new school—you can't fix it with duct tape like you would your Chuck Taylors. On Day One, twelve-year-old Malú (María Luisa, if you want to annoy her) inadvertently upsets Posada Middle School's queen bee, violates the school's dress code with her punk rock look, and disappoints her college-professor mom in the process. Her dad, who now lives a thousand miles away, says things will get better as long as she remembers the first rule of punk: be yourself.
Pashmina by Nidhi Chanani
Priyanka Das has so many unanswered questions: Why did her mother abandon her home in India years ago? What was it like there? And most importantly, who is her father, and why did her mom leave him behind? But Pri's mom avoids these questions—the topic of India is permanently closed. For Pri, her mother's homeland can only exist in her imagination. That is, until she find a mysterious pashmina tucked away in a forgotten suitcase. When she wraps herself in it, she is transported to a place more vivid and colorful than any guidebook or Bollywood film. But is this the real India? And what is that shadow lurking in the background?
It's 1965, Los Angeles. All twelve-year-old Sophie wants to do is write her book, star in the community play, and hang out with her friend Jennifer. But she's the new black kid in a nearly all-white neighborhood; her beloved sister, Lily, is going away to college soon; and her parents' marriage is rocky. There's also her family's new, disapproving housekeeper to deal with. When riots erupt in nearby Watts and a friend is unfairly arrested, Sophie learns that life—and her own place in it—is even more complicated than she'd once thought.
Karma Khullar is about to start middle school, and she is super nervous. Not just because it seems like her best friend has found a newer, blonder best friend. Or the fact that her home life is shaken up by the death of her dadima. Or even that her dad is the new stay-at-home parent, leading her mother to spend most of her time at work. But because she's realized that she has seventeen hairs that have formed a mustache on her upper lip.
Real Friends by Shannon Hale, illustrated by LeUyen Pham
Shannon and Adrienne have been best friends ever since they were little. But one day, Adrienne starts hanging out with Jen, the most popular girl in class and the leader of a circle of friends called The Group. Everyone in The Group wants to be Jen's #1, and some girls would do anything to stay on top…even if it means bullying others. Now every day is like a roller coaster for Shannon. Will she and Adrienne stay friends? Can she stand up for herself? And is she in The Group—or out?
Eleven-year-old Imogene (Impy) has grown up with two parents working at the Renaissance Faire, and she's eager to begin her own training as a squire. First, though, she'll need to prove her bravery. Luckily Impy has just the quest in mind—she'll go to public school after a life of being homeschooled! But it's not easy to act like a noble knight-in-training in middle school. Impy falls in with a group of girls who seem really nice (until they don't) and starts to be embarrassed of her thrift shop apparel, her family's unusual lifestyle, and their small, messy apartment. Impy has always thought of herself as a heroic knight, but when she does something really mean in order to fit in, she begins to wonder whether she might be more of a dragon after all.
Amina has never been comfortable in the spotlight. She is happy just hanging out with her best friend, Soojin. Except now that she's in middle school everything feels different. Soojin is suddenly hanging out with Emily, one of the "cool" girls in the class, and even talking about changing her name to something more "American." Does Amina need to start changing too? Or hiding who she is to fit in? While Amina grapples with these questions, she is devastated when her local mosque is vandalized.
Gracie has never felt like this before. One day, she suddenly can't breathe, can't walk, can't anything—and the reason is standing right there in front of her, all tall and weirdly good-looking: A.J. But it turns out A.J. likes not Gracie but Gracie's beautiful best friend, Sienna. Obviously Gracie is happy for Sienna. Super happy! She helps Sienna compose the best texts, responding to A.J.'s surprisingly funny and appealing texts, just as if she were Sienna. Because Gracie is fine. Always! She's had lots of practice being the sidekick, second-best. It's all good. Well, almost all. She's trying.
Braced by Alyson Gerber
Rachel Brooks is excited for the new school year. She's finally earned a place as a forward on her soccer team. Her best friends make everything fun. And she really likes Tate, and she's pretty sure he likes her back. After one last appointment with her scoliosis doctor, this will be her best year yet. Then the doctor delivers some terrible news: The sideways curve in Rachel's spine has gotten worse, and she needs to wear a back brace twenty-three hours a day. The brace wraps her in hard plastic from shoulder blades to hips. It changes how her clothes fit, how she kicks a ball, and how everyone sees her—even her friends and Tate. But as Rachel confronts all the challenges the brace presents, the biggest change of all may lie in how she sees herself
If you liked The Wednesday Wars by Gary Schmidt, try…
Patina by Jason Reynolds
A newbie to the track team, Patina must learn to rely on her teammates as she tries to outrun her personal demons in this follow-up to the National Book Award finalist Ghost by New York Times bestselling author Jason Reynolds. Ghost. Lu. Patina. Sunny. Four kids from wildly different backgrounds with personalities that are explosive when they clash. But they are also four kids chosen for an elite middle school track team—a team that could qualify them for the Junior Olympics if they can get their acts together. They all have a lot to lose, but they also have a lot to prove, not only to each other, but to themselves.
For Arturo, summertime in Miami means playing basketball until dark, sipping mango smoothies, and keeping cool under banyan trees. And maybe a few shifts as junior lunchtime dishwasher at Abuela's restaurant. Maybe. But this summer also includes Carmen, a poetry enthusiast who moves into Arturo's apartment complex and turns his stomach into a deep fryer. He almost doesn't notice the smarmy land developer who rolls into town and threatens to change it. Arturo refuses to let his family and community go down without a fight, and as he schemes with Carmen, Arturo discovers the power of poetry and protest through untold family stories and the work of José Martí.
It's Christmas Eve in Harlem, but twelve-year-old Lolly Rachpaul and his mom aren't celebrating. They're still reeling from his older brother's death in a gang-related shooting just a few months earlier. Then Lolly's mother's girlfriend brings him a gift that will change everything: two enormous bags filled with Legos. Lolly's always loved Legos, and he prides himself on following the kit instructions exactly. Now, faced with a pile of building blocks and no instructions, Lolly must find his own way forward.
If middle school were a race, Joseph Friedman wouldn't even be in last place—he'd be on the sidelines. With an overactive mind and phobias of everything from hard-boiled eggs to gargoyles, he struggles to understand his classes, let alone his fellow classmates. So he spends most of his time avoiding school bully Charlie Kastner and hiding out in the Resource Room, a safe place for misfit kids like him. But then, on the first day of seventh grade, two important things happen. First, his Resource Room teacher encourages (i.e., practically forces) him to join the school track team, and second, he meets Heather, a crazy-fast runner who isn't going to be pushed around by Charlie Kastner or anybody else.
11-year-old Alex Petroski loves space and rockets, his mom, his brother, and his dog Carl Sagan—named for his hero, the real-life astronomer. All he wants is to launch his golden iPod into space the way Carl Sagan (the man, not the dog) launched his Golden Record on the Voyager spacecraft in 1977. From Colorado to New Mexico, Las Vegas to L.A., Alex records a journey on his iPod to show other lifeforms what life on earth, his earth, is like. But his destination keeps changing. And the funny, lost, remarkable people he meets along the way can only partially prepare him for the secrets he'll uncover—from the truth about his long-dead dad to the fact that, for a kid with a troubled mom and a mostly not-around brother, he has way more family than he ever knew.
Charlie isn't looking forward to sixth grade. If he starts sixth grade, chances are he'll finish it. And when he does, he'll grow older than the brother he recently lost. Armstrong isn't looking forward to sixth grade, either. When his parents sign him up for Opportunity Busing to a white school in the Hollywood Hills, all he wants to know is "What time in the morning will my alarm clock have the opportunity to ring?" When these two land at the same desk, it's the Rules Boy next to the Rebel, a boy who lost a brother elbow-to-elbow with a boy who longs for one.
Under pressure to be the top gymnast her mother expects her to be, RANDI starts to wonder what her destiny truly holds. Football-crazy GAVIN has always struggled with reading and feels as dumb as his high school–dropout father. TREVOR acts tough and mean, but as much as he hates school, he hates being home even more. SCOTT's got a big brain and an even bigger heart, especially when it comes to his grandfather, but his good intentions always backfire in spectacular ways. NATALIE, know-it-all and aspiring lawyer, loves to follow the rules—only this year, she's about to break them all. The whole school is in a frenzy with test time approaching—kids, teachers, the administration. Everyone is anxious. When one of the kids has a big idea for acing the tests, they're all in. But things get ugly before they get better, and in the end, the real meaning of the perfect score surprises them all.
If you liked Bridge to Terabithia by Katherine Paterson, try…
Sussy and Guy are best friends, fourth-graders who share their silliest thoughts and deepest hopes. One afternoon, the two of them decide they must have something of their very own to love. After a trip to the pet store, they bring home a spotted lizard, the one with the ancient face and starfish toes, and they name her Matylda (with a y so it's all her own). With Guy leading the way, they feed her and give her an origin story fit for a warrior lizard. A few weeks later, on a simple bike ride, there is a terrible accident. As hard as it is, Sussy is sure she can hold on to Guy if she can find a way to love Matylda enough.
When thirteen-year-old Lora tells her parents that she wants to join Premier Castro's army of young literacy teachers, her mother screeches to high heaven, and her father roars like a lion. Nora has barely been outside of Havana—why would she throw away her life in a remote shack with no electricity, sleeping on a hammock in somebody's kitchen? But Nora is stubborn: didn't her parents teach her to share what she has with someone in need? Surprisingly, Nora's abuela takes her side, even as she makes Nora promise to come home if things get too hard. But how will Nora know for sure when that time has come?
Ethan had been many things. He was always ready for adventure and always willing to accept a dare, especially from his best friend, Kacey. But that was before. Before the accident that took Kacey from him. Before his family moved from Boston to the small town of Palm Knot, Georgia. Palm Knot may be tiny, but it's the home of possibility and second chances. It's also home to Coralee, a girl with a big personality and even bigger stories. Coralee may be just the friend Ethan needs, except Ethan isn't the only one with secrets. Coralee's are catching up with her, and what she's hiding might be putting both their lives at risk.
Charlie's perfectly ordinary life has been unraveling ever since his war journalist father was injured in Afghanistan. When his father heads from California to Virginia for medical treatment, Charlie reluctantly travels cross-country with his boy-crazy sister, unruly brothers, and a mysterious new family friend. He decides that if he can spot all the birds that he and his father were hoping to see someday along the way, then everything might just turn out okay.
Astronomy-loving Calliope June has Tourette syndrome, so she sometimes makes faces or noises that she doesn't mean to make. When she and her mother move yet again, she tries to hide her TS. But it isn't long before the kids at her new school realize she's different. Only Calliope's neighbor, who is also the popular student body president, sees her as she truly is—an interesting person and a good friend. But is he brave enough to take their friendship public?
An achingly beautiful and endearing story about two foster children who want desperately to believe that they've found their forever home. Flora and her brother, Julian, don't believe they were born. They've lived in so many foster homes, they can't remember where they came from. And even now that they've been adopted, Flora still struggles to believe in forever. So along with their new mother, Flora and Julian begin a journey to go back and discover their past—for only then can they really begin to build their future.
Twelve-year-old Crow has lived her entire life on a tiny, isolated piece of the starkly beautiful Elizabeth Islands in Massachusetts. Abandoned and set adrift in a small boat when she was just hours old, Crow's only companions are Osh, the man who rescued and raised her, and Miss Maggie, their fierce and affectionate neighbor across the sandbar. Crow has always been curious about the world around her, but it isn't until the night a mysterious fire appears across the water that the unspoken question of her own history forms in her heart. Soon, an unstoppable chain of events is triggered, leading Crow down a path of discovery and danger.
If you liked The Hobbit by J.R.R. Tolkien, try…
In a classic fantasy world of anthropomorphic rabbits, three young siblings are on the run from the villainous Gorm tribe who have killed and enslaved their clan. Podkin, once destined to be clan leader, has always been spoiled, but now he must act bravely as he, his older sister, and baby brother flee for their lives. Facing pursuit and treachery, the three collect allies in their search for refuge, until at last they are ready to fight back against the Gorm and attempt to rid the land of an evil scourge.
When thirteen-year-old Valor is sent to jail, she couldn't be happier. Demidova's prison for criminal children is exactly where she wants to be. Valor's twin sister, Sasha, is serving a life sentence for stealing from the royal family, and Valor is going to help her escape…from the inside. Never mind that no one has escaped the prison in centuries. If Valor's plan is to succeed, she'll need to make some unlikely allies. And if the plan fails, she and Sasha could end up with fates worse than prison.
Welcome back to the irresistible world of Greenglass House where thirteen-year-old Milo is, once again, spending the winter holidays stuck in a house full of strange guests who are not what they seem. There are fresh clues to uncover as friends old and new join in his search for a mysterious map and a famous smuggler's lost haul. This exciting sequel to a beloved book that was praised in a starred review as "an enchanting, empowering read" is sure to thrill both fans and newcomers.
Aventurine is a brave young dragon ready to explore the world outside of her family's mountain cave…if only they'd let her leave it. Her family thinks she's too young to fly on her own, but she's determined to prove them wrong by capturing the most dangerous prey of all: a human. But when that human tricks her into drinking enchanted hot chocolate, she's transformed into a puny human without any sharp teeth, fire breath, or claws. Still, she's the fiercest creature in these mountains—and now she's found her true passion: chocolate. All she has to do is get to the human city to find herself an apprenticeship (whatever that is) in a chocolate house (which sounds delicious), and she'll be conquering new territory in no time…won't she?
If you liked Sideways Stories from Wayside School by Louis Sachar, try…
Hanging from trees by her knees, doing handstands…for Beatrice Zinker, upside down works every time. She was definitely upside down when she and her best friend, Lenny, agreed to wear matching ninja suits on the first day of third grade. But when Beatrice shows up at school dressed in black, Lenny arrives with a cool new outfit and a cool new friend. Even worse, she seems to have forgotten all about the top-secret operation they planned! Can Beatrice use her topsy-turvy way of thinking to save the mission, mend their friendship, and flip things sunny-side up?
Ken is an EngiNerd: one of a super-smart group of friends—all nerds—who have been close since kindergarten. They may be brainiacs, but they're just like everyone else: they fight with one another, watch too much TV, eat Chinese food, and hate walking their dogs. Well, maybe not just like everyone because Ken's best friend Dan has been building robots. He then secretly sent one to each of the EngiNerds, never letting them know he's the mastermind. At first Ken is awed and delighted: what kid hasn't dreamed of having a robot all their own? Someone who can be their friend, clean their room, walk the dog, answer homework questions…how amazing is that?
Anne, Penelope, and Hiro are nominated for Best Illegal Quest That Nearly Destroyed the Entire World at the annual Quest Academy Awards, but they barely get to enjoy it before a strange boy tricks Anne into activating a new quest. Her charge: kill the dragon queen. The problem is, Anne doesn't want to kill any dragons. But the mysterious boy does, even if it means igniting a devastating war between people and dragons. The only chance Anne and the others have to stop it is to get to the queen first. Along the way, they'll have to navigate ancient mines, avoid erupting volcanoes, outsmart robots, and survive the dragon trials. And, of course, get a passing grade on their quest.
ACT 1: The Juicebox Theatre is about ready for the recycling bin. ACT 2: Sidney and Folly consider a crime. [You have to read it to see if we commit a crime—that's called suspense.] ACT 3: Sidney and Folly save the Juicebox Children's Theatre! [It's not giving anything away to tell you that. We just don't want you to worry.] Sidney Camazzola plans to be the director of the Juicebox Theater when he grows up. But the theater is in danger of closing, and he and his friends know they need a plan to save it—and fast. Hilarious and heartwarming, the mission to save a failing community theater unites a riotous cast of characters in this offbeat middle-grade novel.
Lights, Camera, Cook by Charise Mericle Harper, illustrated by Aurélie Blard-Quintard
It's "lights, camera, cook!" for four tween contestants—energetic Tate, charming Rae, worldly Caroline, and hyper-competitive Oliver—who are all about to enter a televised cooking competition. What will the kids cook up? How will they all get along on- and off-camera? Which junior chef will have the grit—and maybe the grits—to make it through each challenge? And which junior chef will have to hang their apron up for good?
If you liked Harry Potter and the Sorcerer's Stone, try…
Morrigan Crow is cursed. Having been born on Eventide, the unluckiest day for any child to be born, she's blamed for all local misfortunes, from hailstorms to heart attacks—and, worst of all, the curse means that Morrigan is doomed to die at midnight on her eleventh birthday. But as Morrigan awaits her fate, a strange and remarkable man named Jupiter North appears. Chased by black-smoke hounds and shadowy hunters on horseback, he whisks her away into the safety of a secret, magical city called Nevermoor.
Sophie Foster is struggling. Grieving. Scrambling. But she knows one thing: she will not be defeated. The Neverseen have had their victories—but the battle is far from over. It's time to change tactics. Make sacrifices. Reexamine everything. Maybe even time for Sophie to trust her enemies. All paths lead to Nightfall—an ominous door to an even more ominous place—and Sophie and her friends strike a dangerous bargain to get there. But nothing can prepare them for what they discover. The problems they're facing stretch deep into their history. And with time running out, and mistakes catching up with them, Sophie and her allies must join forces in ways they never have before.
If you liked Charlotte's Web, try…
Josie Shilling's family is too big, their cramped city house is too small, and she feels like no one's ever on her side. Then, on Thanksgiving Day, her older brother, Tom, brings home a pink, squirmy bundle wrapped in an old football jersey—a piglet he rescued from a nearby farm. Her name is Hamlet. The minute Josie holds Hamlet, she feels an instant connection. But there's no room for Hamlet in the crowded Shilling household. And whoever heard of keeping a pig in the city? So it's up to Josie to find her a forever home.
For Bixby Alexander Tam (nicknamed Bat), life tends to be full of surprises—some of them good, some not so good. Today, though, is a good-surprise day. Bat's mom, a veterinarian, has brought home a baby skunk, which she needs to take care of until she can hand him over to a wild-animal shelter. But the minute Bat meets the kit, he knows they belong together. And he's got one month to show his mom that a baby skunk might just make a pretty terrific pet.
Eleven-year-old Lorenzo Ventura knows heroes are rare—like his father, who died in the war, or his friend Paloma Lee, who fearlessly pursues her dream of being a famous musician. Renzo would never describe himself as a hero, but his chance comes when he adopts Marty, a runt piglet. Marty is extraordinary—he thinks he's a dog and acts like one too—and his bond with Renzo is truly one of a kind. At first, the family farm seems like the perfect home for Marty, but as he approaches 350 pounds, it becomes harder for Renzo to convince his mom that a giant pig makes a good pet.
Twelve-year-old Ruby Clyde Henderson's life changes the day her mother's boyfriend holds up a convenience store, and her mother is wrongly jailed for assisting with the crime. Ruby and her pet pig, Bunny, find their way to her estranged Aunt Eleanor's home. Aunt Eleanor is an ornery nun who lives in the midst of a peach orchard on Paradise Ranch. With a little patience, she and Ruby begin to get along, but Eleanor has secrets of her own—secrets that might mean more hard times for Ruby.
Wish by Barbara O'Connor
Eleven-year-old Charlie Reese has been making the same secret wish every day since fourth grade. She even has a list of all the ways there are to make the wish, such as cutting off the pointed end of a slice of pie and wishing on it as she takes the last bite. But when she is sent to the Blue Ridge Mountains of North Carolina to live with family she barely knows, it seems unlikely that her wish will ever come true. That is, until she meets Wishbone, a skinny stray dog who captures her heart, and Howard, a neighbor boy who proves surprising in lots of ways. Suddenly Charlie is in serious danger of discovering that what she thought she wanted may not be what she needs at all.
If you liked All-of-a-Kind Family by Sydney Taylor, try…
The Fletchers are back on Rock Island, home of all their best summer memories. But from the first day they arrive, it's clear that this year, things have changed. FIRST, a giant fence is blocking their beloved lighthouse. SECOND, they have new neighbors. THIRD, who the heck is the weird artist guy who's never actually painting? And FOURTH, there's now an ice cream truck! Can the island stay the same even with these crazy transformations?
The Lotterys Plus One by Emma Donaghue, illustrated by Caroline Hadilaksono
Sumac Lottery is nine years old and the self-proclaimed "good girl" of her (VERY) large, (EXTREMELY) unruly family. And what a family the Lotterys are: four parents, children both adopted and biological, and a menagerie of pets, all living and learning together in a sprawling house called Camelottery. Then one day, the news breaks that one of their grandfathers is suffering from dementia and will be coming to live with them. And not just any grandfather; the long dormant "Grumps," who fell out with his son so long ago that he hasn't been part of any of their lives.
The Vanderbeekers have always lived in the brownstone on 141st Street. It's practically another member of the family. So when their reclusive, curmudgeonly landlord decides not to renew their lease, the five siblings have eleven days to do whatever it takes to stay in their beloved home and convince the dreaded Beiderman just how wonderful they are. And all is fair in love and war when it comes to keeping their home.
If you liked From the Mixed-Up Files of Mrs. Basil E. Frankweiler by E.L. Konigsburg, try…
The marshals are looking for the perfect girl to join a mother, father, and son on the run from the nation's most notorious criminals. After all, the bad guys are searching for a family with one kid, not two, and adding a streetwise girl who knows a little something about hiding things may be just what the marshals need. Nicki swears she can keep the Trevor family safe, but to do so she'll have to dodge hitmen, cyberbullies, and the specter of standardized testing, all while maintaining her marshal-mandated B-minus average. As she barely balances the responsibilities of her new identity, Nicki learns that the biggest threats to her family's security might not lurk on the road from New York to North Carolina, but rather in her own past.
Mr. Quisling is definitely up to something mysterious, and Emily and James are on high alert. First, there's the coded note he drops at a book event. Then, they uncover a trail of encrypted messages in Mark Twain-penned books hidden through Book Scavenger. What's most suspicious is that each hidden book triggers an arson fire. As the sleuthing friends dig deeper, they discover Mr. Quisling has been hunting a legendary historical puzzle: the Unbreakable Code. This new mystery is irresistible, but Emily and James can't ignore the signs that Mr. Quisling might be the arsonist.
After a botched escape plan from her boarding school, Abigail is stunned to discover the school is actually a cover for an elite spy ring called The Center, along with being training grounds for future spies. Even more shocking? Abigail's mother is a top agent for The Center and she has gone MIA, with valuable information that many people would like to have—at any cost. Along with a former nemesis and charming boy from her grade, Abigail goes through a crash course in Spy Training 101, often with hilarious—and sometimes painful—results. But Abigail realizes she might be a better spy-in-training than she thought—and the answers to her mother's whereabouts are a lot closer than she thinks…
Middle-school detectives Howard Wallace and Ivy Mason are itching for a juicy case. But when their friend and cohort Marvin hires them to prove his nephew—über-bully Carl Dean—didn't pugnap the school mascot, they're less than thrilled. To succeed, not only must Howard and Ivy play nice with Carl, they'll have to dodge a scrappy, snoopy reporter and come face-to-face with Howard's worst enemy, his ex-best friend Miles Fletcher. Can Howard deal with all these complications and still be there for Ivy when her life is turned upside down? Or will he once again find himself a friendless P.I.?
Dan Brown meets Jason Bourne in this riveting middle-grade mystery thriller. When a young boy is discovered in Washington DC's National Gallery without any recollection of who he is, so begins a high-stakes race to unravel the greatest mystery of all: his identity. As the stakes continue to rise, the boy must piece together the disjointed clues of his origins while using his limited knowledge to stop one of the greatest art frauds ever attempted. Digitally interactive, this breathtaking museum mystery offers QR codes woven throughout the book that bring renowned paintings to readers' fingertips.
If you liked The Lightning Thief by Rick Riordan, try…
Xander Miyamoto would rather do almost anything than listen to his sixth grade teacher, Mr. Stedman, drone on about weather disasters happening around the globe. When spring break begins at last, Xander plans to spend it playing computer games with his best friend, Peyton. Xander's father briefly distracts him with a comic book about some samurai warrior that pops out of a peach pit. Little does either boy know that the comic is a warning. They are about to be thrust into the biggest adventure of their lives-a journey wilder than any Xander has ever imagined, full of weird monsters even worse than Lovey. Maybe Xander should have listened to Mr. Stedman about the weather after all…
All Izzy wants is for something interesting to happen in her sleepy little town. But her wish becomes all too real when a mysterious song floats through the woods and lures her little sister Hen into the forest…where she vanishes. A frantic search leads to a strange hole in the ground that Izzy enters. But on the other side, she discovers that the hole was not a hole, this place is not Earth, and Hen is not lost. She's been stolen away to the land of Faerie, and it's up to Izzy to bring her home.
The Rise of the Jumbies by Tracey Baptiste (second book in the series)
Corinne LaMer defeated the wicked jumbie Severine months ago, but things haven't exactly gone back to normal in her Caribbean island home. Everyone knows Corinne is half-jumbie, and many of her neighbors treat her with mistrust. When local children begin to go missing, snatched from the beach and vanishing into wells, suspicious eyes turn to Corinne.
Honorine's life as a maid at the Vidalia mansion is rather dull, dusting treasures from faraway places and daydreaming in front of maps of the world. But everything changes when she catches two brutish sailors ransacking Lord Vidalia's study, and then follows a mysterious girl with wings out into the night…Suddenly, Honorine is whisked into the middle of a battle between the crew of a spectacular steamship and a band of mythical constellations. The stars in the sky have come to life to defend themselves against those who want to harness their powers.
Welcome to the Home for Wayward and Misbegotten Creatures, an institution run by evil Miss Carbunkle, a cunning villainess who believes her terrified young charges exist only to serve and suffer. Part animal and part human, the groundlings toil in classroom and factory, forbidden to enjoy anything regular children have, most particularly singing and music. For the Wonderling, an innocent-hearted, one-eared, fox-like eleven-year-old with only a number rather than a proper name—a 13 etched on a medallion around his neck—it is the only home he has ever known. But unexpected courage leads him to acquire the loyalty of a young bird groundling named Trinket, who gives the Home's loneliest inhabitant two incredible gifts: a real name—Arthur, like the good king in the old stories—and a best friend.
Laylee can barely remember the happier times before her beloved mother died. Before her father, driven by grief, lost his wits (and his way) and she was left as the sole remaining mordeshoor in the village of Whichwood, destined to spend her days scrubbing the skins and souls of the dead in preparation for the afterlife. It's become easy to forget and easier still to ignore not only her ever-increasing loneliness, but the way her overworked hands are stiffening and turning silver, just like her hair. But soon, a pair of familiar strangers appear, and Laylee's world is turned upside down as she rediscovers color, magic, and the healing power of friendship.
SaveSave
SaveSave