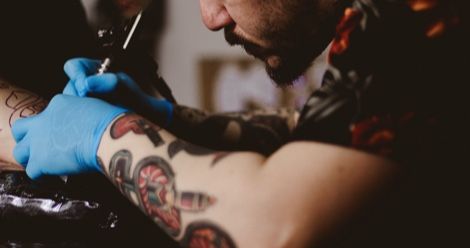 Book Enthusiasts Get Literary-Themed Tattoos at Public Library: Critical Linking, August 7
Sponsored by Dance of Thieves by Mary E. Pearson
---
Certified Tattoo Studios partnered with the Denver Public Library Friends Foundation to offer library- and literary-themed tattoos at the Rodolfo "Corky" Gonzales Branch Library on Sunday to raise money for the non-profit.
---
Socialist bookshop Bookmarks has said that it has been inundated with messages of support after far-right protesters targeted it in an attack on Saturday evening.
Twelve men, one of whom was wearing a Donald Trump mask, entered the central London shop as staff were closing for the day, knocking over displays and ripping up magazines while chanting far-right slogans. The shop, which is planning a free public "solidarity" event with appearances from authors on 11 August, said it had received messages of support from MPs and writers as well as thousands of activists from around the world.
That this happened is truly awful. That people rallied around the bookstore is heartening.
---
A 13-year-old student's generous donation means his neighbours on Tsuut'ina First Nation will get to dive into thousands of summer reads.
Christian Waldron, a Grade 8 student at Webber Academy, organized a book drive with his fellow students.